As a blogger, I get a lot of emails from various companies, PR groups, etc. with invitations to all sorts of events.  Some of them are interesting to me and something I might enjoy and some of them are not.  A couple of weekends ago, I was invited by Lexus to an outdoor food event called a Pop Up Vineyard, in the heart of Midtown.  I thought that was pretty fascinating in itself and combine that with the Food and Wine Festival which was going on at the time and it sounded like a very fun event to attend.  The vineyard was created in conjunction with the Atlanta Food and Wine Festival.  And I happen to love food tastings!
So, I took my sweetheart, Mark, with me and we had a wonderful summer evening out in Midtown, between the highrise buildings, eating some delicious food and just enjoying the ambience of live music and being outside.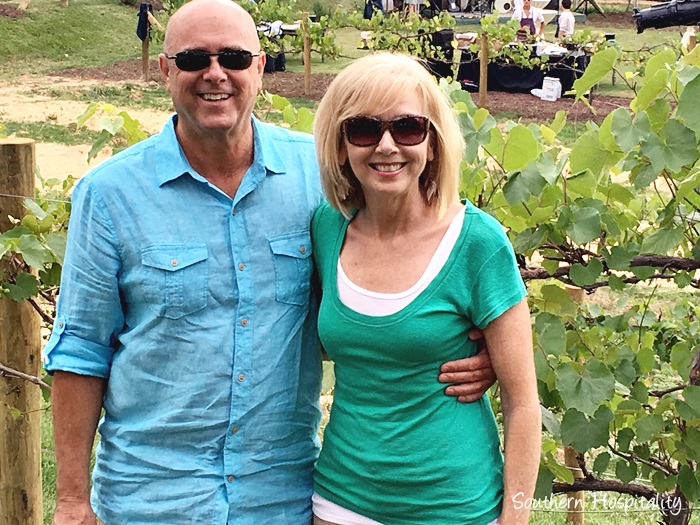 Don't we make a cute couple?  I'm might be a little biased but I sure think we do.  He was sporting one of his new summer linen shirts and I love it on him.
It really was a perfect evening weather wise, with a little breeze and not too hot temps.  We were surrounded by all these high-rise buildings, so it was a little surreal to be at an outdoor party in a big grassy area surrounded by big buildings, but that just added to the charm.
When I heard pop-up vineyard, I wasn't sure exactly what to expect, but yes this vineyard is indeed planted in the ground.  Rows and rows.  It's almost mind boggling when you look around and find out this vineyard was planted the week before.  I expected it to be a little scraggly and droopy, but it wasn't at all.
There were several rows tiered down this hill, with more surrounding the walkway going down to the other food areas and the live music tent.
Tables and chairs were all set up waiting for folks to arrive.  It was also sodded with grass making it an instant outdoor party space.
It was fascinating to see how much effort was put into this space in midtown, making it feel like a walk in the country, a stroll through a vineyard.
There was an artist's mural on site too which was interesting.
And in case I had any doubts about how healthy these grapevines really were, there were grapes hanging on the vine to prove their viability and life.
These stainless steel tables with rustic wood bases were very cool and a great place to perch.
My turn to pose with the grapevines. You can see it was a vast space with lots of meeting areas, tasting tents, and beverage stations.
Mark snapped me taking pics, he likes to document the blogger behind the blog.
There were 5 chefs represented from all over the country and we had the chance to sample all of them.
That large tent above housed one two food and drink stations with 3 more below.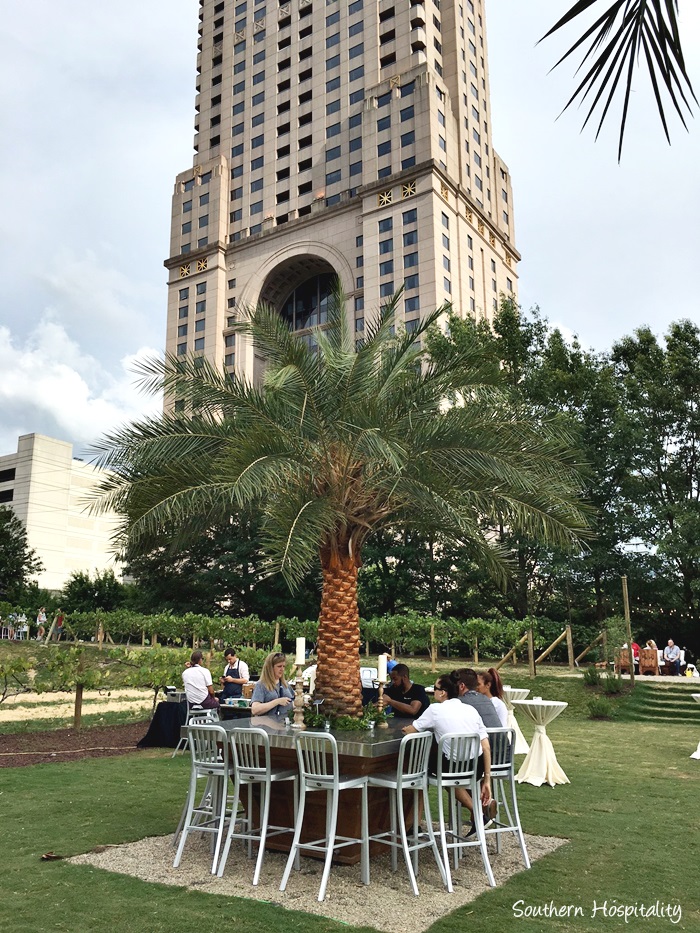 Can you imagine palm trees being brought in for an event like this?  It was quite the atmosphere and everyone was happy and smiling.
You can see the grapevines on the hill in the distance from this angle.
A live band played some great music of blues and oldies, which really added to the festivities.  I love live music!
I had fun tasting and getting some creative shots of the high rise buildings surrounding us.
The menu was varied and tasty and this was one of my favorite tastings, from Orchid Paulmeier from One Hot Mama's out of Hilton Head Island, SC.  I really love good food and have had my share of gourmet meals at fancy restaurants, but I'm not really a food snob.  This one was super tasty smoked pork & hot Asian shrimp and pineapple tacos, along with Arancini (which I had to  look up, but are stuffed rice balls).  I loved this combo, even though I had never hard of Arancini, much less tasted it before.
I can be pretty adventurous in my food tastes and this was James Petrakis from Ravenous Pig out of Winter Park, FL and his Kimchi-Mole BBQ Octopus with Shishito peppers, blackberries, smoldered potatoes, fermented green tomato chow-chow.  A very interesting combination, but perhaps a bit too rich for my palate.
Chef Ryan Prewitt from Peche in New Orleans, Spiced Yellowfin tuna on Olive Crepes were very good and we enjoyed this fare, along with Gulf seafood salad.
Above is smoked beef belly with fried quail egg, along with rabbit and quail terrine.  Again, these were tasty but a bit different for my palate.  Chef  Todd Richards from White Oak Kitchen and Richards' Southern Fried here in Atlanta.
OH, and there was chocolate from Ben Rasmussen and Potomac Chocolates out of Woodbridge, VA.
And from Andrea Kirshtein from The Luminary here in Atlanta, Chocolate, toasted shortbread, Peach and Sarsaparilla Cream.
Can you say yum?  We were completely happy to sample the food and drinks and so enjoyed an evening outdoors.  Have you heard of any of these chefs before? Good food is a priority all over the country and Atlanta has its share of fantastic chefs.  I do love a well prepared and tasty meal.
There was bocce ball, for those who wanted to partake.
Complete with a succulent garden in the middle.
Quite the view and ambience right there in Midtown.
The band was very good and played the whole time we were there, from about 6 to 9 pm.
The lights came on at dusk and it took on an extra special glow.
It was so neat to watch the sun sink lower on the horizon and all the high-rise buildings lights began to illuminate.
One more slightly blurry selfie to commemorate the evening.
If the setting sun wasn't enough, this was shining on one of the backdrop buildings.
It was a beautiful sight to behold and take in.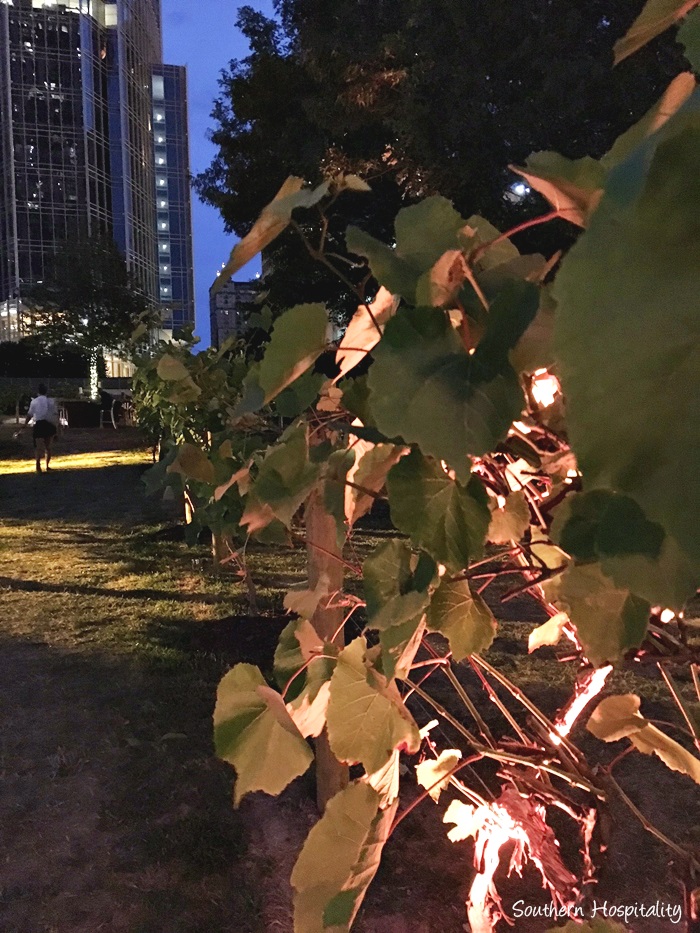 As the sun went down, we walked back to the car, with smiles on our faces and our bellies full of good food.
And that was my first experience with a pop-up vineyard.  We read that this one will stay in place until the end of June for special events.  And they are planning to create more pop up vineyards around the country.
It's amazing what creative minds come up with these days for events and celebrations.  We thought it was quite innovative of the creators and certainly a pleasure to attend.  Thanks Lexus, for inviting me to join you, it was a very fun evening and a perfect Saturday night date with my guy!
Don't Miss a Post, join my list!