This time of year, I totally dream about outdoor spaces. To me, there's nothing better than enjoying the outdoors, with a breeze in the air (well, we can pray for a breeze here!), a cold drink to sip and a magazine to browse.  Here in the South, a day with low humidity is extra special.
Something like this would work.
I really thought I might have my hubby talked into finally building a screened porch where our current open deck is, but it isn't happening….at least this year and maybe never.   The neighbors behind us just had their deck rebuilt into a screened porch, so that further added to my own desire to have one.   I watched longingly and listened to the sounds of hammers nailing and saws buzzing for days.  We actually got 3 estimates too, just to see the cost breakdown.  FYI, around here the estimates ranged from $10,500 to over $14,000 for a screened porch with shingled roof and all the things that go with it.  Could we do it?  Yep, we could and if it was up to me, we would.  I know it's a space we would enjoy, but my hubby is not convinced.  And when it comes to big projects like that, he has the final say.
So, after much discussion lots of whining from mostly me to the hubs, it's too much money, he thinks and not something he wants to spend $$ on.  So, my dreams of a covered porch will just have to continue being a dream for the moment.  And these photos will be my inspiration. 
Wouldn't you love to enjoy this space? (from Coastal Living)
Or this one?  (from Coastal Living)
How quaint and cute this little porch is. (from Coastal Living)
And oh my goodness, look at this dreamy porch, with that pretty graphic green fabric, white furniture with splashes of sunshine yellow.   Now this is a heavenly porch. (from DecorPad)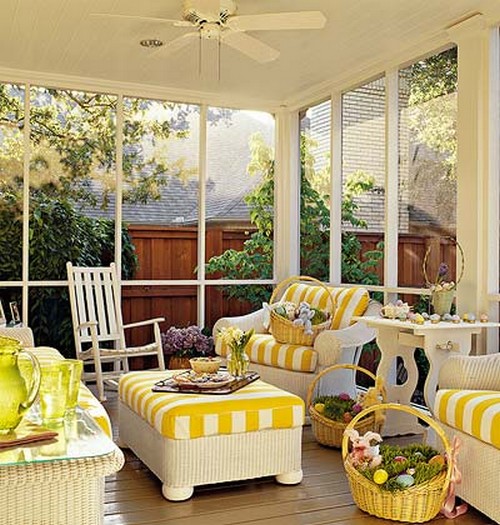 More yellow and white wicker, a winning combination.  (from My Home Ideas)
(from Southern Accents)
This looks to be a stately old Southern home with a sprawling porch across the front.  This would be heaven, sitting in the rocking chairs and rocking the day away out of the weather.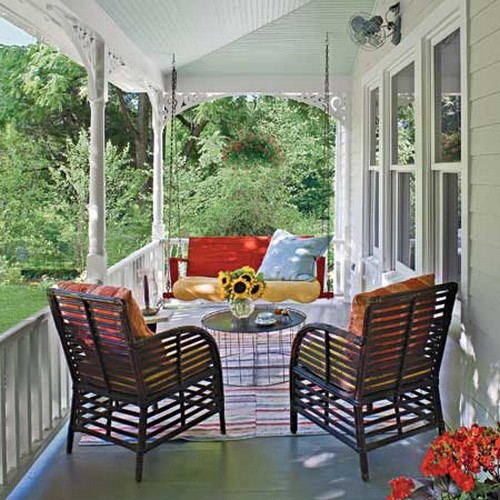 (from This Old House)
To me, there's nothing better than taking a nap outside and I can get my snooze on outdoors in the best possible way.  I've always loved that.
(Country Living, June 2010, Barbara Baekgaard's house in Seaside, FL, the Vera Bradley lady)
Now, this is one beautiful porch, don't you agree?!  Those tall shutters flanking the very tall French windows (or doors), are just breathtaking and really make this look.  And the soaring white beamed ceiling gives such a feeling of spaciousness.  Another porch I totally love. 
(from Southern Living, June 2010)
The new Southern Living featured this fantastic porch and I love Every. Single. Thing. About. IT!
I must take after my Dad.  His favorite spot at their house is his outdoor swing, which he built under a little canopy, so it shields him from the sun and he takes some major naps out there in that sweet swing.
So, back to reality.  I do TOTALLY realize that I've got SO MUCH to be thankful for and having a screened porch is a luxury and certainly not a necessity.  So, I'm putting on my big girl panties  🙂 and making the best of what we have.  Come back tomorrow for another discussion on that and I'll show you what I've got up my sleeve to make our current deck and under deck patio even more liveable and useful.
Whining is over, time to make it happen!
So, tell me about YOUR outdoor space.  Do you have a lovely space like these pics or are you still dreaming too?
Just for good measure, I'm entering the Traditional Home $26,000 Outdoor Room giveaway and the Trex Decking new deck giveaway for 3 lucky people.  I figure that can't hurt either, so feel free to join me if you are yearning for a new outdoor space.  I am not getting anything from posting these links, just passing along some fun contests for you.  Would I love to win?  Heck yeah!!

Don't Miss a Post, join my list!