So, the inside of the porch is done, except for those diamonds I'm painting on the floor.  Hopefully, I'll get that done this week.  Dad has been working on the stairs for the last couple of weeks and he's making some good progress on those.  Now mind you, these stairs will be far from perfect.  His figuring and all is not what it used to be and he can be hard on himself for not getting things right on the carpentry stuff, but it will be stable even if it's not perfect to look at.  That I do know!  To the eye, things will be a little wonky and not even close to plumb and perfect, but that's the way we roll around here.  I'm just so glad he is willing to help me get this done.
I'm about to hire someone to do a little front porch for me, that we can't tackle, so that one will be in the next month or so, I hope.  That will be one thing I can't wait to do, get a cute front porch built that will keep water off the head if you're standing on my front porch.
So back to the porch and stairs on the back.  Here's how far we've come.  We got the posts in the ground and added the upper deck that will hold my grill that I have yet to get. It will not be a huge grill, but it will be big enough.
Landing outside the screened door has been built and then we started on the lower landing that turns.  Dad did the very best that he could figuring out how to put all of this together and I admire his tenacity for getting it done.  Like I said, it is FAR from perfect, but it will be stable and secure and that's fine with me.
Over 30 years ago, my dad built these nice stairs over the creek at their mountain house and that was quite a feat to accomplish.  It's been about that long since he tackled stairs, so overall he's doing great with mine!
Cutting with the skill saw, he used left over wood and recycled parts of the old railing.
He's still good at cutting with the tools.
And this recycled wood goes underneath the decking.
Covered up with new wood planks, it won't be seen at all.  Once I get all of this stained with a solid stain, it will all come together.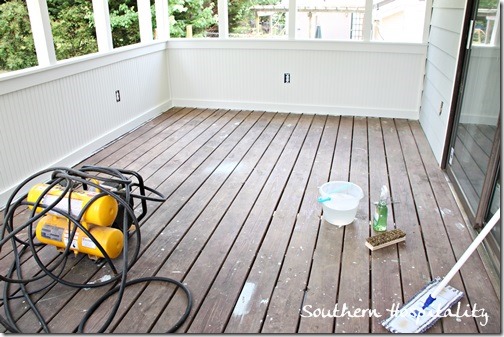 Meanwhile, inside the porch, I got the floor ready to paint by giving it a good washing and scrubbing.
It had paint splatters on it, but I didn't worry too much about that, I mainly wanted to get the sawdust and dirt off it, so it would be ready to accept the new Porch and Floor paint.
I used 2 coats of Sherwin Williams Porch and  Floor paint in Alabaster, this is after one coat.  Better already, don't you think?
It's looking really good by now!
One coat done!
After 2 coats, the floor is looking great and will be ready for my diamond treatment.  I also painted the house siding wall in my Fennel paint, same as in the kitchen. I had it left over, so why not use it out here too.  It will be great with the colors I'm using out here.
Back outside on the little deck, Dad was working on adding railings.  We recycled as much as we could from the old stair system.
Stairs added in place.
And it's starting to coming together now.
Dad cut the pickets to fit and we nailed them all in with my nail gun.
One at a time until we got this top portion done.
Here's how he spaced the pickets, with a piece of wood.  Great idea, huh?  He spaced and I nailed.
And here's where we are now.  This week, we hope to get all the railing done and the lattice up around the bottom.  I won't get this all painted until later, but at least it will be finished.  I'm SO excited to get this porch done.  We will be working on stapling on the new screening too and trimming the outside out with little trim pieces and then it will be about finished.
I really hope to get my porch furniture moved out there by the end of the month, that's my goal!  It's hot right now, but there is a pretty good breeze on this porch, a balmy breeze, but a breeze nonetheless.  Soon, I'll be enjoying it out there in morning and evening. I can see me taking my laptop out there and taking naps on the loveseat.   Oh yeah!
Today, we'll be celebrating Father's Day and honoring this sweet man of ours!  I was blessed tremendously when God handed out fathers and I am SO grateful for mine.  Happy Father's Day to all the sweet men in your lives too.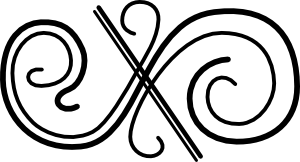 And here's some fun news!!  I'm having a BIG yardsale coming up soon with some blog friends at my house, so mark your calendar for Friday, June 28th and Sat. June 29th.  We are going to have it from 8-12 both days, until everything is gone!  It won't be junk either, lots of great stuff!  I'll be sharing later how to sign up and come.
Lastly, the lucky winner of the Haven conference pass is #92:  Kara!  Congrats, Kara, you've been emailed!
Don't Miss a Post, join my list!