Porches have been on my radar even more this year as I anticipate getting my own little cozy space again to make my own relaxing place.  And I can't wait!
A summer porch is such an important part of the season and living outside is a vital part of social life here in the South.  We love our outdoor spaces, don't we?  With our warm weather so  many months of the year, porches get a lot of use and making them pretty is a big part of that as well.
Wicker, rugs, lanterns, lamps, artwork and accessories.  All of those items make for a cozy porch to enjoy with family and friends.  Since my porch is not quite ready yet, I'm sharing some of my favorites from some online sources.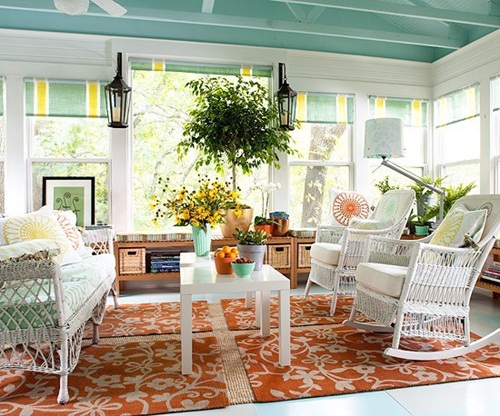 (via House of Turquoise)
These colors are just happy and pretty together.  White wicker is a summer staple and you can't go wrong with it and some bright poppy fabrics.
(via kcrusenb.tumbler)
A long porch just makes me go ahhhh! Simple white beadboard ceiling, beautiful hanging lantern, and classic rocking chairs are all that's needed to make this space feel comfortable and inviting.
(via Meant for the South)
This porch is so Southern and I love, love it! The windows, the fans and inviting steps are classic.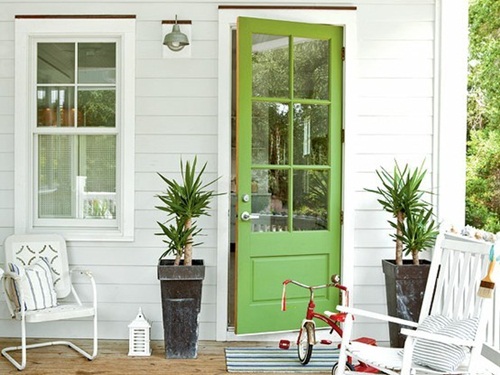 (via My Home Ideas)
A green door!  What if I painted a green door on my gray-blue house, how would that look?  I'm likin' it!   This simple little front porch speaks volumes, doesn't it?
(via Pinterest, Southern Living)
This one, oh this one is my fave of all of them.  The shutters just make this space, don't they?  I am taking some bifold doors off 2 of my closets and I plan to take them to my porch and recycle them.  Ideas, ideas!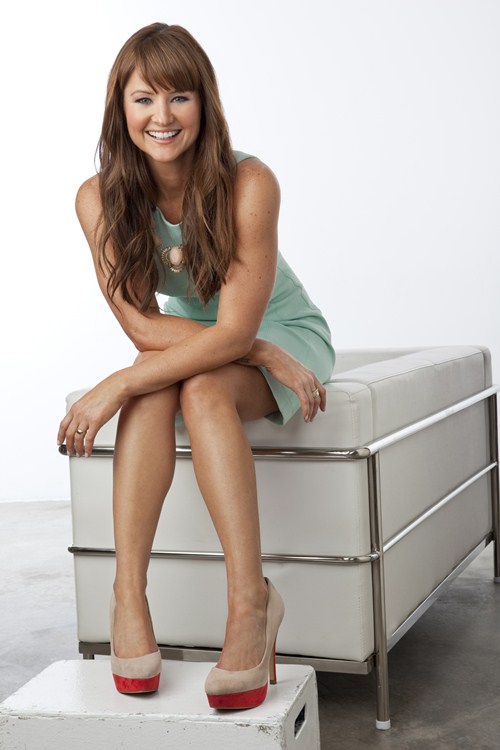 With my collaboration with Lowes Creative Ideas blogger team, I was recently given the opportunity to interview  HGTV star, designer Kristan Cunningham all about decorating for the summer months and sprucing up those outdoor spaces.  Kristan  is an interior designer, DIY Expert and one of the most recognizable faces in design television.
Kristan is an expert at this and I know you'll get some great tips from listening to her take on outdoor spaces.   It was fun to chat with her for a few minutes.  Bear with me as you start listening to it, there was a sound delay and dorky me didn't keep up with it at first, but I finally got the hang of it later in the interview.  We got to chat a bit about my house renovation too!  Hope you'll listen in!

So, did you enjoy these porches?   Now, it's your turn!
Link up your porch whether it's a tiny front porch, side porch, back porch, deck, patio, screened porch, whatever you've got, let's see it!  I know we all get inspired seeing a pretty porch all ready for summer entertaining.
Ready, set, GO!
Don't Miss a Post, join my list!