Thank you all so much for voting for me in the Troybilt FLEX competition!  I WON and received my gift card this week.  I'll be upgrading and buying a new washer and dryer with it and will pass on my Craiglist set to someone who needs it, since they are still working fine.  I appreciate you all taking the time to vote!
Working on the exterior of my house and yard has made me want to do more out there to spruce up my house.  Pressure washing the driveway seemed to be one of the best things I could do to help that out.  So, when Troybilt contacted me about working with them on their new Troybilt FLEX pressure washing machine, I was thrilled to accept the challenge.
It was an exciting day when a Troybilt rep dropped these beautiful machines off at my house for me enjoy and use for my project.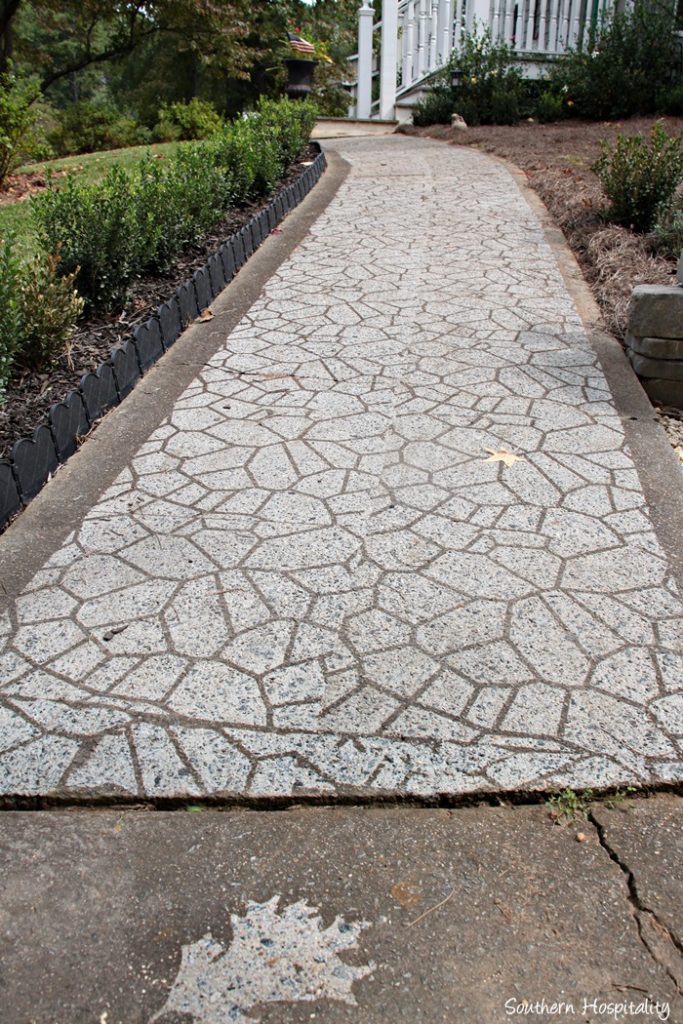 I shared my sidewalk creative art project with all of you and I'm happy to say that I came out ahead in the voting on that contest.  Once I pressure washed the sidewalk, I realized just how dirty my driveway was and I was determined to continue the project and pressure wash my entire driveway.  Not a stencil project, but just to get it clean!  It is amazing how dirty a driveway can get and I would bet that this driveway hasn't been touched since 1979 when my house was built.
You can see here just how dirty that sidewalk was and a pressure washer was the tool needed to get this place shaped up all the way down to the driveway.
With the sun shining through the trees, this is the best I could do on a Before shot, but you can definitely see the dirt on this driveway.
My driveway is not in great shape, it has cracked over the years, but it is still solid and not uneven, which is a good thing.  I've seen some driveways that have shifted and fallen over the years and at least I don't have that.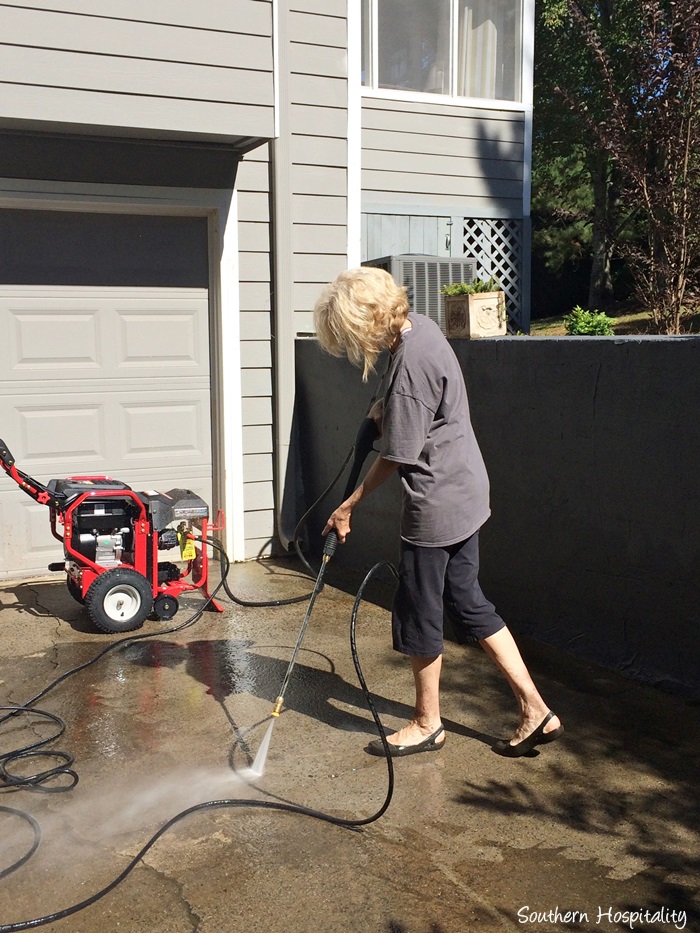 I got the FLEX machine going  and went to town pressure washing the top part of the driveway.  It took me 3 days of around 1 and 1/2 hours to 2 hours each day to finish it, but it was well worth the effort.  I did change out he nozzle the 2nd day, using the white nozzle which is the widest arc and that made a huge difference too. You want to cover as much territory as you can when you are pressure washing.  Little by little, I made progress down the driveway towards the street.  I didn't use any cleaner on this project, but the concrete got pretty white just using the pressure washer.
Pressure washing isn't for sissies, but then again I've never cared about getting dirty.  It's definitely a dirty job, but you can hose off when finished for the day.  Rubber Crocs come in handy for this job.  Luckily, I had several days of mid-70's temps and sunshine for this project.  I'm glad I got it done, because now my driveway is covered in thousands of leaves.   And it's been raining non-stop for days.
Once I was finished, it was so nice to stand back and look at the job I have completed with the FLEX machine. Well worth the effort, don't you think?  Yes, it's cracked, but I look at it like a mosaic and it still works for me.  My house will never be perfect, but it is loved.
Now the driveway matches the lighter portion of the sidewalk. I'm still enjoying my cobblestone sidewalk and will leave it like this for a long time.  When it starts to get really dirty, I'll clean it all up fresh again.
My friends noticed too that I had done this chore and commented on it.
I'm so thrilled to get this one behind me for the Fall and enjoy a clean driveway now.
You'll can see the new Southern Living plants in this shot too.
Big thanks to Troybilt for working with me on this project and helping to beautify my home.  I really enjoy having this new FLEX machine with pressure washer and leaf blowing attachment. It will come in handy around my house for years to come.
The pressure washer did a fantastic job of getting the dirt off my driveway.  The only negative to me in the FLEX machine is that it is a little hard to start.  It has a pull cord to start it and it took quite a few pulls and strength to get it started and I'm not a weakling.  So, for that reason, I think it would be hard for a female to handle this machine alone.  It rolls well and comes apart very nicely, but the starting part could be easier, I think.  I have other home gadgets that have pull cords that work on the first try, but this one did not do that for me.  Just being honest here!
NOTE:  This post is sponsored by Troybilt.  All projects, opinions and ideas are my own!
Don't Miss a Post, join my list!