This post is sponsored by Ryobi.
Hey friends! The weather is heating up around here very nicely and spring is definitely here. One of the projects that's been on my list for a few months is getting the backyard patio clean again. It was clean when we moved in almost 2 years ago, but it's amazing how fast an area can get mildewed and green after so much rain that we've had for the last year.
Here's the patio when we bought the house. It was very clean and ready to use.
Fast forward to April of last year and I got the patio all ready for outdoor entertaining, which we want to do even more of this year. It looked good, maybe a little bit of green, but not too bad.
Somewhere between April of last year and now, after all the rain we got, the patio was looking SO bad. We had so much dampness with rain and shade that it looked terrible.
As you can see in this pic which was just a couple of weeks ago, it was in dire need of power washing. The white chairs I have down there were so green with mildew too and looked terrible. I had scrubbed them down with cleaner over the years that I've had them, but they never really got clean again, but I knew a pressure washer would take care of that.
We had a gorgeous Saturday a couple of weeks ago and I couldn't wait to get out our new tool from Ryobi.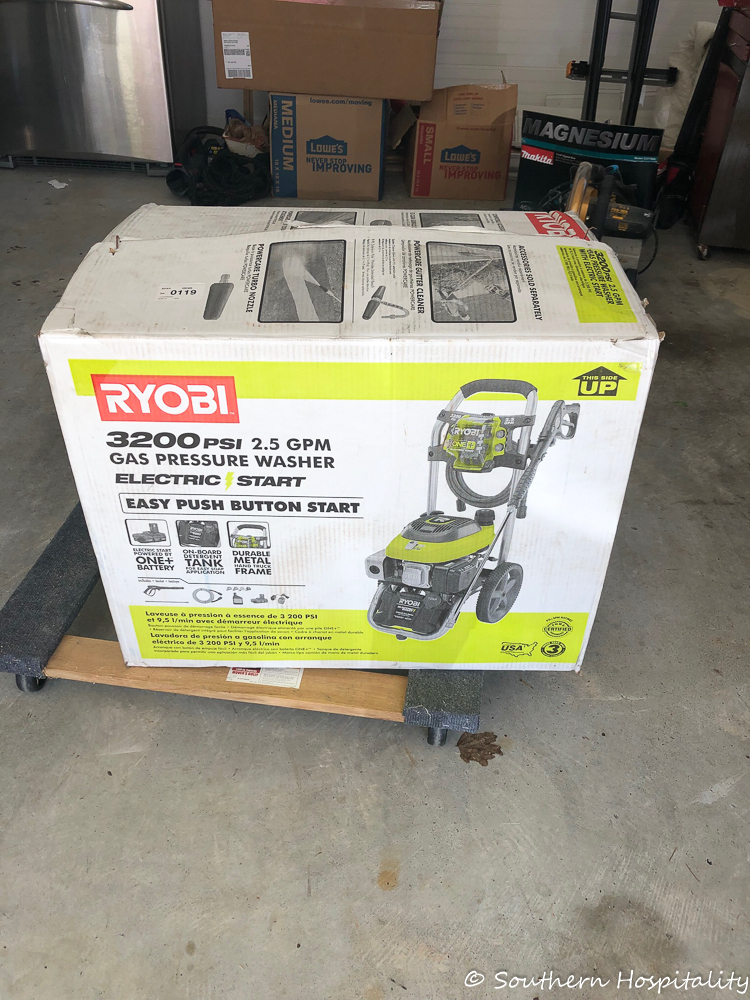 I'm so fortunate to get to work with Ryobi and we have gotten several tools from them, including this 3200 psi gas pressure washer. It's an electric start, which is a must for me. I can't do the pull cords in power tools, they just don't seem to work for me. This one has a pull cord, but also a push button electric start, which is powered by one of the Ryobi 18 volt batteries, which are all interchangeable with each other.
This 15″ EZ Clean surface cleaner was a time saver too! I couldn't believe how fast it worked on our patio. I finished everything in about 4 hours, including the patio, the planters and all the furniture too.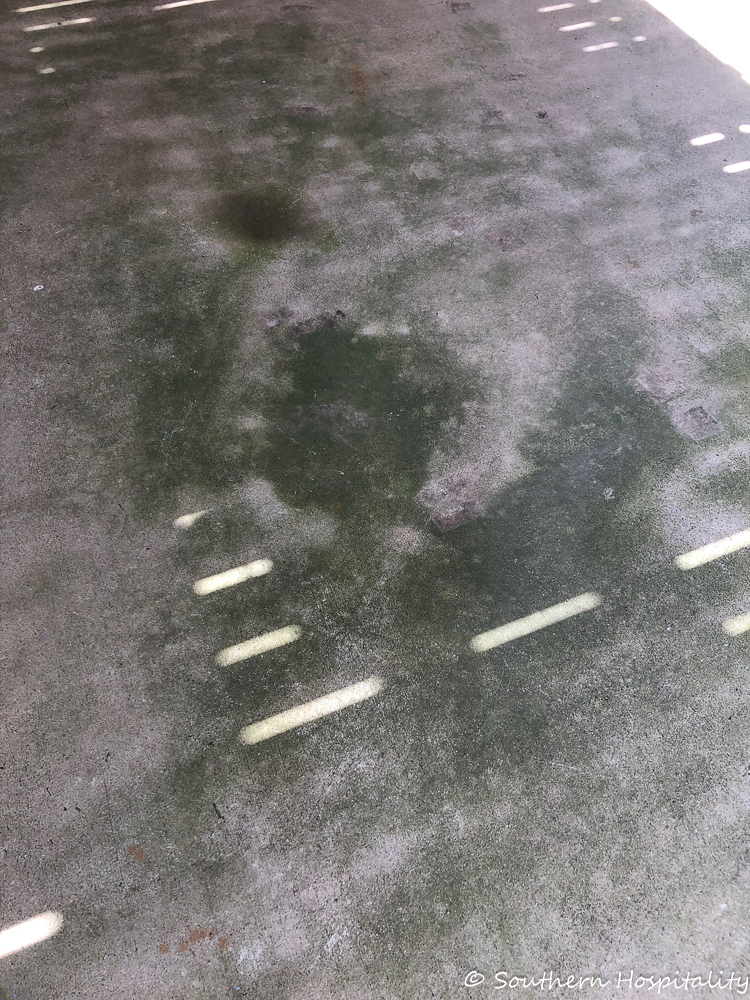 Here's where we started, so so bad looking! I can't stand it when patios get in this state. With all our rain, it was just inevitable that it was going to gather mildew.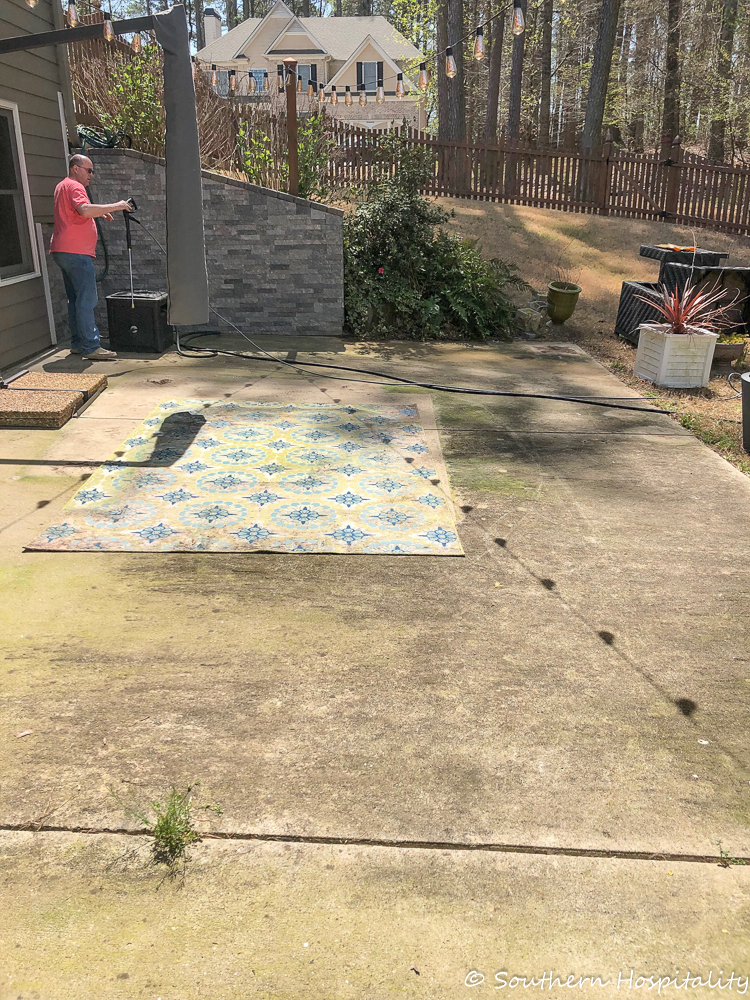 Mark helped me get things ready to pressure wash and it was my task for the day. I really thought that rug was a goner! It was SO bad looking and I could easily have thrown it away, but I figured what the heck, it may come clean. I've had the rug at least 4 years now and even though I've gotten several years out of it, I wanted more.
You can see how bad the rug is here. It was covered in mildew. I did have some concentrated mildew cleaner that I put in a spray bottle and sprayed on the rug before I started. I didn't use any cleaner on the patio itself, but will definitely look into that next time I do this job. I'm sure cleaner does help too.
Holly was happy to have us outside working away. We got the pressure washer all set up and the battery installed for the electric start. It goes in that clear plastic area you see on the top. The wand comes with several different sized nozzles depending on what you're doing. The EZ clean surface cleaner just snaps on the wand and it worked great.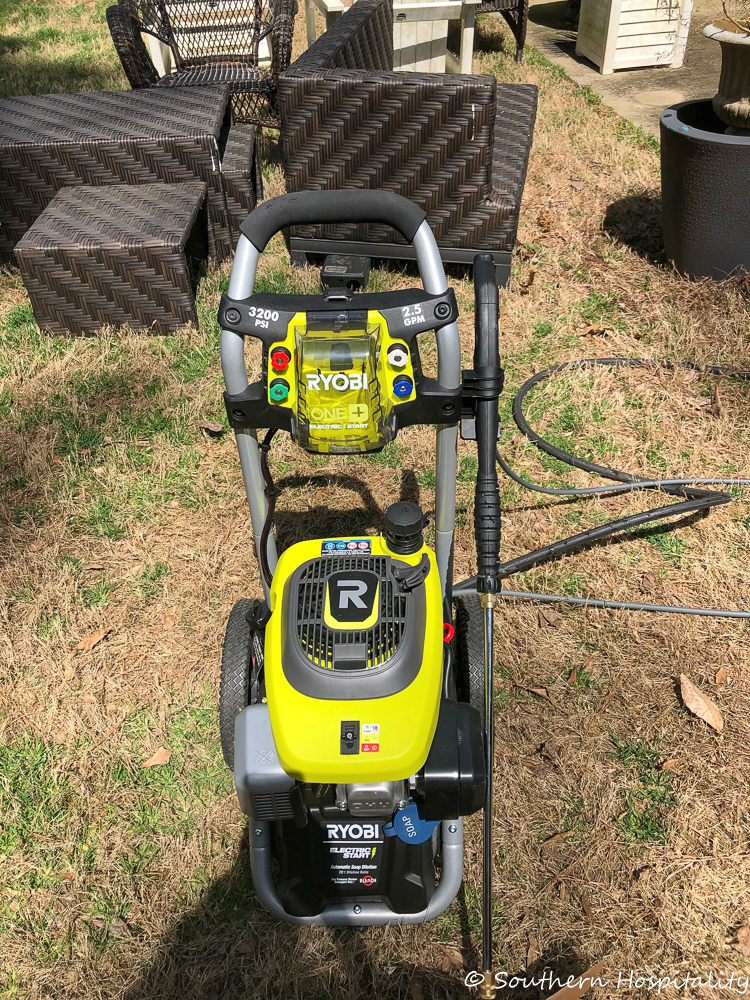 Ready to go! I could hardly wait to get that patio clean again!
Here's the link to this 3200 psi gas powered pressure washer (affiliate link) that we got.
I'm so thrilled that I can get this out and use it without Mark's help. Once the oil is in there, it should be good to go with just filling it up with gas. I had to fill it up about 5 times to get all of my stuff done that day. We use non-ethanol gas in our outdoor tools.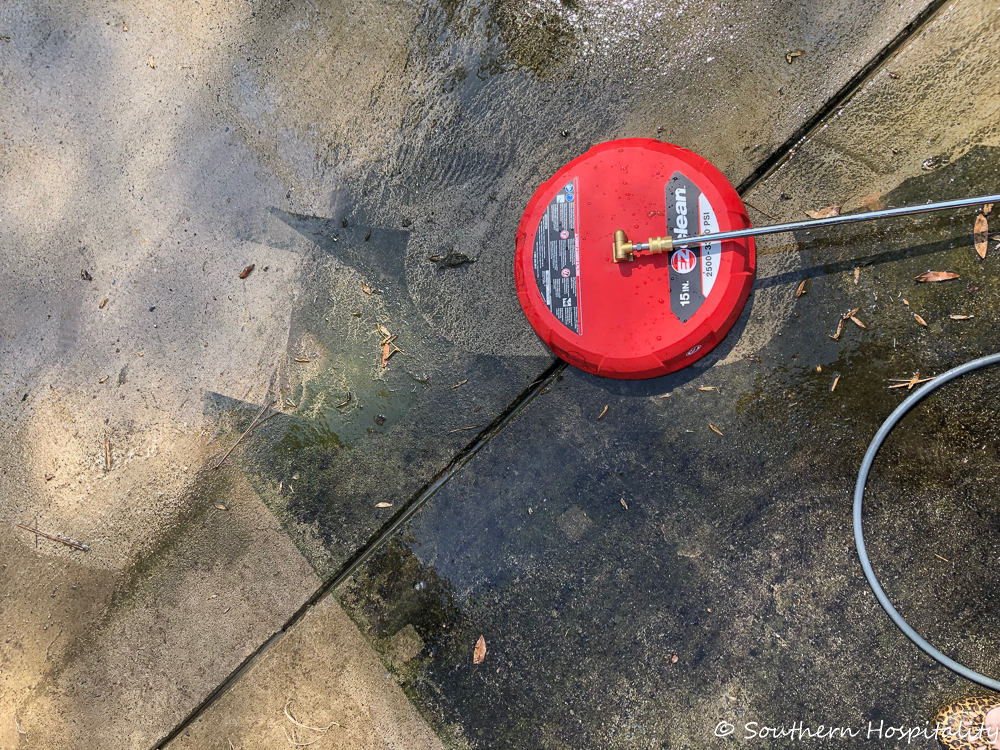 I had to stop and take pics along the way and didn't want to interrupt my flow, but you can see here how that surface cleaner works so well. You just press the wand and water comes out the bottom of the surface cleaner getting everything clean in a circular motion. You just move it back and forth like a vacuum cleaner and it removes all that nasty mildew from the concrete. It does take some back and forth effort, but it's so rewarding to see it changing before your eyes. Instant gratification!
Here's the EZ Clean surface cleaner link for you to check out. 
Here's a good before and after visual on the white chairs. These are made out of plastic and had gotten so dirty, but now they are like new again.
Here I am in action with the pressure washer getting that rug clean. I really thought it was a goner, but it came out so nice!
If the video doesn't show up for you on phone view, click here to watch it!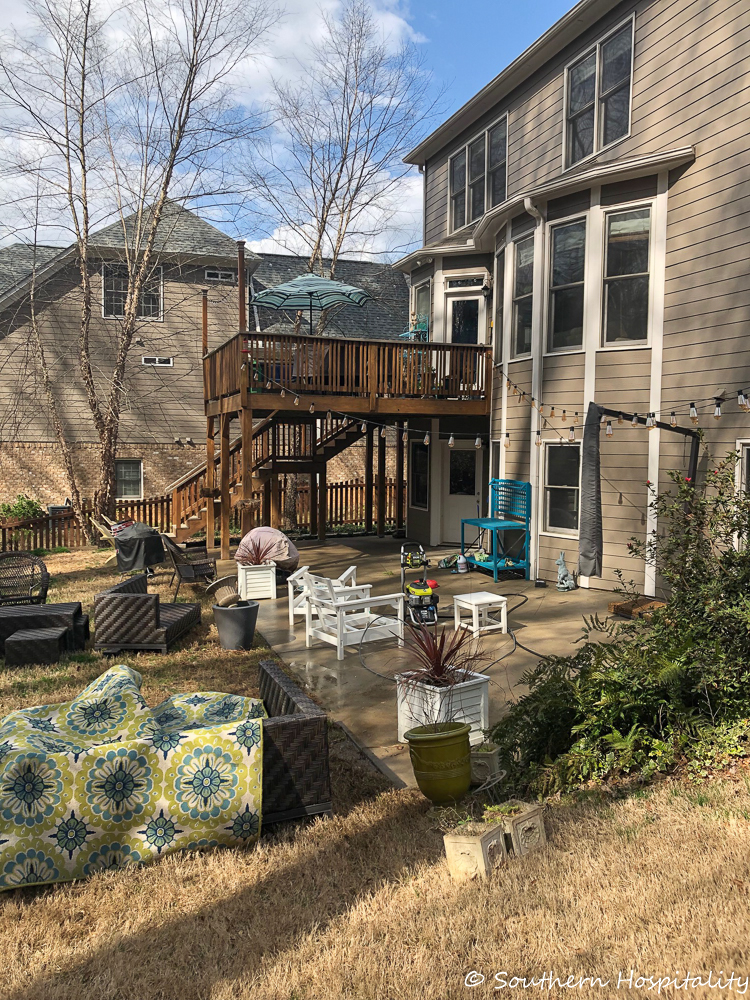 I cleaned the white planters and the white chairs and sprayed off the brown wicker too. Everything was damp so I let it all dry in the sun again.
It was still wet here and you can see I missed a little bit, but once dry it's really great. I let everything dry well before I added the rug and furniture back out there.
I see here where I could go back and do some touchups and I may still do that, but for now I'm really happy to have a clean patio again. Once I get the cushions back out there, it will be a great place to have a party again this year. We've got those outdoor lights up and that makes it so much more festive out there too.
I'm still trying to decide what I want to do with the patio. We are getting ready to tackle the under deck screened porch soon I hope! I'll be sharing all that with you along the way too as soon as we get our plans all made, but an under deck ceiling system will be going up to keep it nice and dry under there.
We would love to put pavers on this whole patio so that it's all seamless from under the deck porch all the way out here. But I'm not sure when we will tackle that. I had told you all that I wanted to stain this patio to look like tile, but I think I'll wait a bit on that until we decide exactly what we want to do. It would look so good tiled with brick pavers, so we'll have to see if it's in the budget and maybe not this year.
For now, we will enjoy the patio as it is and have a lot of fun out there this year! I'm just thrilled it's clean again!
Big thanks to Ryobi for sponsoring my blog with tools for us to use at our home. It really has made our lives easier to have such useful tools around the house. I'll be sharing more Ryobi tools as we use them too!
Are y'all getting outside and getting things clean again too? It's a great feeling. I'm looking outside right now and our backyard forest is all leafed out with leaves again, so summer is definitely knocking on the door!
Don't Miss a Post, join my list!