Since I won't be decorating a house this year for Christmas, I'm helping my sister do a few things around her house.   But, since they have gone through about 3 months of renovations with the flood they experienced in their house at the end of summer, she is not going all out like she normally does.  They are tired and it takes a lot of energy to decorate on the scale that my sister normally does.  This year, we are going simple!  Simple and pretty.
I know that many of you will begin your Christmas decorating this weekend, Thanksgiving weekend.  That is usually when I would drag out all my bins and get all those pretty things out for the season too.  I absolutely love Christmas and adding those special touches around the house is a fun way to get in the spirit of the most wonderful time of the year!
Just in time for the Holidays, today I'm sharing some fun ways to decorate with poinsettias.  These beautiful flowers have long been associated with Christmas and this time of year, you'll see your home stores stocked with all sorts of colors and varieties of these beauties.
In case you haven't thought about buying poinsettias and what you can do with them, I'm joining several other bloggers in sharing our own unique and special ideas on using poinsettias in our Holiday Christmas decorating.
We were given the opportunity to pick up several varied poinsettia plants from a local grower in our area and encouraged to have fun with them.  And have fun I did!  My sis and I got our creativity going and added some Christmas cheer to her foyer table.  It's the first spot that guests see when coming in their 2-story foyer and this space can handle large scale pieces.
I picked up 3 large poinsettias and 2 smaller ones.  I knew I could come up with something unique to do with them.  We added the larger one (Marble variety) a creamy yellow-white, with soft and subtle blush pink accents, so pretty, up on a riser and grouped the 2 smaller ones below.  Those are called Iced punch, for their vivid pinky-red with white accents.
We used things that we already had around the house for this vignette.  She had this pretty deer made out of something natural, not sure what it is, but it is white fibery material.  We started with a pretty creamy runner with holly berries, just enough color to bring to the foyer table, since it is dark.  It needed a little brightening and the runner did the trick.  Those large acorns are from Biltmore Inspirations and I added some real pinecones from my stash of naturals.
You can see that I wrapped the bases of all 3 poinsettias with burlap and twine, to disguise the shiny wrap that they came in.  This is a good way to showcase them and keep it simple.   We added my large iron urn with pinecones to the left on a pedestal to give it some height, with 2 more Biltmore Inspirations acorns below.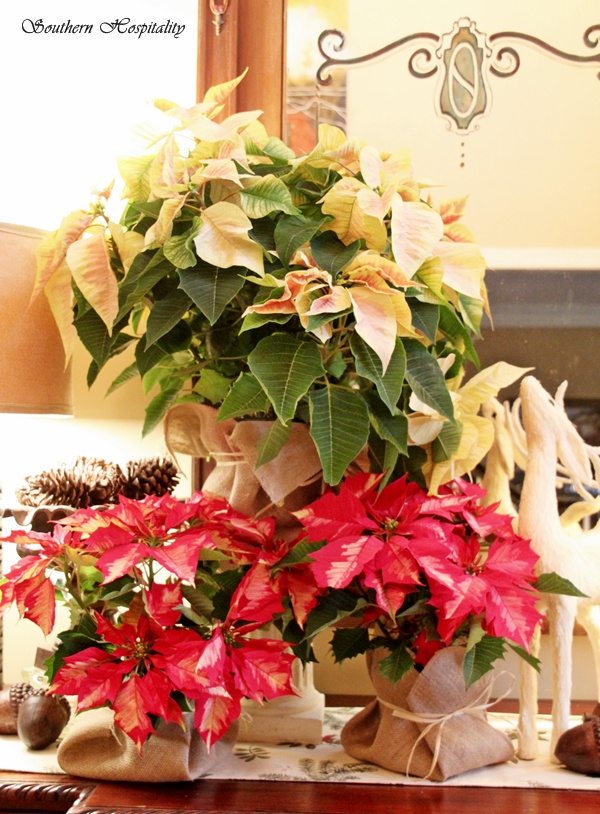 All 3 poinsettias on the foyer table, they really add a lot of pretty color to this area.  You might notice that my sister is using my large antique mirror above her foyer table.  Glad it is getting some use!
On the right side, is the pretty white deer, a tall and chunky candleholder with a large berry red candle and one of my lanterns piled high with natural acorns, pinecones and wicker balls inside.   I had this lantern hanging outside previously.
I love how rustic it is and it is great for showcasing these natural elements.
Here's a good close-up of Iced Punch poinsettias.  Aren't they pretty?
The grouping of 3.  I love the leaves on the Marble one too.  So soft and pretty.
Creamy yellow and pink highlights.
Pinecones and large faux acorns from Biltmore Inspirations.
Left side again.  It took us about 15 minutes to put this all together, so with a few of these poinsettia plants you really can pull together a pretty and festive table with just a few things you already have.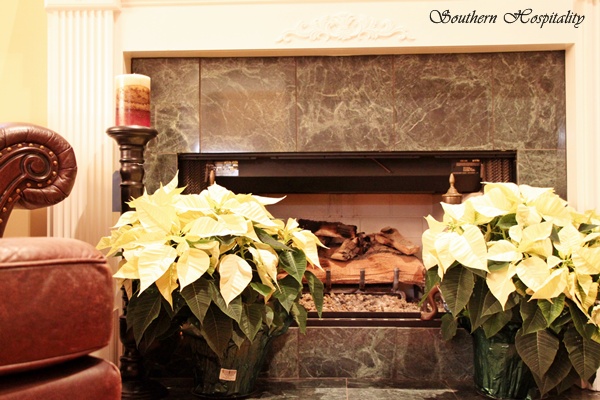 We placed the other 2 large white poinsettias I got on either side of the fireplace.  Nice to have real living plants for the Holidays.   I have always loved this color poinsettia and enjoy using them.  I may go back and wrap the base of these with burlap too.
If you haven't thought about poinsettias this year, you might want to reconsider.  A special shout-out to Hannah at Rambo Nursery, in Dallas, GA, who supplies all the Home Depots here in the Atlanta area.  They were great to work with and I got to visit their HUGE greenhouse.  Have you ever seen so many poinsettias in one spot before?
I had never seen a sea of poinsettias like this and it was so pretty.  I love all the varieties that they have now.  I only got 3 varieties, but there are many different varieties offered now besides the standard red.  Red is pretty, but I happen to like the new ones even better.  Like Marble and Iced Punch, they are crazy pretty!
Tamara Jansen, a poinsettia grower in Canada, is hosting a poinsettia decorating contest and you can link up and share any posts you might do all through December for decorating with poinsettias!
So, go on over and link up your ideas too!  She's giving away prizes.  Does this get you inspired to decorate with poinsettias?  I hope it does!  I was excited to get to share my creative ideas on decorating with these traditional Christmas flowers and I hope this gives you some ideas on what you can do with them too!
You will see several of my blog buddies sharing ideas about poinsettias, so enjoy all their ideas as well.
Merry Christmas!  May the Holiday decorating begin!
When do YOU start decorating for Christmas?
{This is a sponsor paid post.   I was given 5 poinsettia plants to enjoy and use and encouraged to share my own ideas for decorating with these pretty plants for the Holidays.  All opinions are my own and all ideas are mine.}