It's been awhile since I've shared any antiques stores around town and last weekend, I browsed Queen of Hearts antiques in Marietta (on Sandy Plains Road, for those of you local) and it's always  fun to see what they have. It's set up in booths and there are lots of things to see in there, with good prices too.  If you haven't been, you should definitely check it out.  Antiques booths are a great way to add some personality to your space, with their eclectic goods.
I love seeing what is out there and what antiques folks are stocking these days.  Usually goes hand in hand with what blogs are doing too.
Everything is displayed nicely at Queen of Hearts with vignettes everywhere.
Of course, painted furniture is still all over the place and that hasn't slowed down at all.
Cute idea with the starfish in the vintage jar.
Wall of collectibles.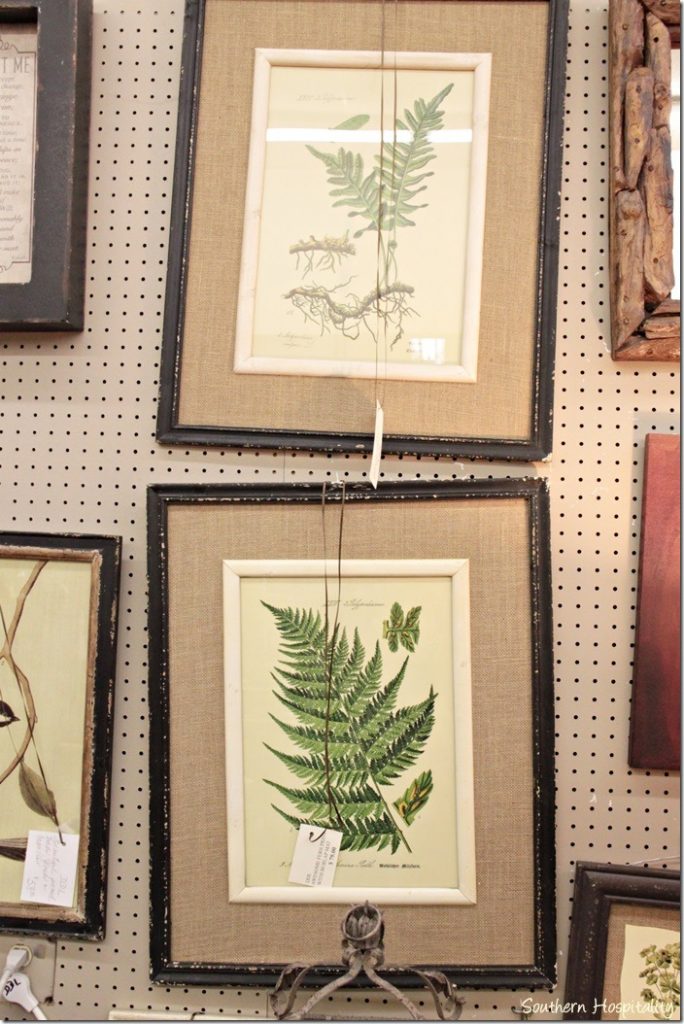 Botanicals always catch my eye.  These were $79 each.
A handmade Mason jar lantern with white lights.
They have a beautiful selection of crystal chandeliers and the prices weren't bad at all.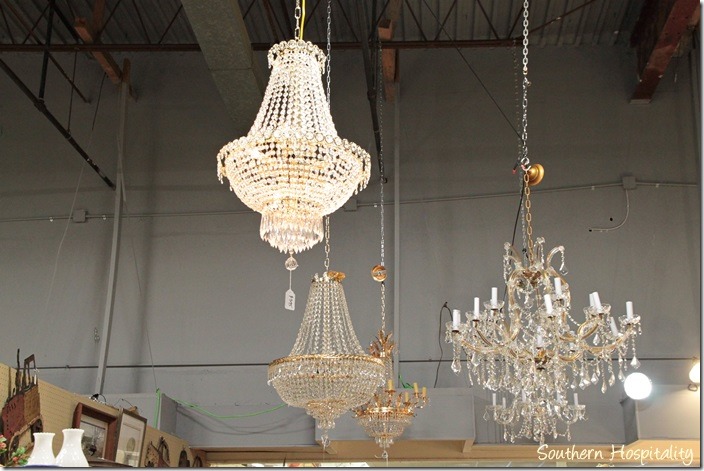 Lovely glimmering chandeliers.
A colorful wall of various collectibles.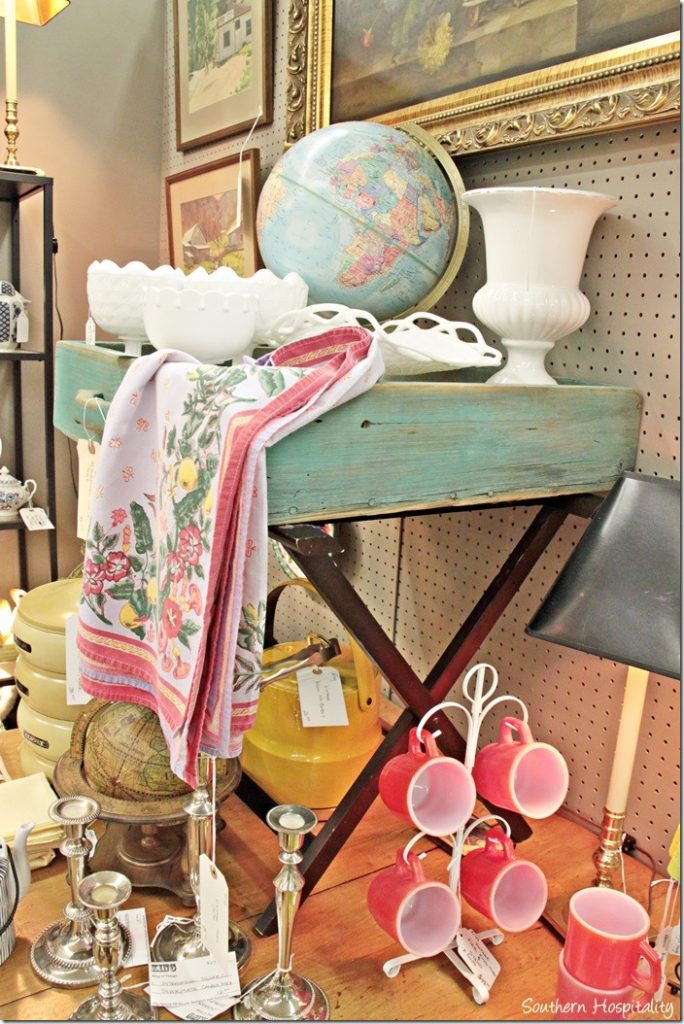 This little antique drawer tray table was cute.
This booth, Vintage Art had some unique pieces.
Very much vintage in feel and painted in a distressed way.
Signs are still hot!
This folding screen would make a cute headboard.
A vintage velvet chair that could be used as is or covered in a current modern fabric.
Lots of folks are painting these old oak tables in tones of white and blue.  Great way to update this old clawfood oak pieces.
Starfish artwork.
A cute painted in stripes drop leaf table.
Mossy bunny.
Driftwood mirror, this booth was all about driftwood.
This cute older hutch was already painted and $200.  Not a bad deal for something this size and clean lines.
Coral pottery dishes.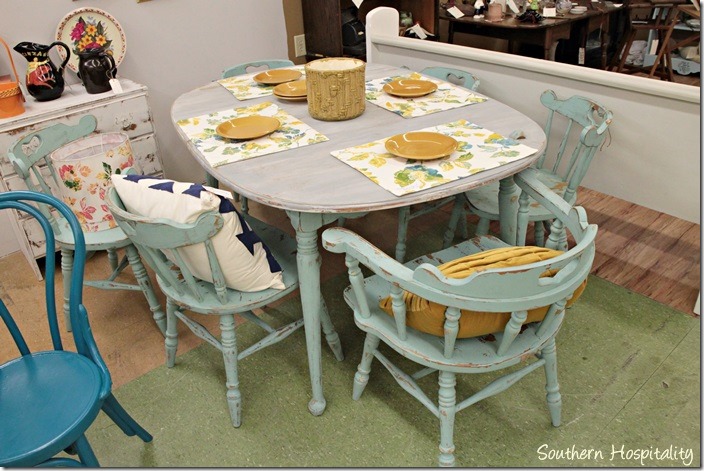 Another set of Early American furniture that's been updated with paint.
I love old water colors and I think this was an original.
You can still find great deals on these old real wood vintage pieces.  I imagine this dates back to the 30's or 40's. Reminds me of what my grandmother used to have in her dining room.  You just can't beat older pieces like this in mahogany, cherry or walnut.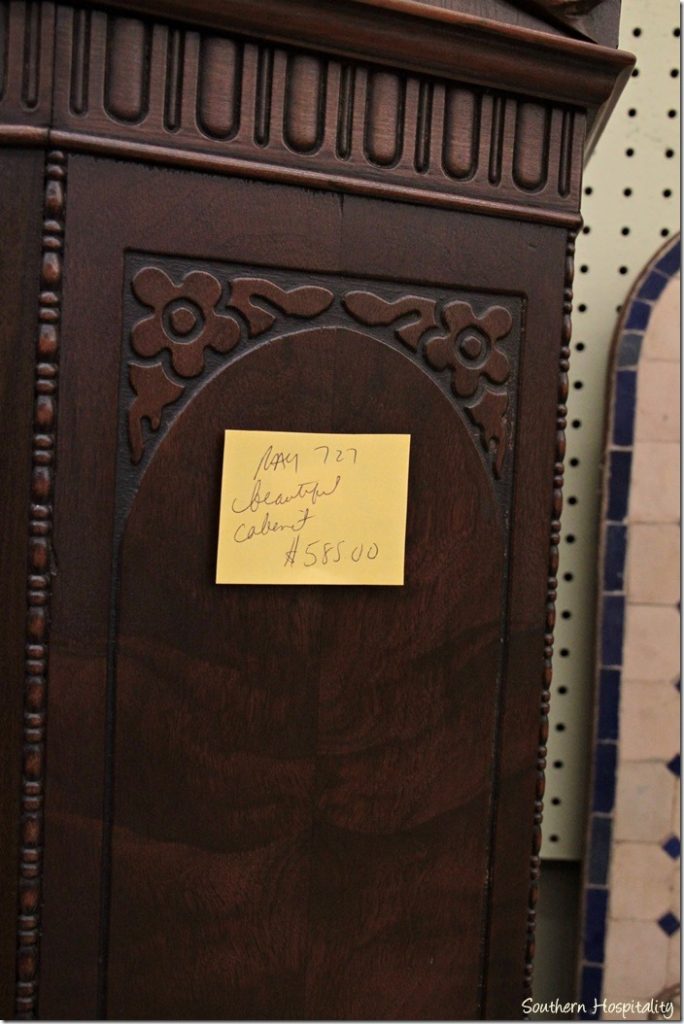 At $585 for a solid wood piece, not bad at all.  I would not paint this piece.  I truly think dark woods are timeless and classic and these shouldn't be painted if they are in good condition.
Love the shape of harp back chairs too, another classic.
Older vintage suitcases.  Cute set!
Queen of Hearts sells Farmhouse Paint, which I haven't tried yet. Anyone try this one?
Interesting that no wax is needed. Comes in a lot of pretty colors!
So, that's a tour around Queen of Hearts antiques in Marietta.  Have you been?  Give it a try if you're looking for some new places to browse vintage and collectibles.
The winner of the Gemvara giveaway has been posted and the winner is #78:  Cher, who has been contacted about her win.  Thanks so much to all for entering!
Don't Miss a Post, join my list!