One of my past projects was recovering some kitchen chairs in a brand new fabric.  I shared all about that here, but my project is being featured today over at the brand new Pinning Parlor at Kirklands.  I've partnered with them in sharing a couple of my DIY projects.
In case you are not addicted to Pinterest like the rest of us, Pinterest is an online bulletin board where you can save all your favorite inspirations pics onto online bulletin boards that you name and categorize to your heart's content.  Fun and inspiring, Pinterest is!
I'm sharing a project with Kirkland's new pinning board and you can check out the Pinning Parlor for more details.
Recovering chair seats is a quick and easy way to use fabric and get an instant change in a dining room or kitchen area.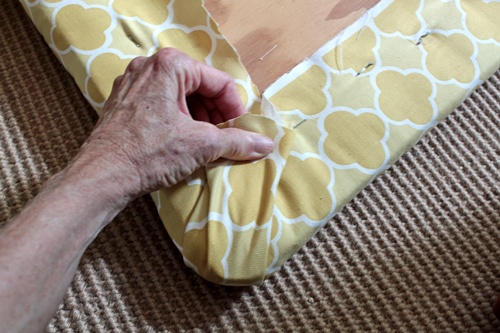 A staple gun and new fabric is all you need to get the job done.
And you get a great new look with a little fabric!
The Kirkland's Pin + Win Promotion, which takes place at the Pinning Parlor, a gathering place for inspiration on MyKirklands.com,  will offer visitors the chance to pin beautifully styled photography, diy projects, and design tips to their own Pinterest boards for a chance to win. Each week of the four week promotion, one lucky entrant will win a $2,000 prize pack from Kirkland's and Formica® Flooring. We will add new inspiration to the Pinning Parlor each week of the promotion so be sure to check back for more inspiration and chances to win!

Click on FAQ over there to see all the particulars on signing up for their promotions!
Back a little later with Feature Friday!
Don't Miss a Post, join my list!