Summer heat is popping in Georgia and I can almost hear the firecrackers now.  The 4th of July is just around the corner and as part of our Lowes challenge for the month of June, patriotic décor was part of the plan so I took that and ran with it.  Creating a cute red, white, and blue patriotic table for a party is just the ticket for Independence Day.  Our country's colors of red, white, and blue is that perfect combination that says Americana and this is the time of year to shout it out.
I started with plain clay pots, which are very inexpensive.  These are easy to paint and the paint will stay on just fine as long as they are inside and not outside.  Clay pots don't usually hold paint if they are left outdoors, from  my experience.  But, inside they are fine!
I also picked up this cedar edging to use as a 4th of July banner.
I'll do a separate post for the pots later next week, but first I sprayed them with Rustoleum Heirloom White, my favorite creamy white spray paint.  This is a good base to mix with my red and blue.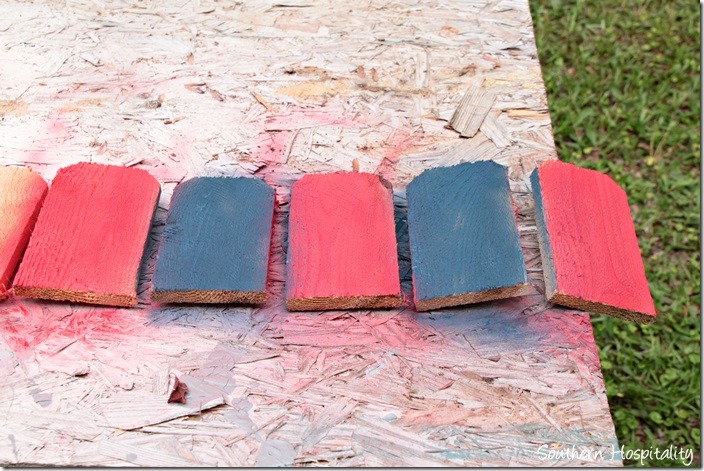 I then alternated spray painting the cedar edging with red and blue, using Valspar Classic Red and Oceanic spray paints.
I taped off the pots and will show more detail on this process later in my tutorial.  It's not a perfect taping method on rounded objects, but it works fine for a cute and inexpensive table idea.
Adding in some red and white annuals, this table came out adorably cute.
And now we're ready for some firecrackers and celebrating on the porch.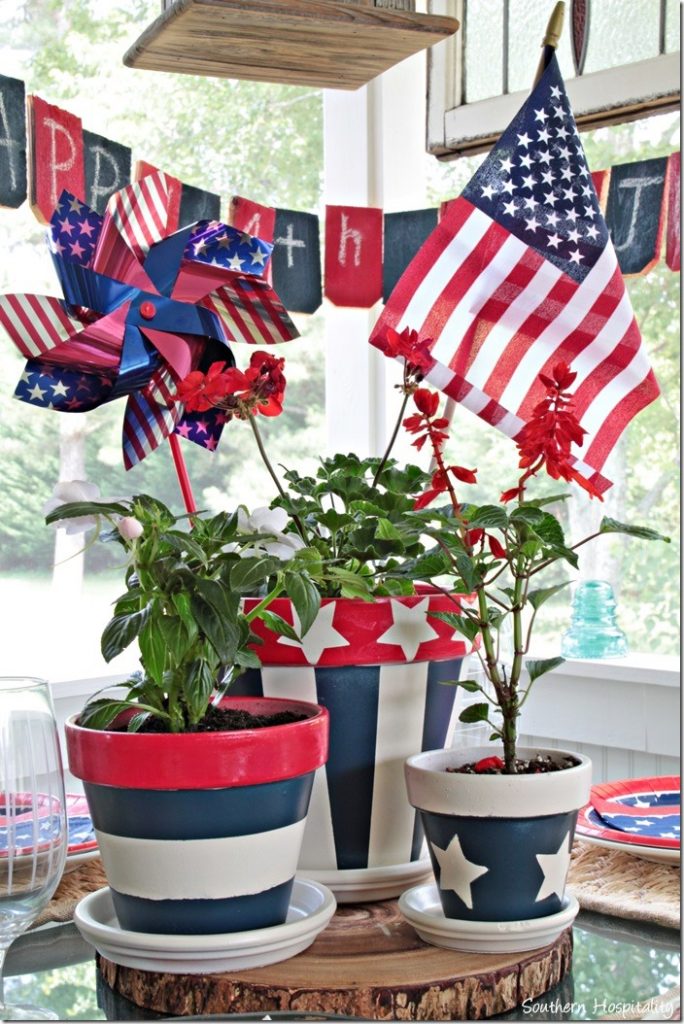 Summer is one of my most favorite times of the year with lots of sunshine, eating outside and doing all those summer things we love to do.  Celebrating the 4th of July is right smack in the middle of summer and always something to look forward to.
Making these pots was an easy project and something you can do in a day or 2.
Lowes has plenty of pots to choose from, as well as flags and whirlygigs to complete a table like this.  Of course, summer includes watermelon for me and I always look forward to the first watermelon of the season.
The 4th of July painted edging makes a nice banner for the backdrop and I hooked it up on little nails.   I just used chalk to display my Happy 4th of July message.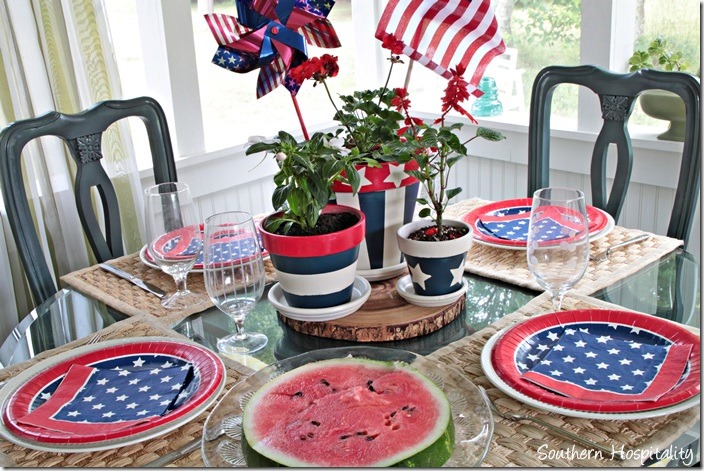 Using inexpensive paper products from Michaels, this is a table that screams Happy 4th.
Lowes also has outdoor pillows in blue and white, perfect for the season.
I hope this gave you some ideas on how you can pull together a 4th of July celebration on the table.  I love decorating my porch and using my table for celebrations of the season.  Painting pots is an easy and inexpensive way to make one of a kind décor and you can change them out with every season if you wish.
Don't Miss a Post, join my list!