This post is sponsored by Regent Cruises. 
Imagine a luxury cruise ship that has every amenity you can think of available. One dripping with the finest materials in the world, textured rugs, luxurious marble everywhere, impeccable woodwork and cozy modern chairs and sofas to relax on. Sounds like the ideal vacation paradise doesn't it?
I had the pleasure of seeing Seven Seas Explorer in person last week in Miami, as she was docked and getting ready to sail the seas again with around 750 passengers on board. Not too big and not too small, but just the right size ship for a vacation you'll be sure to remember for a lifetime. Luxury personified. Having the opportunity to tour the ship was such a treat, especially with my love of interior design. The eye candy was so fun to see in person!
We toured this gorgeous ship and saw not only beautifully designed restaurants, but also the most jaw-dropping luxurious suites I've ever seen in my life. The entire ship is magnificent, with no detail overlooked and outfitted with marble everywhere (we heard there's a football field of marble on this ship alone!).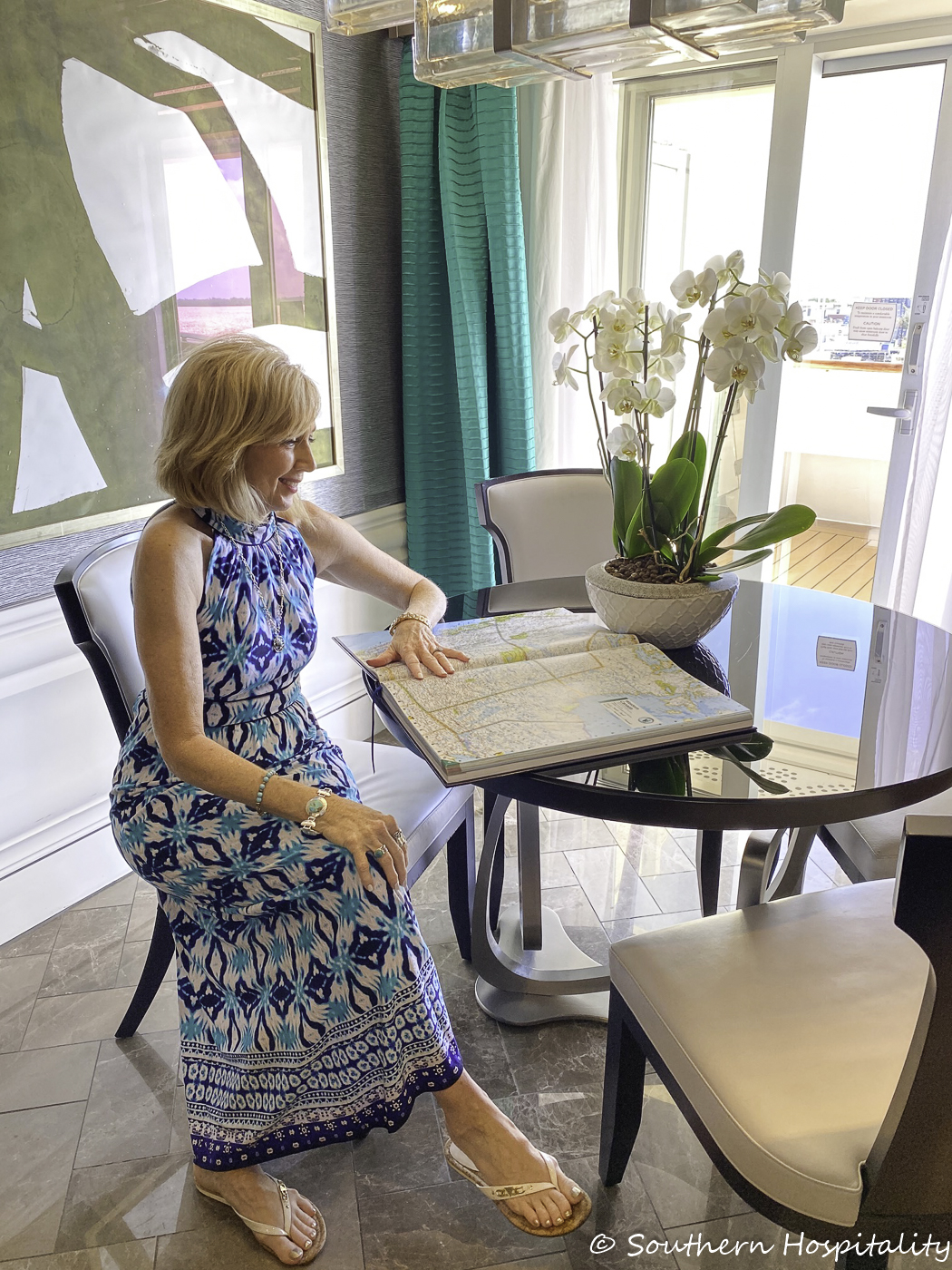 We were treated to a delicious European style lunch in Compass Rose, enjoyed a handcrafted drink while soaking up the sunshine by the pool, and experienced just a small portion of the ship's many amenities available to all guests who board the ship.
Each dining room was unique in look and feel, but all offer the same impeccable service to all guests aboard. The food was delicious, cocktails and coffee were expertly crafted, and we were treated to the finest service with each and every crew member we encountered on the ship. They make everyone feel welcome and special and pride themselves on going above and beyond for each and every guest.
One of my favorite dining rooms was Chartreuse, a French inspired dining establishment with that beautiful color featured everywhere.
Every area we toured was beautiful and comfortable, perfect for relaxing, dining or indulging in a bit of relaxation and just hanging out for the day. That's my idea of a perfect vacation!
I don't always work out when I'm on vacation but if you feel like exercising, wouldn't you like to do so while enjoying the view of the beautiful, blue water?   With a state-of-the-art gym onboard, you can do just that.
Treat yourself to a massage, manicure or facial all designed with a globally inspired twist so you can feel pampered while on board.
Lounging outside the spa area on these spacious lounge chairs would be the ultimate with that ocean view. I could definitely take a nap here.
There's plenty of room to dine outside again with those ocean views.
Cruising is the ultimate dream vacation in my opinion, and this ship would be the perfect one to set sail on.
Regent is truly the top of the line in service, amenities, plus every luxury is included with your trip. Regent Seven Seas Cruises offers more than 450 destinations around the world, with access to every service and luxury. On each cruise you can expect unlimited beverage service, delicious cuisine, spa treatments, luxury suites and ocean views for every room. Can you imagine waking up to a view of the sea every morning? I know I can!
You won't spend all the time on board the ship, although with all these luxuries and amenities it would be tempting to do. Nearly all shore excursions are included with the cruise and you'll find spectacular itineraries and get to visit places you've only dreamed of.Truly a dream vacation in my mind, a Regent Seven Seas Cruises voyage would be on the top of my wish list! I hope this gave you an idea of what you're in store for on a Seven Seas Explorer cruise of a lifetime. I have a feeling I'd never want to leave the ship! What a treat it was to see the magnificent Seven Seas Explorer in person. She's a sight I won't soon forget!
Don't Miss a Post, join my list!