One of the projects we did while in New Orleans visiting my niece, was to paint this huge china cabinet that she bought on Craigslist.  She paid $400 for this large 7' wide china cabinet by Ashley Furniture, which wasn't a bad deal for a huge piece like this.  I'm sure brand new it was probably triple the price.  She needed something big as you can see by the very tall ceilings they have in this house.  A small piece of furniture would get lost on that wall, so I'm glad she found something that wide for the space.
Her table and chairs are staying a natural wood color, but we decided to change the china cabinet to a nice off white with Annie Sloan chalk paint in Old White.  It's a nice muted white and ages nicely.  We opted not to distress and age this piece too much, but you can do what you are comfortable with on painting furniture and making them over.  I personally think that all of this distressed and sanded down furniture will go the way of faux finished walls eventually.  This trend is not going to last forever, nothing does, so eventually we may see people stripping off all of this paint we are now using.  Anyone else see that coming?

But, for now painting a piece of furniture is still a great way to update and change out the look.  Since this brand of furniture is not high-end or precious, I see nothing wrong with painting it.  Definitely not an antique, so paint away!
Now, some of you asked this question on priming or sanding and the beauty of Annie Sloan chalk paint is that NO, you do NOT have to sand or prime with this paint.  Just open the can and start painting. That's one of the very best things about this product!
Paint was sent to me by one of my sponsors, Stylish Patina, and she ships anywhere, so if you're in the market for Annie Sloan chalk paint, you can get it from her if there is not a handy stockist in your area.
Here's the Ashley china cabinet before. Dark wood with mirrored backing inside.  The mirrors make it look a little dated, so we decided to cover those.  Stay tuned!
Getting started with painting in Annie Sloan Old White chalk paint.  We used small foam rollers and brushes on this piece.  I'm glad there were 3 of us or it would have taken days.  We were able to do this piece in one day by painting one coat in the morning and then coming back for the 2nd coat in the afternoon.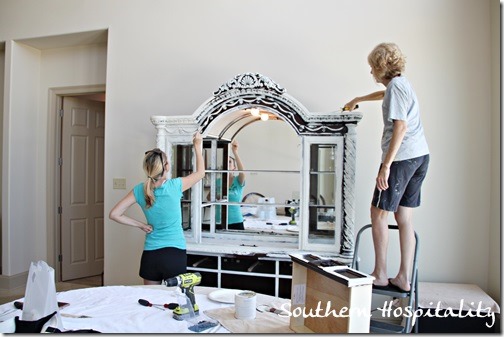 Rolling the top was necessary too, since it could be seen from above.  So many details to paint, but we didn't cover all the crevices completely, but let a little dark show through for the aging part.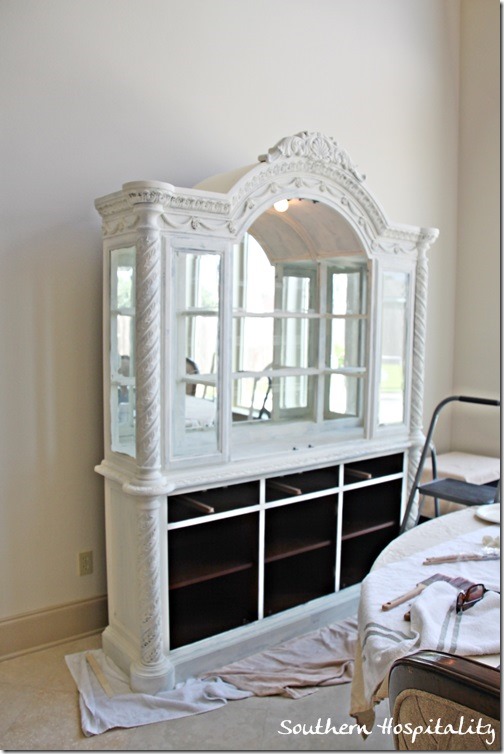 We did take off the doors and hardware just to keep them clean and it is easier to paint doors when they are off.  We chose NOT to paint inside the doors below, but left it dark wood.
After one coat.
Looking good.
Drawers painted.
And doors painted.
Renee and Lauren painting the last coat on the doors.  We didn't worry about covering every single bit completely, but it looked good with a little brown showing through.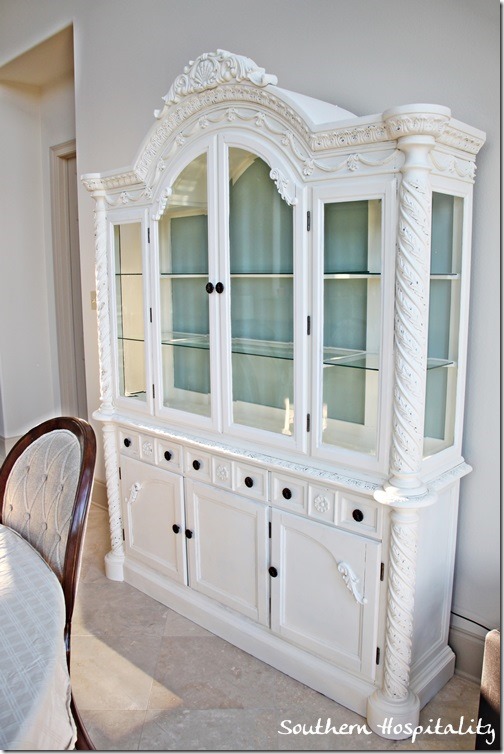 And here's the AFTER!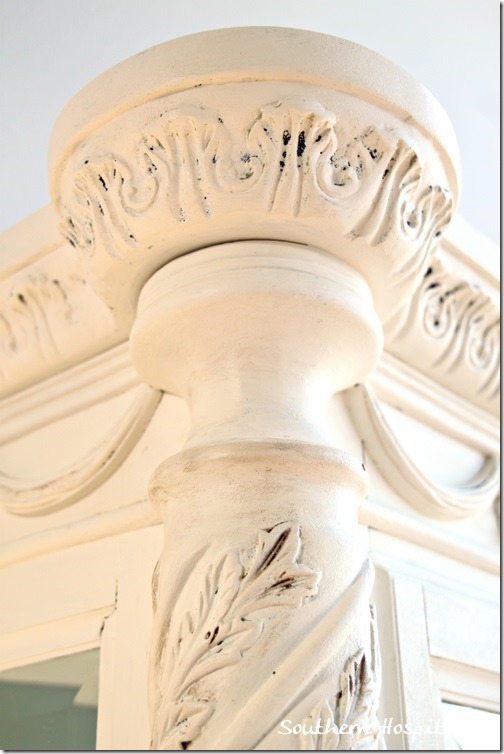 I took some closeups so you could see what I mean about leaving some of the brown.  One of these columns got painted too solidly, so I did add some dark wax to it.  I'm not a wax expert, but did go over the whole piece with a coat of clear wax with my wax brush and we rubbed the wax into the surface of the cabinet.  All that should be needed is then to go back and rub it down to give it a hand rubbed finish. We didn't get to that part before we moved on to more projects, but Lauren can go back and rub it down if she wants.  It's mainly to give it a smoother wax finish and not so chalky. I only used the dark wax very sparingly and not over the whole piece.
Leaving some of the brown showing through.  We could have sanded and distressed this piece even more, but with all the curlicues on it, I thought leaving just a bit of the original brown would be best.  Plus that takes a lot more work to achieve and we had lots to do.
I like how it turned out and Lauren does too.
It does look like an older piece now and I think the white just gives it a nice update.
More details on the side columns.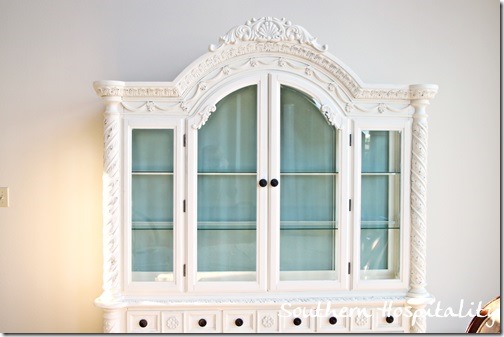 All done!  This piece is finished and we painted the mirror with Annie Sloan Duck Egg Blue, which I love too.
We weren't sure how this would work, but it worked very well.  We hadn't taped off the mirror in here, so white got on the edges of the mirror, but I took a small angled brush and cut in with the blue right over the white paint that we had smeared on the mirrors, then we rolled over the middle with the chalk paint and it covered well.
See!  Looks great and you'd never know there is mirror behind there.  She might have to be a little careful with scratching it with anything, but for the most part, it should hold up fine.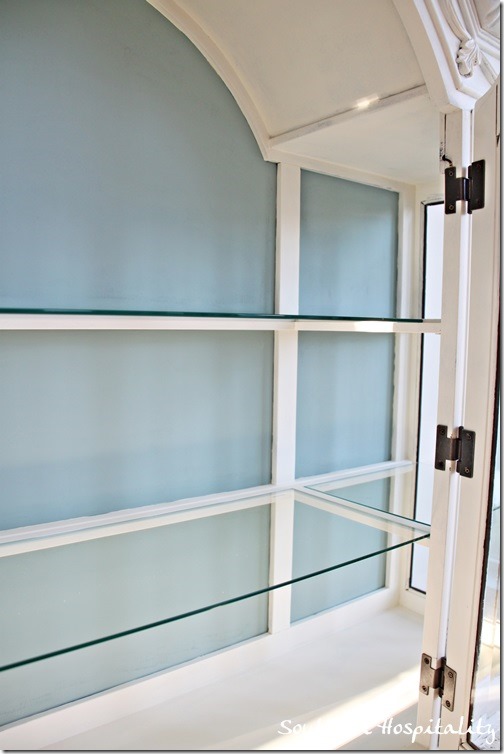 We had taken the glass shelves out to paint and I can tell you, painting inside a china cabinet is no fun. Lots of weird angles to get to, but we managed to get it done even if it's not perfect. If you have a china cabinet you want to try this on, get a friend to help you! It will  make it go much faster.  We were happy to have 3 of us working on this piece and we were really happy to get it done.
I love the dark hardware on here and it totally updates this piece now.  And I've got lots more posts to share on New Orleans and the projects. I got to visit with one of my sweet blog friends while there too!
Don't Miss a Post, join my list!