Destin is a favorite beach destination of mine over the years and you've gone along with me several times before, as I've visited quite possibly the most beautiful beaches in the world. There really is no better beach in the U.S. in my opinion and Florida's Gulf coast cannot be beat.
Last week, I got the opportunity for a little getaway to Destin for a few days and I took along a couple of girlfriends. We stayed at SunDestin, one of the big high rises right on the beach.  Pristine white sand is what you see looking down the stretch of sandy beach, almost like a snow covering.
This time of year is so iffy when it comes to temperatures and enjoying beach weather.  Last week was chilly and too windy for us to enjoy sitting on the beach, but we did enjoy the view and took a walk one of the days we were there.
Even with a sweater on, the sunshine was easy to love and the views, oh the views.  Did I mention what a beach lover I am?  Yeah, that goes way back for me.  I fell in love with the beach years ago and haven't gotten over it yet.
SunDestin is a beautiful high-rise with plenty of amenities.  A sweet couple from my church owns a 1 bedroom here and offered it up to me for a little get-away and it was a wonderful few days.
On the 2nd floor, this cute one bedroom has a very nice view out to the beach and ocean beyond.   If you happen to be interested in renting this unit, it is through Resort Quest, 888-475-9051. You can get a 20% discount with the code SUN56 on this unit and varied discounts with other units handled by Resort Quest.  That's just an offer the owner passed along to me to tell you, in case you're interested.  You sure can't beat the views here!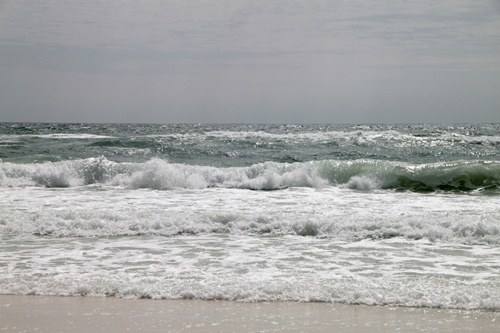 On the day we went for a walk, the waves were crashing and the wind was pretty fierce.  Luckily, it wasn't too cold that day, but the day we headed home, a huge storm came through the area and we hit part of it on the drive out.
On our beach walk, we came across this huge jellyfish, it's clear body was so fascinating, we stopped and looked at it intently, touching its rubbery skin.
We walked all the way down the beach to one of my favorite spots, The Back Porch, always a fun place to eat some seafood.  I didn't take a pic, but we all ordered fish and chips with fries.  I just can't come to the beach and not eat some fried seafood.  I got my quota in this trip and had it 2 days in a row.  
I color enhanced some of these pics, but the water truly is the most gorgeous blue-green you can imagine.  This was right outside the condo too.
Beautiful beaches of Destin.
A few years ago, I met a wonderfully sweet blog friend who lives in Destin, Kat who blogs at Just a Beach Kat.  She's a fun lady and it's always a treat to get together with her.  I just love her and her husband, George.  We stayed at their house once and dog sat their adorable dog, Miss Daisy.
Me and my friends met up with Kat for lunch at one of my favorite spots, Dewey Destin.  Kat introduced me to this special spot a couple of years ago.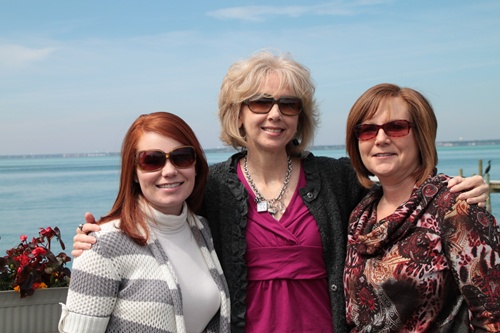 My Birmingham friends, Debbie (of the white farmhouse)  and her daughter, Tiffany, came along on this trip and we had a very fun time.  They loved Dewey Destin too.
Beautiful Kat and me.  I always love catching up with Kathy, she is a special lady.
Dewey Destin sits right on the docks on the bay and there are tons of birds hanging out just posing for pics. It's always a great photo opportunity, so I took lots of them. Thankfully, the sunshine cooperated that day and we were able to sit outside and enjoy our meal.
From Pelicans to seagulls and lots of others I don't know.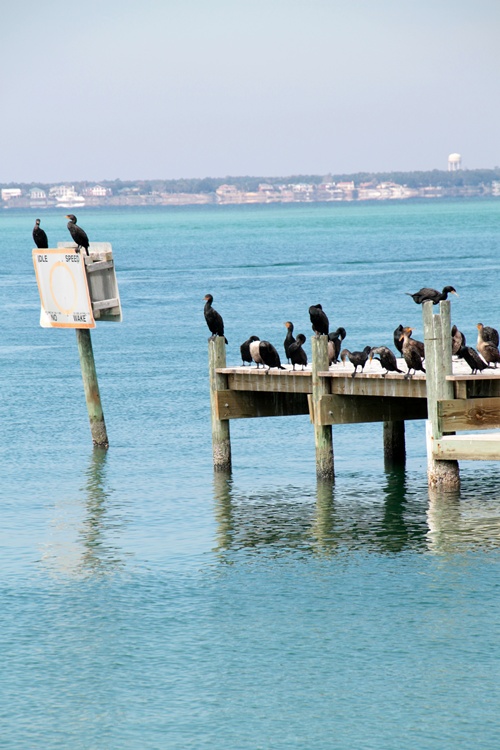 The birds are so fun to watch.
They get close to the tables and eyeball everyone, hoping for a dropped morsel.
But there are plenty of signs around, saying "Don't Feed the Birds".  I can imagine they would get very greedy for food if you did.
Eating lunch outside under these umbrellas is about as good as it gets.
Nothing better than this.
Don't you agree?
Keeping an eye out.
He would have swooped down for a french fry in a blink.
But I didn't let him near my fried shrimp basket.  I ate it all myself! 🙂  This really is the best fried shrimp EVER.
And with this view, the perfect lunch.  Sunshine and seafood, what a combo.
Now, that is the good life.
Have you been to Destin?
What are you waiting for?
We'll go on a little antiquing excursion next week.  There are some fun antiques stores in Destin and we hit a few of them.
The winner of the Zatarain's giveaway is lucky #46:
Joyce Ackley
Congrats, Joyce!  I've already contacted her by email.

Don't Miss a Post, join my list!