I've still got lots more to share about High Point and am still trying to catch up with all my travel recently. It's all fun stuff, but boy, is it tiring to travel around. Not complaining though, I'm so fortunate to be able to do the things I do.
We stopped in several showrooms along the way while in High Point and found out about a party at the Stanley showroom the first night, so hit that as well.  It was fun being considered Press, they let us in everything.
A beautiful showroom, Stanley has some gorgeousness going on.
So we strolled around there an hour or so, then left for dinner.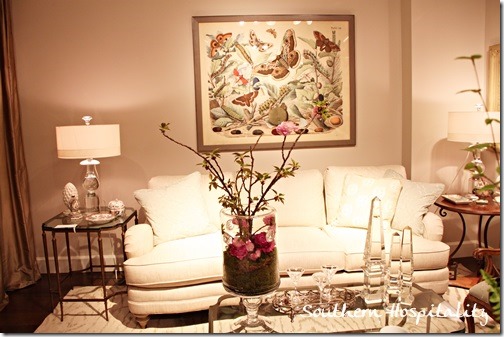 This showroom has some wonderful pieces and it was fun to see all the new things available.  I don't often shop for new furniture these days.
They had a live band playing some grooving tunes, so that was fun too.
We all loved this large wall of open shelving.
The bird prints were fun too.
The next day, we stopped by Somerset Bay, a beautiful furniture shop with coastal feeling painted pieces for the most part.  They even fed us lunch, another bonus.  Lots of food and drinks are flowing at the High Point market.
We absolutely loved all the painted furniture pieces. Makes you wonder if furniture companies take notes from bloggers on painting their pieces.  Hummm, something to ponder.
Loved all the colors and styles they were offering.
Some of these look like they could have been rescued and repainted from a thriftstore, but they are all brand new pieces.
Just shows that blogs are right on trend with the furniture painting that is so the craze now.
They even had a room of antiques and vintage pieces and this is how furniture companies get their inspiration, from the old stuff.  No surprise there!  There's nothing new under the sun, as the old saying goes.
Loved this piece, my fave color of course!
We strolled more and found Bobo's Intriguing Objects, a really cool store that I had visited at the Atlanta Market.  In High Point for the market, they had 4 floors of awesomeness.  It was a vintage, European treasure trove, although they do offer new pieces too.  Not sure how they manage to reproduce these things and make them look old.
The fixtures and pieces in here are so massively scaled, you'd have to have a giant space to make them work.
They have the most unique lighting I've ever seen.
And that is Bobo's!! Wasn't that fun to see?
Next we hit Golden Oldies another fun place with lots of vintage goodness.
I was fascinated by these old metal chairs and tables out front and was told they came from wedding facility companies.  They must be old, but the colors are so pretty. I can see these outside in a garden area.
Who did we spot out walking around, but Michael, Paula Deen's hubby.  They had a trailer there, filling it with finds.  I didn't want to interrupt him at first.
We walked in and saw all of this.  Fun stuff!
So many things to look at and touch.
We all got fascinated by the seltzer bottles, when we found out they were $18 each.  Much cheaper than any I've ever seen out antiquing before, so I had to get one.
This one came home with me!
And then, Michael walked right in the door where we were standing and I had to ask if he would mind taking a pic with us.  I got a friend to snap my pic and he was very nice and accommodating to these fans of Paula Deen.
It sure was fun!  You never know who you're going to run into at any given time. Hope you enjoyed the tour of High Point market. It was exhausting, but very fun!  If you get the chance to check it out, I would definitely recommend it.
I've got lots more to share from the conference I went to at Jekyll Island last week too!
I'm headed out on Monday for another fun trip! I was invited down to New Orleans for a seafood blogger event and since my sweet niece, Lauren, lives right near the French Quarter where I'll be staying, I couldn't pass that up.  Oh, and all the yummy food we are going to eat, couldn't pass that up either.  
Life is really really good right now.  From 2 years ago, to where I am at the moment, I can hardly believe the difference time can make (and the grace of God).  Oh, and just an FYI, I'm dating again.  Just started getting out there a couple of months ago and I'm really having fun all over again with that too.  I've been seeing one guy in particular, but that's all I'm going to share right now.  🙂  
Don't Miss a Post, join my list!