Wrapping up the Room Service Atlanta project at the Nicholas House that I shared with you a few weeks ago, a stylish party was held at the Mitchell-Gold + Bob Williams Design Studio in Buckhead.  Four of us girls met up and went to the party to rub elbows with some of Atlanta's creative design minds and eat some good food.
A beautiful design studio, Mitchell-Gold opened their doors and gave us all a big welcome.
Friends Renae Moore, Heidi, me, and Lori May.  Lori and Heidi did a room at The Nicholas House and we all rode to the party together, since we all live on the same side of town.
Cute Lori added a splash of color to this neutral space.
Food always gets my attention, so I took note and filled a plate with noshing good eats.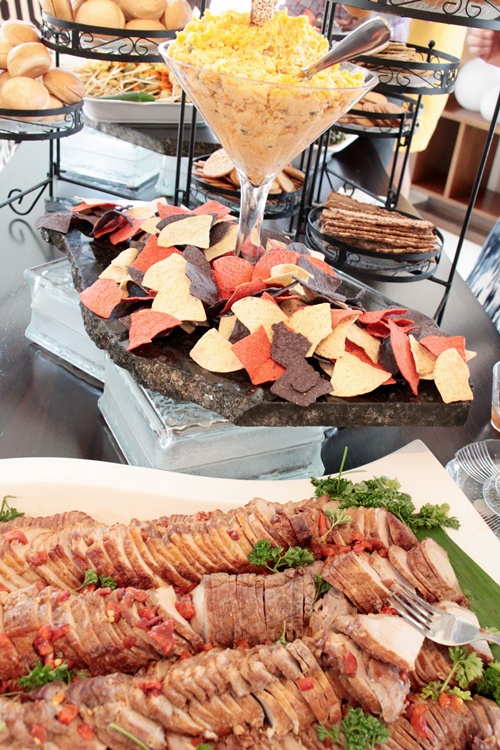 It was all very yummy!
Everyone enjoyed the party.
Dayka and Erika are the brains and partners who brainstormed Room Service Atlanta to bring a group of designers together to improve the spaces of homeless shelters.  What a worthy cause that is.  That's Dayka on the left and Erika in coral, as one of the moms from the shelter spoke about how much it meant to her to have their room made over.  Very inspiring!
Friends Renae and beautiful Angela with The Painted Cottage catch up. 
Look who I found!  It's Mr. Goodwill Hunting, Rashon, who came into town especially for this event.  It was so much fun to meet him and chat in person and he is such a personable and down to earth guy, after being featured 3 times on the Nate Berkus show.  Big things are happening for this guy!
I just love how blogging brings us all together and meeting someone on Twitter and then in person is just the most normal thing to do these days.
Stylish people in a stylish design studio.
Cute Heidi hanging around.
Lori talking to Julie Holloway [Milk and Honey Home],another one of the Room Service designers.
A pretty bench/coffee table that caught my eye.
And the whole room.
Dessert was not forgotten and these cake pops (Candy Cake Company) were a big hit.  I may or may not have eaten 4 of them. 🙂
Some pretty spaces to check out.
Hanging out with new friends is the best.  They are color coordinated too, perfect for a photo op!  Lori, Erika, and Heidi
What a fun event to be a part of!  I look forward to seeing what other projects that Room Service Atlanta will be a part of and I hope to be included next time too.  Giving back and volunteering for a charity project is such a worthwhile cause too of our time.
Don't Miss a Post, join my list!