As I mentioned in previous blog posts, I was privileged this year to work with 2 other talented ladies in this year's Room Service Atlanta project,  renovating the United Methodist Children's Home, Sam Bell cottage.  It was a long week, putting in several hours from all the designers and helpers involved, but seeing that cottage come to life and completely change before our eyes was amazing to watch.  I think you'll enjoy seeing the before and after pics on our space.
I took quick pics of most of the other spaces as well, but my photos do not even do the rooms justice.  If you'd like to take a tour of the space in person, it will be open this Monday, Nov. 5th from 3-7 pm for a $5 donation fee.  Well worth it, believe me!
I shared a few pics early on in the project when we went by initially and toured the cottage.  As you can see above, it was drab and uninspiring and our goal was to make it a place of peace and calm for the young men who will be living here.  Both rooms were just alike that we worked on, equally uninspiring.  All of us as designers and decorators, know how important our surroundings are to us.  I have always said, I cannot live in an ugly space.  I always do whatever I can do with whatever resources I have available to make my space as pretty as possible and that was our goal for this boys' cottage.
We began by cleaning the room, as it was really dusty and dirty.  We had 2 rooms side by side, a bedroom and a lounge/living room space and they were both the same size.  Several of the rooms were shaped like these and a couple of spaces had bathrooms and were more like suites.
We all chipped in and painted the walls and this is Angela, one of my partners on the project.  Click that link to see the final pics that Angela took, she got way more than I did, since I left earlier that last day and her pics document the before and after of the foyer.
This old paneling had to be primed first with oil based primer and I got primer donations from Rust-Oleum (Zinsser primer) for this project, which really came in handy.  I didn't get a lot of in progress pics, were were too busy trying to get things finished,but I borrowed this one from Dayka of our painting party. Our other partner, Lori, blogged about the project too.
It really took all 3 of us pulling together to get this project done and we all painted, helped install the floors, as well as furniture assembly, shopping, and generally putting it all together.  Big huge thanks to Lowes for donating giftcards so that we could purchase this beautiful vinyl plank flooring.  We got it all done in one day and it really made a difference in our rooms.  Big thanks for the help from volunteers, Kim, Mari, Elena, and Heather for coming out and giving their time too.  And we couldn't have done all of this without Chris, Angela's main handy guy, who did all sorts of things to help this project along.  It really did take 5 whole days to pull it off and we were all exhausted, but gratified at the end.
I didn't do any of the shopping for our project, but did get some donations from Lowes, Purdy, Rust-Oleum (Zinsser primer), and Kirklands.  Big huge thanks to all of them for their part in our finale.
Our boy's bedroom AFTER.  Such a lovely space now.   Bed was donated by Room and Board.  You can barely see it, but it's a pretty aqua blue metal bed.
Angela's original artwork totally made our spaces and she worked tirelessly on them all.
The yellow lamps are Kirkland's donation and they really add a nice punch to the room.
Lori went shopping for some vintage pieces and found a few things to add to our spaces.
Like this vintage table.  I think the globe was a mark-down from Pottery  Barn.
The boys' cottage got brand new black and white VCT flooring donated as well and this made a nice difference in the look of the space.  Angela found this dresser at Habitat and bought it early on to be painted black.  Lori donated the 2 lamps and we spray painted them white and got new shades.  Another original art piece by Angela completes this foyer.  It looks beautiful now.
This shield was also a fun find from Lori's thrifting day and it turned out to be perfect in the foyer too.  I didn't get a pic of it hung on the wall, but Angela's link above shows the complete before and afters on the foyer.  Amazing transformation!
Isn't this pretty?
Back to our 2 rooms,  we had Room #3 and Angela made that #3 hanging on the wall. This is the lounge area for our space and it really came out nice with the Ikea sofa and all the rugs and accessories.  Drapery panels came from Ikea and were embellished with ribbon down the side that Lori added with fabric glue.
A cozy space to hang out now.
More original artwork by Angela.
Vintage pool balls on the coffee table.
And yet more artwork by Angela, the girl is so talented.  That Love sign is adorable.
A small desk by the fridge makes a good study/snack area.
Perfect storage too.
I loved working with  Lori and Angela, both bring so much to the table and I think the 3 of us did a really nice job on pulling this all together.
We'll move on to the other spaces and give a quick look at those too.  New friends, Jennifer and Lisa tackled the kitchen.
It was still in progress when I snapped these pics, but you can see it is a spacious kitchen, just needed warming up.
They added some great touches with fabric on the windows and live plants in the window sills.
Jennifer painted numbers on the fridge for a whimsical touch.  Baskets on top are great for storage and I barely got a shot of the 2 Ballards lanterns hanging over the island.
Island painted with black and white stripes.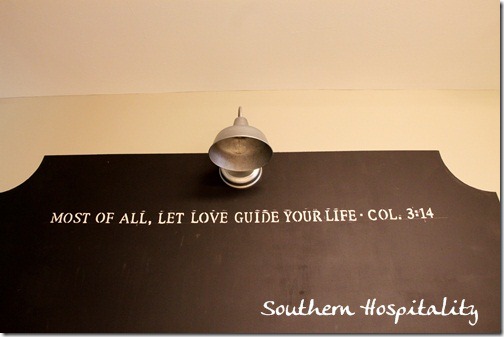 Jennifer also painted this chalkboard on one wall, adding a scripture verse.  Loved this touch, I'll be sharing a tutorial on that later on.
Designers Kelly and Joann designed this front room, which is a den of sorts, there's a TV in here and a large room with a conference table.  Those are Flor tiles on the floor.  Love the punch of red in here.
Fabulous room
This room wasn't quite finished when I took pics and there is a TV added and also a nice bookcase in here.
The conference table was existing and they had a talented faux finisher paint the table to look like metal around the edges.  Gorgeous!
A beautiful quote from Martin Luther King is painted on the table too.
The talented stylist, Annette Joseph, designed this suite off the foyer.  It's a living room, bedroom, bath combo and she did an outstanding job.  She has some great photos on that link of her space.
Loved her choice of colors and textures.
Any young man would be happy to live in this room.
Jennifer Baggett designed this beautiful bedroom, with blues and neutrals. My poor pics really don't do it justice.
But it is amazing what paint and flooring can do to transform a room.
All those little details add up to make a huge difference.
Pillows are wonderful.
And she had room #4.
Room design by Olivia Westbrooks, this room is stylish and fun.
It was so fun to walk around and see all these rooms coming together.
Everyone went above and beyond on their rooms, adding all the perfect details.
This pretty room was designed by Niki McNeill.  Another beautiful space!
Niki's room sign.
Heather Hogan Roberts designed this beautiful space.
With shelving and a chevron painted fridge, how clever is that?
More details.
My friend, Sherry Hart took on the big room, a large space for hanging out.  I loved how she pulled all of this together and made it so cohesive and cozy.
Her upholstered pieces were donated by Mitchell Gold.
Vintage piece she found for the space. It's fun to watch Sherry work her magic in a room.
She tweaks it until she gets it just right.  Love the Explore letters she found at World Market.
Pretty orange pumpkins in a bowl add a lot of color.
This space has a bathroom adjoining and she painted stripes and an accent wall in here.
Lovely little details.
IO Metro's Cody and Heather, tackled the dining room and brought it together with style.
Loved this beautiful vintagey sideboard made  from reclaimed wood, iron and glass.
Artwork from IO Metro.
Lowes light fixtures complete the new hallway.
And Sherry's friends added these beautiful vinyl wall words to the hallway, making a huge difference in it.
Wonderful sentiment on the walls of this young men's cottage:  Behold, how good and how pleasant it is for brethren to dwell together in unity.
And that's the boys' cottage, didn't it turn out fantastic?  We were just in awe to see it all come together and all the staff at the children's home was so happy with the final outcome, as I'm sure the boys will be too.
If you'd like to tour the cottage in person, you can do so on Monday, Nov. 5th from 3-7 pm.
Don't Miss a Post, join my list!