Happy Friday and welcome to another edition of Feature Friday! Today's feature is another of the Newport mansions we visited on our recent trip to New England.  These mansions sprawled around the coast line of Newport and beyond were just amazing.
Today's Feature is Rosecliff Mansion and here's a snippet of the history from the website:
Commissioned by Nevada silver heiress Theresa Fair Oelrichs in 1899, architect Stanford White modeled Rosecliff after the Grand Trianon, the garden retreat of French kings at Versailles. After the house was completed in 1902, at a reported cost of $2.5 million, Mrs. Oelrichs hosted fabulous entertainments here, including a fairy tale dinner and a party featuring famed magician Harry Houdini. Rosecliff is now preserved through the generosity of its last private owners, Mr. and Mrs. J. Edgar Monroe, of New Orleans. They gave the house, its furnishings, and an endowment to the Preservation Society in 1971.
Scenes from several films have been shot on location at Rosecliff, including The Great Gatsby, True Lies, Amistad and 27 Dresses.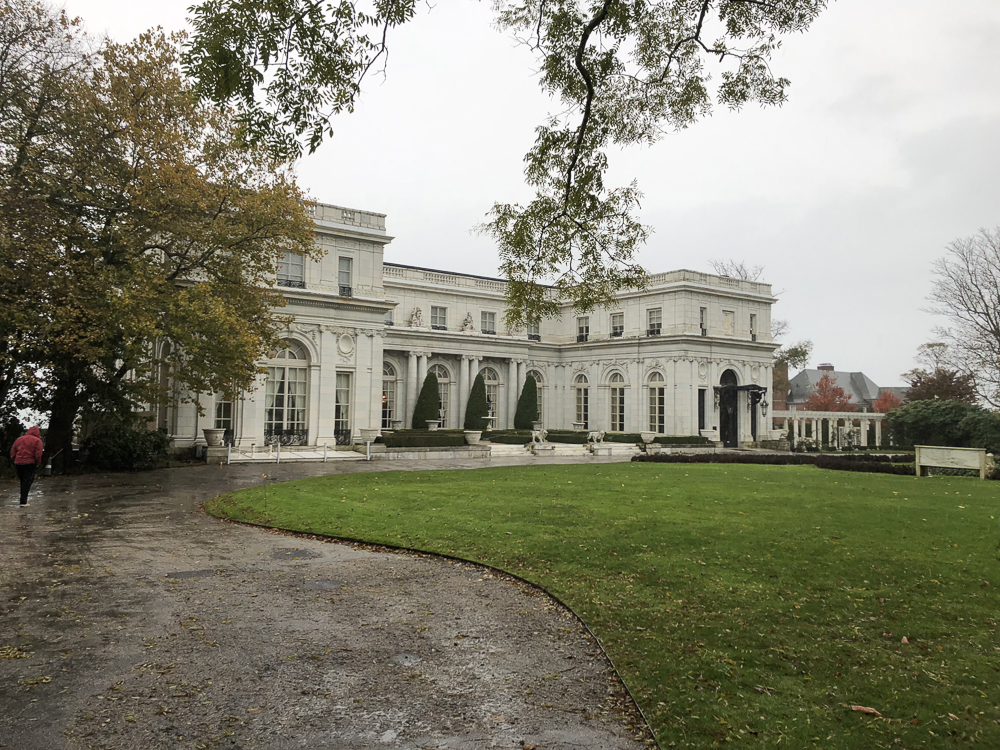 That's Mark heading up the drive.  We had a rainy day for this one, so didn't take time to visit the grounds, but I'm sure it was stunning as well.
Now that's a staircase worthy of Scarlett O'Hara, isn't it?
The details in these homes continued to astound us.  The workmanship, fine craftmanship and all the materials used cannot be rivaled.
I love this classical Greek key motif on the coffered ceiling.
The fireplaces with their marble surrounds were just stunning.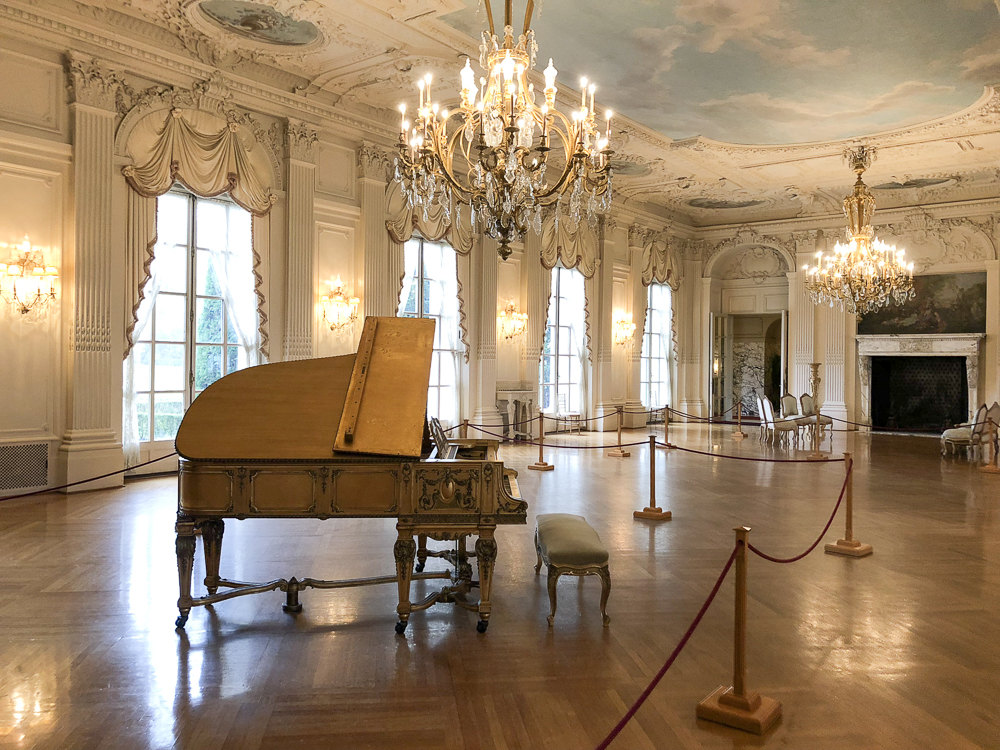 The Ballroom, which has hosted many parties, I'm quite sure. We found out weddings are held here regularly. What a wonderful place to get married.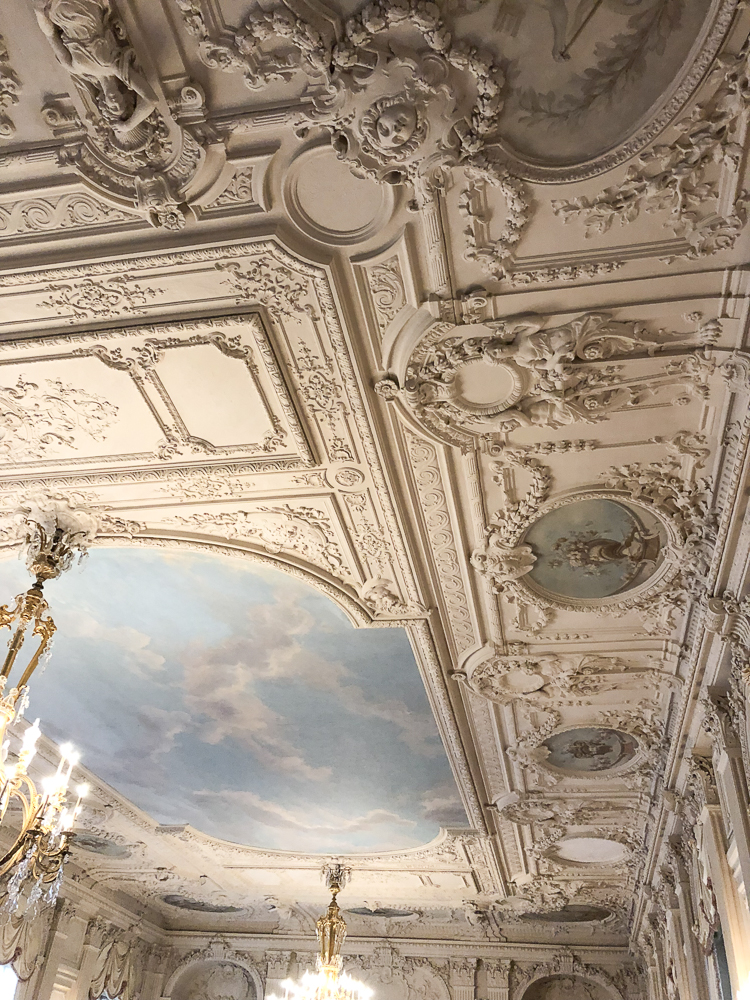 Another outstanding ceiling detail. Gorgeous!
Heading upstairs, we found one bedroom that had been furnished and the rest of the upstairs was a museum with history of the time period and many pieces of furniture, as well as clothing of the time period.  It was fascinating to look at too.
I forgot to mention in the first tour, but each tour you're given a headset and it walks you through the house room by room with audio.  I loved that part.  This room is where the brides discuss their wedding plans and get dressed nearby.
A tribute to Cole Porter.
A look at the movies filmed in Rosecliff.  It would be fun to go back and watch these movies just to see the house again.
The master bedroom that was preserved.
These bathrooms just fascinated me. So pretty with all that tile and marble.
Closet area.
A dressing table.
I just loved the different tiles of the day, still pretty today.
I took pics of some of the details they shared in the house, so feel free to read or skip over.
I loved seeing some of the wallpaper of the time and has been duplicated and doesn't it look like it could be used today?  We are seeing more and more graphic print wallpaper lately.
Oscar Wilde, who I knew nothing about, but he came over from England and took the US by storm apparently with his ideas and fashion.
And you've heard his quote used extensively among designers, I'm sure.  "Have nothing in your houses that is not useful or beautiful."
Another wallpaper that reminds me of some wallpapers I'm seeing now.
Clothing of the day. Reminds me of Downton Abbey ladies.
Can you see Mary in this?
It was another fascinating tour, so I hope you enjoyed this one as well. Have a great weekend! I'm wrapping up my Christmas decorating just in time for Thanksgiving and Lauren and her family coming into town this weekend. We'll have a busy week next week, so it feels good to get ahead and enjoy the sparkle and shine just a little longer!
Don't Miss a Post, join my list!