With another tried and true delicious dish, I'm back to share another recipe using Knorr's fabulous Chicken Concentrate stock.  This time my friend, Tammy and I decided on a comforting risotto for our dinner.  I've cooked risotto a few times in the past and I will tell you that this one is packed full of flavor. Delish!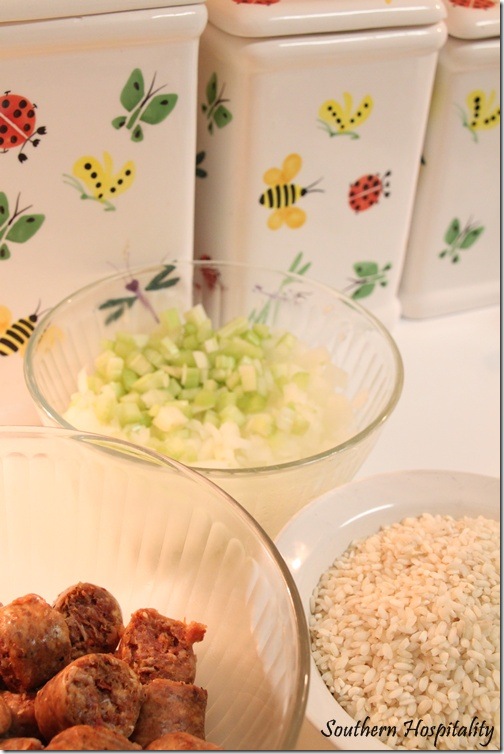 It helps to have everything ready to go before you get started.  Chopped onions, chunks of Italian sausage, and the risotto ready and waiting.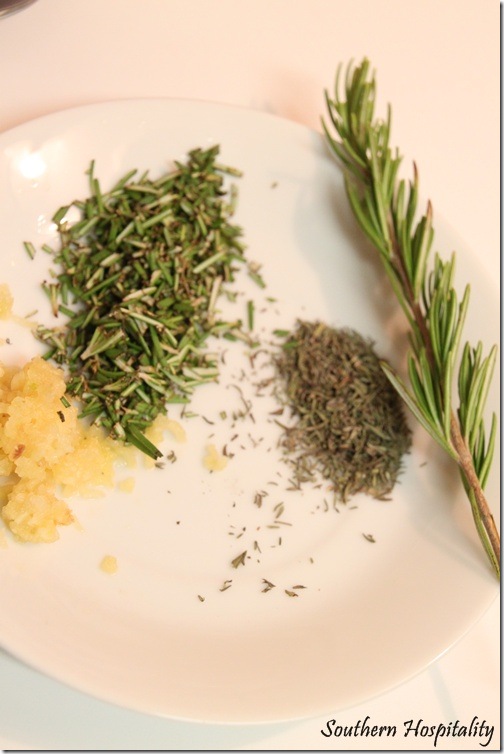 Spices and herbs.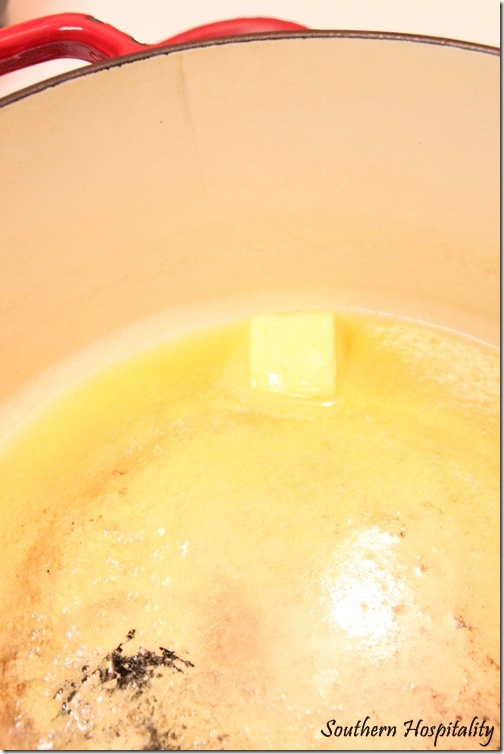 Melt that butter.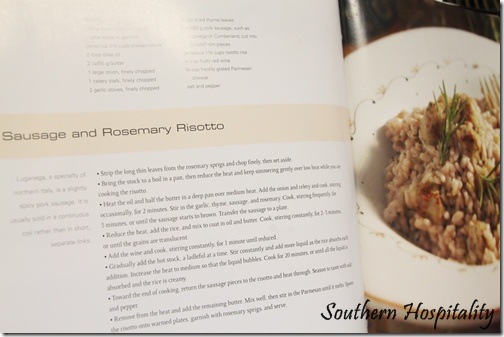 This dish came out of a book called Risotto.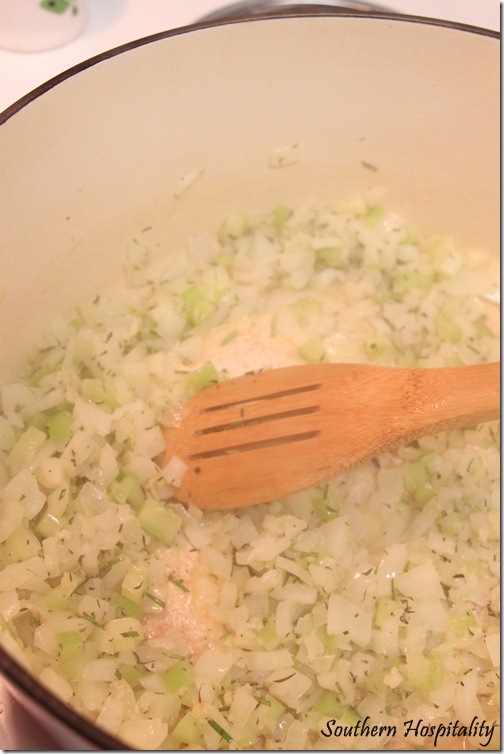 Sauteed onion and celery.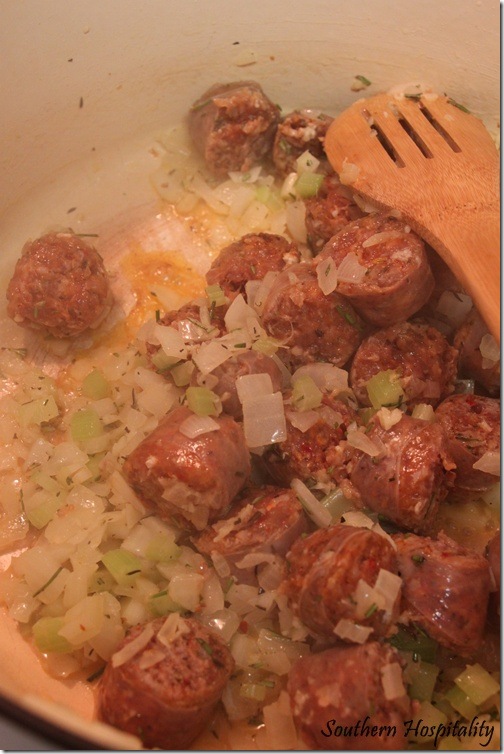 Add the sausage and brown it up good.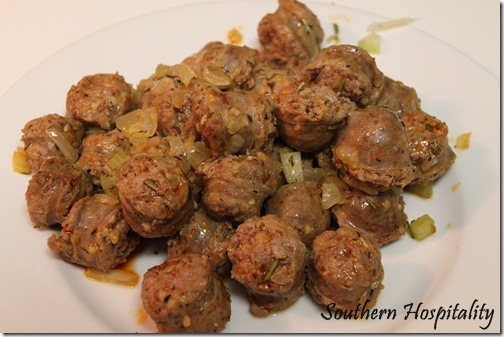 Remove the sausage after it has browned all over.
Begin adding the chicken stock one ladle at a time.  If you haven't cooked risotto before, it's important to cook it slow and let that stock soak in well.  It will thicken the risotto and make it very creamy.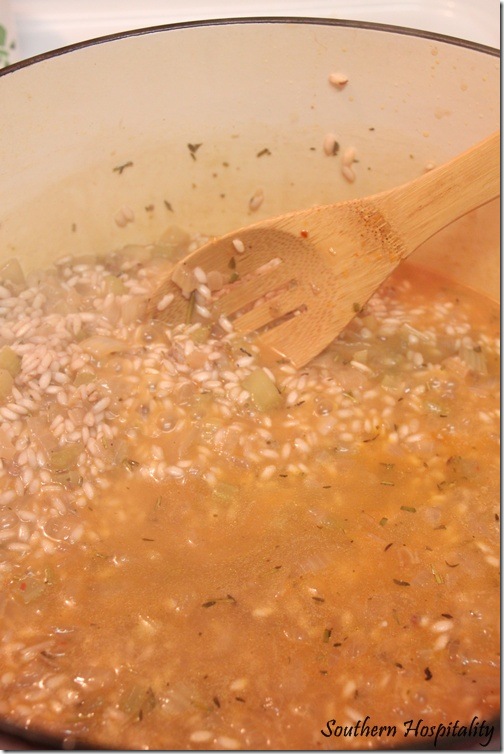 Keep adding the stock and as it thickens, add a bit more.  It will cook down.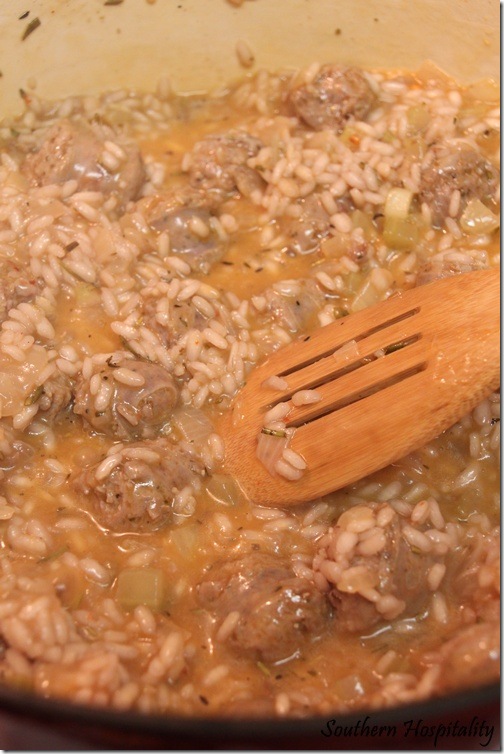 Eventually, after about 30 minutes or so, it will cook down and become even creamier.
Add fresh parmesan cheese at the end and stir.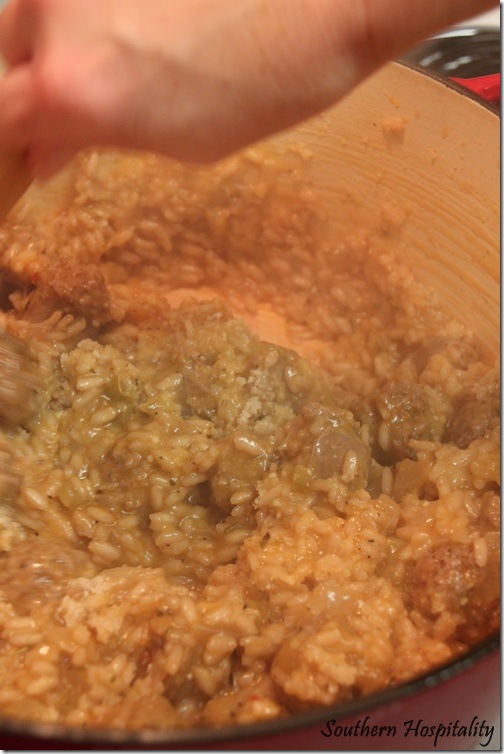 Stir it all in and you'll have a delicious creamy risotto with so much flavor.  You will love it!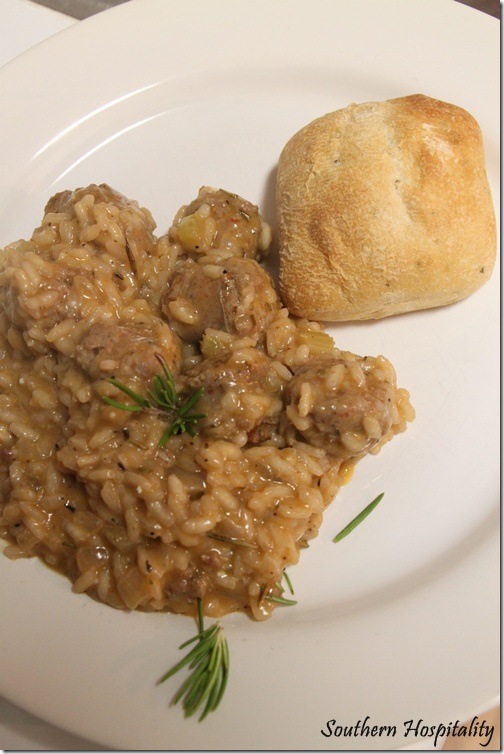 We drooled over this dish and it is positively yummy heaven.  If you like Italian sausage, I do believe you'll love this one.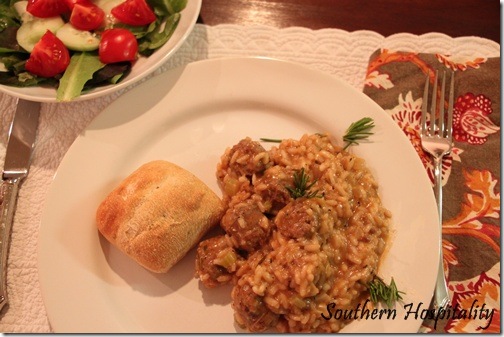 Sausage & Rosemary Risotto
2 fresh rosemary sprigs
generous 5 1/2 cups chicken stock (I used 2 Knorr Chicken Concentrate stock packs, makes 7 cups)
2 TBL olive oil
2 oz. butter
1 large onion, finely chopped
1 celery stalk, finely chopped
2 garlic cloves, finely chopped
1/2 tsp. dried thyme leaves
1 lb. pork sausage cut into 1/2 inch pieces (We used spicy Italian)
generous 1 5/8 cups risotto rice
1/2 cup fruity red wine
3/4 cup freshly grated Parmesan cheese
salt and pepper
Strip leaves & chop rosemary sprigs, set aside.
Bring stock to a boil in a pan, then reduce heat and keep simmering gently over low heat while you are cooking the risotto.
Heat the oil and 1/2 the butter in a deep pan over medium heat.  Add the onion and celery and cook, stirring occasionally for 2 minutes.  Stir in the garlic, thyme, sausage, and rosemary.  Cook, stirring frequently for 3 minutes, or until the sausage starts to brown.  Transfer the sausage to a plate.
Reduce the heat, add the rice, and mix to coat in oil and butter.  Cook, stirring constantly for 2-3 minutes, or until the grains are translucent.
Add the wine and cook, stirring constantly for 1 minute until reduced.
Gradually add the hot stock, a ladleful at a time.  Stir constantly and add more liquid as the rice absorbs each addition.  Increase the heat to medium so that the liquid bubbles.  Cook for 20 minutes, or until all the liquid is absorbed and the rice is creamy.
Toward the end of the cooking, return the sausage pieces to the risotto and heat through.  Season to taste with salt and pepper.
Remove from the heat and add the remaining butter.  Mix well, then stir in the Parmesan until it melts.  Spoon the risotto onto warmed plates, garnish with rosemary sprigs.
(Note:  We did not add the extra butter at the end, it was plenty creamy).
This is a fantastic risotto dish and is you enjoy Italian sausage, you will love it!  Rich, creamy, flavorful, comfort food.  Everything you want for this time of year.
Don't Miss a Post, join my list!