Taking a break from all things Christmas today to share a little excursion we took awhile ago that I never got to share.
Back in October, we took off for a day to the scenic little historic town of Mentone, AL. Sitting in the foothills of the Appalachian mountains, Mentone began as a summer getaway when folks here in Birmingham built cottages there for retreats away from city life. It's quaint and cozy and we enjoyed the day. It was a perfect Fall day.  I had read in the local paper about a free art studio and cottage tour.  Sounded fun to me!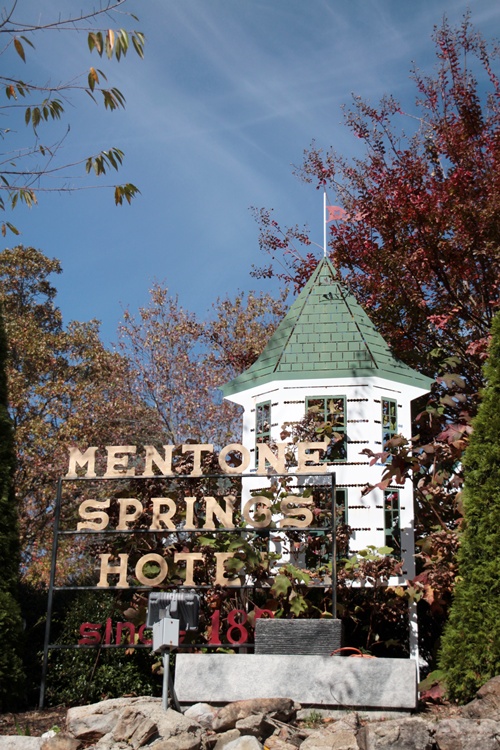 Mentone Springs hotel was the beginning point for the free tour and there were art studios, as well as a few cottages open for the tour.
I  loved this old hotel, you can tell it's been around for awhile.
Quaint and rustic, there are a lot of homes built of out rock in this town.
So pretty.
You can see the hotel dates back to 1884, so I imagine it has seen a lot of visitors over the years.
We walked through and got our info for the tour.
Lots of pretty things to see.
Lobby of the lodge.
Big stone fireplace.
Decked out for Fall.
Very rustic and appealing.
A cozy corner.
First stop was this cozy old cottage sitting on the edge of a huge gorge.  The view from the back was amazing.
We walked through this screened porch to the outside deck.
Where this view was waiting.  Talk about majestic, it certainly was.  You can't really tell from this pic, but this gorge is just HUGE.   They told us the water flow here varies depending on rainfall. 
He had pics of when a hurricane came through down South and dumped a lot of water on them, the waterfall covered about half of the rocks instead of this little trickle.  Amazing!
Gorgeous day!
Outside the cottage.
One stop was this rustic lodge, Nippersink. 
Stone and wood, it had a nice feel too.
Pottery on the shelves.
Wood planks and books.
And a guest room.
Outside on the screened porch.
We walked down to a river in the back and it was very peaceful.
A delightful day.
Love those red fall leaves.
Thanks for coming along!  Have you Alabama girls been to Mentone?  It's so cute and charming, I'd highly recommend it.  On the way back, we stopped for BBQ in a little town, but I can't remember the name of it.  Fantastic food!
Don't Miss a Post, join my list!