Hope you're having a fabulous weekend!  Last weekend was Scott Antiques market here in Atlanta. It's held once a month in two huge buildings off I-285 and we love to go and browse.  I can't believe it's been since last Fall that we were there, but it's always fun to browse and see what's new there.  We see a lot of the same vendors, but others who are new and I love to snap pics of things that catch my eye.  Who knows, I might be looking for something and then I'll know where to go and find it!
Vintage planters and vases always catch my eye, they are so fun to use around the house.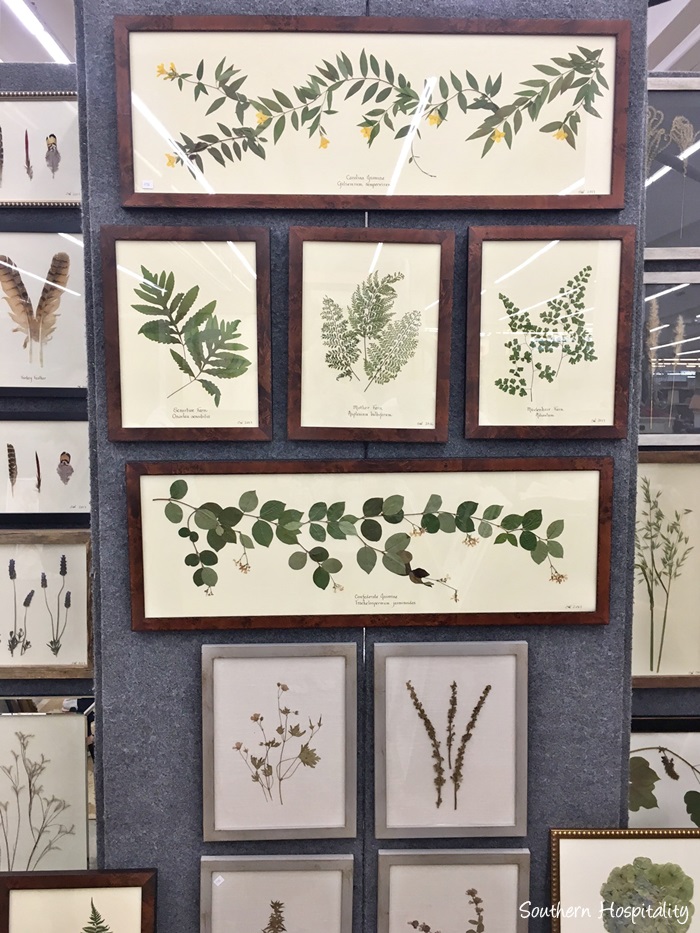 I don't know this vendors name, but I call her the Botanical Lady in my head. She does beautiful work and these are dried botanicals, so pretty.  I think I may need one of these to add to my collection.
Some booths are set up so pretty so they look good enough to snap.
There are treasures everywhere and you just have to look and see what might be appealing to you. That's the beauty of antiquing. There's something for everyone's taste.
I love to see older vintage traditional pieces and Scott always has a great selection of vendors with beautiful pieces like this.  These are not so much in vogue right now with the influx of farmhouse decorating, but I still think they are gorgeous.
Farmhouse is alive and well at Scott's as well and you can find plenty of distressed and gray and white pieces.
Nothing wrong with going with what you love, I just want to stay as classic as I can without veering off too far in any direction.
Lots of jewelry making ideas too.
And if you're looking for odd chairs or pairs or more, there are always plenty of chairs at Scott.
Not to mention pillows.  We usually walk through pretty leisurely but fast and don't stay too long in each aisle, because there is a lot of territory to walk in these 2 huge warehouses.
I love chippy old urns like this, they will always be appealing to me.
Hi, Mr. Bunny!
These botanicals always catch my eye too, but they are rather pricey.
This old set of doors made into a mirror was pretty neat.
Some of these farmhouse pieces are really appealing too.
We found out this company is still making traditional furniture out Suwanee, GA, Leighton Hall, and they had some gorgeous pieces, like this beautiful table.  Very stately. I loved that they are a family owned business and this furniture is not mass produced but still made the old way and so they make limited quantities of each. Check out their website for more info.
And I love these cabinets too.
And these sinks, which is probably where my friend, Barb, bought her master bath vanity.  There were a few dealers with these sinks that are sold with the stone top. They are very pretty!
I sat in these swivel rocking chairs and love them!  I think I need a pair of these and you can pick the fabric, they are made in NC, $1400 for the pair.  So comfy!
Another pretty sink.
And more classic wood pieces, which still tickle my fancy.
Outside the first building is lots more to see. You could literally spend hours at Scott and not see it all. I'm usually worn out and ready to collapse after 3 or 4 hours.
A pretty bronze tray, too pricey for my blood.
Cute table and chairs vignette.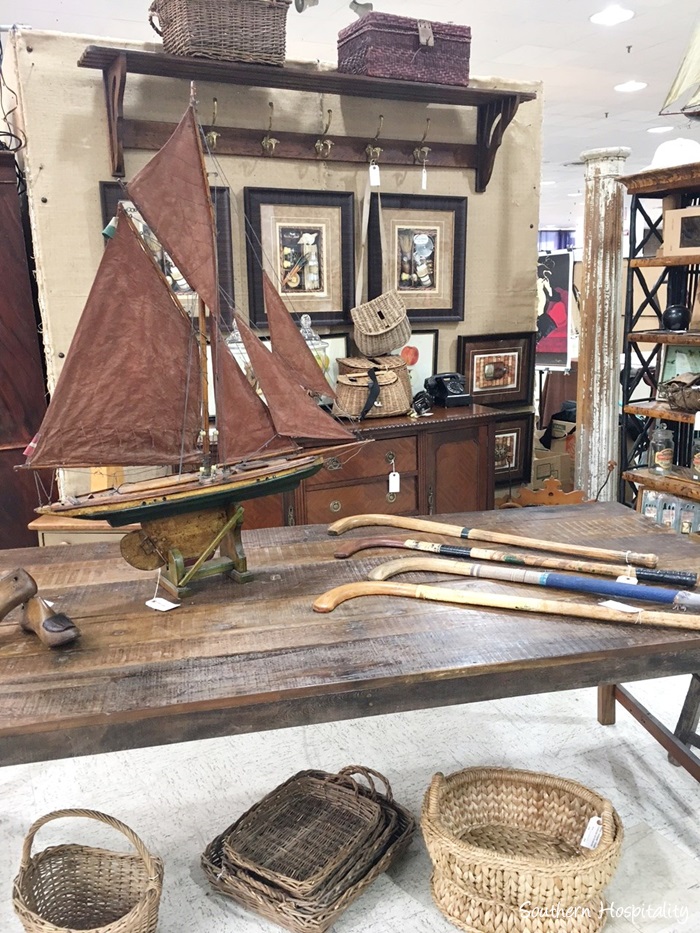 Sweet little cherub chandelier, I can see this in a little girls room.
Real plants in a massive urn.
This dealer mentioned this was a loveseat in Scalamandre fabric that was returned. I didn't ask the price, but it was pretty and so feminine.  That fabric line is very pricey, I know.
Some beautiful old gilt mirrors.  Would be beautiful in a bathroom.
Strangely shaped chairs that caught my eye.
Love the coral and sea fans, these are not cheap either.
A vintage bookcase with books on front.
And this magnificent library cabinet with glass front was on casters, so not sure if it was sold, but it's a beauty!
So, that's another visit to Scott Antiques. See anything you would love to have?  It's always fun to go and browse and see what's new and many times the dealers go back every month, so you can always get it another month if you miss it the first time.
SaveSave
Don't Miss a Post, join my list!