Happy Wednesday!  I'm still off track with my fashion posts, so please bear with me. I think by October, I'll be back on track again and will have some fashion posts to share.  This week, I've been painting and we had that horrific Tropical Storm Irma blow through on Monday and Tuesday, so I stayed at home and got some things done.  It's been so busy around here just trying to get caught up to where we need to be, but we are making progress, baby steps at a time.  Mark worked hard over the weekend getting his boxes and furniture moved around in the garage so that we could get our cars parked in there just in case the weather got really bad.  We were very fortunate that it was just rain here and we didn't have much wind or debris.  Thankful for that and so sorry for what so many in Florida and Georgia have gone through with this storm.
On Saturday last weekend, we decided to go down to Scott Antiques to take a look at some chairs we had seen in June when we were there.  I knew when we moved that everything more than likely wouldn't fit the same in this house and you really can't figure all of that out until you get in a house and start living in it, so it's been interesting to see how things fit and where we can  use our things.  We speculated before we moved in where things could go and some of those things changed along the way.  Again, it's just hard to tell until you actually get the furniture in place and start playing around with things. I'm sure you know what I mean, if you've moved a few times.  This is only the 4th house I've lived in as an adult, starting with the first house I built and lived in for 20 years, when I was 28 and single.
I still have several things that I bought from 10 to 20 years ago so many of these furniture pieces have been with me for a long time.  I've been fortunate that most pieces have translated from house to house very well, but you can't always predict that, so we will be on the hunt for a few things to fill in at this house, but we're going to take time to figure it out and not just buy to get something in here.  We want it to evolve as it should and what feels right for the space.
After putting the 2 large chairs I had in my den and living room into our new smallish family room, they just didn't work, so I've had 2 swivel chairs in mind since I saw them at Scott's.  I loved them when I saw them and they are smaller scale, so I felt that would work for our space.  That was the main reason we went down there, plus it's fun to shop at Scott's and we always see things we'd love to have.  We will live with mostly what we have for now and then take our time figuring out what we might want to replace down the line or update with something new.
I snapped some pics along the way at Scott's since I know you all love to browse here too.  This antiques market really is a great place to shop and find one of a kind things.
There's a lot of painted furniture and French inspired pieces, which are still very popular.
I love them too, very classic lines.
Lots of upholstered and tall beds, not to mention fancy chandeliers.  We'll be in the market for all new light fixtures in this house too, but one step at a time, can't do it all at once.
Lots of unique things at Scott's.
I love to see the pretty vignettes the vendors set up always so inspiring.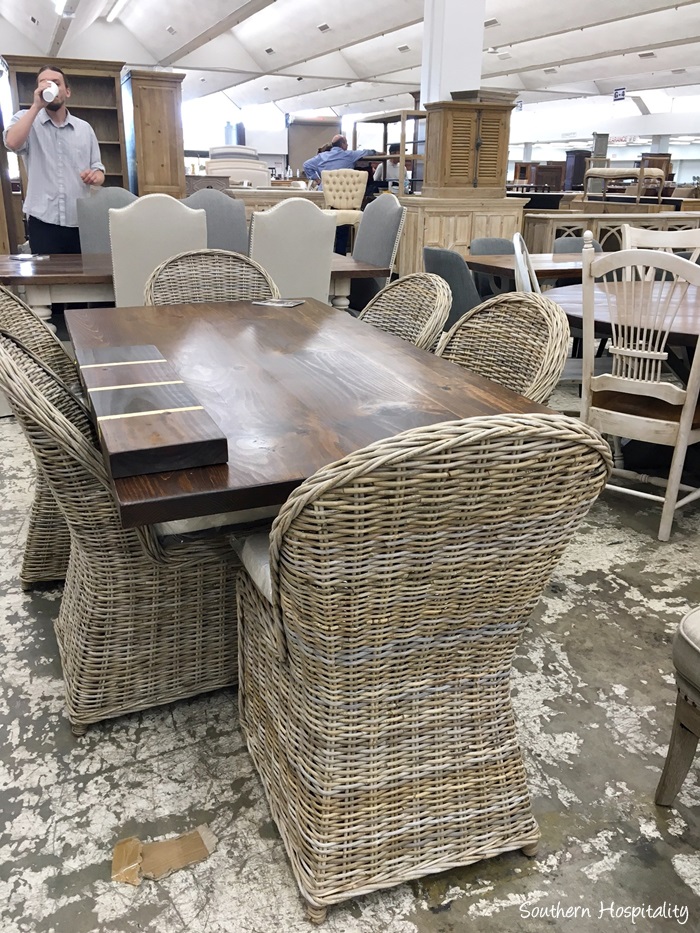 Love those wicker chairs.
These bed swings always catch my eye. We might have a place to put one under our deck on the downstairs patio one day.  Maybe Mark could build one!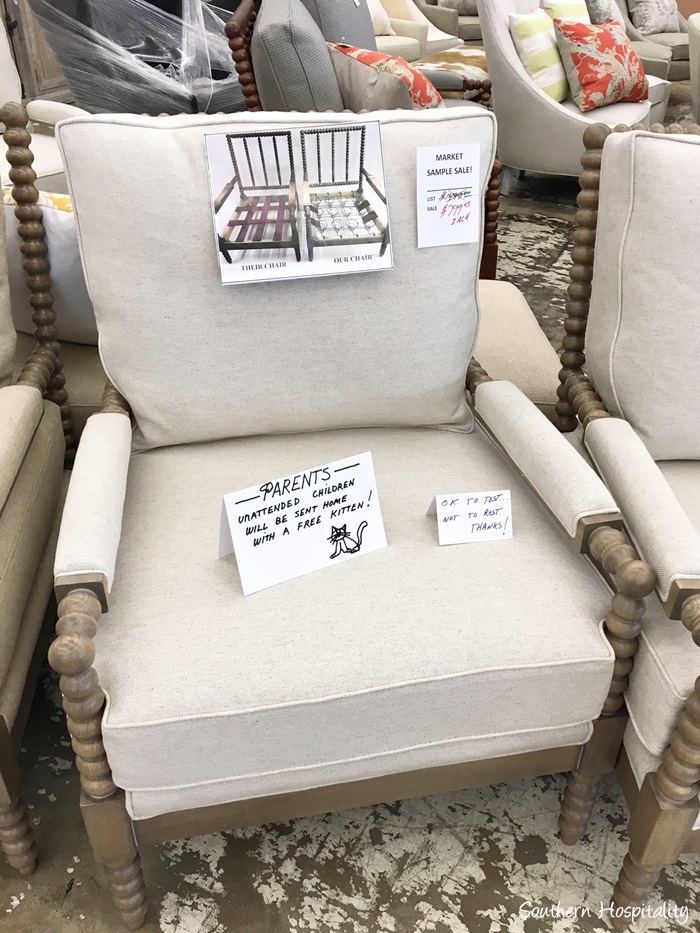 These spool chairs were pretty at $799 each.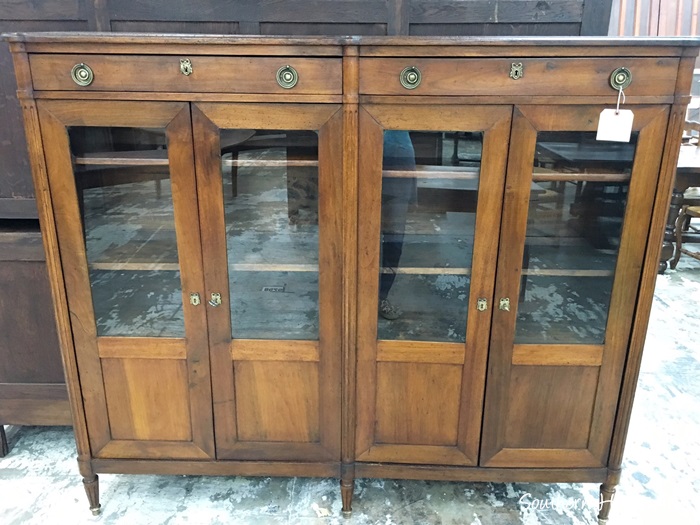 Loved this piece of furniture, I'm always a sucker for beautiful wood pieces like this, but sure don't need another big piece.
Lots of chippy painted pieces too, something for every taste.
We may change out our front door to an old one some day, so looked at a few of those.  We both love old doors.
Another gorgeous antique.
A beautiful old buffet/hutch was such a nice piece.
Loved this marble piece from Europe, it was $1800, way over my price range, but so pretty.
Pretty old bottles.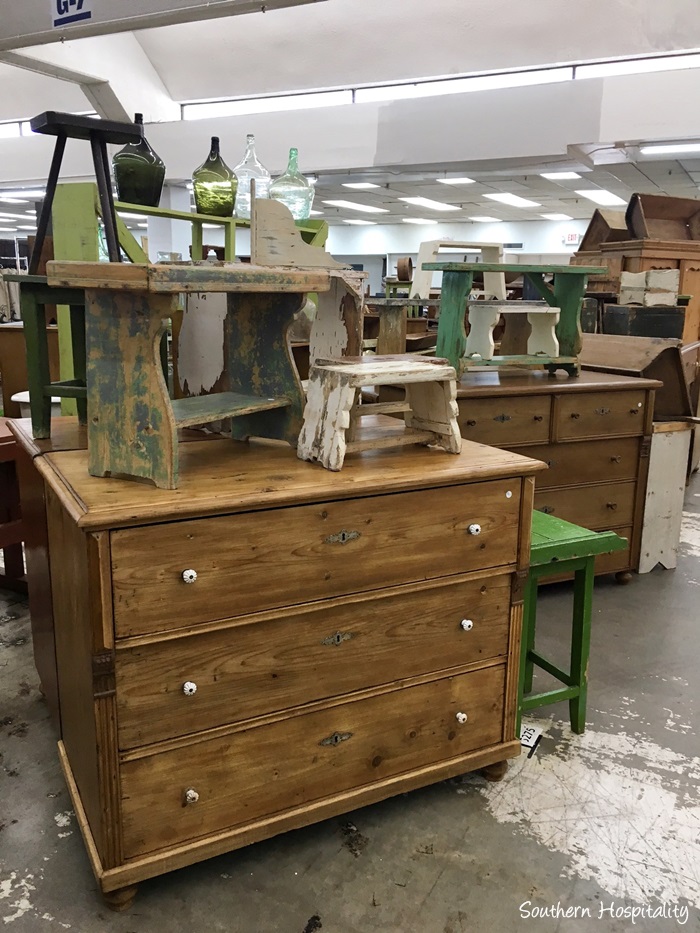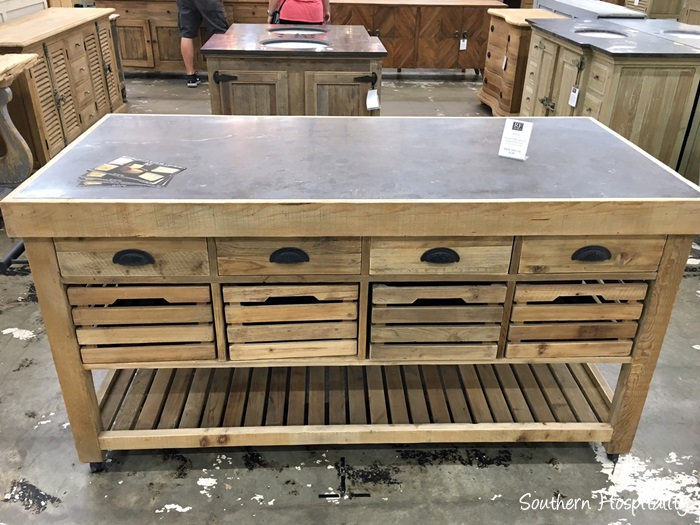 Lots of islands and pieces like this too.  Didn't price this one.
We both loved this glass and metal front cabinet, it was $1200, but again, we don't have room for large pieces like this.  Fun to look though!
Mark does have room for a glass cabinet in his man cave, so we bought this piece for $475 and it should be a fun piece in his space. He may or may not paint it, to be determined.  It's not an antique, made in Indonesia, but all wood.  He'll put lights in it to display his antique Art Deco glass. Did I tell you he's a collector of this type glass?  He has his own creative side, so I'll be sharing all this later too.  I love that about him.
So, back to why we went to Scott's. These cute swivel chairs!
This company is out of NC, Faulkner Custom Furniture.  We had seen them in June and talked to him about these chairs and they are made in NC.  He has several fabrics to choose from and many pairs of chairs to choose from that they bring in every month.  If you don't see what you want, you can order another fabric and then pick it up the following month. These are all swivel chairs, but you can also get swivel gliders, which I love too.  We decided on this fabric to blend with the sofa we have and they look great with it.  We would have had to order the gliders, so went ahead with the swivel chairs and we love them.  We borrowed my dad's truck to bring them home.  I think we are going to need our own truck one day, as much as we could use one. His dad has one and so does mine, so at least we have family to borrow from.
If you're interested in the chairs, call Faulkner and tell them I sent you.  The chairs were $1275 for the pair, which is a very good deal.  I have looked around at chairs similar to these and they are usually $1300 for one chair!  So, we felt good about getting the chairs for this price and I think they are very well made from what I can see.  They feel very substantial.  You can call and probably  order fabric samples and he said they do ship, so just call them if you're interested.  Their website doesn't have  a lot on it, but you can call and talk to someone.
The chairs fit so nicely in our family room space and we couldn't be happier with them!  The scale is just perfect and much better than the 2 larger chairs we had here.  The other chairs are both sitting in the breakfast nook for now (blocking the door out to the deck) so they both can't stay there, but we will figure it all out eventually.  One of those chairs may be going to Mark's daughter's place (my old house), since we probably won't have room for both of them.  This color is accurate on the above pic. Excuse the messes in the pictures, but I know you all understand that we are still in moving in mode.  The pretty pics will come eventually!
It's been dreary so not a lot of good sunlight coming in, but they really are so pretty. I need to iron the hems of them to get the wrinkles out and we will hopefully get this space together soon.  We'd like to get a large ottoman in here to put in front of the sofa to put our feet on.
Not a great picture, but you get the idea of how things fit in here. The fireplace is right in front of the chairs.  Several have asked about moving the sofa where the chairs are, but it just doesn't make sense to  us. The sofa is big and curved and it would just take up so much room  and block the flow much more than the chairs do, so I think it will make more sense once everything is done in here.  It's a cozy space and we are enjoying it for watching TV.  The TV is on the left of where the chairs are facing and right across from the sofa.  It will be fun to see it all come together with a new ottoman, art and accessories on the fireplace. We didn't want the TV above the fireplace and the media cabinet is the preferred height for us to watch TV.
I am really enjoying the open kitchen to the family room too, something I didn't have in my old house. This house is set up completely different and the kitchen is smaller, but I'm adjusting and making it work.  I love the openness of being in the kitchen and seeing the TV and family room in front of me.
I just ordered the grasscloth that's going up in the dining room (and living room, I decided!) so can't wait to see that come together. I'll be using my living room furniture in there along with a cabinet that is Mark's, so it will be fun to see that evolve too.  Stay tuned for more!
One last thing, an update on Dad.  We all went to the gastro doctor appointment a week ago and then went out to lunch.  Dad is doing really well.  He's still on the antibiotics for now to keep fighting the c diff and since we have a gastro doctor involved now, we think he will be more in tune to what dad needs in case this stuff just won't go away.  We did talk to him about the fecal transplant if it comes to that and also another stronger antibiotic that some of you mentioned.
Dad has mowed the grass on his riding lawn mower and also has dug up sweet potatoes and white potatoes from the garden, so we know he's feeling better now. That's such a good thing to see and his appetite is back and doing great. He's gained back 10 of the 20 lbs. he lost when all of this started Father's Day weekend.  It's been quite the ordeal, but we are so happy to see his progress and we are optimistic that this thing will be beat for good! Thanks again for all your prayers and thoughtfulness in getting daddy well.  We are thrilled with where he is now compared to just a few short weeks ago.
SaveSave
SaveSave
SaveSave
Don't Miss a Post, join my list!