I've been so excited to share this back porch project with all of you and we had to wait until we had the green light to share, so today is the day!  I'm joining 9 other bloggers and we all have fantastic projects to share with all of you, so I hope you'll take the time to visit them too.
This all started a few months ago when I was asked if I had a project I'd like to work on with the help of some really great sponsors backing us, Birch Lane, The Mine, and Minted (affiliate links)  My back porch came to mind as definitely needing a spruce up.  It was nice, but the faux wicker I had out here for years was bought for a deck in mind and it wasn't the cozy comfy seating I was really looking for on my porch.  I shared all the plans on this post and now you get to see it all finished!
It truly was a dream come true to get to shop for this space and give it a major remake with new furniture and accessories.  It feels SO much bigger now, even though the square footage hasn't changed. Getting one sectional and an ottoman fits the space so much better than 4 smaller pieces felt before. Not to mention the extra seating and spreading out room a sectional offers.  I'll share all the details on everything I added out here, so you can check them out.
Let me remind you what I started with, which was fine and useful, but not that cozy for taking naps and really utilizing the space I have on this screened porch.  I really wanted something I could lay down on and take a nap and get really comfortable.
I didn't plan to change everything, but change necessitates remakes all around, so the table and chairs I've had for 20 years got a makeover too, with recovered chair seats once again.  These chairs have gotten several makeovers since I've had them and are still going strong. I kept the diamonds on the floor the same and decided on my color palette and then went shopping!  That was the fun part!
Are you ready for the colorful NEW space?!  I'm totally in love with the transformation and hope you will be too and it totally feels so much bigger.
I love the navy, white and kelly green combination so much. It feels so fresh and clean and a little bit nautical out here. The sectional is from The Mine and it's a gray faux wicker with navy Sunbrella fabric.  When rain blows on the porch, nothing will be ruined. It all dries off very fast.
The sectional came with pillows, but of course I added some extras for more fun and flair.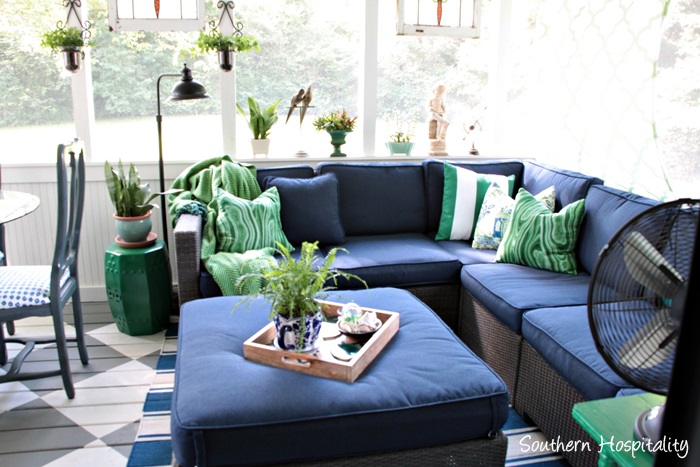 I measured several times to be sure this sectional would fit and it does, perfectly!  It takes up half of the porch and the table and chairs take up the other part.  It really does feel more spacious out here and I don't have as much "stuff" as before either.
The tray is from Birch Lane as well as that cute blue and white planter.  I'll share details below.  Those cute coasters were from Shaw Floors earlier this year, in a pretty green agate.
I planted a Maidenhair fern and it's doing really well, I keep it well watered.
I spray painted the original garden stool to a deeper Kelly green and it works great as a side table/plant holder with my bold accent color.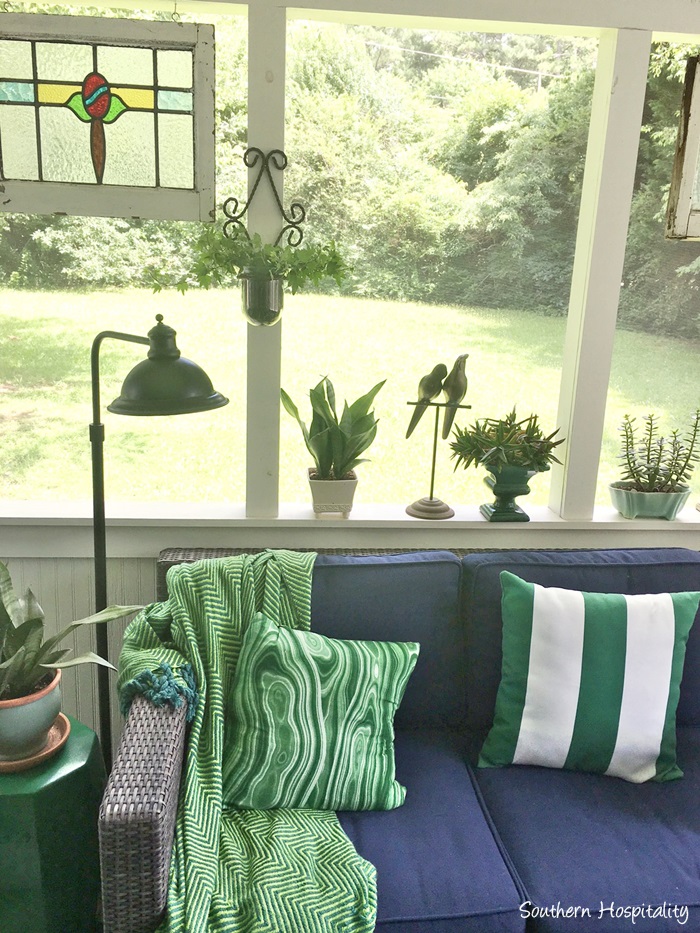 I love my planters in the window sills so added some of those back.  Floor lamp from Birch Lane too.
New drapes from Birch Lane as well and they are thicker and block more sun than the others.  I think they add a nice contrast with the deep blue on the sofa.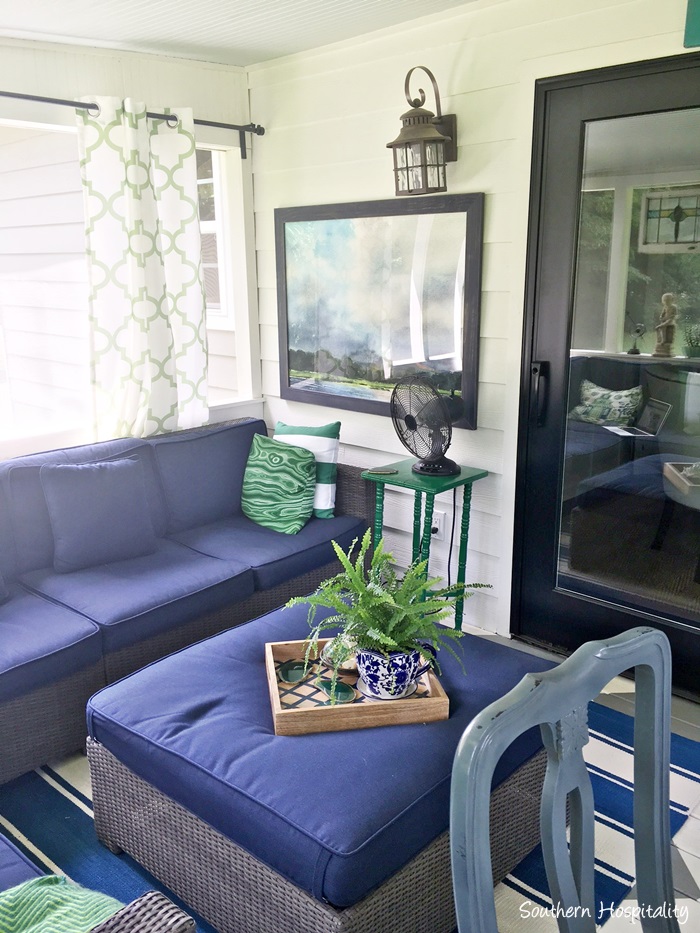 The sofa goes all the way to the wall so no extra room for a side table beside it, but my old vintage table find got a new coat of Kelly green spray paint too and works great to hold my cute table fan, which is a necessity out here. It's on all the time!
The table is a great little accent out here too and I love that Kelly green color.
I had the chance to choose some new artwork out here too from  Minted and it was so fun to shop these pretty prints for my outdoor screened porch. I just love this moody water scene watercolor print.  It's hard to shoot with the glare on the plexiglass.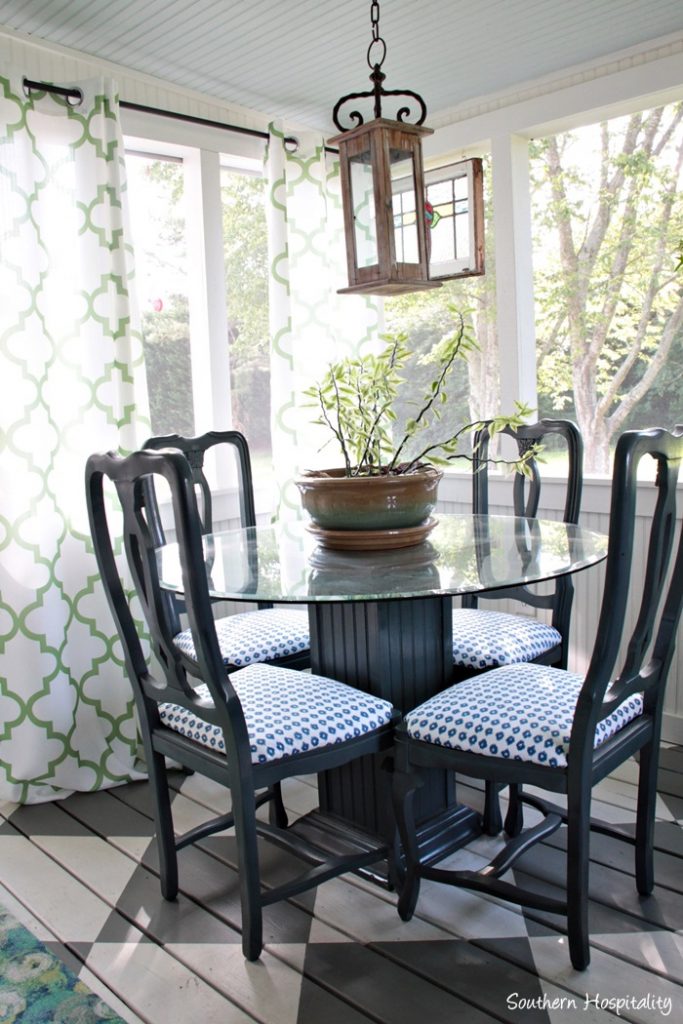 Still in the opposite corner of the porch is my old table and chairs, now with fresh chair seats.
They really do work perfectly out here for seating.
The new fabric is a small print blue and white that I found at my local fabric store.
With plenty of plants and a few accessories, it feels so good out here.  I just love it!
The little black shelving piece that I had went over by the doors and since it's so skinny it doesn't get in the way.  I left my Grandpa's old vintage chair here too.
More plants and a few turquoise bottles, lantern and seashells, it's plenty to display.
My plants are doing well out here and don't mind the heat as long as I keep them watered.
This pretty fig branch in a bottle water color came from Minted as well.  I just fell in love with it!
You can choose your frame and size on Minted for personalized artwork and they have a great selection of beautiful pieces.
This rug is from a neat company that I can share later, but it's a fun pattern that worked well out here.
Plants galore add to the feel of any porch.
Definitely love the plants.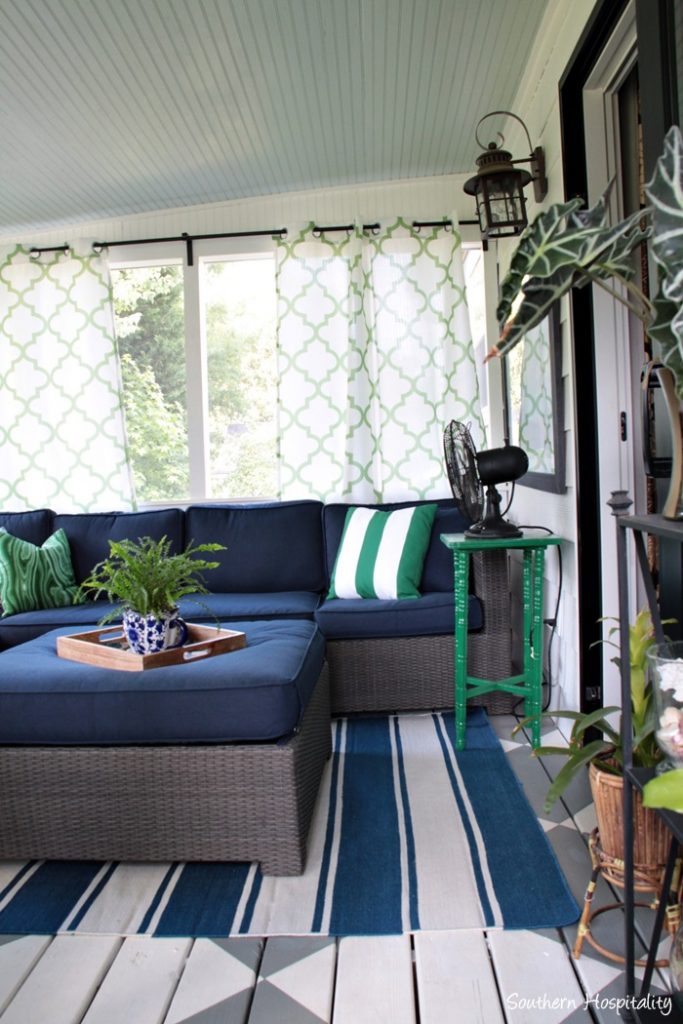 I truly am so happy with this space now that we can spread out and enjoy it. The sectional makes all the difference in how it feels and how much more comfortable this L-shape is out here.
Planters and a couple of my statues in the windows.
I kept my hanging stained glass windows out here too, they are so charming and I think add a nice touch and something old.  Those hanging black and glass things are candle holders and I decided to plant ivy in them and they are doing well out here too.  You can't have too  many plants.
I'm thrilled with this makeover and I hope you enjoyed it too!  It really is a great improvement to the space and one that we will use all summer.  Rhonda and I both spend a lot of time out here, morning into evening.  Sometimes it gets really hot, but as long as the fan is on I'll stay out there anyway.
A big HUGE thanks to our sponsors, Birch Lane, The Mine, and Minted (affiliate links) for their help in getting these makeovers completed.  We couldn't have done this without these fabulous sponsors letting   us choose products from their online stores.  It sure was a fun shopping trip and I hope you'll check out their sites too!
Here are links for all the products I got from Birch Lane (affiliate links), who has affordable furniture and decor accessories:
Moira Green and White Stripe pillows (unfortunately, I don't see the green ones on here anymore)
Blue and White planter (similar one)
The Mine (affiliate link) A wonderful online store with so many gorgeous items to choose from:
Minted (affiliate links), offers beautiful framed prints, you can choose your frames and get unique prints for your home, as well as decor accessories:
Etsy Pillows Covers (affiliate links)
Malakos by Robert Allen in Malachite
Chinoiserie Pagoda Tea House pillow cover 
Note:  This post sponsored by The Mine, Birch Lane, and Minted and we were provided products to use in our homes for these makeovers.
Please visit these blogger friends to see all of their fabulous makeovers too, it is sure to be such colorful projects from all of these fellow color lovers!
Kelly Elko
In My Own Style
Tatertots & Jello
Duke Manor Farm
Fox Hollow Cottage
Four Generations One Roof
DIY Showoff
Jennifer Rizzo
Inspired by Charm
SaveSave
SaveSave
SaveSaveSaveSaveSaveSave
Don't Miss a Post, join my list!