It's that time of year again and I've got more giveaways for this season from some fantastic companies.  I've introduced you to Rachelle before and her shop, Scripted Simplicity. She's a mom and shop owner and created her hand-painted signs with wonderful inspirational sayings for so many places in your home.  She's expanded her business this year after going to the Atlanta market and has a lot of new products to offer now. She's gone from a one woman show to getting her products produced and manufactured for retail stores looking to carry her beautiful signs. I think you'll definitely see something you like!
She's the artist behind every piece produced from Scripted Simplicity and comes up with all the artwork and scripted writing that is manufactured and duplicated on real wood boards. She's given me several things to use in my house for Christmas and has so many beautiful things to choose from.
This beautiful sign O Come Let Us Adore Him, was the star of my Christmas mantel last year and it will find a place in my Christmas decor again this year.
This little beauty will also find a place.  Great is thy faithfulness, such a wonderful song and statement.
The traditional red and green in this one is really nice.
And this one is a little sassy for the season!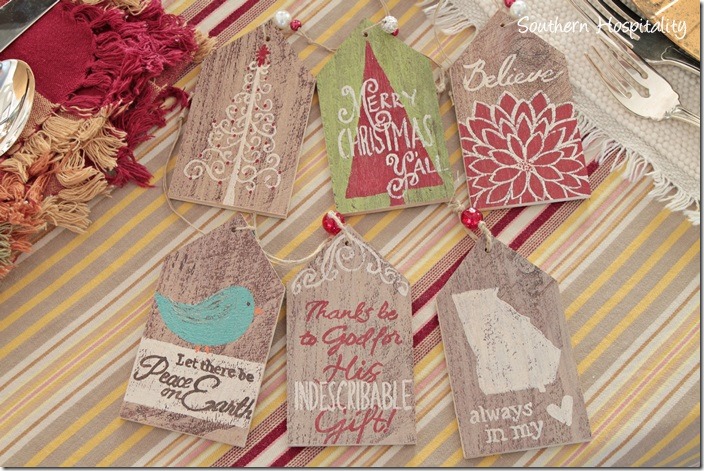 From Christmas package tags or ornaments for the tree, these small ornaments say a lot.
I so enjoy having inspirational words around my house and it's especially fitting at Christmas.  There is something that will speak to everyone. Scripture verses, thankful hearts, love, and Christmas!
Now for the fun part!
Rachelle is giving away a $100 gift certificate to one of my readers to shop in her online store, so all you have to do is leave a comment and tell me your fave thing over there at Scripted Simplicity.
Fill out the Rafflecopter widget and then leave your comment on this post!  I'll choose a winner in one week. 
She's also offering a 20% discount to my readers using the code:  SOUTHERN20 
US Residents only please!
Note: This is a sponsored post from Scripted Simplicity. I was compensated to share this post with my readers, but all opinions and love of her products is all my own.
a Rafflecopter giveaway

Don't Miss a Post, join my list!