I first saw the work of Rachelle with Scripted Simplicity over a year ago at Woodstock Market and took pics of her beautiful wooden handpainted signs.  I thought they were so cute and loved that she is a mom-owned local business and her signs are inspirational too.  She's expanded her business this year after going to the Atlanta market and has a lot of new products to offer now. She's gone from a one woman show to getting her products produced and manufactured for retail stores looking to carry her beautiful signs.  So proud of her success!   Read all about Rachelle and her sweet family and how she got started in the sign business.  It's a wonderful story!
She's still the artist behind every piece from Scripted Simplicity and comes up with all the artwork and scripted writing that is produced and duplicated on real wood boards.  She brought by a few things for me to try out in my home and I chose this beautiful sign, O Come Let Us Adore Him.
I love how rustic and neutral this is and it is going to be the star of my Christmas mantel this year, so stay tuned for what I do up there.  I hope it turns out as pretty as I think it will in my head!
These smaller pieces will be so fun to highlight for Christmas too.  With their distressed gray background and beautiful scripted words, I will find just the special place for these too in my Christmas décor.
Meet me under the mistletoe.  You can barely see this, but each of these smaller pieces are wrapped in ribbon along the edges.
Glory to God in the highest.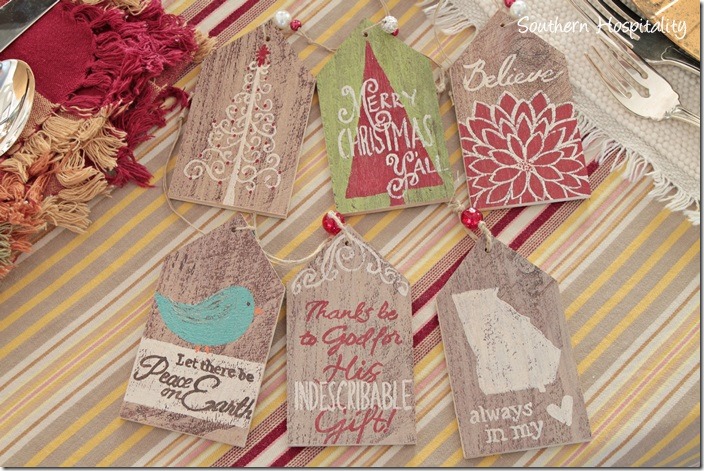 She's making really cute vintage looking gift tags too with very sweet sentiments.  These could be used on gift packages or use them to decorate a small tree.  They would also be great as party favors sitting at each place setting.
Knowing how much I love aqua, she also brought me this beauty, It is Well With my Soul.  I love this too with the sweet white bird on a branch.
Scripted Simplicity has something for everyone, so take a look at all she has to offer.
These are great for Christmas gifts or any occasion gifts.  There is something that will speak to everyone.  Scripture verses, love, and Christmas!
Now for the fun part! 
Rachelle is giving away a $100 gift certificate to one of my readers to shop in her online store, so all you have to do is leave a comment and tell me your fave thing over there at Scripted Simplicity. 
US Residents only please!
Note:  This is a sponsored post from Scripted Simplicity.  I was compensated to share this post with my readers, but all opinions and love of her products is all my own. 
Don't Miss a Post, join my list!