Today is a sad day in our country's history.  Where were you on September 11, 2001?  I was working that day at a company here in Atlanta.  I still remember the horror and sadness that we all felt that day as we watched online, helpless to do anything to stop the absolute unbelievable scenes we were watching. I couldn't let today pass without mentioning this monumental day.  Remembering the past.
Now, here are some highlights from last week's party.
New blogger, Julia from Black Tag Diaries, and who is also a friend of my niece, Lauren, has gotten the thrifting bug and scored a $3 nightstand, which she promptly painted with Oops paint for $2.50.  Bargains all around and a lovely transformation!  Can I just say that I'm so proud of you younger girls who are decorating your homes using recycled items.  That thrills me to pieces!
Salmagundi was out looking for rusty gold at the salvage yard and found this really cool piece for $5. What can you do with something like this?  Hang it on the wall?  Make a mirror out of it!  Lots of possibilities.
A beautiful painted piece always grabs me!  Cath Grace looked in a thriftstore to find an affordable dresser to paint for her daughter's room. She had an inspiration piece in mind and pulled this one off for a fraction of the price.
See, another painted piece, only this one is going to be changed.  House Pour found this one at the local Restore, but it needs a fresh coat of paint, even though this electric blue is quite the eye catcher.
Mimi in the Middle of Nowhere scored a pretty white tureen at the thriftstore for less than $4.99 after her discount.  Love some white dishes!
What a beauty of a vintage globe that Whisperwood Cottage found at a yardsale.  Lovely piece!
Homeschooling Mom, Amber June, found a totally cool kitchen shelving thingy on her free curbside pick up day.  She repurposed in into a home schooling storage space.  Very sweet!
Check out these retro (from the 70's) brass owls for $2 at a yardsale that Castles and Carriages picked up.  See how those trends pop up again?
So, what did YOU find this week?
There are a TON of parties out there to highlight all your projects, so please let's keep this one about thrifty finds that were bought 2nd hand! Not a great sale from the store, or a recipe, or just a plain project, but 2nd Hand finds only!
And please DO NOT go back in your archives to OLD posts and link up. Let's keep this party fresh and current! If you have already shared your find in a previous party, DON'T share it again! Please, girls, I don't want to have to delete links.

Add your permalink to the link list, which is the actual post that you did for this party, NOT your general blog url. To get the actual post, after you publish the post, just click on the title and THAT will be your party post url. PLEASE try to get the correct url in the first time!
Please add my button to your post or blog OR at least link back to this post in your post. That's all I ask. It's common courtesy to link back to the person having the party, so that all of your readers can find it too.
Please do NOT link to an Etsy shop or something similar (even if you think it's a fabulous deal) or I will delete the link. This party is for sharing thrifty finds from yardsales, thriftstores, or something along those lines. If I see that your post is not really on track with this theme AND you don't link back, I'll delete your link. Sorry, but I'd like to keep the party consistent! IF YOU SEE THAT YOUR LINK HAS BEEN DELETED, IT IS PROBABLY BECAUSE IT IS NOT IN LINE WITH THIS PARTY THEME.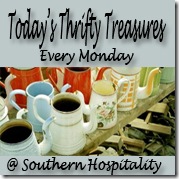 Don't Miss a Post, join my list!