I'm joining my blog gal pals today and we're all sharing a snippet of September decorating moments. Decorating tips that can be useful for all of us. I'm going to talk about moving things around your house, namely rugs. When you have a somewhat tight color palette like I do, rugs can swap from room to room fairly easily, so that's what I did recently. I'm starting to decorate for fall this week and will be in a fall home tour soon, but in the meantime, I moved some rugs around. Don't miss the rest of my friends and their shares as well at the bottom of the page. These ladies are all so very talented and you'll enjoy their ideas too.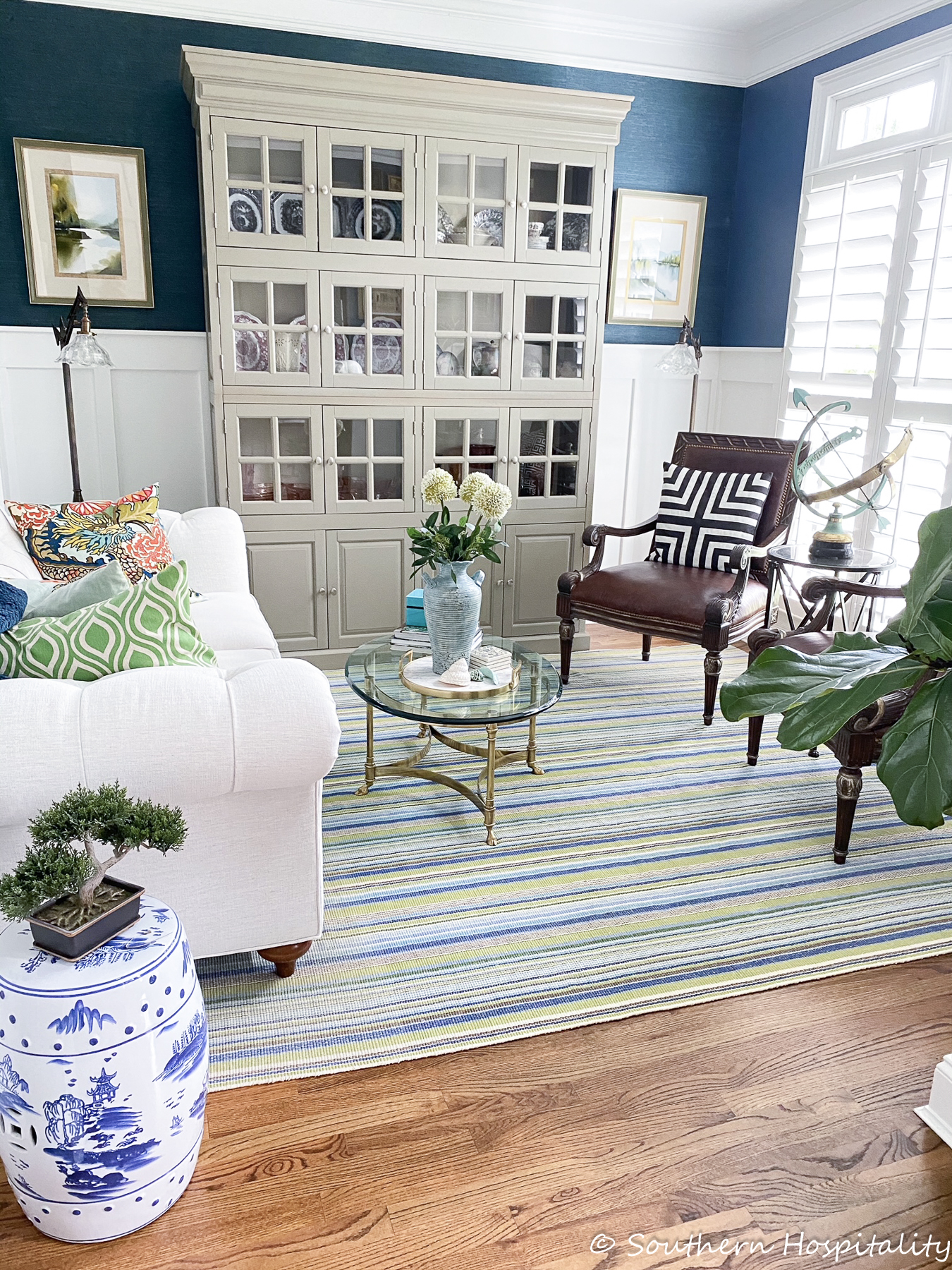 I do have a pretty tight color palette in my house and when a new rug recently landed in the guest room (I can't show it yet, but I will pretty soon, I promise), then this Dash & Albert Fisher rug that I originally had in my old master bedroom in my previous house, had nowhere to land. I still love this rug very much, the colors are so pretty and fresh. They just remind me of the beach or water and my favorite colors of blues and greens are in this rug. The Dash and Albert Fisher rug (affiliate link) is still available if you're interested in it yourself. Mine is an 8×10 size.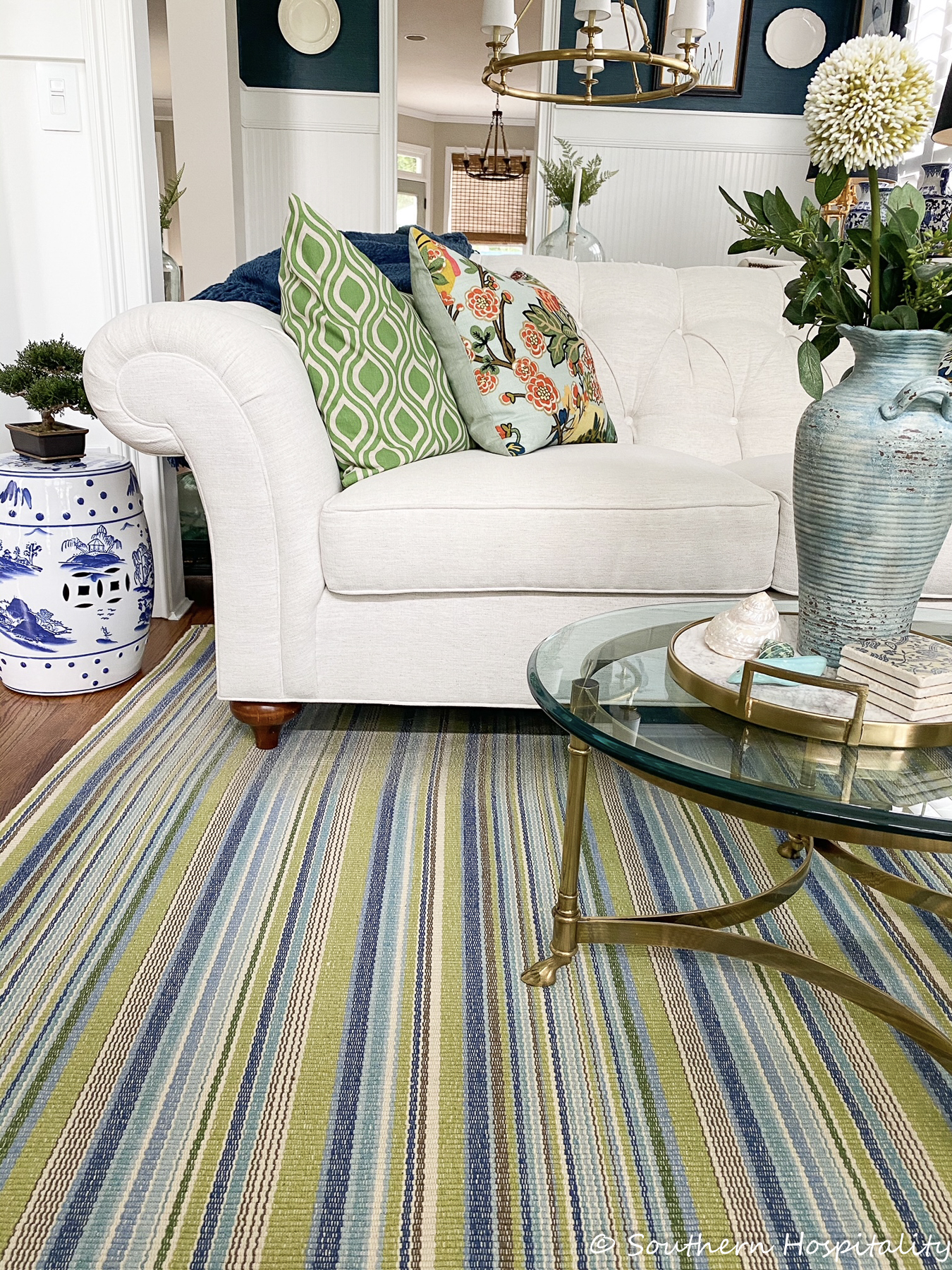 So I just had to try it in the living room and I really like it. I had a brown toned seagrass rug in here for the last year or so and I love it too, but this rug gives a little more color and freshness. And I like the way it looks with my pillows on the sofa.
It may not be the most opportune time to put a colorful rug in here being fall is right around the corner, but why not I say? I'm getting ready to add some fall touches, but I can do that with this rug just as well.
These Dash & Albert rugs are so classic, flatweave and made of cotton, this one has worn really well and I've had it 10 years now. So if you're in the market to change up a room, think about switching rugs around. I've got rugs that I've moved from room to room over the years and they still work. The first rug that I had in here was a peacock blue solid rug that ended up in my office/guest room refresh room and it works great up there with my floral drapes.
So just because you've always had something in one room, don't discount moving it to another if necessity dictates that. I love the colors I decorate with and they all seem to flow together, so that's a tip for you. Have your rooms flow in a color story and you can move things from room to room, place to place to place for a fresh new look.
This rug seems to just wake up the living room wonderfully and I'm loving the change. These colors are so happy.
And I can still bring in some fall colors too and they will be right at home in this space. Are you getting ready to decorate for fall? I don't always like to rush ahead, but when you share your home online for a living, it's time to start the fall transitioning. I do love fall and do a bit at my house so stay tuned for that soon! I'll be bringing out the cozy fall colors to ease my home into the autumn season. We love the fall season at our house! Do you move things around at your house too? That's the fun of decorating your home, right?! 
Designthusiasm | On Sutton Place | Shabbyfufu
StoneGable | Southern Hospitality
Don't Miss a Post, join my list!