This will be our last Thrifty Treasures party for the year, since the holidays will be just around the corner and things will start getting busier for all of us.  Thanks for joining in all summer and showing off your finds.  I actually have something to share this month!  I went to my friend, Debbie's late father's estate sale last weekend and found a few good things that I couldn't live without.  I'm not sure where they will all go yet, but sometimes you just have to take something home when you find it.  And besides, this was someone I knew and adored, so it was nice to be able to bring some of Debbie's family home with me.  He will be missed, Debbie's sweet daddy.
When I spotted this marble topped table or plant stand, I just had to have it.  It's in perfect condition and the gray veined marble top is so pretty.
At $35, it was coming home with me!  I love it and don't know where it will go yet, but I'll find a spot for it.  The wood base was originally metallic gold, it looks like and someone sprayed over it with black, but I may go back to the original metallic gold color, we'll see.
I went back on the last day and scored these beautiful Italian candlesticks for $17.50 for the pair.  I had spotted them earlier and hoped they would still be around and they were.
And I picked up this pretty antique brass floor lamp for $15.  That was a real deal!  It's nice and heavy and will be a great lamp beside my bookcases in the den.  I'm still waiting on my recliner to be finished on the recovering and as soon as I get it back, I'll be taking updated pics of the den.  Can't wait to finally get this room finished, once and for all!
Here are a few more treasures from last month's party that caught by bargain loving eye!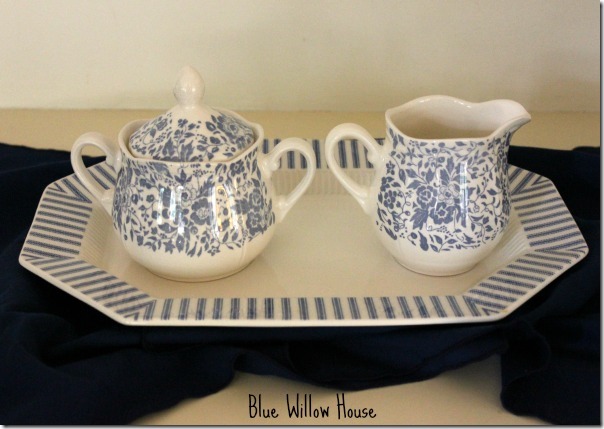 Blue Willow House scored some beautiful blue and white, the sugar and creamer separate from the pretty ticking striped platter.  So lovely together!
Lesley with Chaotically Creative decorated her office space with thrifty finds. Love this beautiful creamy vase and those cute pair of chalk birds, all great finds.
These pieces are so pretty, the vintage silver tray and ornate gold mirror from Girl in the Garage.
And I love Shirley with Housepitality Designs crusty old Schwinn bike that she brought home from thrifting and added to her backyard scenery.  How nostalgic is this?
So, link up below and share what you've found lately in thrifty treasures.  When I go shopping like this, it really gets me going again. I just love a deal and you can't beat shopping yardsales and estate sales for bargains.  Enjoy the last hurrah!  I'm undecided if I will bring this party back in the Spring or not.  It just seems that there are so many thrifty parties out there and this one is not nearly as big as it used to be.
Don't Miss a Post, join my list!