Have you ever visited an area of the country that just drew you in immediately?  Made you want to move there and make yourself at home?
I got to experience such a place last week.  It's called Serenbe and it's just south of Atlanta near a little town called Palmetto.  You can't imagine that just a mere 30 minutes from downtown Atlanta, such a peaceful countryside exists.  But, it does!  Oh yes, it does.
I have been extremely blessed these last few years of blogging to connect with some amazing brands and with those brands are the people behind them.  Last year, I got to experience a design competition sponsored by Shaw Floors and HGTV Home and the folks that I met from Shaw are some of the nicest people I have ever met.  That is no joke. They really are.  It is evident that they love their company and they love working with each other.  They are friendly, down-home, most of them Southern, and they take pride in the company they work for.  I can't say I blame them for that, they have some amazing products.
Shaw invited me last week to come down to the countryside in Serenbe to experience the HGTV Green Home this year for myself.  I got to see it in person, along with several others that were invited, Shaw dealers specifically were there to see those beautiful Shaw products in person in the Green Home.  All the flooring and rugs were from Shaw, as well as the tile work too.  It is a beautifully inspiring home and I gasped at all of the features this home enjoys.  I got to meet the home planner/builder, as well as the interior designer.
We all gathered for lunch first and then divided up into groups and took the Green Home tour, then met back up for dinner that night at the lovely Inn at Serenbe.  This place is amazing.  I took so many pics, it will take me several posts to share them all, but share I will.
I'm saving the HGTV Green Home tour for Feature Friday this week and even then, it will have to be split into Part 1 and Part 2.  I took that many pics!  Hard to capture a home like this with just a few pics.  If you haven't been reading about the HGTV Green Home, you are in for a treat.  It's in the May issue of Country Living and the Atlanta paper just did a big article about it.  The HGTV Green Home will be given away to one VERY lucky winner and you have until June 24th to sign up online.  Someone will win this magnificent home and I can't wait to hear who it is.
In the meantime, please enjoy the lovely Serenbe.  I stayed overnight in the guest cottage at the Inn and it was one of the most delightful excursions I've ever been part of.  You'll see why when I post these pics!
Serenbe is a 1000-acre master planned community focusing on land preservation, agriculture, energy efficiency, green building, walkability, high density building, arts and culture, and community living for multiple generations.  At least 70% of the greenspace will always be preserved.  I'm not going to try to cover all the details, but they have a great website that tells the whole story of this sustainable community.  It's amazing!   Just 30 minutes from the Atlanta airport, it feels as though it's a lifetime away from the city.   That is pretty cool, especially when you see it in person!
It definitely pulls you in when you drive thru the hamlet of Serenbe and then meander off the paved road to the gravel road to the Inn and Farmhouse restaurant.  There are 3 restaurants at Serenbe.
The Inn at Serenbe.  All the buildings are just amazing and look to have been part of the landscape for years.
The Farmhouse
(Mollie, Kathy, and Christina with Shaw)
These lovely ladies from Shaw Floors were the perfect hostesses and greeted me with smiles and hugs.  I can't say enough about the Shaw group.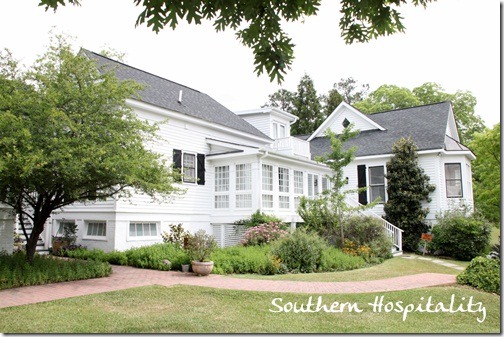 We all gathered at Noon for lunch at the The Farmhouse Restaurant.  Looks like someone's farmhouse, doesn't it?
It all has such a down-home feel, I couldn't stop taking pics of all the beauty.
Up those stairs inside for lunch.
Of course, I loved the shutters too.
The Shaw team was there to welcome everyone to their event.
Inside the Farmhouse, a painted wood floor makes it feel like your grandma's house.  Serenbe is self-sustaining with an organic farmer's market and they have plenty of jams and honey on hand too.  We were gifted with samples of those too.  Yum!
We sat inside those glass walls in a pretty enclosed porch for lunch.
The kitchen staff had everything ready for us to serve ourselves with salad, bread, chicken salad, soup and dessert.
These beautiful bouquets were on the tables.
Nothing like lunch on the porch.
It was all delish!
Loved the soaring ceiling and this starburst fixture.
Blueberry cobbler for dessert.  I could get used to this.
Later, I checked in at the Inn and this is the casual down-home lobby.  With a cow painting, how appropriate.
The room keys have cowbells on them.  What a hoot!
Outside the guest services area.
Several of us girls stayed in the small guesthouse by the pool.  This is the common area, living room.
And kitchen.
Here's my cute little room, which felt like a Grandma's house too.
That fluffy bed was oh so comfortable.
Is this the cutest?!
The bathroom was down a little flight of stairs.
Antique sink and a tub, it was so unique.
Right outside my doors was a little porch with this view.  They were planning to have dinner out here that night, but unfortunately the weather didn't cooperate, so it was moved back to the inside porch.  And that was just fine, it was a delicious dinner that night.
This area is unbelievably gorgeous with a large stone fireplace.
That's the little porch outside my guestroom.
These clusters of roses were in full bloom.
Aren't they just gorgeous?  I had to take pics of their beauty to capture.
Just like a scene from Country Living, these outdoor tables are waiting for a nice outdoor dinner.
Just next to this area, this pretty rustic arbor leads to the raised bed organic garden.
And what a beauty of a garden this is!
These raised beds are so pretty, I can imagine growing like this would be so rewarding.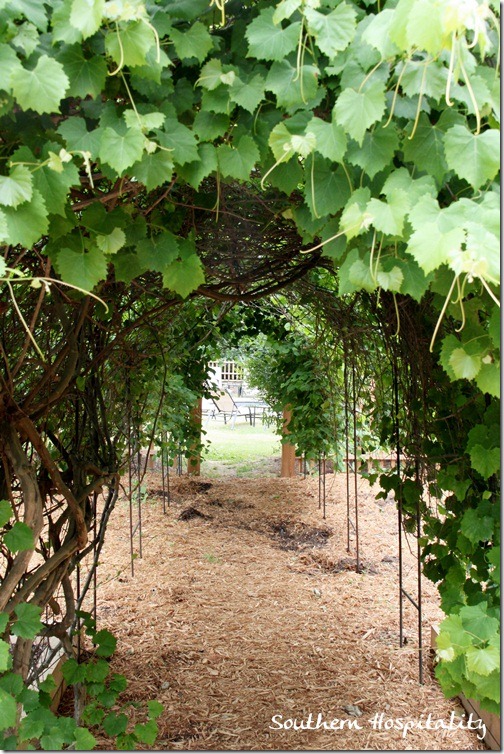 Peeking through a grape arbor walkway to the pool.
We relaxed under the covered porch by the pool with lemonade, tea and cookies.  So Southern!  Check out that awesome swing.
Refreshments at the ready.
The ceiling of the covered porch.
They didn't forget the pool either, this one is so serene and pretty with those roses on the covered pergola.
Beautiful!
Next to the pool is the barn with a few babies hanging out.
This lady is a resident of Serenbe and volunteers to help with the babies.  You can tell she loves them.
This little guy was only a week old and he was taken away from his mother because she wasn't feeding him, so I think they are feeding him by bottle.
Oh, my goodness, that pink nose is just too cute.  He's adorable!
This cute little thing is too.  She said this one almost died and since he got held a lot during that time, he likes to snuggle.  I could just eat them up!
Horse back riding is available too.
From what I've been reading about Serenbe, there are lots of events going on all during the year, so if you get the chance to drive down for the day, do it!  I had heard of Serenbe before, but this was my first time visiting.  I don't think it will be my last.  It's truly an amazing and beautiful place.  You will feel like you escaped the city for the day and there are plenty of shops and restaurants to visit and things to do and see.  The farmers market is held every week during the summer, I think.
I took lots of pics of the HGTV Green Home to share with you, along with more pics of Serenbe main street and homes along the way, so I'll share all of that at some point.
I'll be back on Friday with the first post on the HGTV Green Home at Serenbe. This home is up for giveaway, as all of them have been, so if you haven't signed up yet, go on over and do that!  I've signed up, so maybe I'll win.
  You can sign up every day until the end of June.
The HGTV Green Home is also open to the public for tours through June 24th, so I would definitely suggest heading down for a day trip to Serenbe.  It is SO worth the drive!
Don't Miss a Post, join my list!