With a name like that one, you are sure to wonder…..huh, what is this place all about?  That's what I thought too, when my friend, Vicki, took me to Sew Knot Serious in nearby Cartersville, GA.  It's a funky, eclectic, colorful kind of décor place and I wanted to share it with all of you.   April, the owner was so nice and friendly and she knew about my blog already too.  It was fun to meet her!
Definitely not your run of the mill decorating shop, it's a visual feast for the eyes.
Lots of fun and funky things all around the outside too, including these garden art sculptures, made locally. These are made by hand, glass art pieces made from dishes and various glass pieces.
Aren't they cute?  Whimsical garden art.
A Get Inspired bench.
More garden art and their hours, in case you want to drop by.
Peace
Inside the front door, it's chock full of interesting things to look at.
Some Georgia Bulldog signs and collectibles.
Enjoy the tour, I'm going to let you look at all the pics.
She does a lot of sewing with scrap fabrics, creating one of a  kind things like this settee covered in patchwork fabrics.
Lots of furniture painting and fun signs too, with a Southern slant.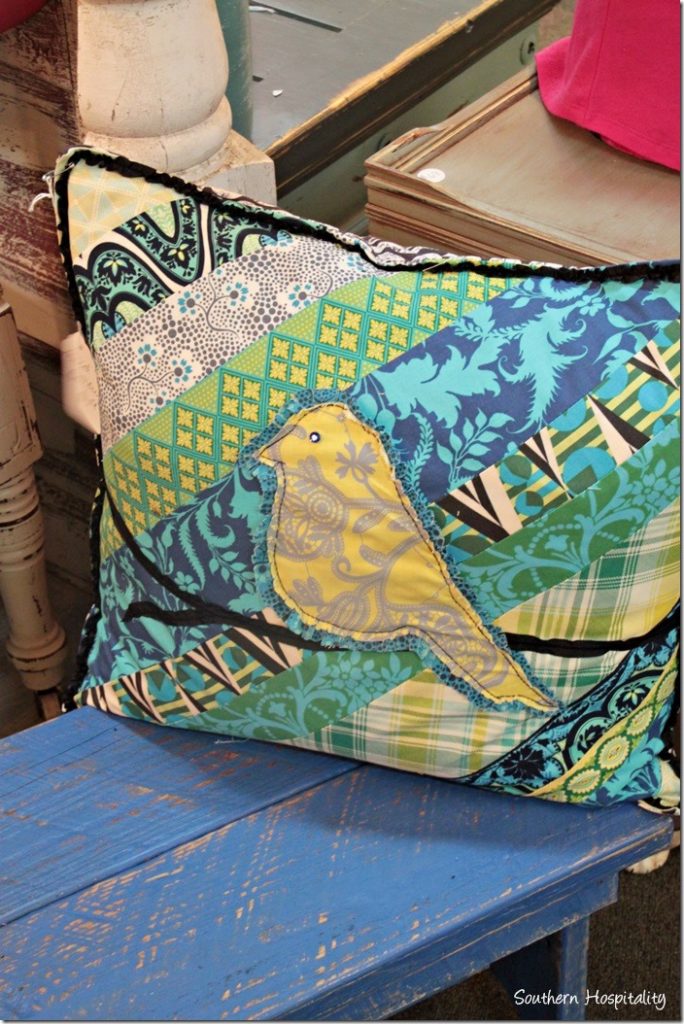 Unique one of a kind pillows.
And I'm happy that her things are made here and not in China. 
An owl pillow.
Creative angel wings.
She's got a whole collection of handmade clothing too, with a very funky vibe.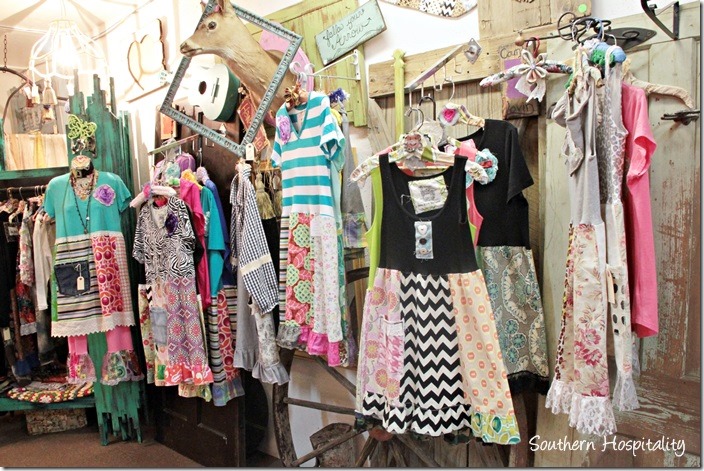 Another patchwork sofa and colorful pillows.
Colorful painted dresser.
Don't miss this sign, which I know I've heard my own mother say a thousand times, "Don't be using my good scissors for that!".
Sew Knot Serious is a fun shop, full of creativity and color, so if you live in the area, stop by Cartersville and check it out for yourself.  It was fun browsing!
I'm on another adventure today!  I was one of 75 bloggers invited to NYC to attend the Better Homes and Gardens workshop.  It's going to be a fun time with lots of blog friends and getting to mingle with one of my FAVE magazines.  Of course, I'll share it all when I return.  They didn't pay our way up there, we are on our on for travel and lodging, but I'm excited to visit the city again.  Some of my friends and I are going to see Wicked tonight, can't wait!
I've also added a new style guide on Ebay about decorating with architectural items.  When you have a plain Jane house like I do, every little detail makes a difference.  Just click the pic!
Don't Miss a Post, join my list!