This month brought my first brand trip of the year and it was so much fun! As a Shaw Floors Style Board blogger (there are 8 of us), I have so enjoyed working with Shaw over the years and now things are ramping up even more. We were all invited to their huge Shaw Floors convention held in Orlando, FL every 2 years and it was a pleasure to get to see it all up close and personal.  It's huge and amazing!  We saw all their products in person and got to touch and feel the samples.  I have Shaw Floors in my house and love them and would do it all over again in any house I might be living in.
Their convention is truly a sight to behold and the Expo center is full of beautiful showrooms of their latest and greatest product offerings.  It was so nice to see them all up close.   Shaw is celebrating their 50th anniversary this year and that's exciting too.  Since Shaw is just up the road from me in Dalton, GA, it's a real joy to work with a Georgia company as a blogger.  They started as a carpet producer all those years ago and while carpet is still a huge part of their industry, they have branched out in all other flooring options too.
When I visited their corporate offices and showrooms last fall, I found out just how much research and development goes into their products.  Styles and trends are studied and analyzed before anything new comes out and I love how innovative they are in their designs.
Their color of the year this year is Lush, a deep rich green which goes hand in hand with Pantone's Greenery, color of the year.  I happen to be a big green fan!  That's a real cake by the way, which we found out by touching it. Isn't it gorgeous?
I loved seeing all their flooring options and especially the engineered hardwoods, which have come so far over the years.  I can remember almost 20 years ago when I put prefinished flooring in my first house in Georgia and how limited the choices were back then.  Things have changed and now there are so many great choices in engineered floors, which is what I have in my house now.  The toughness of these kinds of floors has greatly improved too.
Engineered flooring means that there is a layer of real hardwood on the top and underneath a stable core of materials that keeps these floors looking great for years and they are dent and scuff resistant with the tough finish on top.  I have their engineered floors in my house and 4 1/2 years after installing them, they still look brand new.  It was great to see their Epic Plus flooring options and see all the new offerings.  Wide planks and mixed width planks are still going strong.  Mixed width is what I have in my house and I love it. Would totally choose it again.
Floorte, their luxury vinyl planks are also a good option for wet areas and this is what I put in my den space on a slab recently with my Shaw partnership.  I'm still loving it too! There are lots of colors and styles available in Floorte.
Walking around the Expo showroom was so much fun, taking in all the beautiful materials and how they were displayed. I love getting to see the latest and greatest flooring options that are out there now.
Shaw dealers come to the conference and we heard there were almost 4,000 in attendance this year, including 900 kids.  They bring their families and use it as vacation time while in Orlando, since you know Orlando is the vacation destination for millions of people with all the theme parks there.  Shaw had lots of things for kids to do at the convention.
As well as a charging station for all those digital tools.
Laminate was represented too and it's still going strong.  I have to say that laminate has really improved over the years too as it looks more realistic than ever, although if I was choosing, I'd still go with real wood for the most part.  Laminate has its place though in many applications, as well as those vinyl planks. You just have to weigh out your particular space and how it's used for the best material to put in there.
They had it all displayed so nicely and we loved looking at it all. I dearly love the design process and looking at materials for a house.  It's something that I've been interested in for many years, since I moved in my first house in fact, back in the mid-80's.
I didn't realize until recently that Shaw also carries tile and they have some beautiful porcelain and real stone and marble tiles.
I could have a lot of fun planning out a new space with some of these tiles.
Who knows, I just might be in another fixer upper house later on that I can do some fun projects in (wink, wink).  I loved these glossy marble look plank porcelain tiles.  They were gorgeous!
These marble tiles were gorgeous too and I could have so much fun with these.
Herringbone and another classic shape.
I just love how you can mix up a project for so many looks with tile.
The floor had those marble look alike tiles installed and it was beautiful. These were in a matte finish.
More hardwoods displayed in the Expo.
I'm not really sure what Floorigami is, but it appears to be carpet planks and different shapes to mix up in a space for a more modern look. It was really pretty!
I love, love their patterned carpets and these can be installed as regular carpet or cut to fit a room with their custom rug program by Tuftex, a division of Shaw Floors.
I love the idea of getting a custom cut rug just the size you need for a room and aren't these some gorgeous carpets?  I could fall in love with these.
There were so many beautiful vignettes all over the Expo.
This little display was so cool!  This stand held a ruffled piece of their Lifeguard Waterproof carpet, holding ice and water and nothing comes through.  Isn't that amazing?  They had these displayed on the tables too. Great application for any space that you might have a chance of flooding. Water won't penetrate this carpet and it doesn't penetrate the fibers either, from a demo I saw.
They had so many cute areas set up for chatting and snacking.
Everything looked so nice and top notch.
For the kids in attendance, there were many fun tools and toys for them to play with, like this giant Light Bright.
It was such a huge convention and fun to take in.
I just love how creative their stylists are in making everything pretty.
You can really tell they put lots of thought and research in everything they do in regards to color and style trends.
Lush, the green color of the year for 2017.
String art decor.
A wall for coloring for the kids, as you can see they put it to good use.
It truly was fun to see it all in person and I'm very happy that Shaw invited all of us to be there. Such a treat!
We were asked if we would share with the dealers in a session on blogging and social media, talking about our blogs and how things work in this online world, so 4 of us did sessions while there.  I had no problem sharing about my blog and business and also working with Shaw on my recent den project.  These were dealers who wanted to learn more about how social media works for their businesses. Several of my longtime blog friends are on the Style Board too and it was really fun to get to spend some time with them.
I also sat in on a session with Jack Thomasson, long time HGTV house planner of the HGTV homes for the last several years. It was a very nice presentation highlighting his work over the last few years with HGTV designing many of their Dream, Smart, and Green homes.
As you might expect, carpet was a big highlight and these rugs were hung out in the lobby to showcase their carpets.  Do you recognize these celebrities?  I'm not quite sure who these are, maybe Jimmy Hendrix on top?
This one is definitely Prince.
And we guessed Justin Timberlake on this one.
They were so creative in everything they did at the convention, including this lamp girl walking around showing off. How fun!
There was also a big session one day with businessman, Warren Buffet, which was interesting to listen in on.  Shaw Floors is also a big backer of the children's hospital, St. Judes, and they highlighted all of that at the conference.
The last night was a big party blowout in honor of their 50th Platinum anniversary.  I can't imagine all the planning that went into this big shindig, from the yummy amazing food to all the gorgeous decorations that were in the big ballroom.  It was jaw droppingly beautiful!  We had a lot of fun at the party.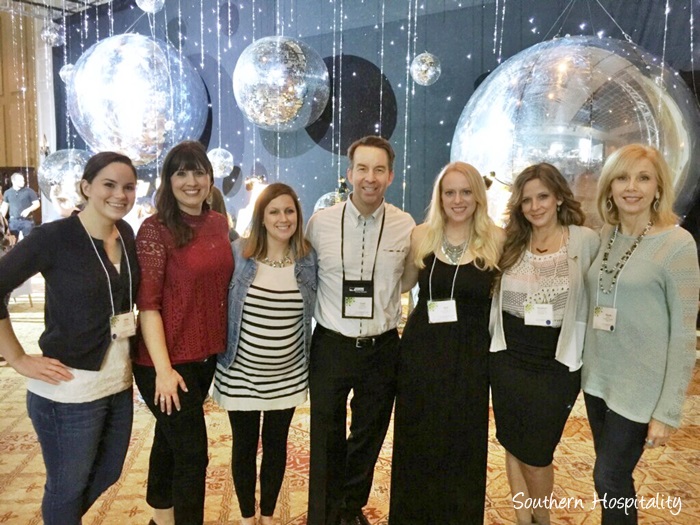 A shot of some of the Shaw team, along with the PR firm that we work with on behalf of Shaw.  From left, Chris (Empower Media), Vanessa, Meghann (Empower Media), Todd (from Shaw), Beth, Roeshel, and me. It's always nice to be with my blog friends!
One evening, we had a free pass to Universal studios, with one part of the park open just for Shaw! It was so much fun and I had never been before.  We strolled around and ate dinner at Harry Potter World, which was really fun. There was a ride there called Dragon something that was so crazy and fast that we rode.  I had a blast feeling like a kid again.
It was such a cute and colorful theme park. We had about 4 hours there and tried to do as much as we could.
We headed over to this section and rode the Hulk. Now that one almost made my head explode.  It was really fun, but jerked my head around a little too much.  Probably won't do that one again.
The last ride we rode was a 3D ride, Spiderman and it was really fun.  I had a great time with these Shaw girls.
One of my real life friends, Beth (who I actually met through my blog), lives in Orlando (she's from Marietta originally) and she came over and had lunch with me and sat in on my presentation one day.  If you remember, she's the one who went with me on my cruise last year.  Beth has had some very serious health issues last year after our cruise, but she is doing so much better now. It was great to catch up with her!
I thought you might enjoy this recap of the Shaw Convention and all that goes into a big conference like this.  I told them it was like Haven on steroids, SO big and massive.  I know a bit of what it takes to put on a conference, so I was so impressed with how this one was done and how totally professional it was.  That's quite a feat to accomplish, so my hat is off to them.  I look forward to working with Shaw more this year and sharing with all of you!
Note:  As a Shaw Floors Style Board blogger, I was invited to the conference and all expenses paid.  They didn't tell us what to share or write so all of this is my own perspective.  I'm working with Shaw this year and will be sharing more content with you about Shaw Floors.
Don't Miss a Post, join my list!