I'm very fortunate this year to again be working with Shaw Floors on their blogger Style Board, along with 7 other bloggers, so just to let you know, this is a sponsored post!
We all have allocated a certain amount of flooring for our homes, given to us by Shaw (along with installation) and as timing would have it, we have bought our new home and one of the main things we wanted to do was replace the carpet upstairs with hardwood floors.  I've gotten so used to hardwoods, having them in my current house on all levels and so it's natural for me to put them in the new house too.  Mark is also on board with hardwood floors and they make such a difference layered with area rugs on top.
Hardwoods add such warmth to a space with their wood tones and natural appeal.  I just love them!  As I mentioned last week when we chose the stain color for the lower level site finished floors we had sanded and restained, we wanted to go with a similar tone upstairs, so looked through many samples of Epic Plus engineered flooring that Shaw Floors offers.  I knew that we didn't want to go quite as dark as my current floors and a mid-tone brown wood was what I thought would work with our main level floors. Plus mid-toned brown is very classic and timeless and won't go out of style.  I like to keep that in mind these days with big items like flooring.  Longevity is a factor for my decisions and I try really hard not to get too caught up in trends when making decisions like this.
After browsing many samples, we narrowed it down to Pebble Hill Hickory hand scraped hardwoods in the color Warm Sunset. Doesn't that sound so pretty?
The same Shaw Floors dealer that did our site finished floors installed these Shaw Floors as well. You can reach them at Dalton Wholesale Floors in Adairsville, GA. 770-773-2681.   We were very happy with the outcome of our new floors and worked with Chad King.  They work in the Atlanta area often. It's important to use an authorized Shaw dealer for installation on Shaw Floors.  
These were a really nice blend with the downstairs site finished floors in Provencial that we just had redone. New flooring is such a great update for a house and we are so grateful to have this partnership with Shaw to finish off the top level of our new house in hardwoods, a preference for both of us.  There are some beautiful carpets out there and Shaw has many of those, but for us hardwoods are the best choice for us. We do have a gorgeous runner that we'll be putting down the stairs by Shaw as well and it's going to be stunning, I think.
So, let's do a little before and after.  The house had all carpet on the upstairs level and now it's all this beautiful Pebble Hill Hickory flooring.
What a difference it made!  I just love the warm tones and variations in shading that these planks have, as well as the hand scraping which gives it such a beautiful look.
The master closet got new hardwoods as well and that will be nice in this space.
Lighting makes a difference in how they look and the first pic the lights were on, but this is natural light. It's such a warm wood tone.
In the upstairs hallway, lots of light was coming in so there's a bit of a glare but you can see all the rich wood tones here.  The stair piece that holds the spindles is a lighter shade than the floors, but I think we can live with that.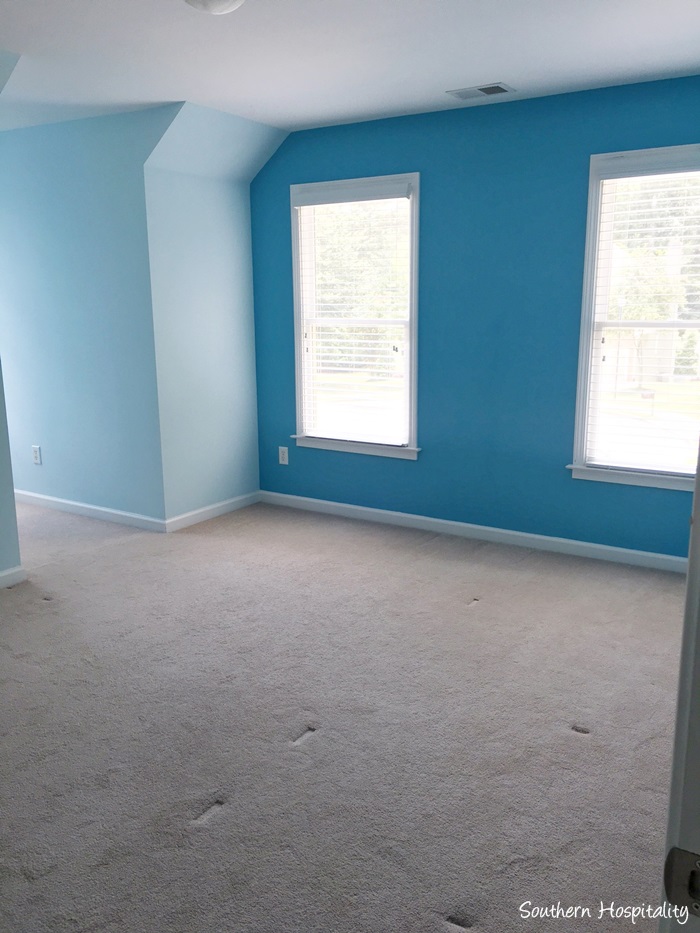 Mark's man cave looks so good too with the new wood floors.
We will add area rugs to all the rooms to cozy it up on top of these gorgeous floors.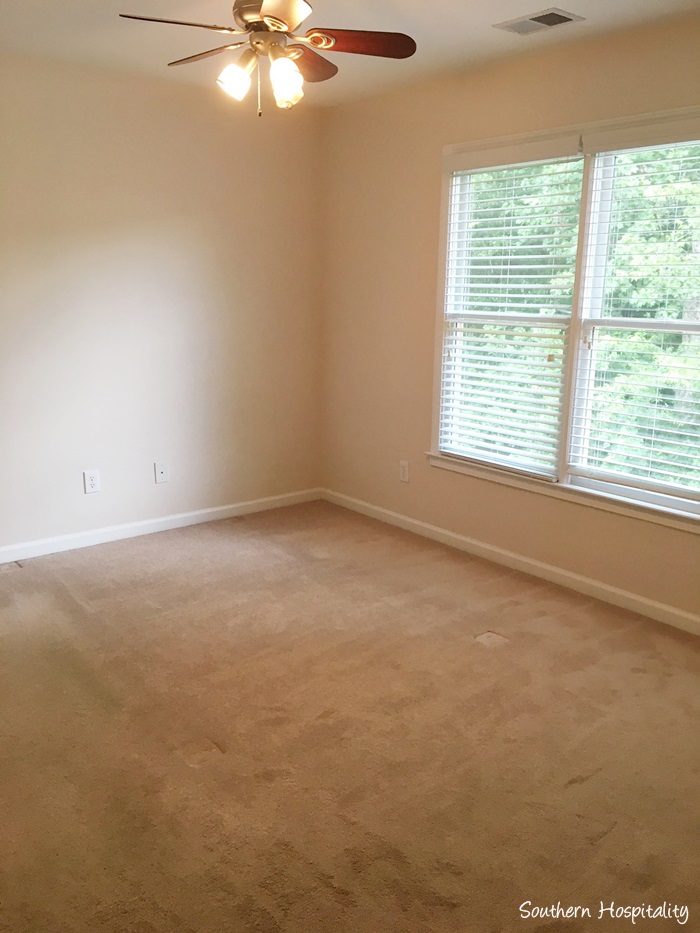 And lastly, my office space before with carpet.
And after with those gorgeous wood floors!
Here's a look at the stair nose and the downstairs flooring all together. It's not a perfect match, but that's the beauty  of wood, there are so many tones and variations and we are fine with the blending of tones.   Mark still has a few trim wood projects that he wants to get completed before we move in furniture too.  Makes it so much easier to do all of that without furniture in the way, so luckily we don't have to rush it.
Downstairs the basement had painted concrete floors which are great for an unfinished basement, but in preparation for some day getting these areas finished with drywall, we went ahead and added Floorte luxury vinyl tiles down in this space.  We chose Lombardy Hickory Mix Plus in Largo, a mix of brown shades, which we really love down here.
Floorte vinyl planks are the same floors I put in my current family room space on concrete.  The best thing about these floors is they are completely waterproof!  If ever this space has water issues, the floor will not be ruined. That's pretty amazing and the perfect choice in a basement!
It's amazing how adding this flooring makes it feel almost finished down here, even with no real walls.  It just feels clean and neater somehow.  Those are Mark's Adirondack chairs that he made a few years ago.  Told you he's a handy guy!
We are so excited to get in the house and start making it a home!  Having these new floors is just the icing on the cake and we are so thrilled to be partnering with Shaw on our new house floors.
We're planning to one day finish off these spaces with drywall and they will really be functional rooms then and the flooring will already be done, which is a huge blessing.
We are so thankful for our new home and for all of you who are interested in following our journey. We will have a lot of projects, big and small that we'd like to accomplish in this house and I'll be sharing all of them along the way.  We've had workers inside and outside the house the last couple of weeks and that's about to come to a close and we can start moving things in.  We've had the main living areas painted, the kitchen cabinets painted and the exterior painted last week and I can't wait to show you all of that too when I get a chance to take pics and get them all edited.
By the time you read this, I'll be a married lady and Mark and I will be starting our journey in life together and I couldn't be more excited!  Thank you all for being here with me all these years and sharing in our joy. I'll be sharing it all, don't worry!
Update on Dad:  Dad is doing so much better and even though the c diff isn't completely gone, the antibiotics have continued and he is in a really good place now. He had a really good week last week and we think he will be coming home on Thursday of this week. They have been really working with him on physical therapy getting him accustomed to walking with the walker and he's doing great with that. He is MORE than ready to get home!  We will know more on Monday but that is the latest news. 
Note: This post is sponsored by Shaw Floors.  As part of the Styleboard, I was given Shaw flooring at no charge and it was installed for me. My love for Shaw Floors is my own opinion!  
SaveSave
SaveSave
SaveSave
SaveSave
SaveSave
SaveSave
SaveSave
SaveSave
Don't Miss a Post, join my list!