I'm back from two back to back trips and trying to get all of them documented and shared, so today it's Round Top, TX shopping day!  As I mentioned, this group of 11 girls stayed at the Rancho Pillow which is about 10 minutes out of town from Warrenton and Round Top, the antiques market community that is so huge this time of year.  It's a wonderful event to experience, even if it is overwhelming and tiring!  I'm so glad I got to go, as I've heard about this event for many years.
It's a junker's paradise, that is for sure!  I think you can practically find anything you are looking for at this antiques market, from vintage goodies, to furniture and fine antiques, and everything in between. Even if you don't need a lot, you can still come home with some interesting and unique things.  I wasn't looking for anything in particular, but ended up buying a few things for myself.  My sister gave me $300 to spend for her and I got her some neat vintage accessories for her house.  Lisa had a truck out there that brought everything back and we all paid shipping charges for our things that were hauled back and everything came in last week on the truck.  I'll be sharing where everything is going along the way as my sister gets her house freshened up and I decide where my things will go.  I didn't buy much, just a few things, but I did find a neat iron bench for my front yard that I think will be a fun addition.
Another group shot of our 11 girls who went on the trip. Lisa, our leader from The Front Porch of Vinings shop is wearing the straw hat and was such a trooper on heading up this group of women.  After awhile, I didn't even worry about looking cute, I was beyond that.  Just trying to survive shopping for 3 and 1/2 straight days.
So back to Round Top, it has a cute town square area with lots of little shops and this beautiful little chapel surrounding it.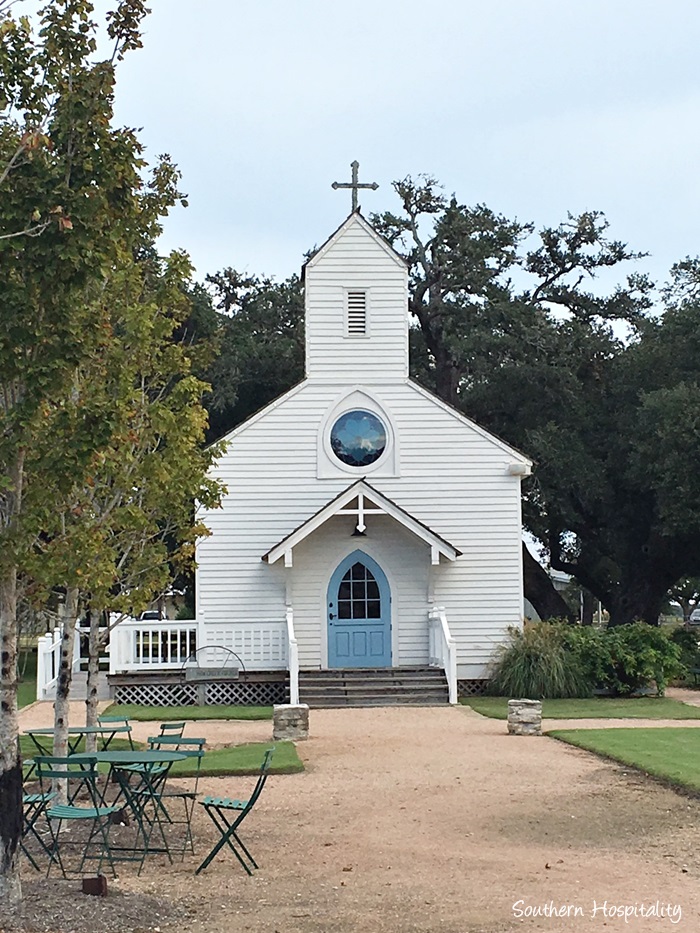 I thought this place was adorable.
One of our first stops to check out was Royer's Pie Haven, a place people on my Facebook and Instagram kept mentioning when they found out I was in Round Top. I had no idea what to expect, but wow is this a fun place to hang out.  Pie is the optimal dish, pie and coffee to be exact!
Nothing not to love about eating pie, is there?
Truly such a cute shop and owned by Tara, the Pie Queen.  I'm following her on Instagram now, so go over and find her.
It has such a old fashioned feel inside, a true old fashioned bakery and just look at all those pies!  I tried several of them including the chocolate, apple pie and a breakfast pie.  I had tastes of the mixed berry and buttermilk pie and all of them are to die for!  We ended up here for breakfast twice, it was that good.  Yes, I had apple pie and coffee for breakfast one morning!
Our first night in Round Top, we had reservations for dinner at Royer's Cafe and it truly was a treat.  It was without a doubt our best meal there.
Well, at least for me it was!  What a place this is.
I ordered their steak, which sits on a big pile of mashed potatoes and mushroom gravy and another one of the girls and I split this meal and it was plenty enough for 2.  Oh my word, was this delicious!  We had veggies too, but this was the star of the show for me.
Royer's a such an eclectic place and if you've ever been to the Red Bar in Grayton Beach, FL, there are many similarities, especially with the extensive wallpapering of the walls with all sorts of "stuff".  Several of us mentioned Red Bar and how similar it felt.  That's Tara, the Pie Queen up there in the green.  Her dad owns Royer's Cafe and she owns the Pie Haven, which I just introduced you to.
This is about as cute as I got all weekend.  It was hot, hot, hot that first day out shopping and I thought I was going to melt.  Atlanta is hot, but it felt even hotter out there in Texas, with the humidity up really high.  Walking around in the heat for hours and hours really gets to me and my stamina is not what it used to be.  I was feeling my age, let me tell you and I was the oldest one on the trip.  All 3 days, I went back to the ranch by 2 or 3 pm, along with one or 2 of the other girls. Some of them were marathon shoppers, I have to give them  kudos for that!
The first day out we went to Zapp Hall.  Lisa had all these favorite places that she likes to shop and I'll have to try to remember them.  These pics are a combination of all of them, so I'll just tell you where we stopped and shopped.  Zapp Hall, Excess, Blue Hills, and last stop Marburger Farms.  I know I'm forgetting some of the stops that Lisa made, but these are the main ones.  We shopped at different places every day.  I really liked the Excess shops a lot and there were so many fields in all of these areas.   Some have buildings that are full of stuff and then vendors come and put up tents for miles with row after row of "stuff".  You can't imagine how much there is until you see it in person!
Simple Cottage was one of Lisa's favorite vendors and she has bought here for her shop. Some of the girls found things here, I think.
I'm not going to talk all the way through here, but will chime in on my finds along the way.
I found this sweet little vintage landscape painting the first day out, it was $13.  Tiny little thing, but I love pieces like this to mix in bookshelves and vignettes.
I was shopping for my sister and bought this round sphere made of barb wire and sitting on this stand for $50.  It's really big and will be a nice statement piece somewhere.  Plus how unique is that?!  I was sending her texts and pics along the way, but the service out there was so bad that it became impossible to send pics.  She trusted me to pick things out she would like and it all worked out fine.
Coffee stand set up in this old Bug was pretty unique too.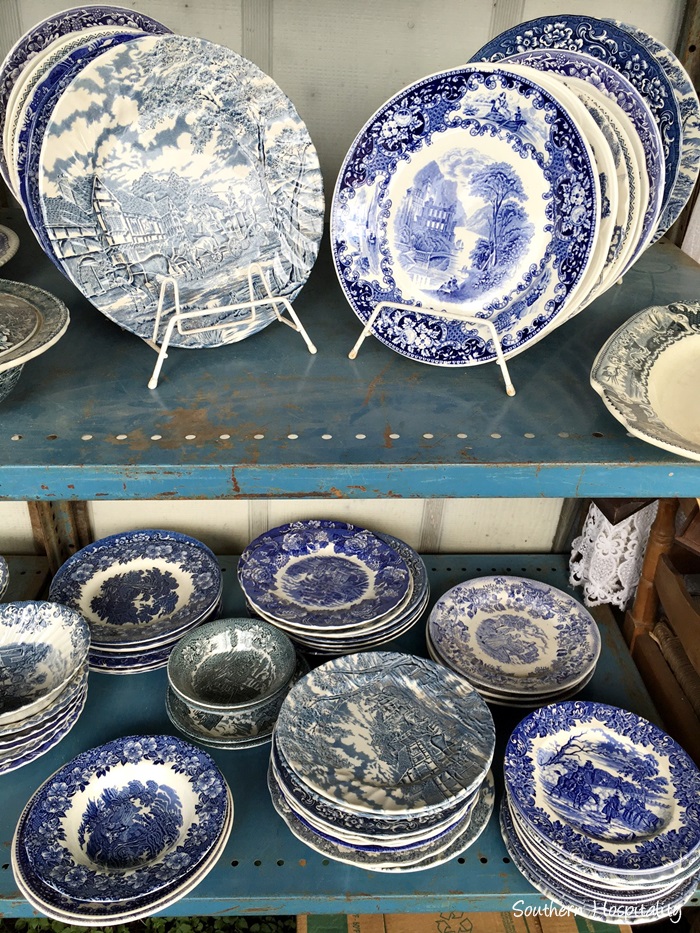 We had dinner one night at a brick oven pizza place that was set up for the show.
It was SO good!!  I am in love with pizza and could eat my weight in the stuff.  Brick oven pizzas are my fave.
I got my sis a couple of these gnarly wood branches.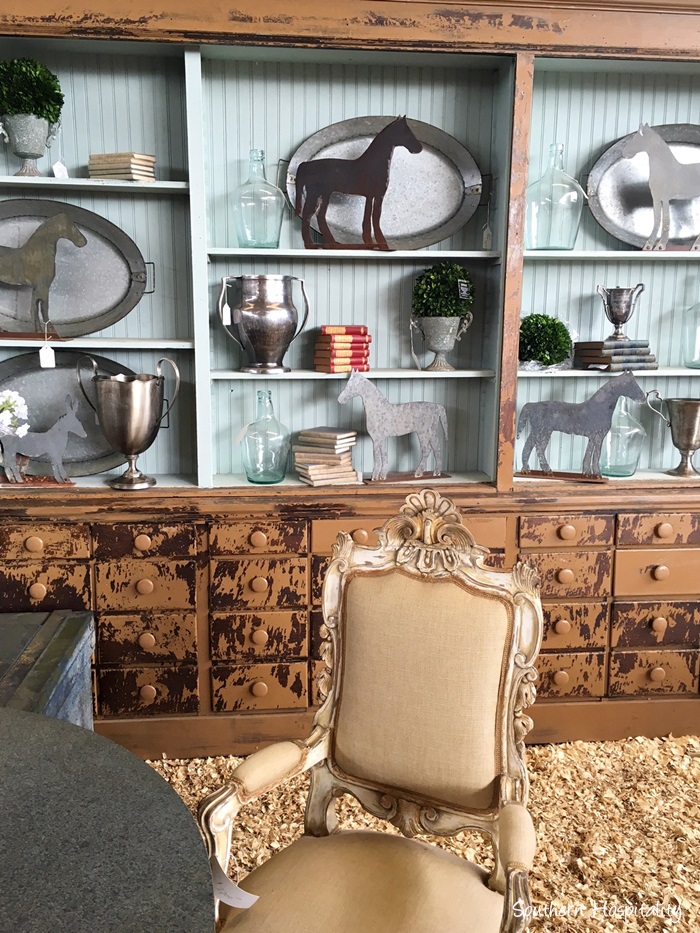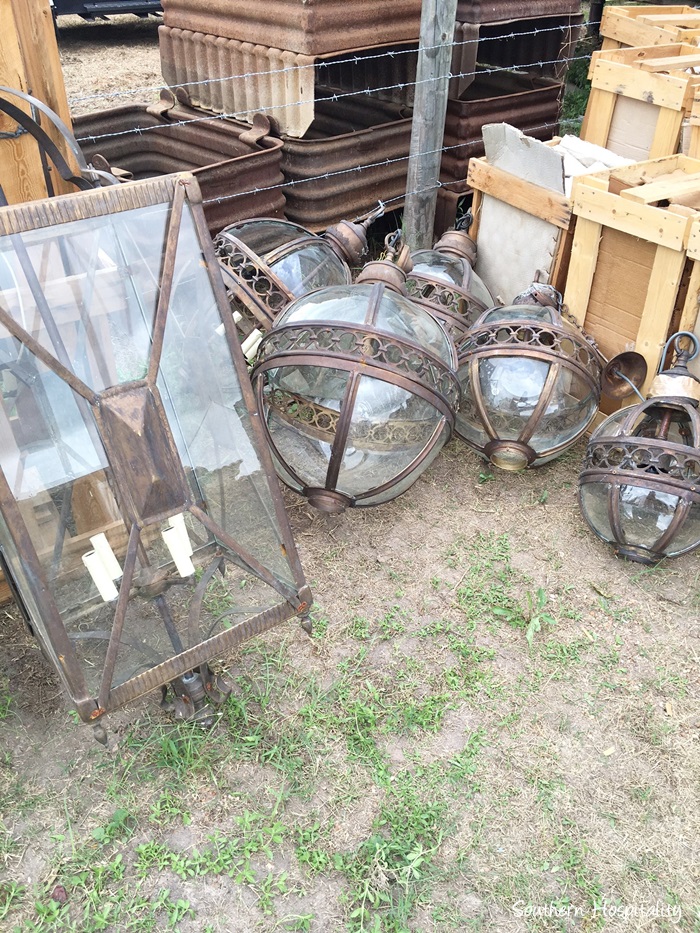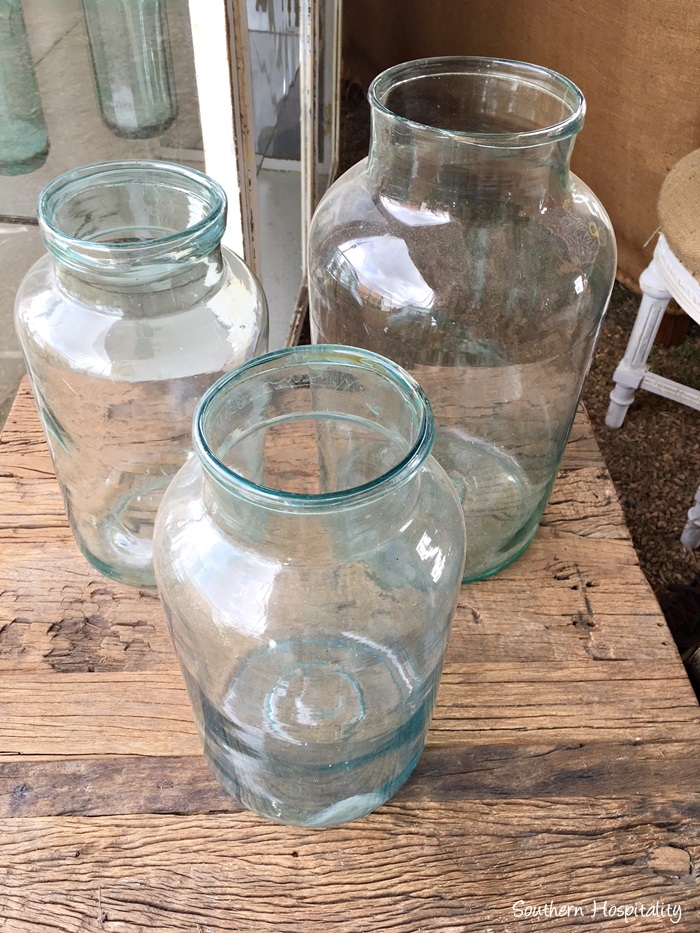 There was one vendor set up with a truck that was packed with French antiques, so we all loved that place and bought a few things. I got my sister a big wine bottle, but forgot to take a pic of it.
I got her and myself a seltzer bottle for $18 each.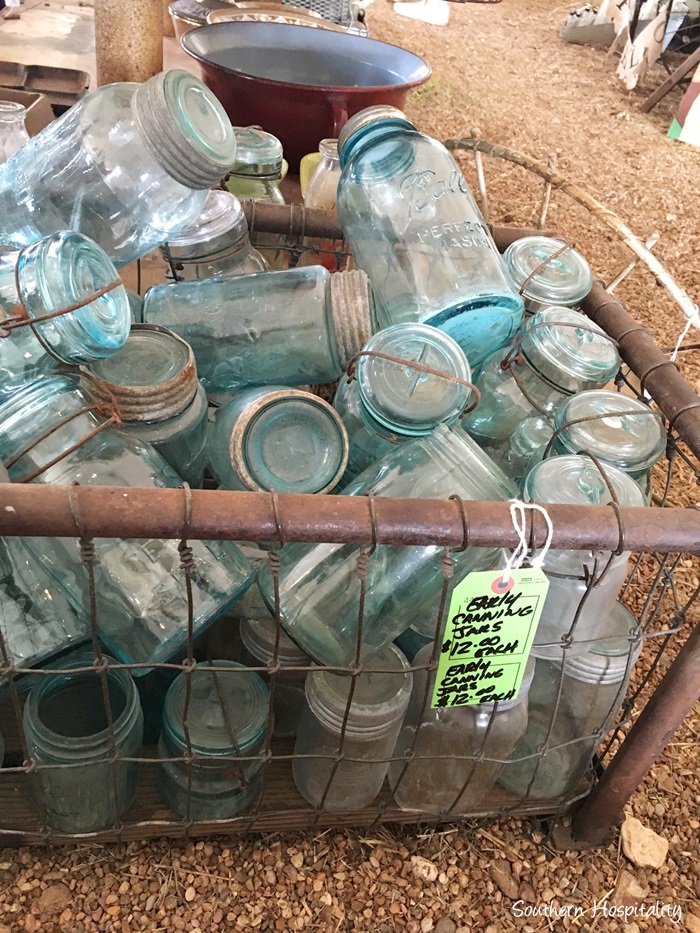 Tons of old blue Ball caning jars.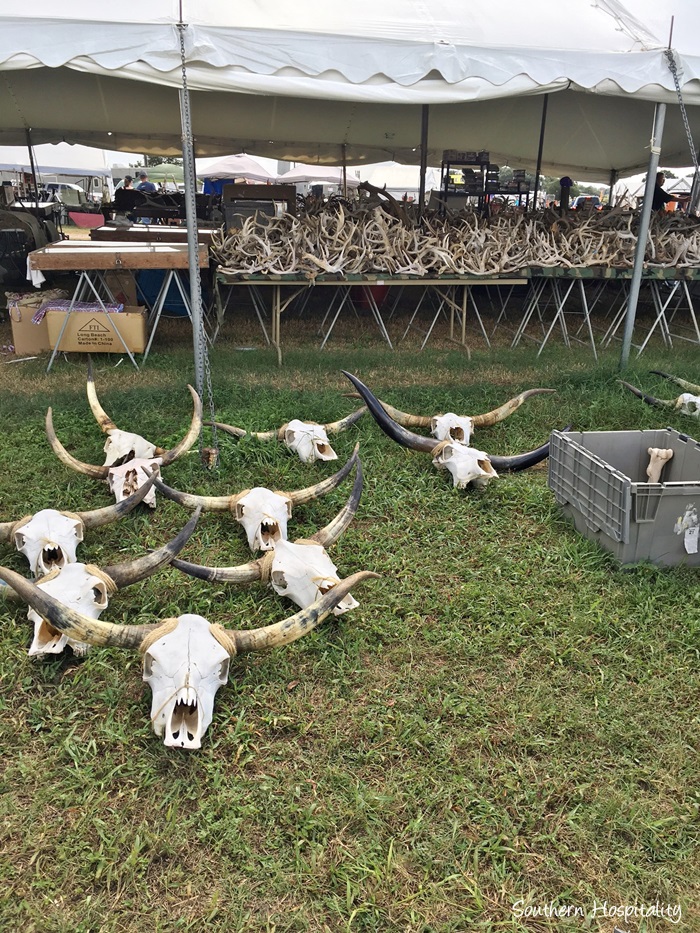 As you can imagine, there are a LOT of skull cow heads and antlers in TX.  LOTS!  Lisa brought back a lot of these for her shop too.  She said they are big sellers here in Atlanta.
Things weren't necessarily really cheap at Round Top, there was lots of bargaining to be done, but the items you find are very unique, so that's a huge draw.  You aren't going to see this stuff everywhere.
Huge corbels! I priced a few of them along the way and they were generally over $200 a pair for larger ones.  Not sure how much these huge ones were.
I bought my sister a nice large glass fishing float for $20, which I though was a good deal.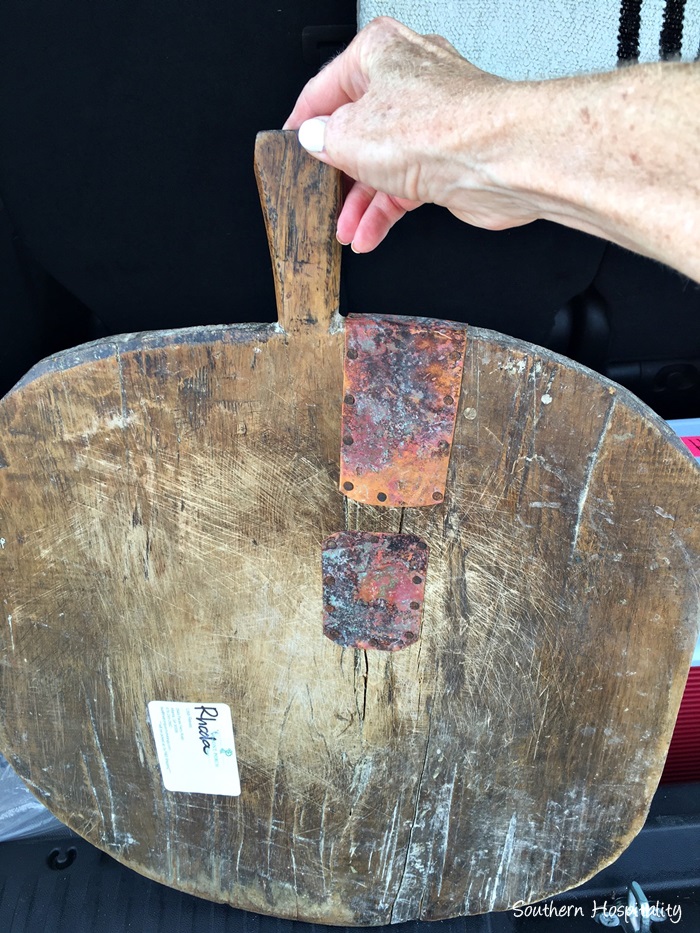 These rustic French bread boards were really neat and I got myself one and one for my sister, priced at $50 and $55.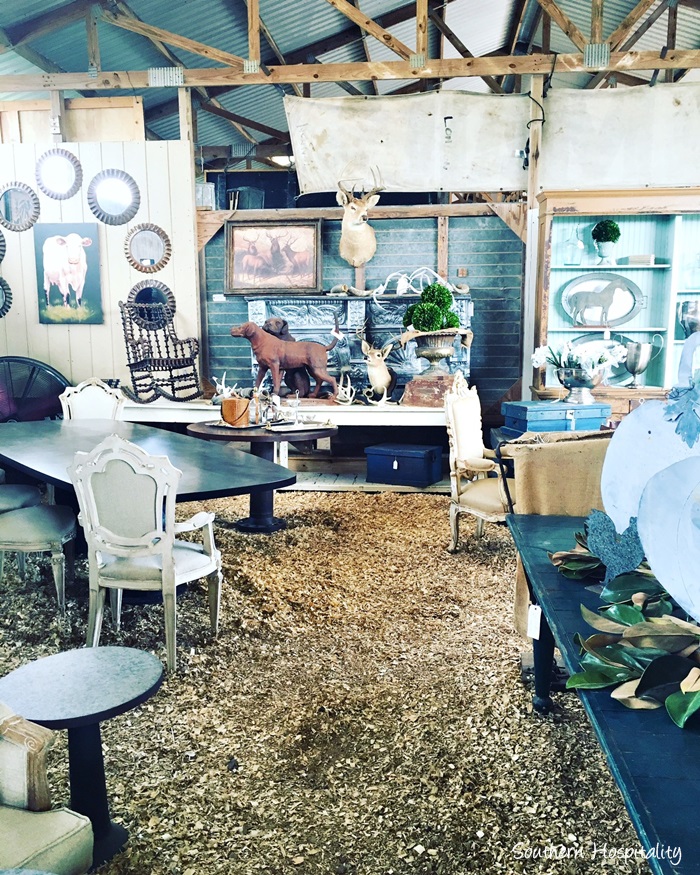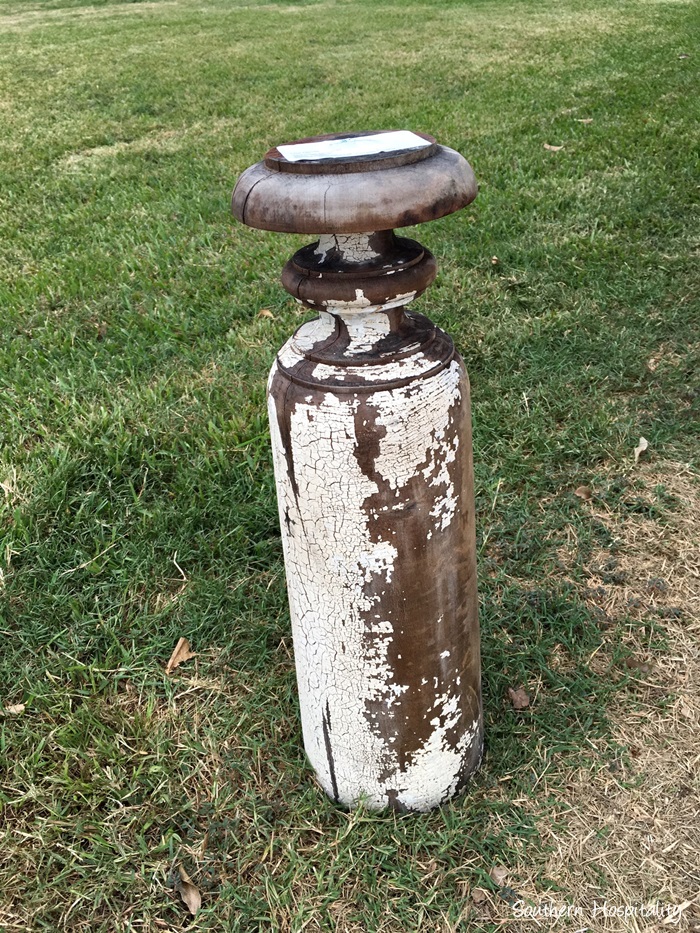 Found this rustic stair part for my sister for $42. She will use it in a grouping of things and it's about 2′ tall.
Lamps made out of old iron pieces were really unique.
I finally got to meet the sweet and talented Leslie Sinclair, who writes those beautiful faux finishing books that I've shared on my blog before. You can see the last one here, Segreto Vignettes (link in that post to the book).  She was so nice and was signing books at Round Top.
I loved this painting and frame, but didn't buy it.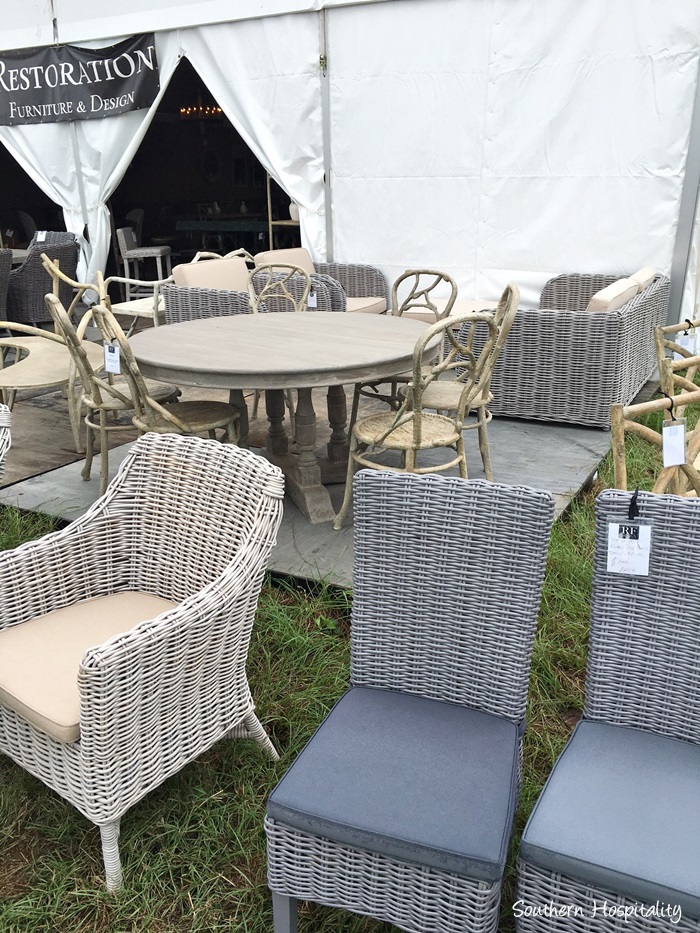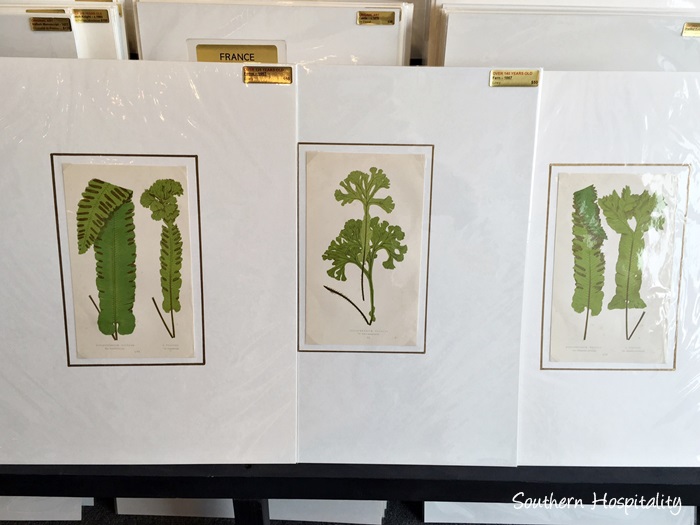 I did buy these old bookplates at a print shop that was there at Blue Hills.  There were all sorts of subject matter and I just love botanicals so I bought these 3 that I hope will fit frames I already have.  It will be fun to freshen up the ones I have and these are really old.  Framed and matted, they were $50 each.
Junk is a good word for Round Top. What is one person's junk is another one's treasure as they say!
One more thing I brought home was this old iron bench for $100.  I'm putting it in my front yard by the sidewalk and I think it will be a cute addition to my house.  I may add a couple of outdoor throw pillows for a little color on there, but probably won't add real cushions to the bottom. I just loved it!  Not sure I'll paint it or just leave it in its chippy state.
So that's a wrap-up of what I saw and things that caught my eye shopping Round Top!  It really is so much fun and so very exhausting too, so if you go, pace yourself.  It sort of reminds me of shopping the Longest Yardsale if you've ever done that.  I have a feeling some of the same vendors might be at both.  There is so much to see from super rustic farm tools to higher end antiques and everything in between.  But some of Round Top is more upscale, like Marburger Farms.  I'll be sharing that with you too. It's a more upscale and pricier show than the rest of Round Top and definitely worth seeing too!
Don't Miss a Post, join my list!