If you haven't heard about Scott's Antiques Market and you live in Atlanta, you are missing out on a treasure trove of fun. It's about the best antiques market that is still left in Atlanta that I know of (waahhhh, I still miss the OLD Lakewood Market at the Fairgrounds) and I have found some of my favorite furniture pieces at Scott's.
It is always full of eye-candy, one of a kind finds, and is purely fun for browsing. There are 2 huge warehouses full of great stuff, as well as plenty outside as well. This trip, I didn't even make it to the 2nd building, but saw plenty to photograph just in the South Building.  It's held the 2nd weekend of every month.
Maybe I will hit it again this weekend, who knows?
I met up again in May with new blog friend, Sherry Hart, who's house was featured in the May 2011 issue of Better Homes & Gardens. If you haven't checked that out yet, go and take a peek a her beautiful home.  She has promised I will get to see it in person soon and I'm holding her to it! 🙂  Sherry is a wonderful designer and has been at it for a long, long time.   We weren't really interested in these dusty pink chairs, it was simply a photo op. 🙂
So, enjoy the stroll through Scott's Antiques Market.  I'm not going to narrate every pic, but you will get the idea on how much fun it is.  If you're looking for something special, chances are you will find it at Scott's.

And I hope you enjoy LOTS of pics, cause I took a ton of pics.  Seems I don't know when to stop snappin'. 🙂

Loads of old shutters, wouldn't these be fun to play with?
Furniture galore as far as you can see.  All styles, all years.
Beautiful wood pieces and you'll find plenty of painted things too.
Look what I spied?!  Do you remember my sweet red bunny fabric that I had for so long?  There it is, still going strong on this cute pillow.  Awww….
Loved everything in this pic, especially the mercury glass and that horse head.   You will find all sorts of one of a kind things at Scott's. 
Antique rugs
Frenchy chairs galore.  Have they been reading blogs, do you think?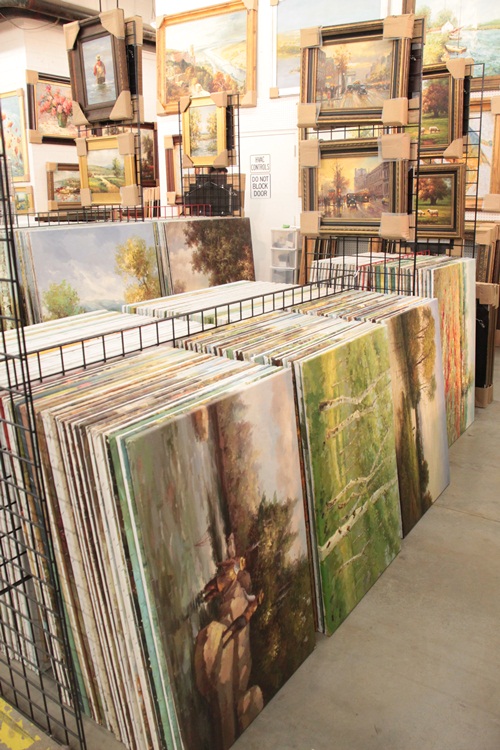 A slew of original oils.
Vintage dough bowl.
Stacks and stacks of fabric remnants, a dream for those who love fabrics (I do!).
Great sentiment on this pillow. 😉
These guys out of Alabama had some neat old doors made into hall trees. I thought these were so unique and stopped to chat with them a bit.  They are Jeff & Donna Lee out of Alabama (I think down near Montgomery).  Called LeGAllee Antiques and Faux Finishes, you can reach them at 334-451-0212 if interested in checking out their wares further.  They are here every month at Scott's in space J-8, South Building.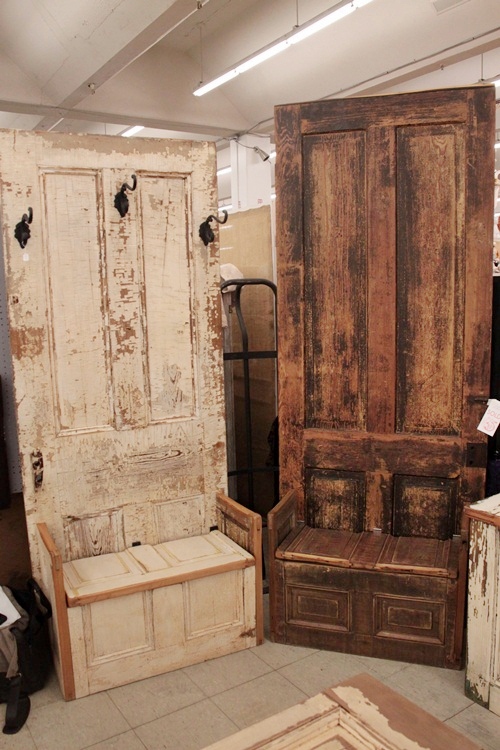 I told them I'm a blogger and would give them a shout-out.  Nice guys! And I loved their stuff.
Now, who does this piece remind you of?  Yep, Miss Mustard Seed herself.  Gorgeous painted piece.  Looks like that could be some famous Annie Sloan chalk paint, which I have yet to use, but have heard so much about.
Love these pillows!
Beautiful prints and vintage art.
Check out these chairs!  Didn't check the price, but they are pretty.
Big fat French armoires always get my attention.
Old and rustic are the words at Scott's.
So many beautiful things to take in.  It's impossible to see it all.
Furniture galore.
Loved! this old lantern.
Chairs, oh yeah, check out the chairs.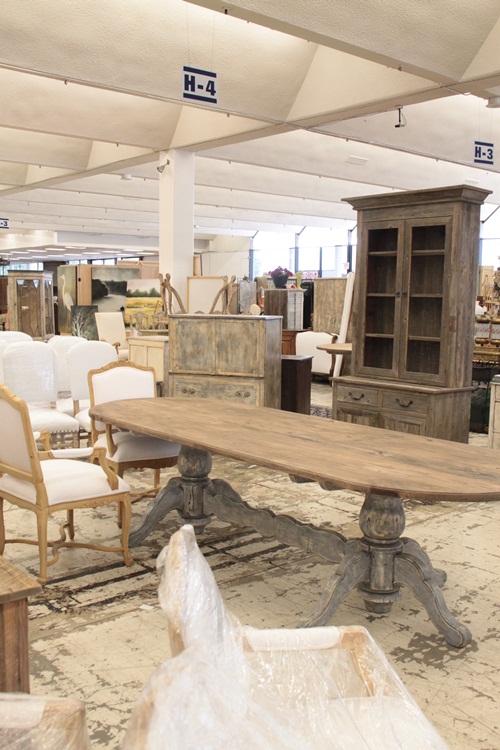 This piece was very unique, with a real butcher block top.
Loved this table.
If I had room, I'd get a dozen of these old glass floats.
They are just beautiful to me.
Pretty pottery.
Loved it all.
Spot anything you'd like to bring home?  Yeah, me too!
These old architectural pieces were fab!
As was this old mirror.
Didn't you love Scott's?  I know, it's a treasure trove.  If you haven't been before, you simply MUST!
Don't Miss a Post, join my list!