Last weekend, I shared my mom's grits and tomato gravy and today I'm back with another recipe using that traditional staple in Southern homes, GRITS.  Yep, if you were raised in the South, most likely you grew up loving grits.  I totally love me some grits.  Nothing better than hot grits with a pat of butter in the middle melting down.  Oh, they are good!
Shrimp and grits are another popular combo and this recipe that I found in this month's Southern Living grabbed my attention big time.  Shrimp and grits are wonderful together and this sounded like a great recipe to try out.  It did not disappoint.
We ended up making a party out of the shrimp and grits and my friend, Tammy, and I gathered at her friend's beautiful house, who lives near downtown and decided to have a girl's night in, inviting about 8 other women over.  They all put together the other yummy appetizers to go with my shrimp and grits and it was so delish!
Tammy and I arrived early to get the shrimp and grits in the oven before everyone arrived.  The recipe is in the November Southern Living.  You can always count on Southern Living to have some great recipes for the holidays and I decided this was one I couldn't pass up trying.  Shrimp and Grits dressing!  What's not to love about that?
I got 3 cups of water going for the Knorr Concentrate stock addition and added one container to the water.  After mixing it up and bringing to a slow boil, I added 1 cup of grits, stirring them in slowly.  The grits were looking very creamy at this point.
Chopped green onion and red bell peppers are added later too, so we got those ready.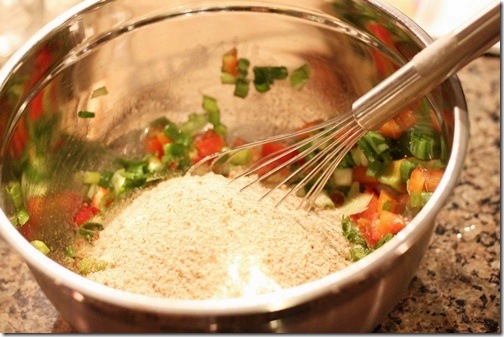 Adding the eggs, along with the bread crumbs and parmesan cheese.
You have to mix in a big spoonful of hot grits a little at a time to keep the eggs from scrambling, but do it slowly and you shouldn't have a problem. Mix in part of the grits and then add them all, as it get's mixed together.
This recipe calls for peeled and deveined raw shrimp, which goes right into the grits mixture.
Mix them in well, then turn it all out in a greased pan to bake.
It will look like this, ready to bake for about an hour.
After coming out of the oven, it will be a little crusty on the outside and creamy on the inside.  We all couldn't wait to try it and began spooning out samples to taste.  All pronounced it YUM and it SO was!  I will definitely make this one again.  It has a wonderful creamy texture inside and the shrimp is perfect inside.
While we are at it, I'll show you a bit of this pretty house.  That's Tammy in the kitchen.
All the girls put together some great appetizers for our little gathering.  A crudite plate kicks things off.
Delish chips and salsa, along with mini quiche.
Baked brie with crackers and apples.
And a fruit tray, along with the most delicious chocolate chip cookies ever, that Tammy made.  I will share her cookie recipe soon!  They are the bomb.
The dining room is beautiful in this house.
Check out the laundry room, so cute!
Master bedroom is pretty stunning too.
I just loved this guestbath and the green and white tiles.
So, you get a little decor in this post too, along with all the great food.  Those shrimp and grits were so, so good, if you are looking for a little different side dish this year, this might be a winner for you.
Of course, I used my Knorr Chicken concentrate stock to simmer the grits in and all that flavor was infused in this dish.
Shrimp and Grits Dressing  (From Southern Living, Nov. 2011)
1 lb. peeled, medium-size raw shrimp
3 cups chicken broth
1/2 tsp. salt
1/4 tsp. ground red pepper
1 cup uncooked regular grits
1/2 cup butter (1 stick)
3 large eggs, lightly beaten
1 red bell pepper, diced
1 cup fine, dry breadcrumbs
1 cup chopped green onions
1/2 cup grated Parmesan cheese
Preheat oven to 325*.  Devein shrimp, if desired.
Bring broth and next 2 ingredients to a boil in a large saucepan over medium-high heat.  Whisk in grits, and return to a boil; reduce heat to low, and stir in butter.  Cover and simmer, stirring occasionally, 10 minutes or until liquid is absorbed.  Remove from heat.
Stir together eggs and next 4 ingredients in a large bowl.  Gradually stir about 1/4 of hot grits mixture into egg mixture; add egg mixture to remaining hot grits mixture, stirring constantly.  Stir in shrimp until blended.  Pour grits mixture into a lightly greased 11×7 inch baking dish.  (I used standard 9×11).
Bake at 325° for 55 minutes to 1 hour or until mixture is set.  Let stand 10 minutes.
Everyone pronounced this recipe a winner, it truly is delicious and what a different way to serve dressing this year!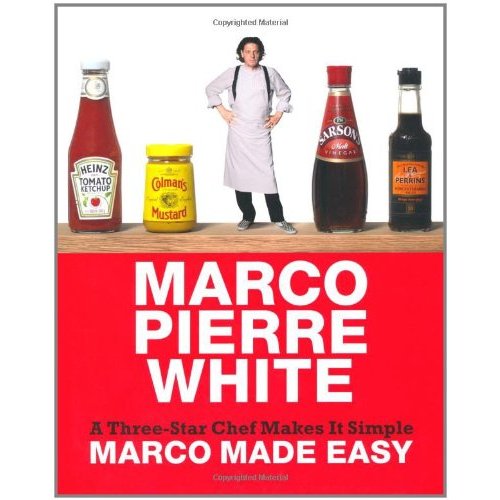 I have another Chef Marco Pierre White cookbook to give away, along with another Knorr apron, so all you have to do is leave a comment and I'll pick a random winner in a few days! 
***Cookbook giveaway winner is:  Carol with House & Home Defined #2
Happy Thanksgiving, y'all!!
I've announced the winner of the Stella and Dot giveaway here and emailed the winner.  Check to see if it is you!
And the winner of The Heartfelt Home giveaway here.
I'm going to start adding the winners of the giveaways right on the giveaway pages to make it easier.
Joining Jen's Tasty Tuesday with this recipe today!
Don't Miss a Post, join my list!