This post is sponsored by the City of Woodstock GA tourism. 
As I've mentioned before, Mark and I live in the quaint small town of Acworth, GA and it's been amazing to see all the changes happening right around us since I grew up in Marietta not all that far from here. We love where we live in Acworth, small town living with lakes surrounding us, but our neighboring city of Woodstock is another gem of a place to visit. I frequently went to downtown Woodstock growing up, it was just down the road from where we lived. I can't believe all the big changes happening in that sweet town either and it has grown tremendously in the last 10 to 15 years. Lots of new homes, restaurants, and shops have opened up, making it a shopping mecca as well as dining and entertainment.
With their outdoor amphitheater hosting summer concerts to the outlet mall nearby at Ridgewalk, it's definitely turned into an unexpected travel destination so you locals should pay attention to this one. Today I'm sharing an upcoming women's event this week on Thursday, March 17th, St. Patrick's day. They are hosting a Sip and Shop for women and it is going to be a fun one, so if you're in this area, you may want to buy a ticket. The tickets are $10 and you'll get sips and bites along the way, so what a fun day for women to get out and shop. Many of the shops will be offering discounts too, so it's a win-win.
I took a preview shopping look for you and here's what you'll see in Woodstock, GA. It was a fun outing for me too and I bought a few things that I couldn't resist as well as had lunch at a local restaurant, Salt, always delicious.
Woodstock built some beautiful homes behind this row of downtown shops and restaurants and even though it's new, it has the charm of an older town, which it is. There is an older part of downtown shops as well, so the new just blends right in.
My first stop of the day was to Findlay Rowe, a beautiful gift shop and boutique housed in a quaint house on Main Street. You'll find clothing, gift items, precious baby clothes, art and more. Great place to buy a shower gift for someone on your list.
You'll find so much to choose from in Woodstock, with a variety of shops along this stretch of sidewalk.
Just noticed they have a Kilwin's chocolates now which is worth the visit. They also have a popular coffee shop, The Copper Coin which I've been to a few times.
There are several anchor restaurants, like Pure right in the heart of downtown Woodstock and these are well served and very busy especially during summer months when that patio on top is hopping.
The clothing shops for women are plentiful and you'll find so many unique clothing items and accessories in all of them. That's the fun of boutique shopping, you find things that you don't see everywhere else.
Smoothies at Eden I've heard are delicious.
I popped in several clothings shops and bought a new jacket here at Dress Up boutique.
They have lots of cute things at very affordable prices.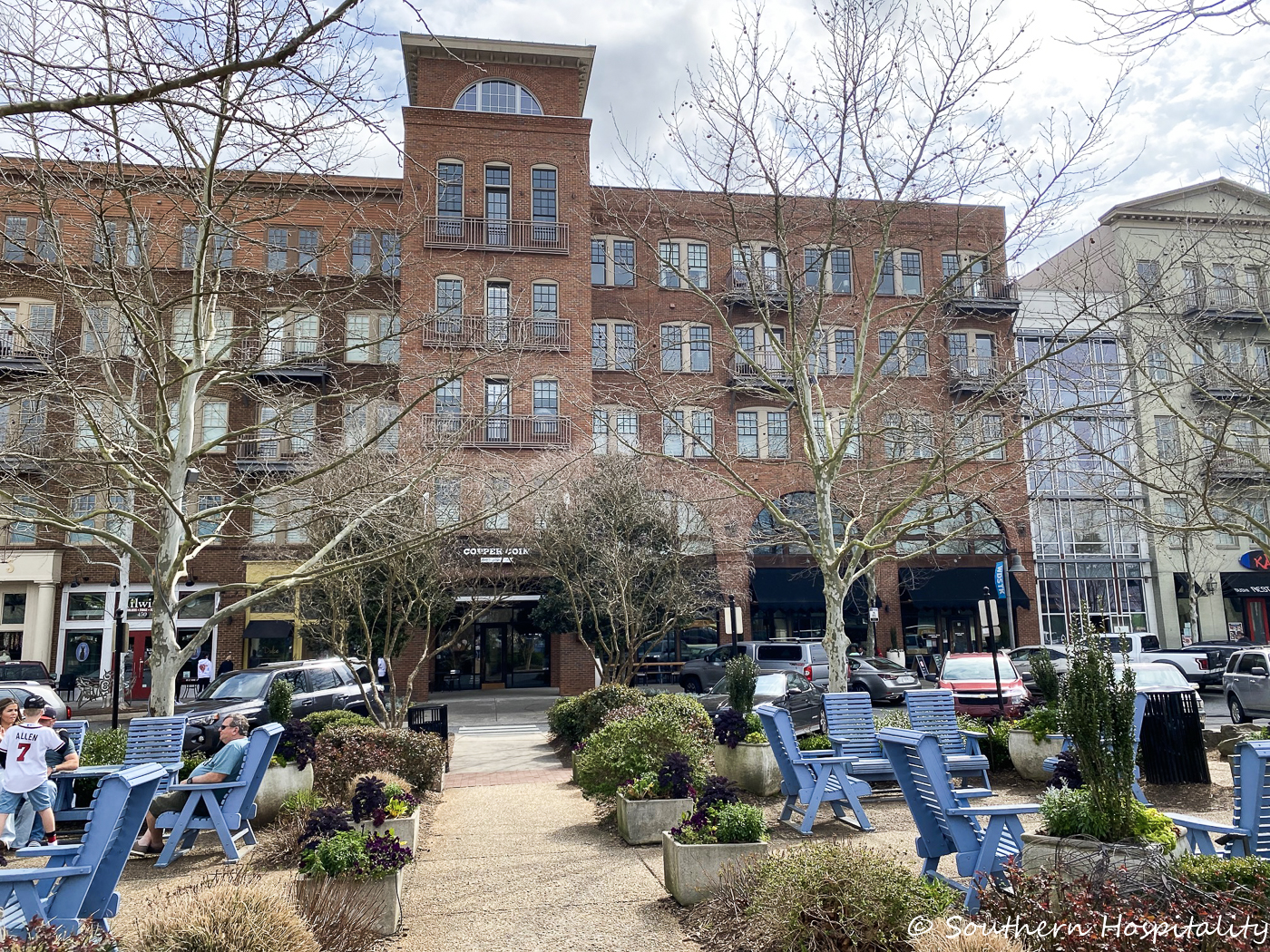 Another look at the downtown shopping area of Woodstock with a nice area in the middle for sitting a bit.
Canyon Burgers and J. Christophers are both good places for dining out.
I know my niece, Lauren, would love this tea bar, Tiny Bubbles. She's a hot tea lover.
Now let's get on to more of the boutiques in Woodstock. These are a few of the shops participating in the Sip and Shop event, so you are going to love it. If you're in the area, it would be a great outing for you and your girlfriends. They will give out tote bags with a directory of merchants who are part of Sip and Shop, light bites and festive drinks. I heard it's quite the event to go to! Let's hope for good weather that day.
Branches boutique is one I've shopped at several times and bought things in here. Always a great place to browse for something new and different.
Across the street is another row of cute shops and restaurants and I went in several of them to check out what they have.
Fashion Cupcake is really cute and I found a blouse in there that I brought home. They have some cute gift items too. Loved that mug!
Spirited is another cute boutique with lots of great things to browse, clothing, jewelry, and home goods.
Made Mercantile is a makers studio right on Main Street and they have several makers who hand make their products and sell from there, including handmade cards, candles, jewelry, bath products, and more.
Another cute boutique, Dare to Be Different has so much to see as well.
Again, boutiques always have unique clothing that you don't see everywhere else.
A stop for lunch at one of the many restaurants like Salt, located in downtown Woodstock is always good. There's something for every palette. This lunch of a wedge salad and she crab soup was tasty!
If your sweet tooth is calling (it always does at our house!), stop by Pie Bar for some delicious pie. I took home a couple of slices of the Chocolate Chess pie and it was so good! Mark was very happy I did.
They have many to choose from for the sweet lovers.
Another stroll down the sidewalk takes us to Reformation Brewery, a cool hangout I hear is very popular especially during nice weather when people hang outside.
Woodstock has miles and miles of trails to walk and ride bikes and that's a huge perk of living in a town like this. I haven't been on these trails, but what a nice thing to have nearby. Woodstock is definitely a walkable city with so many residential areas in proximity to downtown. I've heard there's a brand new boutique hotel going in with a parking deck to help with parking this year.
This cute cottages houses a pottery studio.
And just down the walking trail is Reeves House at Woodstock Arts.
It houses an art studio for local artists to enjoy as well as art displayed around the gallery.
You can take a shopping break here at their well appointed bar area for a snack and drink. Such a cute space!
So that's my tour of downtown Woodstock. If you haven't been in ages, this would be a great time to check them out and enjoy all the clothing boutiques and restaurants during Sip and Shop day on March 17th. I'm so pleasantly surprised at all that Woodstock offers these days. It's gone from a sleepy little town when I was growing up to a vibrant suburban city, filled with activities, food, shopping and entertainment. I can definitely see why more and more people want to live near Woodstock! Small town living has enjoyed a resurgence in the last few years.
Don't Miss a Post, join my list!