I loved her the first time I met her.  She's a down to earth gal, with a genuine wide smile, effervescent personality and that red lipstick.
By now, I'm sure that most of you know my friend, Karianne, with Thistlewood Farms.  She's a super talented blogger and I met her early on in the blogging world and then again as she launched out on her own blog a few years ago.  She's a dynamo blogger, so talented and fun loving and it's always a great time getting to hang out with her whenever we get the chance.
If you've read her blog, you know her crazy personality comes through and she is such the story teller.  The girl can spin a good yarn and take you along on her journey just by painting a picture with her words. Her farmhouse in Kentucky is the backdrop for all her stories, but she delves into the past too and charms her readers with her wonderful childhood and beyond adventures.  Her personality and laughter is contagious as is her positivity and she's a wonderful addition to our blogworld. I'm so happy to call her friend in real life as well.
Her new book that just launched, So Close to Amazing is a fun book, one filled with funny stories, hilarious anecdotes on life and all that goes with it. She lives with the love of her life, who she talks about often and her 4 darling children, sharing their family move from a big city in TX to that farmhouse in KY.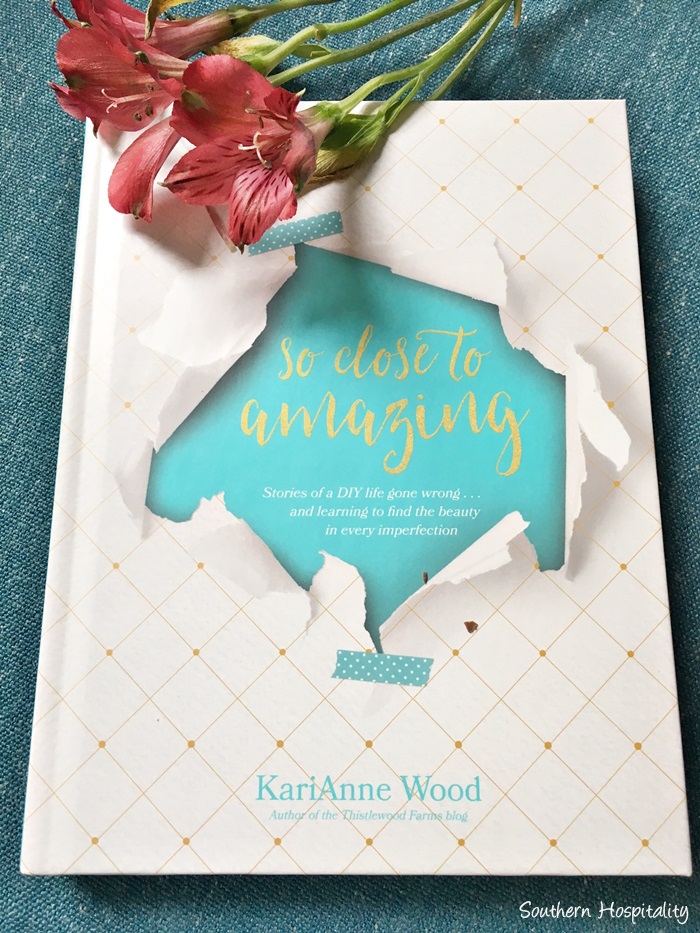 Have you ever felt like you just couldn't get anything right? That nothing you did turned out well?  You're not alone.  KariAnne shows the imperfections in life with humor and wit and shares how she almost gets it right.  So Close to Amazing!  Can you relate to that? I certainly can.  Life doesn't always go the way we planned it, but KariAnne shares that we can still shine with the joy that God created us to be. Unique, wonderful women!  It's not about being perfect, it's about being real and that's what I love about KariAnne.
All along the book, Kari's witty Total Aside's will have you looking for the next one.  Quips like this:
Kari's an everyday girl who says what we're all thinking.
And she has added several little DIY projects in the book too, so if you're into crafty things, you'll enjoy this part too. Kari knows how to make beautiful things out of scraps, I've seen it numerous times on her blog!
I love this one, Through my vulnerability, I had opened an unexpected door for friendship.  This is after she moved to her small town in Kentucky, trying to find ways to fit in with the locals.  We all know how it is to move to a new place and struggle with fitting in.  Being vulnerable and real will break down those walls.
If you're looking for a fun read, I hope you'll check out So Close to Amazing!  I had the pleasure of getting to preview her book and writing a little recommendation for the beginning of the book and here's what I said:
So Close to Amazing is a reminder that life is never perfect, always changing, and ever evolving, and that with faith, we can overcome the obstacles that simply living life brings our way.  KariAnne invites readers into her witty and wonderfully wacky world of moving to the country in Kentucky with her husband and four children, with its challenges of fitting into a new place.  With the humor and humility she lives out in everyday life, she's a friend you want to sit down and have coffee with, who would be fun to do a DIY project with, and who speaks to the hearts of real women everywhere.
Hope you'll check it out, what a great gift idea it would be! (affiliate link)
SaveSave

Don't Miss a Post, join my list!