Back to my visit with Kate in Sonoma County, we headed out to the wine country one afternoon and wow, was it beautiful.  There is nothing like this part of our beautiful country, with the vineyards and gorgeous rolling hills.  I do believe I picked the best time of the year to visit.
The wineries are beautiful rustic places with plenty of shops and wine tasting. 
Rolling hills in the background where Kate is sitting outside.
Pretty places to see.
You can see what a blue sky day it was, perfect for a tour through the wine country.
Apparently, this weather is the perfect place to grow grapes too.
Loved this beautiful doorway with vines growing around it.
The leaves were starting to change colors for Fall.
Posing in front of one of the doorways.  We didn't do any wine tasting, just looking and taking pics.
There were photo ops everywhere we turned.
This beautiful urn made a great pic.
Fountain at one of the wineries.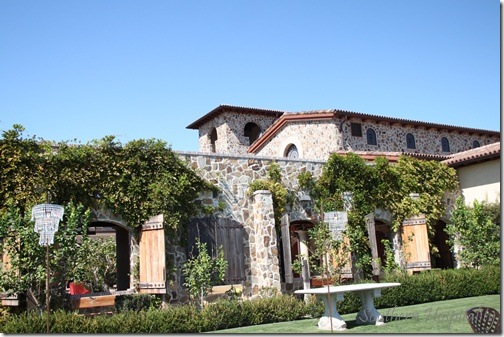 Pretty, pretty!
Picture perfect views everywhere.
Loved these doors out to the patio beyond.
How cute is this wooden pig?  Inside one of the shops.
Some pretty pottery pieces.
Lovely grape plaque outdoors.
This big ole' Adirondack chair made me feel like Edith Ann!  Remember her from Saturday Night Live days of old?  (ooops, correction, it WAS Laugh In!) This was so hilarious, climbing up in the blue chair.
Another part of the Cali trip to the wine country and I hope you enjoyed tagging along with Kate and I.
One of my sweet blog friends, Lana Austin, just sent her hubby off for a year's deployment to Afghanistan and she wrote the most beautiful tribute to military men and her life experience on 9/11.  Please go over and read this heart-warming post.  Lana is a journalist and a gifted writer and I loved her story so much!  I got to meet Lana a couple of weeks ago, when I went over to her house in Huntsville to do a Biltmore Inspirations party.  We had so much fun and I'll tell you more about all of that later!
Don't Miss a Post, join my list!