Last week, I had the pleasure of touring Atlanta's Southeastern Designer Showhouse sponsored by Atlanta Homes and Lifestyles magazine.  Showcasing premier builders and designers, the home is magnificent and splendorous.  Although most of us can't imagine living in a home like this, taking away some ideas and inspiration is always fun to do.  So, come with me on a tour. I'll split this into 2 parts because I took so many pics (as usual).
You can find more details on the house on their website, along with ticket prices and tour dates.  If you live in the Atlanta area, I'd definitely encourage you to take the tour.  Check out the esteemed list of designers.  They've amassed a fantastic team of creative design talent from around the South to showcase this stunning home to the fullest.  The beneficiary of ticket sales for the showhouse is Safe Kids Georgia, part of Children's Healthcare of Atlanta.
It was a very rainy day that Friday and they were still adding all the landscape in the rain and mud.  So the front of the house landscaping wasn't completely finished yet, but I'm sure it is by now. This is a rendering from the website of this magnificent 22,200 sf home in Buckhead. It sits on 3.5 acres, which is huge for an in town lot.
The showhouse is open from April 23 through May 15, so keep that in mind if you're looking to tour and I hope you do!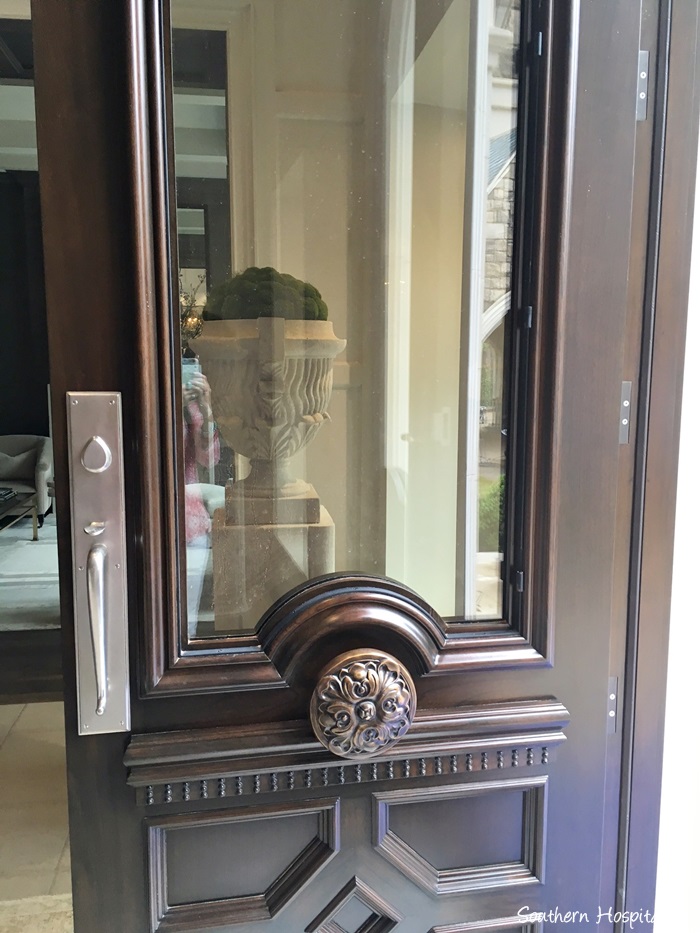 The front door was just stunning.
I love to see how they treat stairs in these showhouses and love that they use runners so often.  This natural runner is beautiful.
Grand Foyer:  Melanie Turner, Melanie Turner Designs
Dual staircases on either side of the huge foyer.  You can't even imagine a house of this magnitude and how much it take to design and outfit a space like this.
Looking towards the dining room. Designed by Suzanne Kasler, esteemed designer here in Atlanta and honorary chair for the showhouse this year.
Beautiful space in creams and blues. Very serene and calming.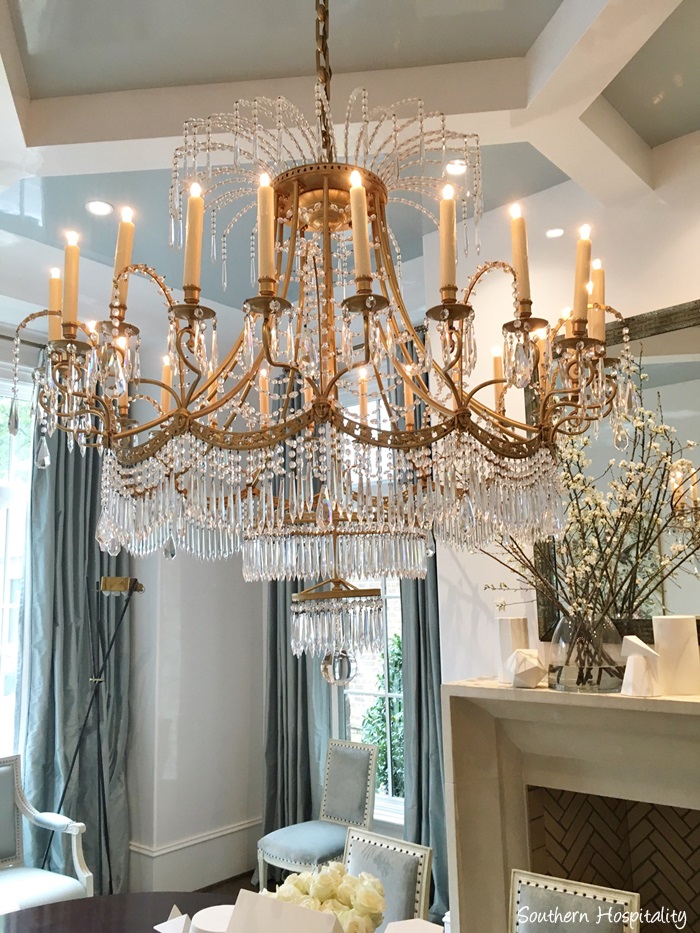 The walls were white lacquer and the ceiling was blue lacquer.  You can't miss this stunning chandelier.
To the right of the foyer is the study, designed by Robert Brown, Robert Brown Interior Design.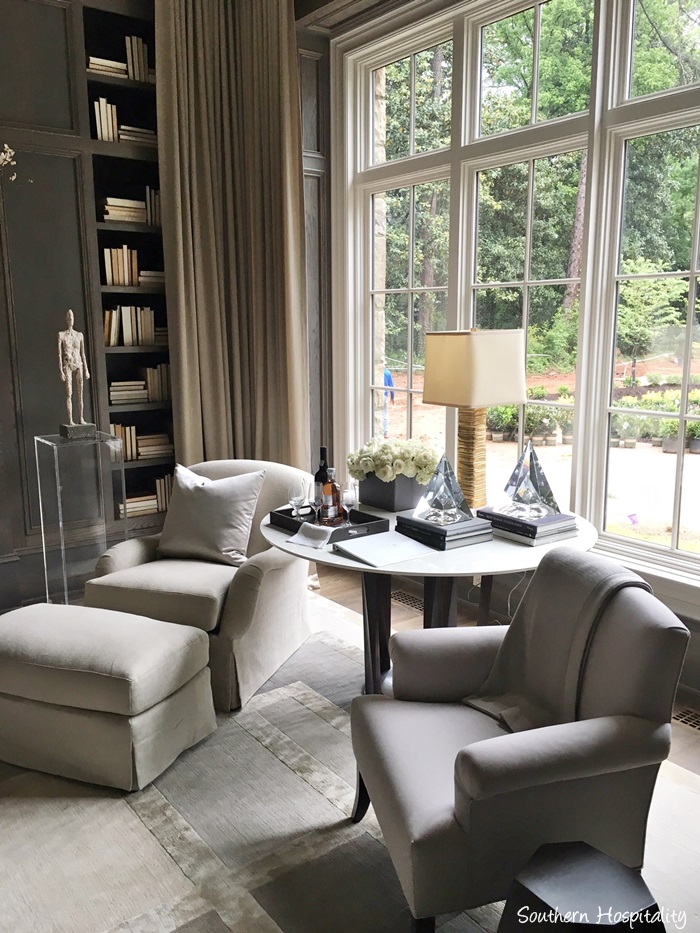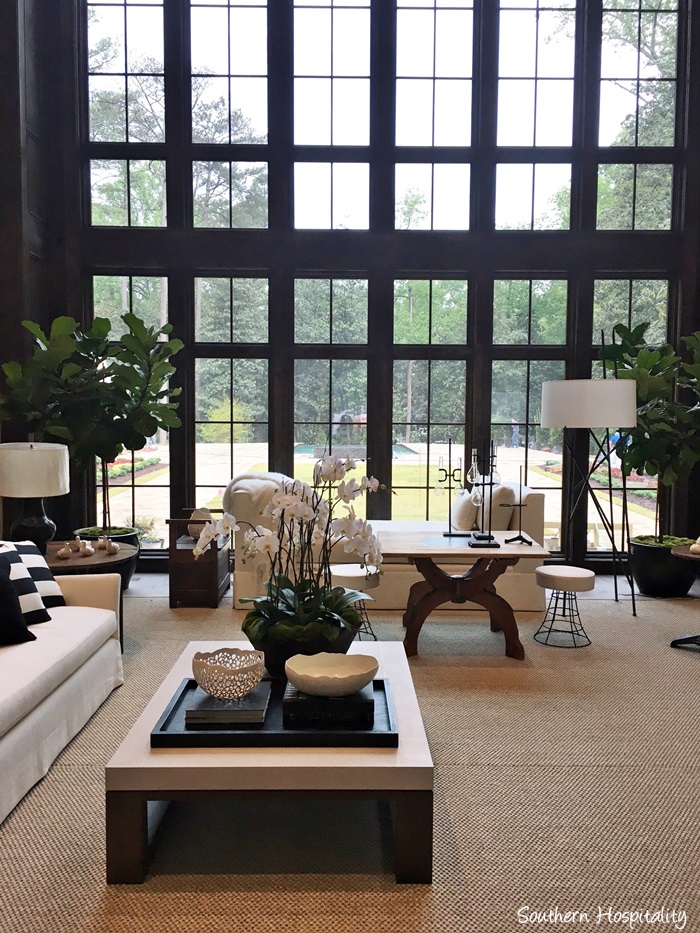 The most magnificent view came from the huge two story greatroom, designed by Barbara Westbrook, Westbrook Interior. She was there putting the finishing touches on her room and it was fun to talk to her. She is very down to earth and approachable.
It takes a lot of furniture and arranging know how to add furniture to a soaring space like this and have it look so great.  Lots of black and white.  I love the black windows trimmed out with that amazing view of the backyard.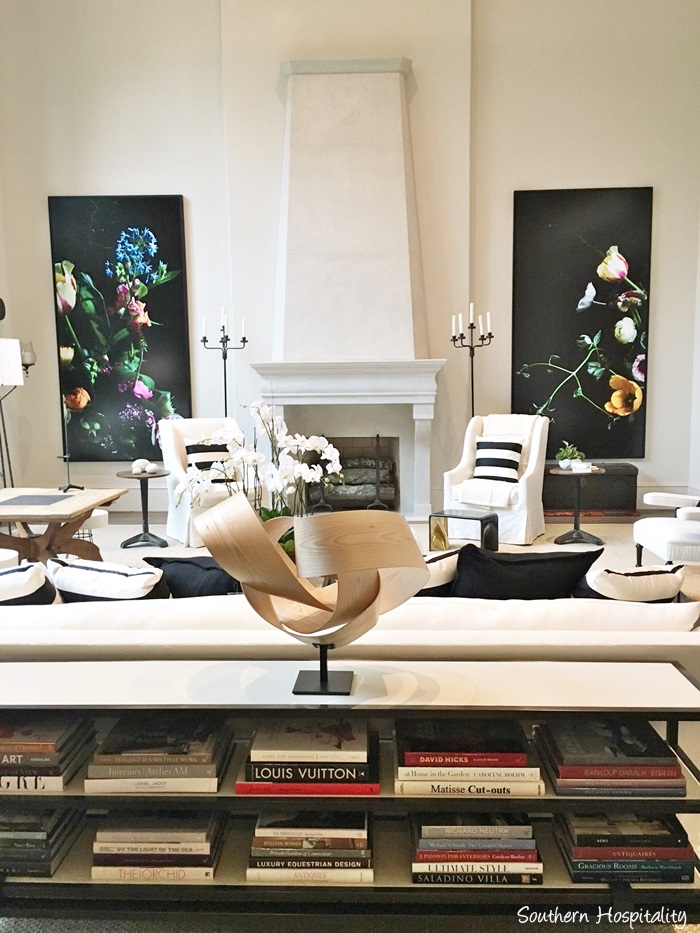 Kitchen designed by Lauren DeLoach, Lauren DeLoach Interiors
This was one of my very favorite spaces by Beth Webb.   Al fresco dining room, Beth Webb Interiors.  So fresh and loved all the greens.
Loggias and Terraces:  Lathem Gordon and Cate Dunning, Gordon Dunning
Friends Entry and Mudroom:  Lisa Mende, Lisa Mende Design from Charlotte(I met Lisa a few years ago and we are friends, so it was fun to see her working on her space).  Love it!
She did this outdoor covered terrace too and I loved all the color.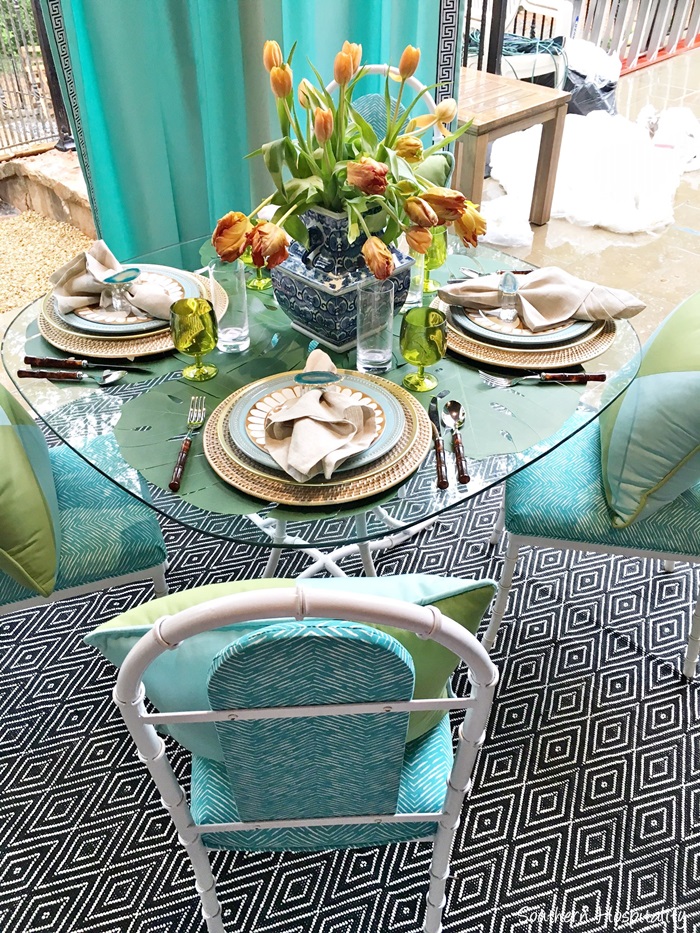 I'm sure I'm going to miss crediting someone, but I'll try to do my best with all the spaces.
That's about half the house, so I'll be back next week to show the rest of it.  It was very inspiring and fun to see the house in person and to check out all the furnishings and designer touches.
If you get a chance, definitely check it out in person here in Atlanta's Buckhead! Again, check out Southeastern Designer Showhouse for all the details!
I would love your help!  There's a contest going on with bloggers at Angie's List for fireplace makeovers and I'd love for you to go over and vote for mine.  This is Andrea's fireplace that we made over and it sure would be fun to win!  Thanks so much!  
Also, the winner if the EcoScraps $50 gift card from Lowes has been announced, emailed and posted on the widget! 
Don't Miss a Post, join my list!