I love getting to tour the Atlanta Homes & Lifestyles magazine Southeastern Designer Showhouse every spring and this year is a new home build, a French inspired architecture with an ode to Art Deco. The new 8K s.f. is a collaboration of top craftsmen and artisans to create Tuxedo at the Park. The home is on Tuxedo Road in Buckhead, the toniest area of Atlanta. With 5 bedrooms, 5 full bathrooms and 3 half baths with a 3 car garage on a half acre across the street from beautiful Chastain Park, it's a magnificent home as you will see, so come along with me for a full tour.
Exterior of the house.
The house is open to the public, tickets available online at the above link. April 29 – May 23, 2021. If you're in Atlanta area, it's so fun to tour these homes.
Foyer and front door.
To the right, the dining room designed by the talented Phoebe Howard. This might have been my favorite space in the house.
Such a pretty room.
The wallcovering is grasscloth.
So elegant and beautiful.
To the left of the entry is this paneled study.
Designer; Whitney Ray, Wyeth Ray Interiors
Salon: Robert Brown, Robert Brown Interior Design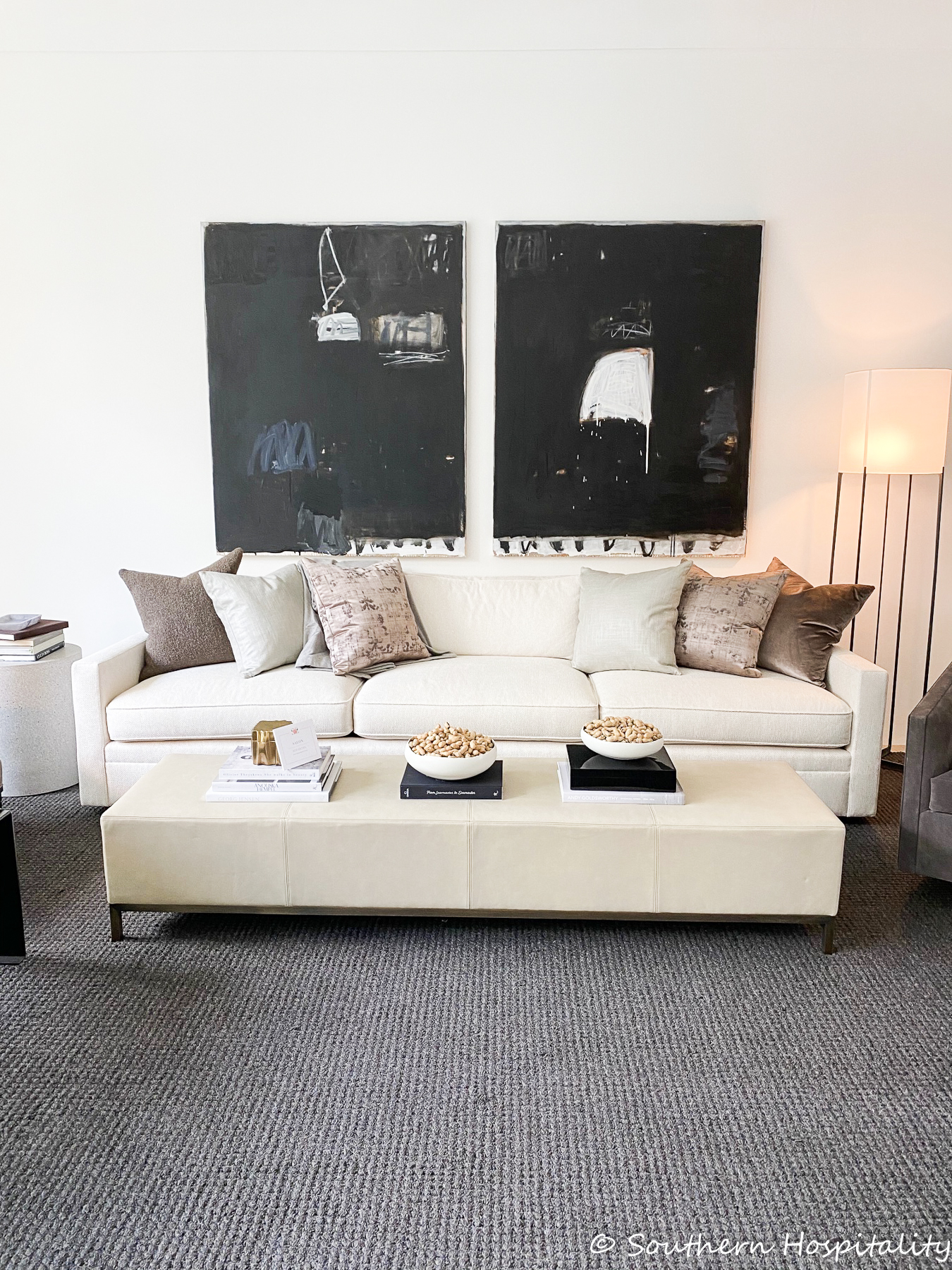 Hallway to kitchen.
Kitchen, Modern Breakfast area, Butlers Pantry: Natalia Makarova, Karpaty
Notice the tile all over the walls and ceiling.
Rear Entry, Half Bath, & Laundry: Ashley Malone & Stephanie Abernathy, Studio Wellington
I loved the tile in the laundry space.
Pool and Rear Porch: Lillian August & Dan Weiss, Lillian August & Sherrill Furniture
Gorgeous pool!
The other side of the house had this absolutely stunning glass and iron window looking out to the covered porch.
Pool Lounge & Bar: Melanie Turner, Melanie Turner Interiors
Stunning window!
Outdoor space, Lillian August.
Master Bedroom: Jason Arnold, Jason Arnold Interiors
Master Bathroom, His & Hers Closets & Formal Powder: Cydney Mitchell & Brittany Stafford
His bathroom
How about that shower and tub?
Her closet
Upstairs Hallway
Bedroom & Bath 2: Kati Hardwick, B.D. Jeffries
Playroom/Lounge & Upstairs Laundry: Chris Holt, Holt Interiors
Bedroom & Bath 4: Amy Newell, House of Charles
This was stunning tile!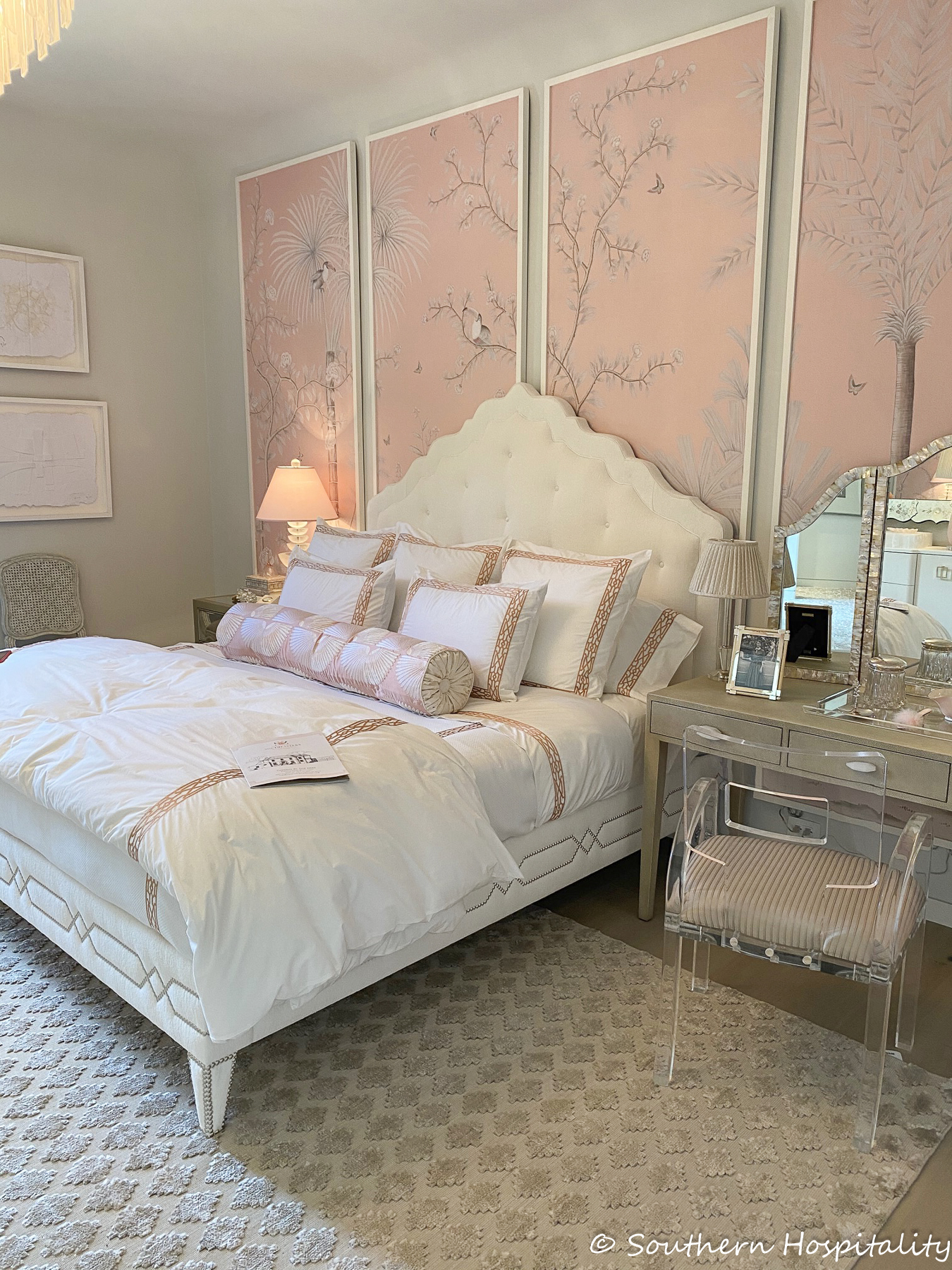 Bedroom & Bath 3: Nelli Jane Ossi, J.M. Howard
Bedroom & Bath 1: Michele Johnson, Michele Johnson Design
Basement Level
I hope you enjoyed the tour of this year's Southeastern Designer Showhouse. I know it's very modern and may not be for all of you, but hopefully you enjoyed the architecture of the house and the finishes used. I loved all the tilework and how different they were. I'm not as modern either, but thoroughly enjoyed the tour.
Don't Miss a Post, join my list!