If you're expecting another updated house post this week, sorry to disappoint, but I have hardly had a minute to do anything but sleep at my house since I moved in 10 days ago.  Boy, it's been a whirlwind and as I told you earlier this month, October is one hectic schedule for me.  I'm happy that the calendar is coming to an end this month and I can say that I accomplished everything that I was supposed to this month of October.
Speaking at a conference, check.  Moving in my new house, check.  Participating on a team for Room Service Atlanta project install week, check!
The Southern Blogger's conference was one of the highlights of the month for me and I haven't even had a chance to share that with you either, so you're just going to have to read about it even though it's considered old news now.
The conference was at the pretty Embassy Suites in Raleigh, NC and honestly it was a chance for me to catch a breather after all the house renovations I had been doing for so long. I took advantage of my kingsize suite and did a lot of relaxing, even though I was on the speaker line-up and started the conference off on Saturday morning by sharing my blog story.  I was glad to get that out of the way early and then I could relax and listen to everyone else speak.  They all did a fabulous job sharing blog tips and their ideas too.
My story I shared is my blog story, the same one that you can read here on my blog, all 5 parts that I wrote down so I wouldn't forget it all, about how I first started blogging and the over 5 year journey that brought me to where I am today.  Hopefully, it was an inspiring story to share with those 100 attendees who were there.  I hope they enjoyed it, I think they did.  The conference was small enough to really get to talk to folks and I enjoyed getting to have lunch and just hang out with so many other bloggers who I had not met before.  It was great to see familiar faces from Haven too.
Public speaking is new to me and not something that I've naturally gravitated towards, but I love talking about blogging and the home, it's definitely my passion and I always hope that someone will gain inspiration from what I've been through and know that they, too can make it through a dark time in life and come out the other side.  As I said at the conference, blogging has changed my life and blogging has saved my life in so many ways. 
(me, Brittany, Heather, Kelly, and Kari)  All amazing bloggers!
These ladies were also on the speaker lineup and I'm happy to be friends with all of them.  I had so much fun getting to know all of them a little bit better and it is just amazing how many friendships I now have all over the country because of blogging.  It blows my mind some days, but it is so true.  These girls all  love blogging as much as I do and they all have fantastic blogs, so if you need some new bloggy reading, check them all out.
The Southern Bloggers Conference was the brainchild of Barb and Shirley, (both super sweet ladies) who started conversations about getting a group of bloggers together in their area, after attending Haven in June of this year.  That morphed into a full blown 2 day blogging conference of 100 people and they did a wonderful job of putting this all together and pulling it off in about 3 mos. or so.  Kudos to them for doing such a great job.  It was a treat for me to be there and not have to do anything but speak.  I really enjoyed having some down time that weekend after a busy renovation.
There were swag bags with some pretty awesome swag inside.  Paint, paint brushes and lots more goodies.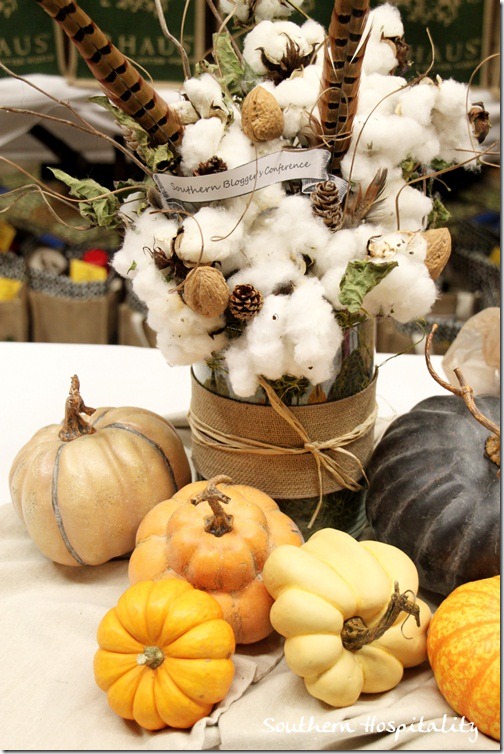 They had fall décor all around to celebrate the season.
Even a shop set up to purchase pretty things from.
A welsome pumpkin in chalkboard paint.  The conference was all about blogging and an afternoon of painting furniture, which was highly enjoyable for all of us home bloggers in this niche.  On Sunday, a big group got together for a day of thrifting and it was a very fun outing.
I didn't take my camera out all that much, so missed a lot of the conference pics and it was so nice to just relax a bit.  I let everyone else take pics of most of the conference highlights and I got mine out for the thrifting day.  Can't miss that!
First stop, Twelve Forks Junction, a newish antique spot on the highway with lots of great vintage junk.
They were so welcoming and warm and I met the owner, who had attended Haven this year.
And they gave us bagged pecans which had come from the trees on the property.  How totally Southern is that?  Can't get enough of pecans this time of year.
Pretty vignettes to look at.
Getting ready for Christmas.  Oooooh, I can't wait for that!
Next stop, Nofo in Raleigh.
A feast for the eyes and lots of nostalgic goodies to see, like the old Piggly Wiggly sign.  If you were raised in the South, you've seen this little piggy a few times.
Frozen foods large vignette on the brick wall of the shop.
So true, oh so true in the South!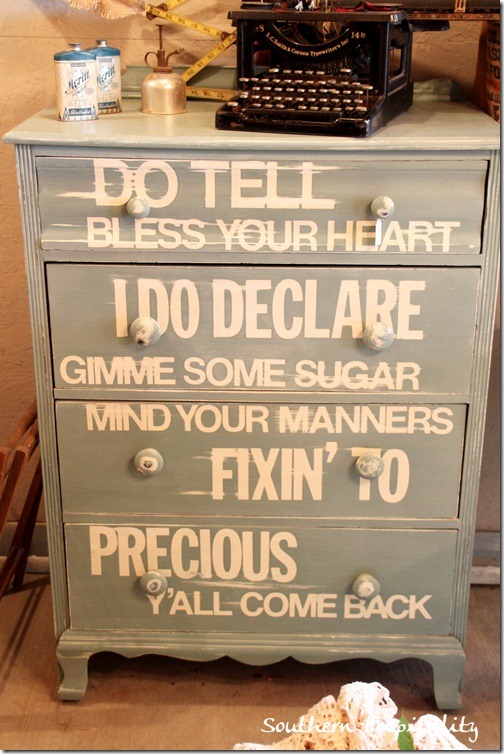 Loved this cute dresser with all sorts of Southern sayins!
And a flying pig glass chandelier was the star in here.
Brittany found a Bless Yer Heart t-shirt, also a well known Southern sayin.
Nofo also has a great restaurant, so after browsing the store for awhile, we sat down for brunch.  Several of us ordered the kid's breakfast and boy, was it delish.  Just perfect!
Next stop was SuzAnna's Antiques, which I had heard about many times on other NC blogs.  It was so fun to visit in person.
They were ready for us too with a warm welcome.
Jenny and her mom own this building at Suzanna's and came to the conference and really welcomed us to the market.  It's a great place to browse for vintage goodies and there was plenty to see.
One of the vendor spaces at Suzanna's.
Outside, Fall was abundant and it was a beautiful day to be thrifting.
Loved seeing this display of vintage Christmas ornaments.  I can hardly wait to get mine out this year.
Suzanna's is a treasure trove and our gang found plenty to take home.
Old scales and Pyrex.
The only thing I brought home from this thrifting trip was this old green pottery piece.  I love these old planters and it will be right at home in my house.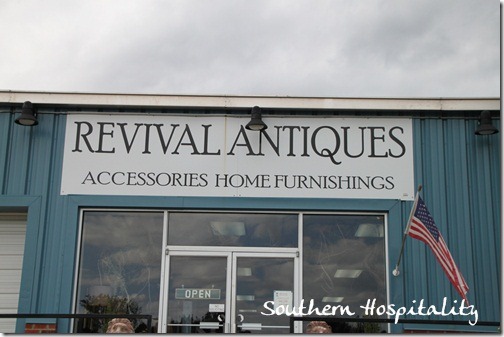 Next stop, Revival Antiques, another great stop in Raleigh, owned by a husband and wife team.
One of the shop kitties was sunning in the window in a grapevine wreath and she was just adorable.
They have a huge warehouse full of old stuff.
And another store with vignettes set up to display all the ways to use these treasures.
Loved these boxes made of old yardsticks.
Overall, this was such a fun weekend of hanging out with old and new friends, being so grateful that I'm a blogger and get to enjoy adventures such as this.  I am so blessed to be doing what I'm doing and getting to experience so many wonderful things in life.
Life is meant to savor every moment and that's just what I intend to do!
Is it getting cold in your neck of the woods this week?  It's really chilly here!  I'll be unpacking more boxes this week and trying to get this house put together.
Don't Miss a Post, join my list!