One of my mother's signature dishes that she is known for in our family and extended family and friends is her Southern cornbread dressing.  There's nothing Stovetop stuffing about this one, no way!  Made from simple ingredients and crumbled up cornbread, it's an easy, yet deliciously satisfying side dish for Thanksgiving and Christmas.  We have it every single year.  I grew up on this stuff.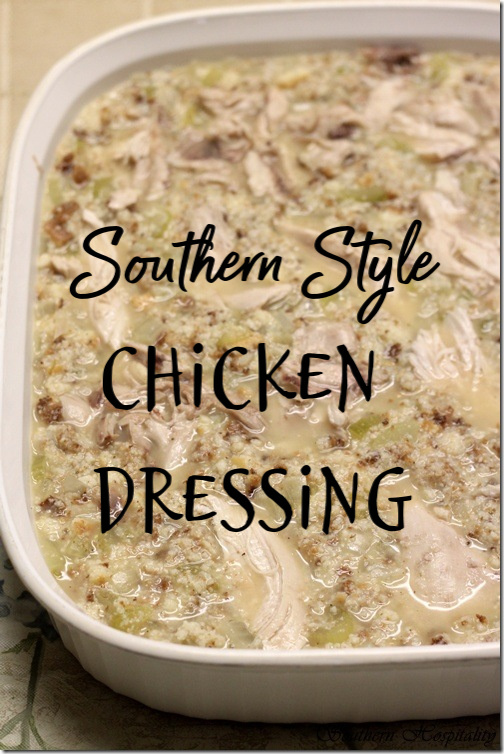 This was a good opportunity to take notes and write down another one of mom's recipes that resides in her head. This is yet one more recipe that my sister, niece, and I have never made.  So, now I get to document it for all of you too.  I'm not sure if everyone will love this, but we sure love our dressing in the South made this way.  It's a big hit in our family and tastes delicious!
Start with a medium iron skillet to cook the cornbread in.  You'll want to drizzle a little oil (I prefer canola) in the bottom of the pan and heat it in the oven while you whip up the cornbread batter to pour in.  This makes for a crisp crust!
Iris's Southern Cornbread
1 & 1/2 cups self-rising corn meal (mom uses white) (just found out from mom that self-rising cornmeal has salt in it).  I did not know that!
1/2 cup self-rising flour (just found out from mom that self-rising flour has salt in it).  I did not know that!
1 egg
1 & 1/4 cup buttermilk
Stir together and pour into iron skillet.  Heat oven to 400* and bake 30 min. or until golden brown.
You can bake up the cornbread ahead of time and set aside to cool.
Chop up 3 stalks celery.
Slice and chop one large onion.
Chop well
Saute celery and onion until soft.
Break up cornbread in small pieces in a large pan.
Add 2 to 3 slices of wheat bread (or white if you're feeling crazy!). 🙂
Take a large spoon and start breaking it up further, until it's crumbly texture.
Of course, I used Knorr's Homestyle chicken concentrate Homestyle Stock in this recipe and added the celery water as well as any chicken broth that the chicken was cooked in to add to the water.  We used one chicken stock concentrate from Knorr and 4 cups water/broth mixture.
Begin pouring in the stock and you'll need 3 to 4 cups.  Add until heavily moistened.  When you bake this, a lot of the broth will cook out, so you want to keep it moist.  We added approximately 4 cups chicken stock.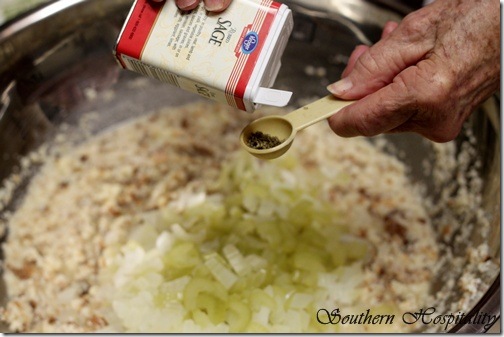 Add sauteed onions and celery.  Add 1/2 tsp. sage (optional, if you don't like this herb).
Mix well with a big spoon.  The mixture will be very wet and soupy and that is what you want.
Pour it all into a large baking dish.  This is a large flat French cookware piece.
Then add pieces of cooked chicken, again optional, but I love it best with chicken added.  You won't need any more than 1 chicken breast or even dark meat chicken, cut up and added.   Press it down into the dressing.
Ready to bake.   Bake at 400* for 45 minutes and you'll have this!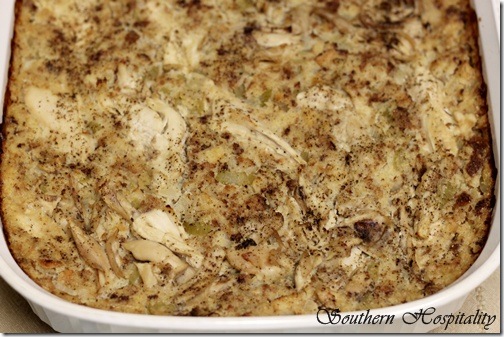 Golden brown Southern cornbread chicken and dressing.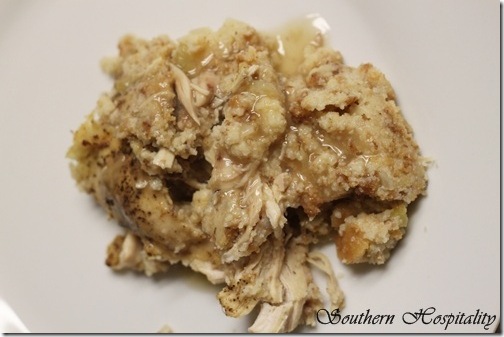 Mom made a little gravy for this too and it was really good!
So, I have to know?  Do you other Southern girls make dressing like this??  It's really not hard to make now that I've watched her do it.  Really pretty easy to put together and it feeds a lot of people.
Classic Southern Chicken Cornbread Dressing
Bake cornbread recipe (above) set aside
Chop celery and onion (3 stalks celery and 1 large onion)
Saute in saucepan until soft.
Cook 1 chicken breast in water, debone and chop or any other chicken piece you have.
Crumble up entire cornbread into large pan.  Add 3 to 4 slices wheat bread (or other bread) to the mix.  Press down with a large spoon to break it all up into smaller crumbles.
Add sauteed onion and chopped celery back to the pan.
Begin adding broth, approx. 4 cups.  You'll want the bread all covered and very moist.  Soupy texture.
Add 1/2 tsp. sage (optional)
Mix well.  Pour into large baking pan
Bake at 400* for 45 minutes.
Eat and Enjoy!
Let me know if you've made a Southern cornbread dressing recipe like this before or if you think you might try it out! I'd love to hear! Also enjoy those leftovers!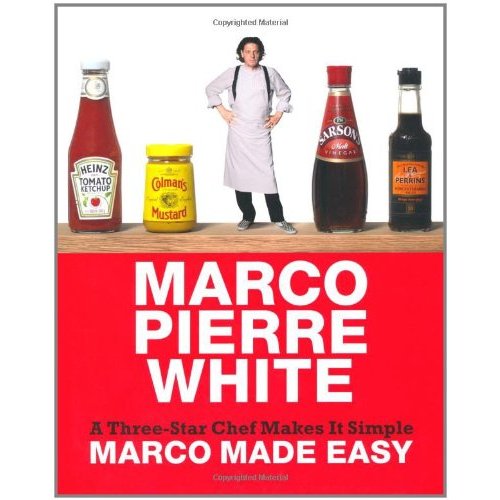 SaveSave
Don't Miss a Post, join my list!