The Southern Living magazine always gets my mom's attention when the latest issue arrives in the mailbox, especially the recipes inside.  This one is in the current February issue.   She succumbs to trying out desserts often and when she spied this Hummingbird Cake, an updated version done in a Bundt pan, well…you can imagine how hard it would be to turn this down.
Needless to say, I didn't.  It's like banana bread with pineapple and cream cheese icing.
Not especially good for you, but boy, oh boy, was it good.
Do you see what I mean?  Could you turn this down?
I didn't think so.
Hummingbird Bundt Cake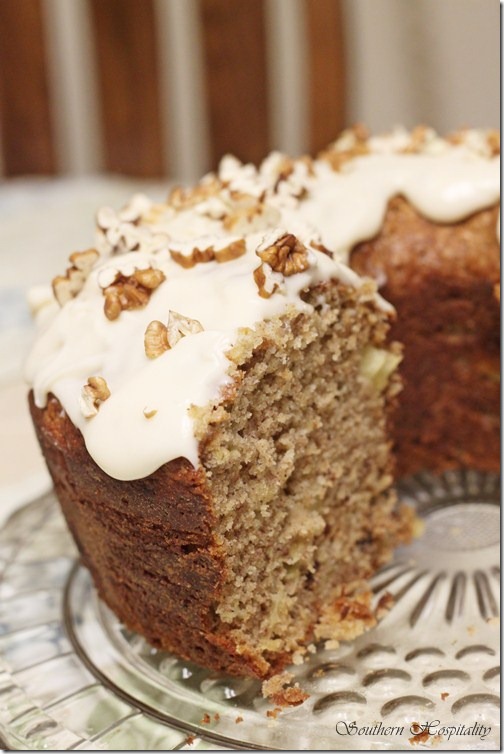 We have always had some form of sweet stuff around our house.  I get my sweet tooth honestly from my dad.  His is voracious.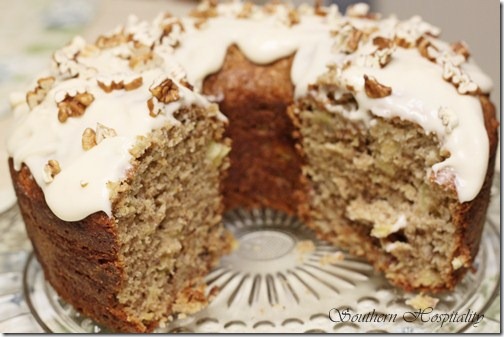 We ate the whole thing over the course of a few days.
And I'm sure another one will be under the silver dome before too long.  I love my mama and her baking skills!
Hummingbird Bundt Cake
Cake Batter:
1 1/2 cups chopped pecans
3 cups all-purpose flour
2 cups sugar
1 tsp. baking soda
1 tsp. ground cinnamon
1/2 tsp. salt
3 large eggs, lightly beaten
1 3/4 cups mashed ripe bananas (about 4 large)
1 (8 oz.) can crushed pineapple (do not drain)
3/4 cup canola oil
1 1/2 tsp. vanilla extract
Glaze:
4 oz. cream cheese, cubed & softened
2 cups sifted powdered sugar
1 tsp. vanilla extract
1 to 2 TBL. milk
Hummingbird Bundt Cake Notes
Prepare Cake Batter:  Preheat oven to 350*.  Bake pecans in a single layer in a shallow pan 8 to 10 minutes or until toasted and fragrant, stirring halfway through.
Stir together flour and next 4 ingredients in a large bowl; stir in eggs and next 4 ingredients, stirring just until dry ingredients are moistened.  Sprinkle 1 cup toasted pecans into a greased and floured 14-cup Bundt pan.  Spoon batter over pecans.
Bake at 350* for 1 hour to 1 hour and 10 minutes or until a long wooden pick inserted in center comes out clean.  Cool cake in pan on a wire rack 15 minutes; remove from pan to wire rack, and cool completely (about 2 hours).
Prepare Glaze:  Process cream cheese, powdered sugar, vanilla, and 1 TBL milk in a food processor until well blended.  Add remaining 1 TBL. milk, 1 tsp. at a time, processing until smooth.  Immediately pour glaze over cooled cake, and sprinkle with remaining 1/2 cup toasted pecans.
It's a keeper, so let me know if you try it!
I announced the giveaway winners from last week in the previous post, so check back if you missed it!
Don't Miss a Post, join my list!