Being a blogger is so much fun! I get invited to some of the best events and last week was invited up to Nashville to preview the newly opened Southern Living Ideahouse on the Fontanel property.  What a treat!  I love touring homes and to get to experience the ideahouse with several other bloggers was so much fun.  I met many bloggers from the Nashville area and some of them I knew and some I didn't.
I invited one of my dearest and oldest friends, Vicki, to go with me. She was so excited to go on this fast trip with me.  She and I have been friends since we were 15 and in high school at Sprayberry, right here in Marietta.  We lived in the same area too and rode the bus together. We go way back and have been through thick and thin together. You know those kinds of friends, right?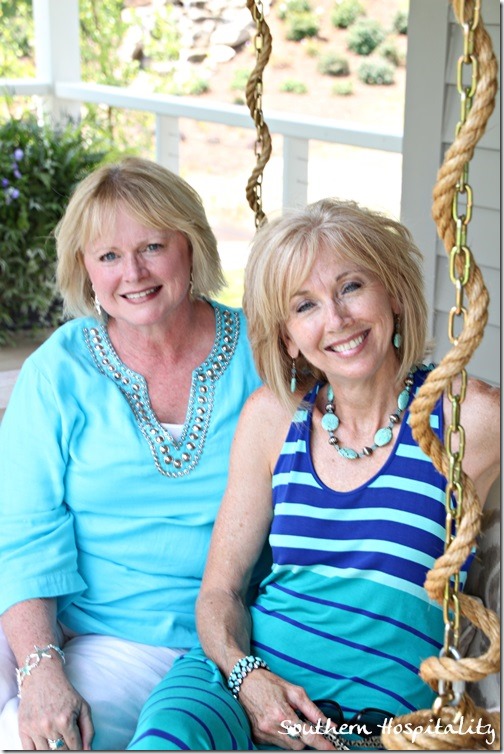 Vicki and me.
The new Southern Living ideahouse has just opened to the public and will be open the rest of the year, so if you get a chance, you must go and tour it.  A portion of the proceeds go to the St. Judes Childrens Research Hospital, which is a great cause.  This ideahouse was built on the property of Fontanel, which is Barbara Mandrell's old mansion, which we also toured. I'll tell you about that another day. It was also a treat to see, this huge log cabin home.
Developer:  Fontanel Properties LLC
Builder:  Castle Homes
Architect:  Historical Concepts
Interior Design:  Phoebe Howard
Lanscape Design:  Page/Duke Landscape Architects
Charitable Partner:  St. Judes Childrens Research Hospital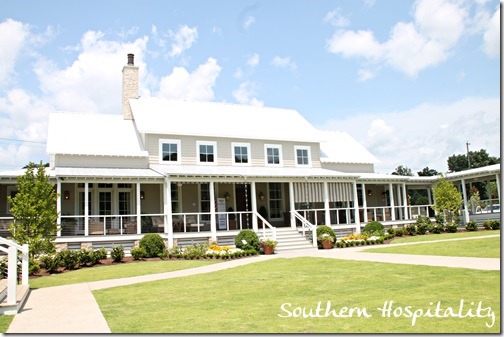 We got there a little early and had a chance to take outside pics before everyone arrived, which came in handy.  All the bloggers started arriving a little later.  From the outside of the house, it's set up in a U-shape around a courtyard, with lots of beautiful plantings.  After the Ideahouse is closed at the end of this year, this will become a bed and breakfast, which I think is so neat.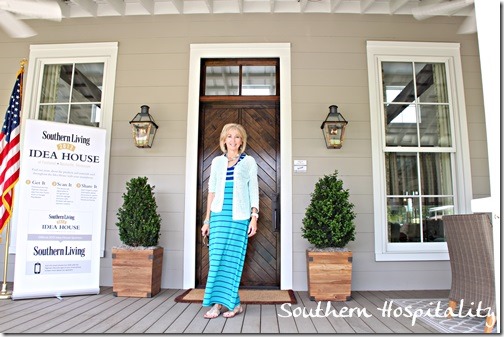 It's farmhouse in feel, with a huge wrap around porch that connects all the buildings.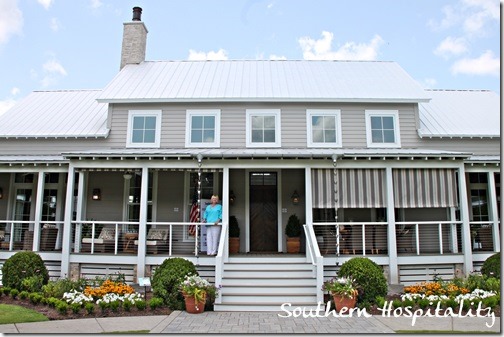 Backside of the Ideahouse looking in from the courtyard.  You can see those beautiful shades that pull up and down for sun control.  It's a gorgeous house, but we were only allowed to take photos of a few areas, but had full reign outside, so you'll see lots of pics of the outside.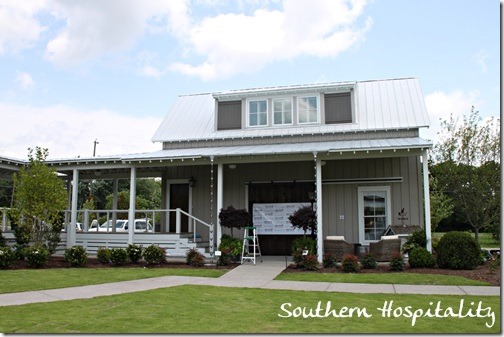 This is another guesthouse suite that connects with the porch.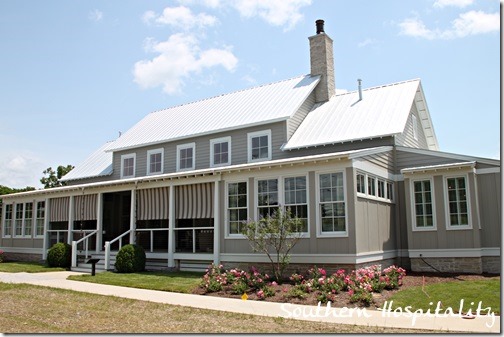 Front side of the house, from the road.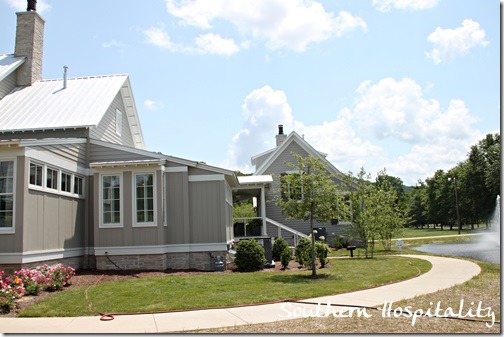 From the front and side of the Ideahouse, a pond was also built.  It's in a picturesque valley with a mountain in the background and such a beautiful area for this home.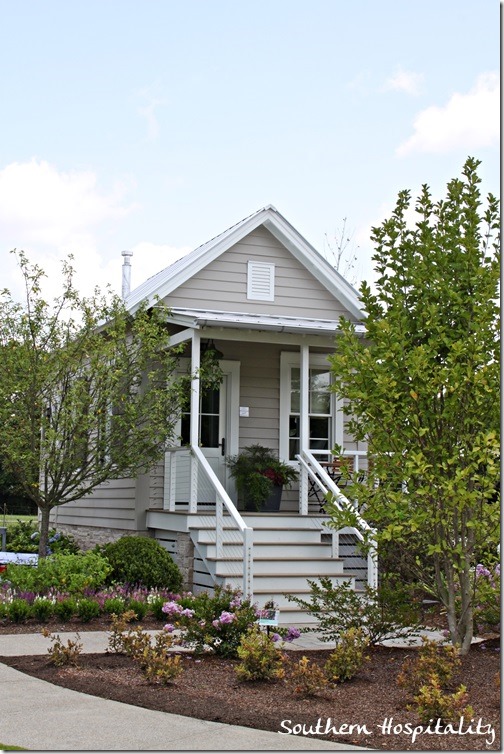 One of the two bunkies at the Southern Living house. These are small guest suites, but so cute.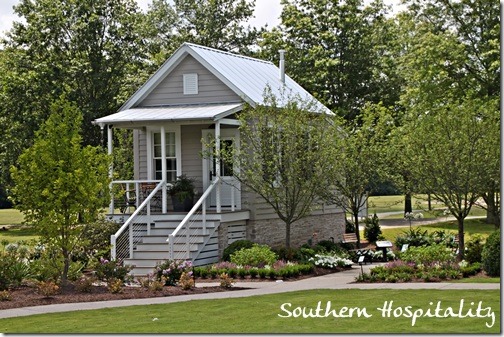 The other bunkie.  You can see all the beautiful landscaping that was done at the house.  I love all of this too.
View of the entrance and pond.
Waterfall into the pond.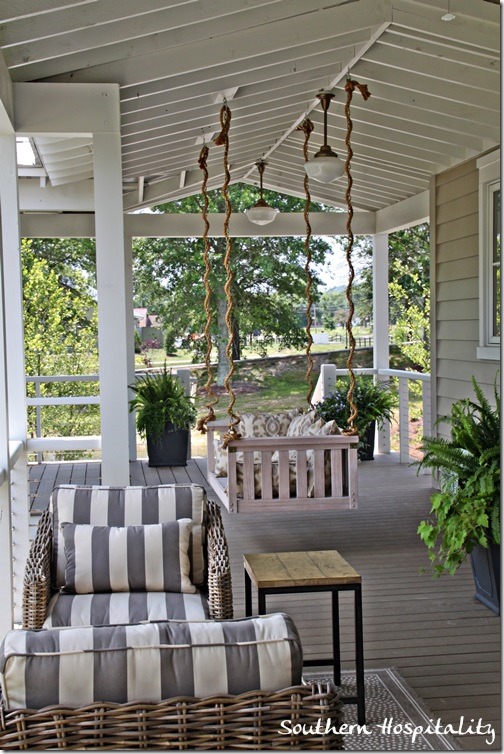 On the spacious wrap around porch, there were several seating areas and this beautiful hanging swing.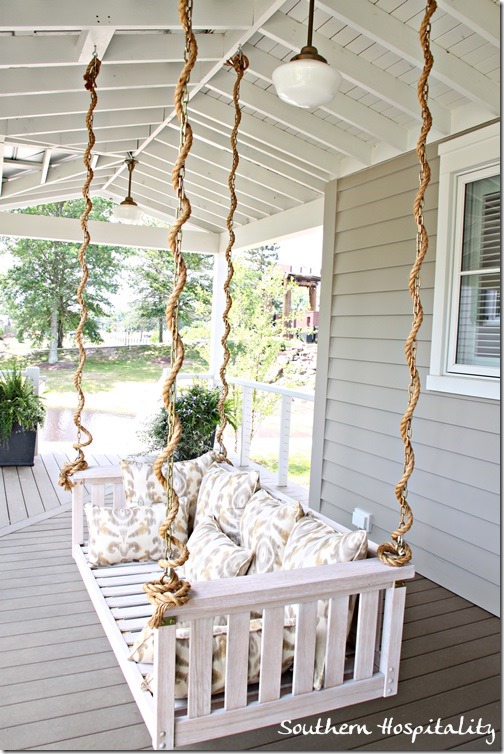 Don't you  love this?  The rope around the chains is a nice touch.  I could definitely take a nap on this.
Background against a pretty green hill, you can see the expanse of the courtyard.
From the porch, the left side of the compound.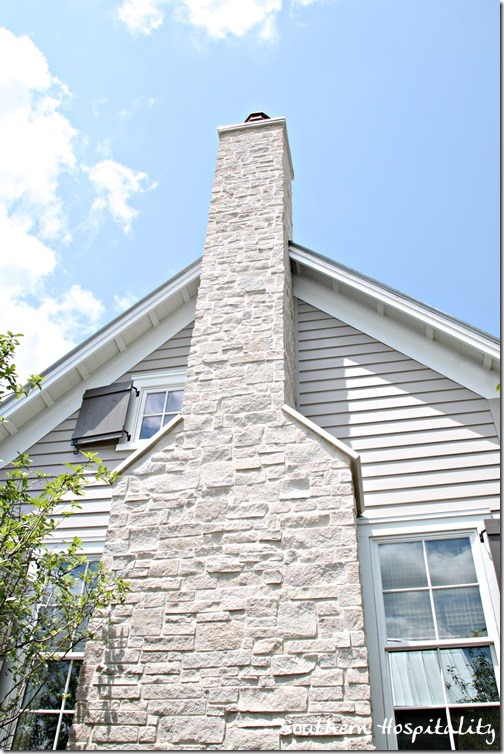 Chimney from the outside.
Table and chairs on the main porch.
Beautiful rustic table.
Doghouse and seating area.
Main house view.
A rain catcher, so pretty.
The Southern Living plant collection.  I loved seeing all the beautiful landscaping too. Can't wait to get started at my house on this part.
Beautiful planting beds.
Along with hydrangeas,  my favorite flowering bush. I'm planning to have plenty of these at my house too.
More planting beds.
Getting ready to tour inside the house.
We were introduced to the Southern Living folks, including Jen (who is the Southern Living media contact, great gal!), Lindsay Bierman, Editor in Chief for Southern Living, and Designer, Phoebe Howard.  It was a treat to see Lindsay again, I love talking to him and never miss his letter at the beginning of each month in the magazine.  Everyone at Fontanel was so friendly and welcomed us all in.  It's such a treat to get to meet them all at events like this.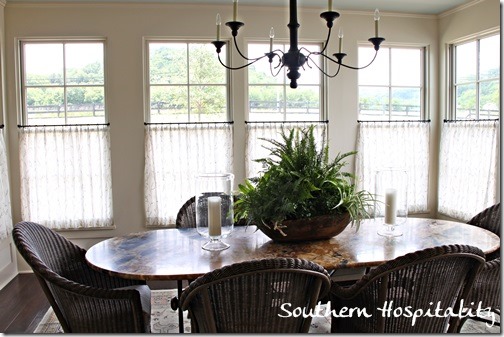 We all entered the house and took a tour. Again, because Southern Living will be covering the house in the August issue this year, we couldn't take pics of all rooms, but did get to do a preview of the dining room and guesthouse. This is the well-lit dining room, simple and spacious. All interior design by the well-known and talented, Phoebe Howard.
Loved this little corner piece with artwork.  Check out the pretty café curtains in the room too.
The table is an antique stone from Europe, so pretty.
The other area we got to photograph was the guesthouse.  It was painted in darker tones, mostly neutral browns and creams, but very cozy and inviting.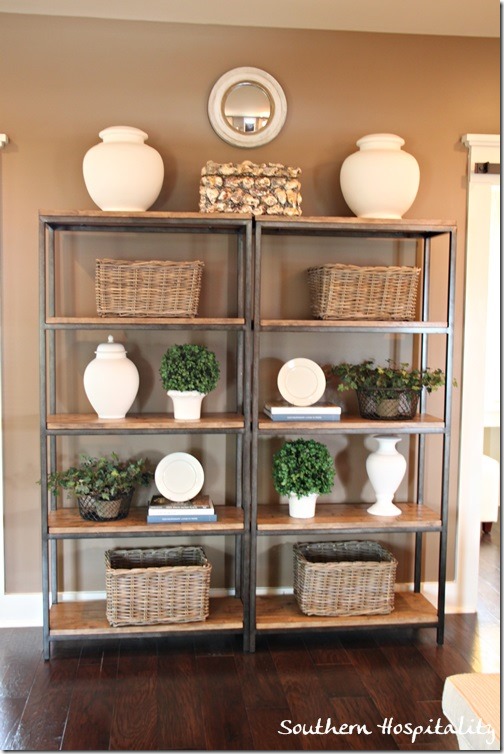 Bookcase with lots of things from Ballard Designs, also a sponsor of the house.
Beautiful sitting area around the fireplace.
Turtle shells.
Bedding
Bathroom suite.
With tub and shower.  Wouldn't you love to stay here for a visit to Nashville?
Spacious bathroom.
Interesting accessories.
Small kitchen area. We had a lot of fun touring the house and out buildings and then Vicki and I took off for the Fontanel tour and again, I'll tell you all about that later.  Loved it!  It's right up the road from the ideahouse and Fontanel is now open as a tourist destination, since the Mandrell family sold it a few years ago.
Later that evening, we gathered once again at the Ideahouse for the grand opening party and that was a treat too.  Lots of good food and drinks for a crowd of about 250.  Many Nashville dignitaries and country celebs were there.
A Rolls Royce was parked out front. This is the closest I've ever been to one of those.
A big crowd gathered and it was a beautiful evening for an outdoor party.  Music was performed by The Farm, local musicians.
The big wrap around porch came in handy, with many spilling into the courtyard.
You can see the crowd here.
One funny story for you!  See my striped sun dress?  I just bought this at TJ Maxx a few weeks ago and love it.  Jaime Dudney, Barbara Mandrell's daughter, was introduced from the speaker podium during the talks and I noted that she and I had on the same dress!  Funny, right?!  It's always interesting when that happens.  I couldn't let the opportunity go by without speaking to her and making light of the fact that we were dressed alike.  I sauntered over and said hi, Jaime, I have to tell you one thing, "we have great taste in clothes.".  She laughed and was super friendly and I decided that we had to take a pic together, just to prove it.  So, that's what we did.  Thanks for posing with me, Jaime!  I also had to tell her that I just love her mama, cause I do.  I have always admired and respected Barbara Mandrell so much.
Met up with the Ballard Designs gang and it's always fun to hang out with them too.  They are one of our big sponsors at Haven this year and we can't wait for that either.
What a fun trip, short and sweet.  I'm so blessed to get to do the things I do and I have to pinch myself every single day that I'm invited to these type events.  God is good!  I'll keep doing this and sharing it with all of you as long as it keeps going.  Thanks for going on the journey with me!
For more sneak peeks of the house, check out Southern Living's Pinterest board.  Also, several other bloggers covered the house and it was so good to see them all, including Dana Tucker,  Blonde Mom Blog, The Decorologist, and LLH Designs.
You can find lots more fun pics at their blogs too!
Don't Miss a Post, join my list!