My yard has really exploded in the last year and the big reason is the Southern Living plants I was so blessed to get in my front yard. Those plants are growing like crazy now just in the first year and I can't wait to see them in a couple more years.
Southern Living Plant collection has been so good to work with me and they asked me recently if I'd like some extra plants to use wherever I wanted at my house. I thought at first I might put them in containers, but there were a dozen of them, so I opted to plant them above my newly painted block wall.  It looks so much better with the addition of plants!
I'm still planning to add some cascading vines, probably next spring and that will really add some pizazz to that plain wall.  My sweet daddy volunteered to come over and help me plant those plants and I'm so grateful for him and his willingness to help his girl.  He will hardly let me dig anything even though I'm capable, but the two of us worked together and got them in the ground.  With all the rain we are having now, they are all looking good!
He brought over some compost he had, along with fertilizer to put in the holes and we got started.
I spaced them out the way I thought they would look best and we got them all in the ground in a couple of hours.
Digging, fertilizer, and placing the plants.
Southern Living sent me 5 varieties of plants and they all have great Fall color.  These 2 purple Love and Wishes Salvia I decided to put in my front bed, since I had some there from my original plantings that didn't come back. I'm hoping these will make it!
Lemon Lime Nandina have such a great color, with their lime green leaves.
Purple Pixie Loropetalum has a deep purple leaf that is a nice complement to lime green plants.  I already have 3 purple crepe myrtles that were planted here when all my plants were planted and they are a nice anchor above the wall.
These beautiful lime green grasses are Everillo Carex and I love their shape, texture, and color.
I got a couple of Obsession Nandina too and spaced them out, one in this bed and one in the front yard bed. It has deep red leaves mixed with green.  I love the multi-colors on Nandinas, they are so pretty.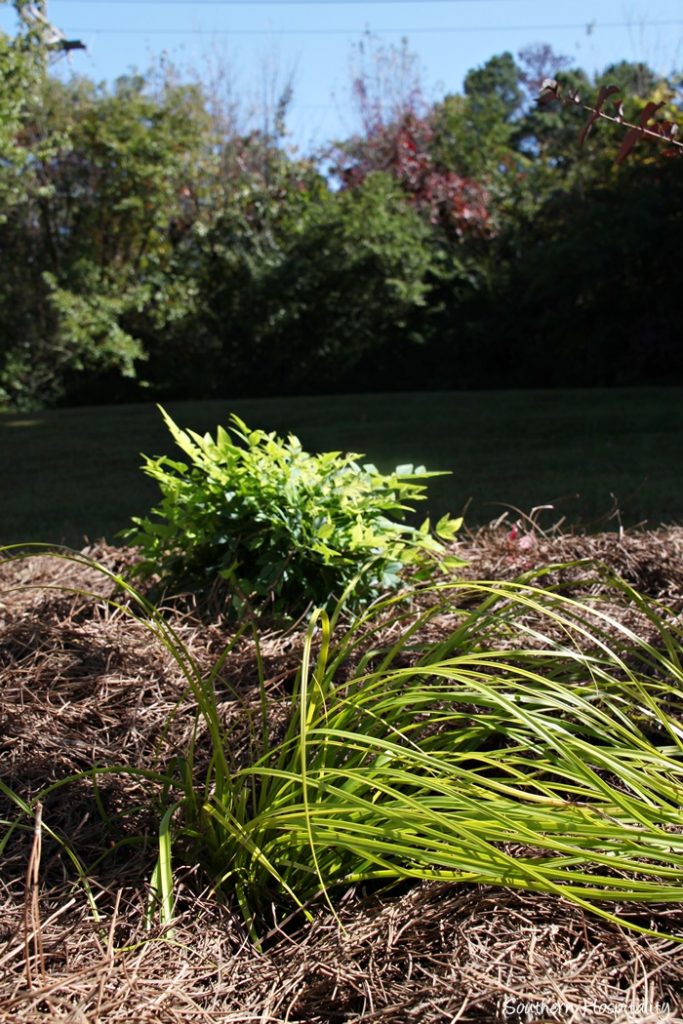 Once we got this bed planted, I added in more pine straw.
These plants will grow in and get taller and I'll be able to see them over the wall eventually.  We still have plans to fill in the holes in the block wall with concrete to keep more rain out of there. Then I'll plant those vines and get them growing too.
In the meantime, I'll watch these new plants grow!
I also moved my cute concrete shell planters to the wall for a little accent.
All planted and ready to grow!
I love these shell planters that I've had for probably 20 years. They have moved with me from house to house.
I planted this hardy sedum in them since this stuff is hard to kill. It thrives and does well even in heat and drought. That's a stray vinca flower growing in there from summer.
Another look at the bed from the screened porch.  It looks SO much better than before, really happy with the additional plants down there. That white pipe you see is my AC unit water line that those guys routed away from the house.  I can cover it later with pine straw and it doesn't show from the front of the wall.
I added two Salvias to my front beds, so hoping they make it and grow like crazy too.
I decided to take out my annuals from these urns and plop in the Purple Pixie to these planters for Winter.
They should make it just fine and keep things looking pretty on  my front steps and I love the mix of deep purple and the lime green sedum.
Big thanks to Southern Living plants for sending me these extra plants for my yard.  I will enjoy them all for years to come, as my yard is positively exploding with growth. What a difference a year makes!
Check out Southern Living plants Fall garden ideas for beautiful containers and plant ideas!  I love all these combinations.
NOTE:  Southern Living sent me these plants to use in my yard.  
Don't Miss a Post, join my list!