Don't you just love a good romance?  Oh yeah, I sure do.  People falling in love is one type of romance and that's very fun to watch or experience.  Falling in love with a house is another sort of romance and that's the one I had the pleasure of seeing a couple of weeks ago in Mobile, AL.
What happens when an innovative CEO from Canada decides to buy a historic home in Alabama and renovate it to something close to it's beginning?  They call it a Southern Romance!  And it definitely pulled at my old-house loving heart strings.  I've never owned an old house, but I can certainly see why people fall in love with them.
They are beautiful.
Full of history.
And have stories to tell like no other.
So, today I'm sharing the Southern Romance house that 8 bloggers experienced with Phantom Screens CEO, Esther De Wolde, a creative and smart woman who I so enjoyed meeting.  Her warm personality shone through the whole time she was showing us the house that captured her heart.  And I think it captured all of ours too.
The story is that Esther wanted to renovate an old home, so her first thought was something in a Southern city.  She was already friends with Danny Lipford, longtime TV renovation guy from HGTV and he suggested Mobile, AL, since he lived there. The rest is history.  The house was found, a 1906 Arts and Crafts Bungalow, it was purchased, and now the renovation is in full swing in the heart of Mobile's historic district, Oakleigh.  It was so fun to see the house up close and personal and now I'll be watching the webisodes to see how the house turns out.
A group of 8 bloggers were invited to come to Mobile for the tour festivities.  We were treated like queens for a couple days.  That was fun, as you can imagine.  That's Esther, CEO of Phantom Screens there in the middle.
And I had the pleasure of hanging out with these fun girls for a couple of days:  Shannon: AKA Designs/Beth: Unskinny Boppy, Shannon: Fox Hollow Cottage/ Kelly: Live Laugh Rowe/ Robin: Renovation Bootcamp/ME/Debbie: Refresh Restyle/KariAnne: Thistlewood Farms
And the whole blogger gang with Danny Lipford (Lipford Construction in Mobile and Today's Homeowner).  You recognize him, right?  I've watched him on TV for years, so it was a pleasure to meet him.
When they found the house, circa 1906, it still had original everything, from bathrooms to kitchen and wallpaper from a by-gone era.  Isn't this so charming?  I can't wait to see the final product, it's going to be fresh and beautiful, but I know Esther will capture the history and elegance in a new way.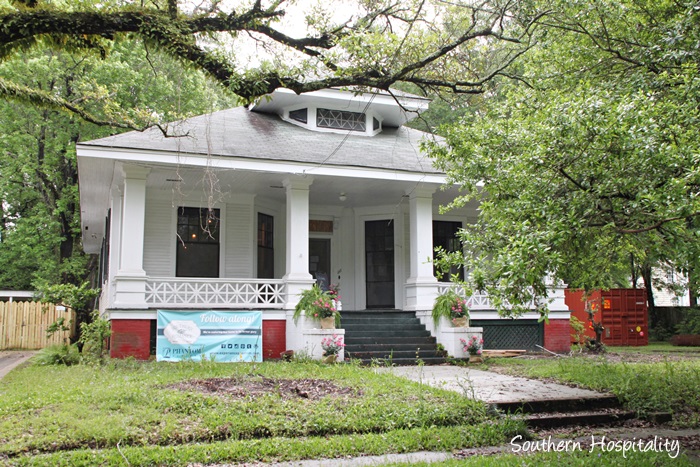 We arrived at the house the next morning after arriving and got a look at it for the first time.  I can see why this charmer captured Esther's heart.  Isn't she lovely?
This old neighborhood is full of charming old homes, ferns growing in the stately oak trees and just a beautiful canopy of trees all around.

She's a beauty and I can't wait to see her restored to her former glory.  Actually, she will be even better than the original, with modern amenities and finishes.  The best of both worlds.
The old porch railing will be saved and restored and the back porch will have a duplicate railing made to match the front.  Isn't it gorgeous?
Beautiful over the door detail on the front door. That wood is there to protect the original glass transom.
We toured each room, as Esther showed us the plans and what was saved from each.  She really wanted to keep the original plaster walls, but Danny convinced her that it simply wouldn't work. They needed to take the house down to the studs and start over, so they did.  This fireplace was saved in the living room.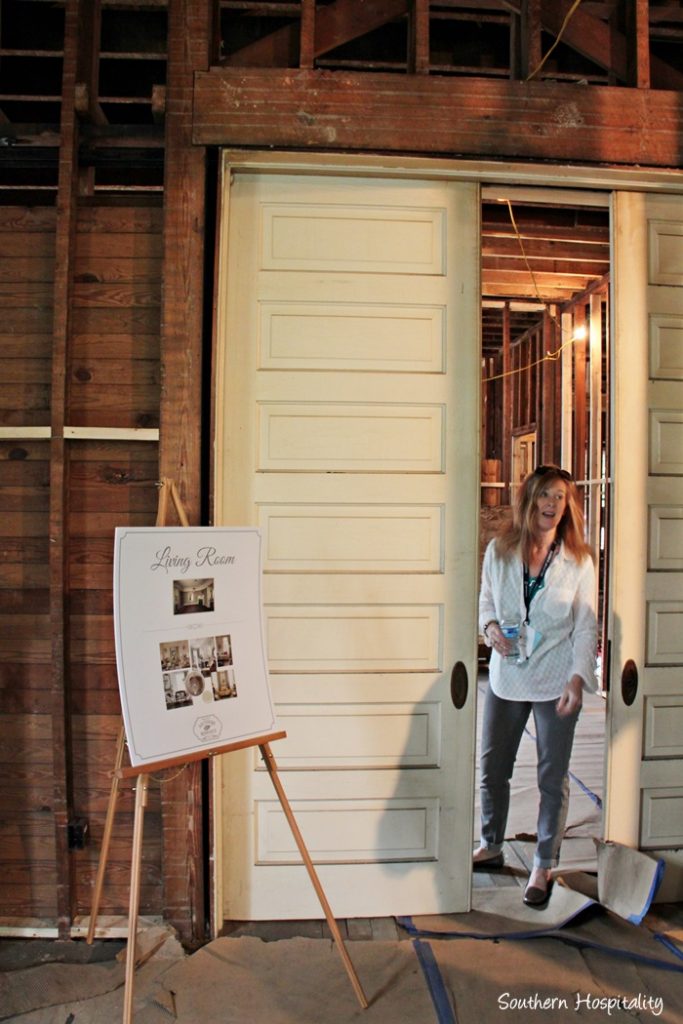 Story boards were in each room, showing the plans for the spaces.  I love that the original pocket doors from the living room to the dining room were still intact and working.  Aren't they amazing? You can see a shot of this space in that first Before shot of the house above.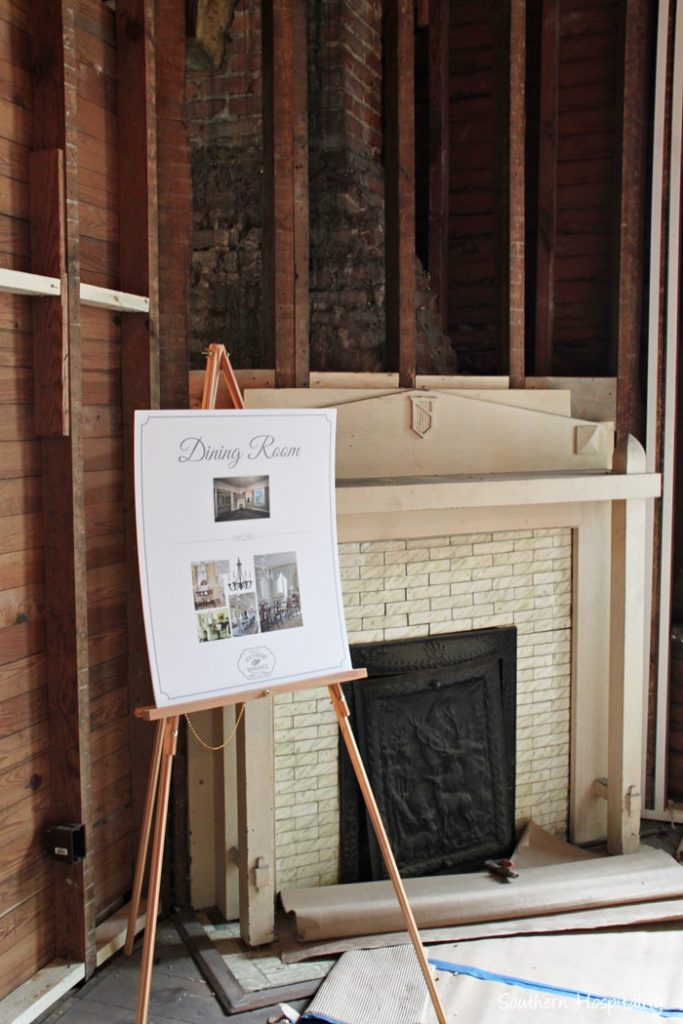 Dining room fireplace saved too.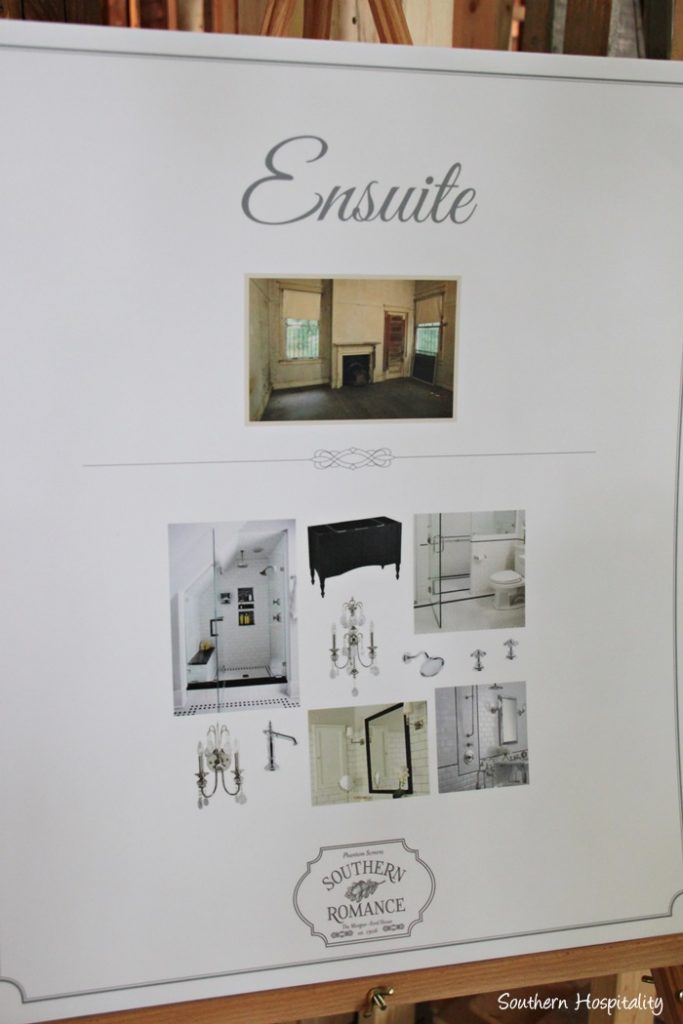 Mood board for the ensuite bedroom and bath.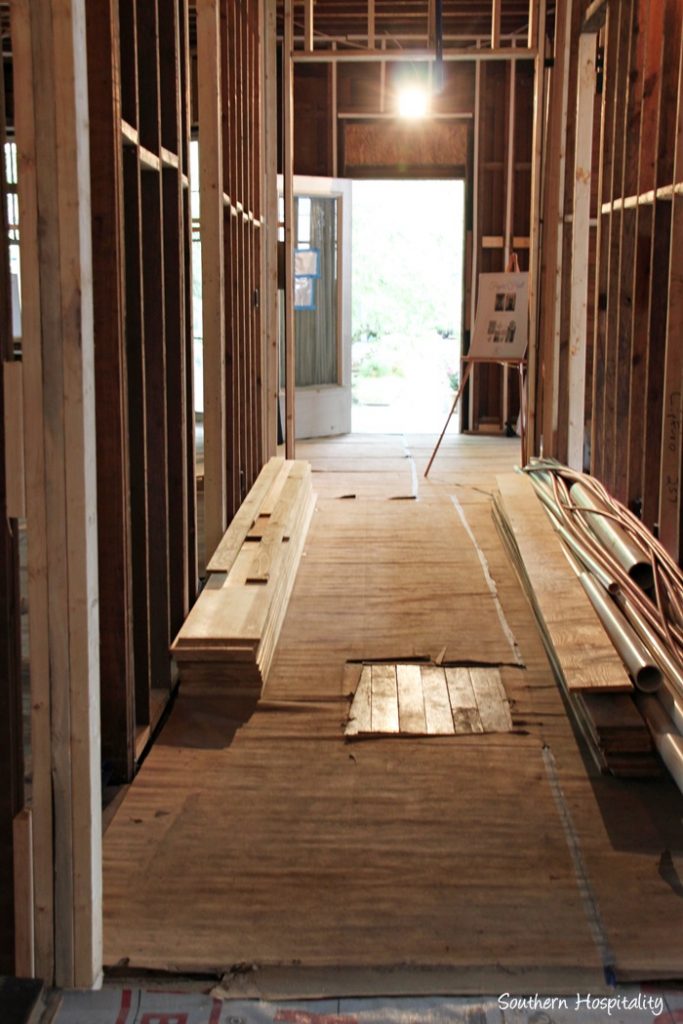 The main hallway coming in the front door.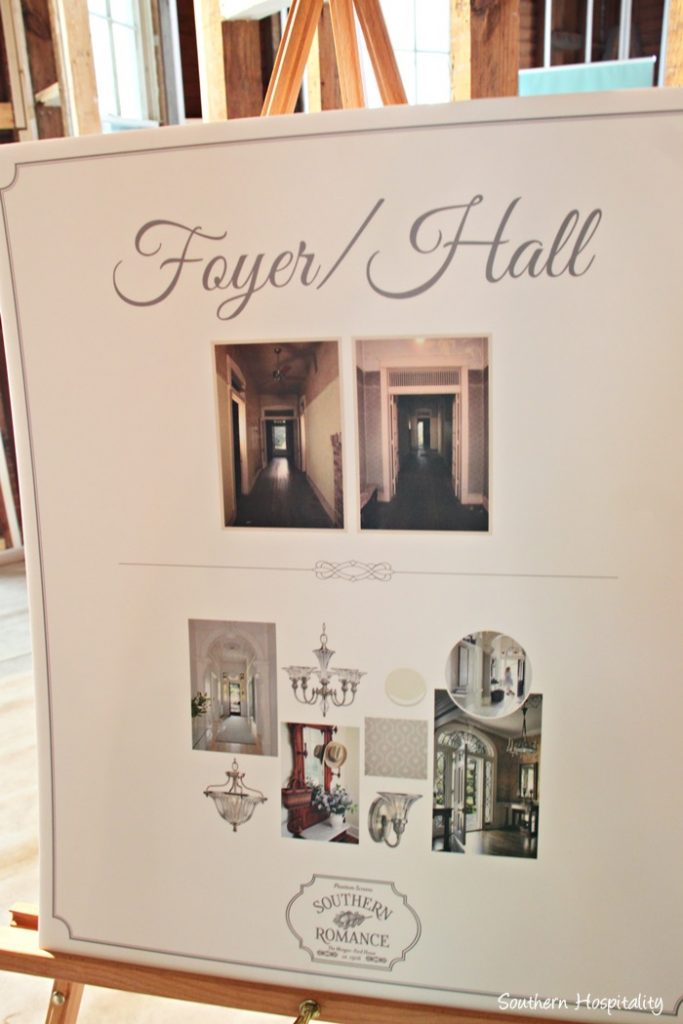 Story board for that area.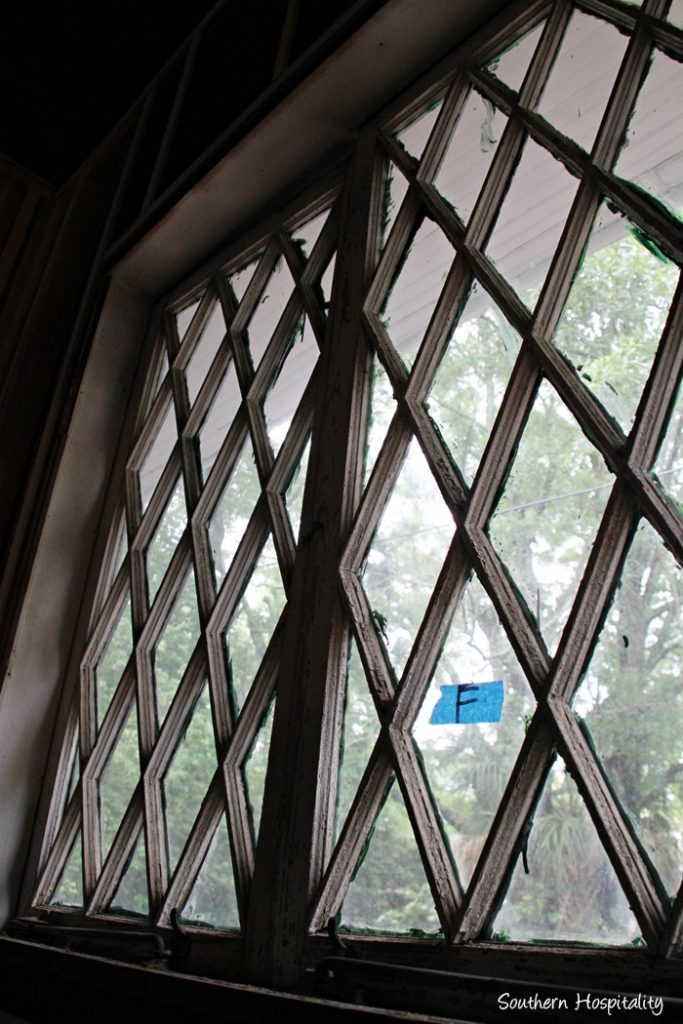 Glass windows in the bathroom were kept and will be renovated too.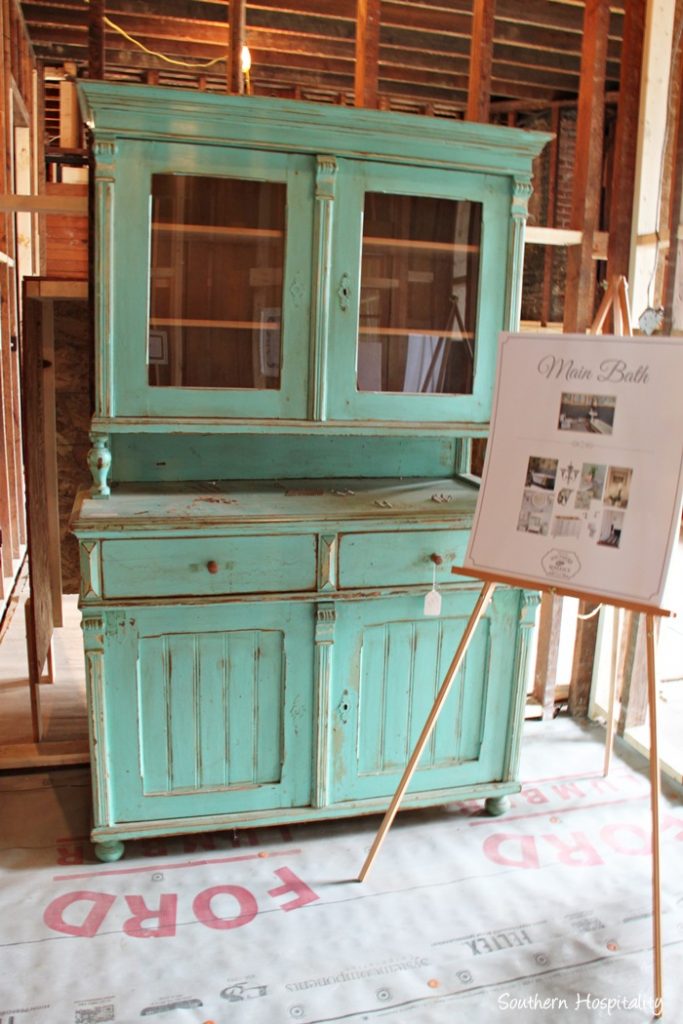 Esther found this piece at a fun antiques place we visited and fell in love with it.  It will be used somewhere in the house.  Wait til I do a post on that antiques place, you are going to love it!  We were all in vintage heaven!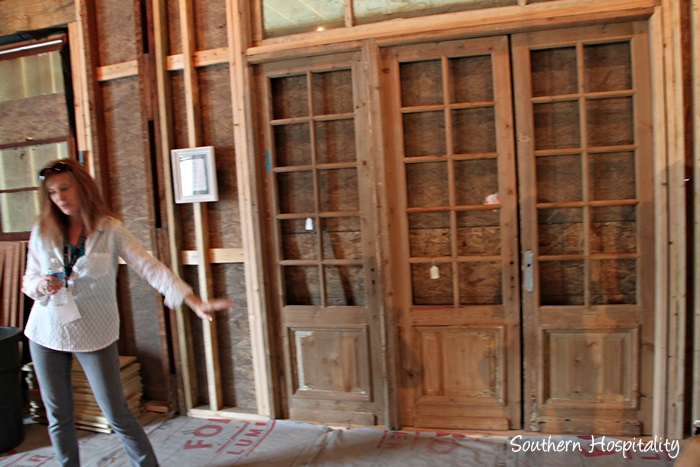 This is not a great shot of the backdoor, but you can see how pretty it's going to be, opening out to a spacious back porch.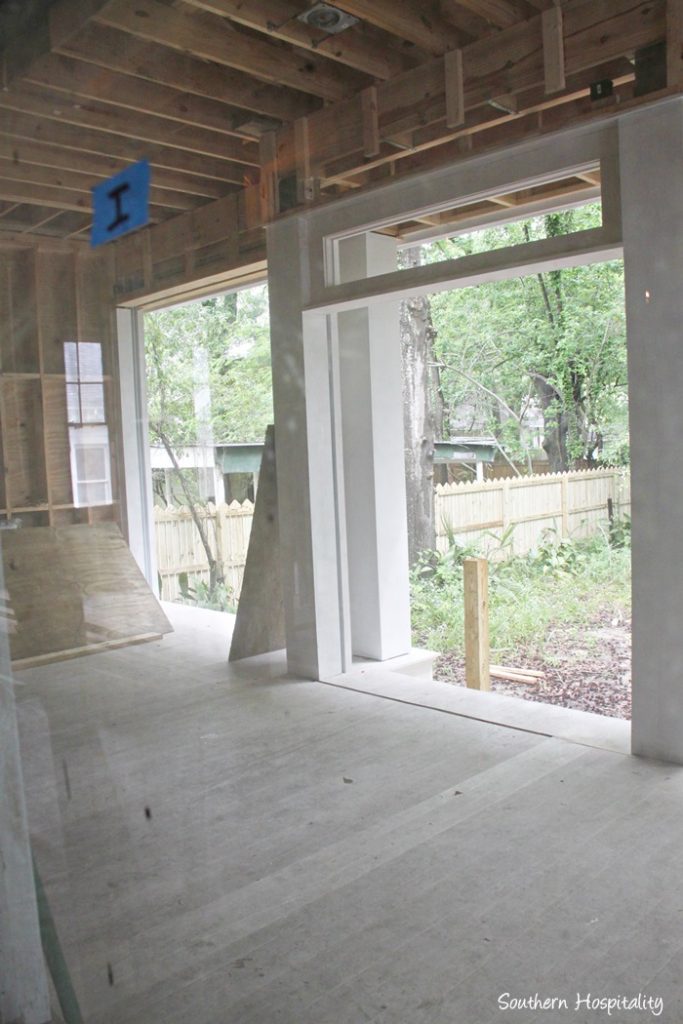 It was enlarged and widened and it's going to be a wonderful place to hang out.  This is where the Phantom Screens system will be installed. Phantom Screens is an innovative company that makes retractable screens for all sorts of uses.  They have a remote control and the screens come down when you need to use them or disappear when you don't.  I saw them in person for the first time over 10 year ago at a showhouse up in Big Canoe, GA.  I still remember how cool they are!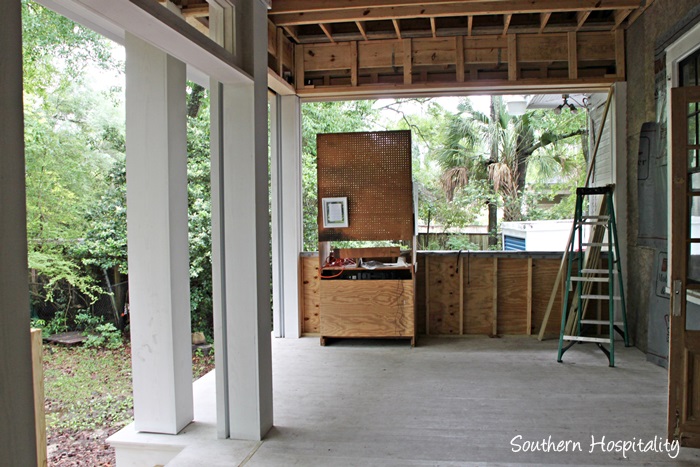 As you can imagine, the bugs in Mobile are bad in the summer, so having a screening system is a must on this back porch.  Southerners love their porches!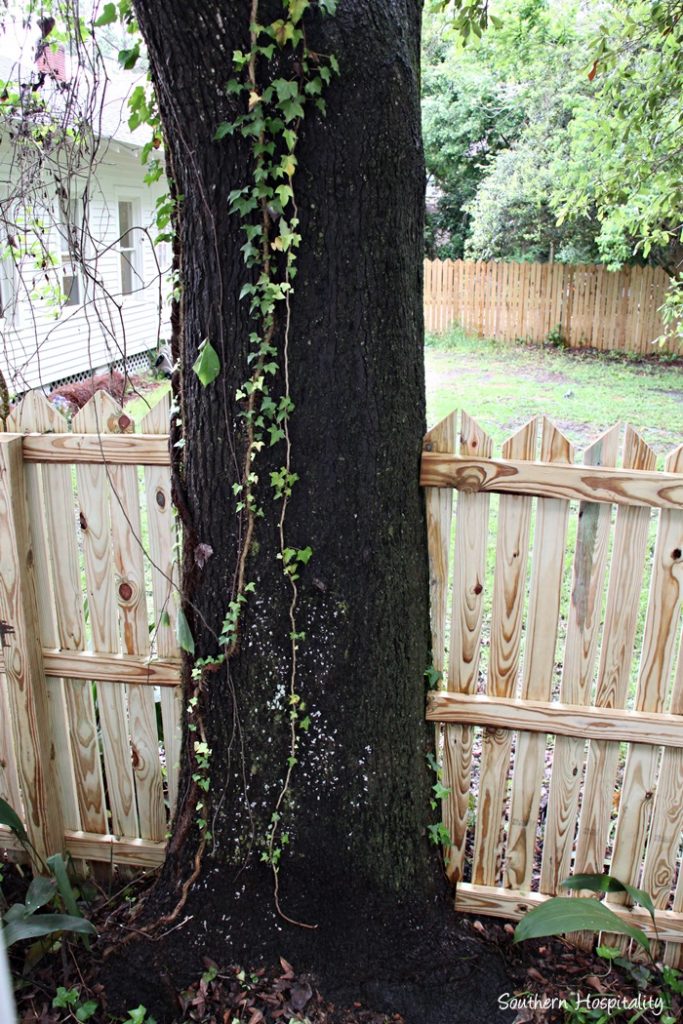 I loved how this tree was in the middle of the back fence dividing the neighbors.  In fact, this tree was the one they talked about saving in Episode #6.   It was so fun to see the house in person and the renovation plans.  I'll be following along and I invite you to do the same.  You can see the whole journey of the house on the Southern Romance page.  Esther has tracked down a daughter who lived in the house and who now lives in CA and interviewed her and her friend and it's so sweet!  They remembered playing in the house as children.  The house is slated to be finished by around November of this year and I'll be following the journey.
If you only have time to watch one video, watch this one, where Esther interviews Miss Mert, who was born and raised in the house.  She's 91 years old now and lives in CA and it was so fun to hear her stories about the house.  And you'll love hearing those authentic South Alabama accents!
Episode 5: Memories are made of this … from Phantom Mfg. (Int'l) Ltd. on Vimeo.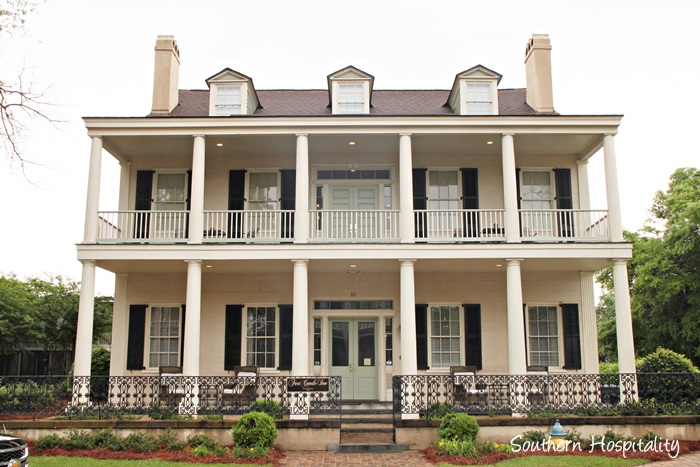 We stayed in this beautiful bed and breakfast, the Fort Conde Inn.  What a beauty this place is as well.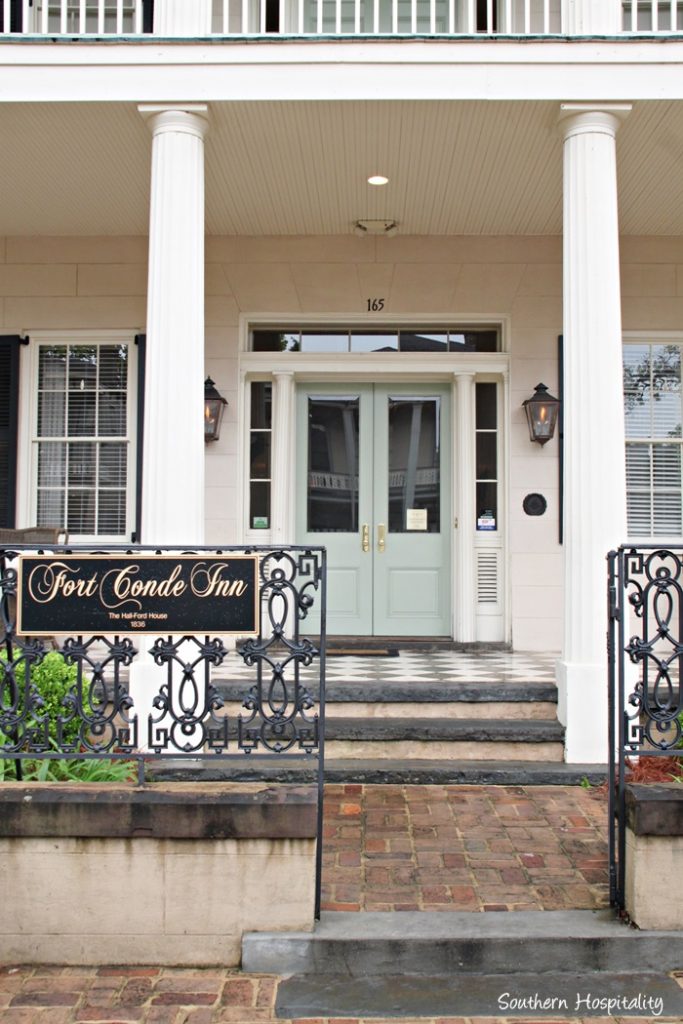 I loved the entryway and front porch.
And those aqua front doors had me at hello.
As did this checkerboard floor.  Oh, the details on these old houses.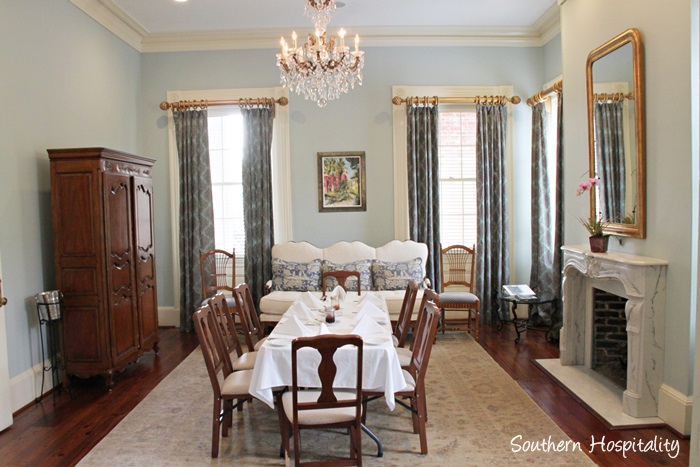 Inside, breakfast is served in 2 dining rooms.  It was delicious and so special.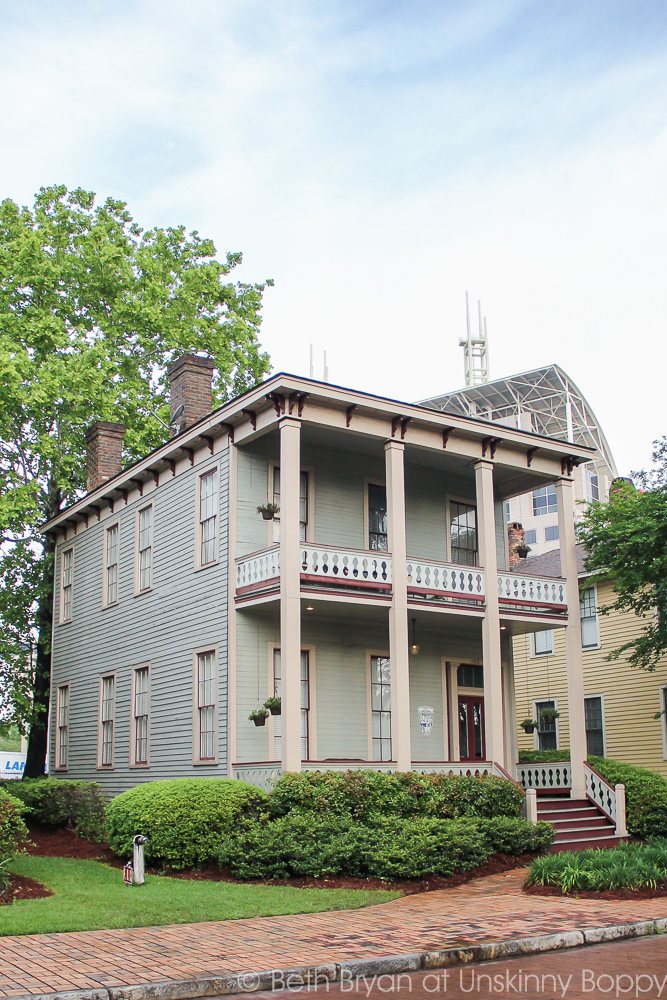 I got to stay in this beautiful historic home across the street, which is part of the inn. I borrowed Beth's pic, since her's turned out better than mine.
Sleeping in this spacious suite was a real treat.
I could definitely get used to this.
We started the first evening with a beautiful reception on the back courtyard at the inn.  The folks at Phantom Screens are so nice and welcoming. It was a real pleasure to get to know each and every one of them.  We could tell they love working at this company and were almost like family.
A big thank you to Phantom Screens for inviting all of us down to Mobile for the fun Southern Romance experience.  It was truly one of the most fun trips I've been on as a blogger.
I'll be back later to share a walking tour of this historic area of Mobile and also a visit to Charles Phillips Antiques, which was a real highlight for junk lovers like us.  We were all in chippy wood heaven at this place!
Note:  I was invited with 7 other bloggers to Mobile, AL for this experience.  Phantom Screens paid for our trip, including airfare and hotel.  
Don't Miss a Post, join my list!