I've got a fun post to share with you today.  You've all met my dear friend, Vicki.  I've shared her on my fashion posts and it's been awhile since she has appeared on my blog, but her youngest son, Tanner, just got married and it was a fun wedding to attend.  Vicki put together a rehearsal dinner at their church fellowship hall and asked me to help her with the tables so I did and we got that all done.  She cut hydrangeas from my yard and borrowed some of my accessories to set up tables for a travel theme. She did one for the beach and one for the mountains, which was a good fit for the bride and groom.  I'm so happy for this young couple, starting their life together.  I'm a big sap when it comes to romance and love and it warms my heart to see couples in love.  Love is a wonderful thing!  I thought I'd share a bit about the rehearsal dinner tables and then show you some snapshots of the wedding itself, which was at a really pretty venue in downtown Cartersville, GA.  Cartersville is a historic little town north of Atlanta and the Rose Lawn Museum and carriage house was so quaint and perfect for an outdoor wedding.
Let me just start by saying this.  The wedding industry, in my opinion, has gotten completely out of control as far as costs go.  When I hear that the average wedding is over $25K, it makes me cringe.  I know that everyone has their perfect wedding day in mind and weddings are beautiful and a celebration of two lives joining together, but to me it's gotten way more showy than it needs to be and so much money is spent for that one day.  I love to see couples who do things on a budget and still have a very special wedding planned.  This was the case for Tanner and his bride, Keira.  They did most of it on their own, with some help from friends and family.  It was cute, tasteful and meaningful and the venue made the wedding very special.
First things first, Vicki and I set up their church fellowship hall for the rehearsal dinner.  Vicki was in charge of this and she asked for my help, which I was glad to do.  It turned out simple and pretty, not extravagant, but nice.  Keep in mind these are iPhone pics, which is what I'm using a lot these days as I travel, so I try to do the best with them.
Simple white tablecloths went on the tables for the rehearsal dinner guests.
She used this chalkboard that a friend made for the wedding as her inspiration for a travel theme.  Marriage truly is an adventure, isn't it?
With many things pulled from my house, we set up a coastal table on one side and a more rustic mountain table on the other side. It was just meant to set the mood for the celebration and activities and Vicki said everyone raved about how pretty the room was.
Just adding coastal themed items gave it a nice feel.
The mountain table of travel  and adventure on the other side.
And this is what it looked like when I left.  A few things were rearranged and added, but it had an overall nice feel for those coming in.  Again, not extravagant, but pretty.  They served BBQ at the rehearsal dinner, by the way, a request of the bride and groom.
The sweetheart table set up for the bride and groom.
Vicki used a map to display their pictures together.  They are one smiling happy couple and I'm so happy for them.  They are both great people and I'm glad they found each other. I've known Tanner since he was born, so it's so nice to celebrate this special time with him and his family.
We added tulle in the middle of the tables with simple arrangements of cut hydrangeas from my yard, along with 3 candles at each table.
Vicki got all the table ware and used disposable items, which I don't blame her for doing.  Weddings can be so stressful and this is one more thing not to stress over. A friend of hers did the place cards for her.
A friend of Vicki's from an Etsy shop, Deer and Thyme made and hung the pretty chandelier over the bride and groom table. This is not the best pic, but you get the idea. That was really a nice touch in there!  So that's a look at the rehearsal dinner and how Vicki pulled it off without a ton of work and expense.  She borrowed all the tablecloths, so that helped too.
Now on to the wedding venue.  Rose Lawn Museum in Cartersville is a historic home dating back to the 1860's.  I had never heard of this venue before, but was totally fascinated by it.  A famous and beloved evangelist, Sam Jones, was once an owner of the house. The house was renovated and added on to over the years and finally was placed on the National Register of Historic Places, where today it is a museum open to the public.  So great that his majestic Victorian home was saved!
It was a hot day in the low 90's, but at least there wasn't rain and the wedding itself was under the trees at the back of the property.  I thought it was a perfectly charming wedding venue and Vicki said it was very cost effective to book this place.  The reception was held on the lawn under a tent and in the carriage house that is so adorable. Wait til you see that!
I took a few pics inside and outside of the house itself.  After the ceremony, everyone went back to the house to hang out for a bit and have a glass of sweet tea until pictures were finished with the wedding party and then the reception began.
Vicki and I managed to get a quick photo together.  She and I have been friends for a long, long time.  We are the same age, 1 week apart, and have known each other since we were 15.  It's such a blessing to have friends like Vicki!  We've been through thick and thin together!  It was a happy occasion and I was glad to be there with her.  Mark went along with me as well, even though weddings are not the most favorite activity for a man, he indulged and kept me company.  It was actually a fun time with a DJ playing music and we even did a little dancing.
The coffered ceiling in the dining room was magnificent.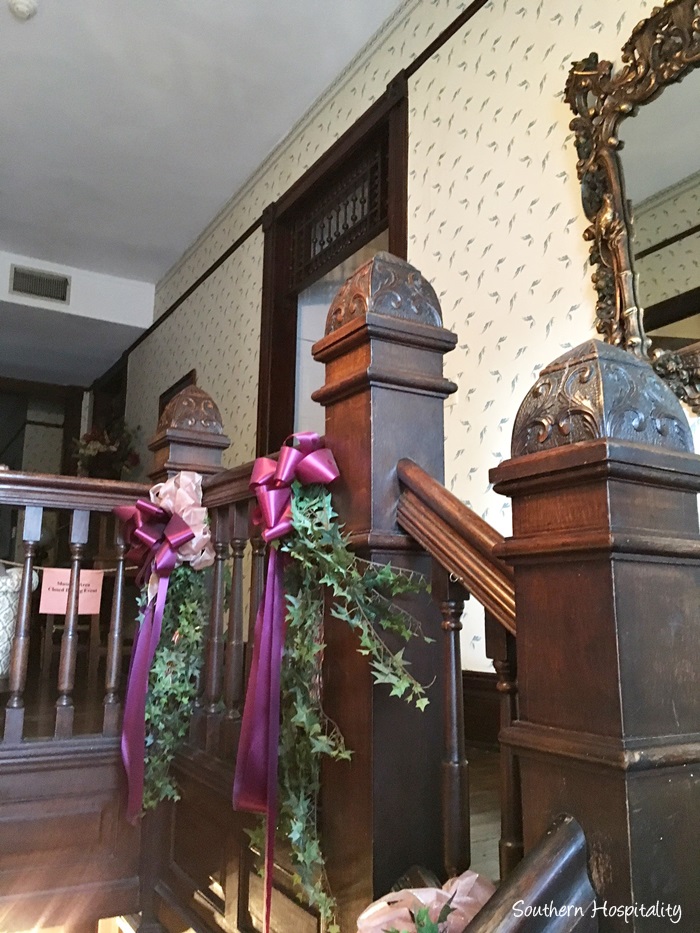 Original tile floors in the bathroom.  No wonder we all love this again, such a classic pattern.
A beautiful old mirror and pretty acorn wallpaper in the upstairs hallway.
A side view of the house. This house sits on a huge piece of property and perfect for an outdoor wedding.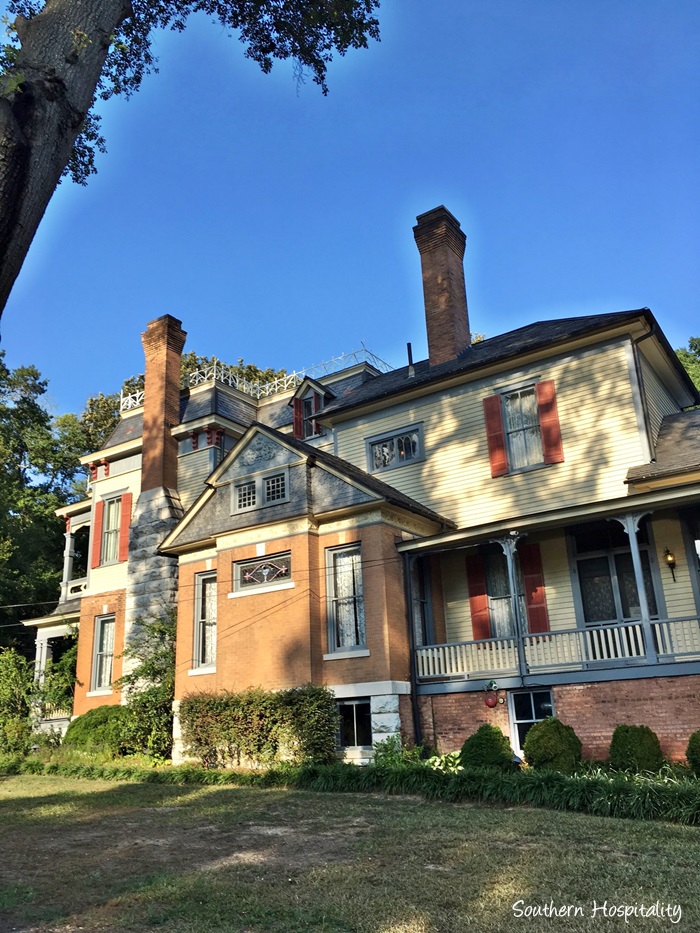 Everyone enjoyed walking around the grounds looking at everything.
Vicki looked radiant in her navy blue mother-of-the groom dress.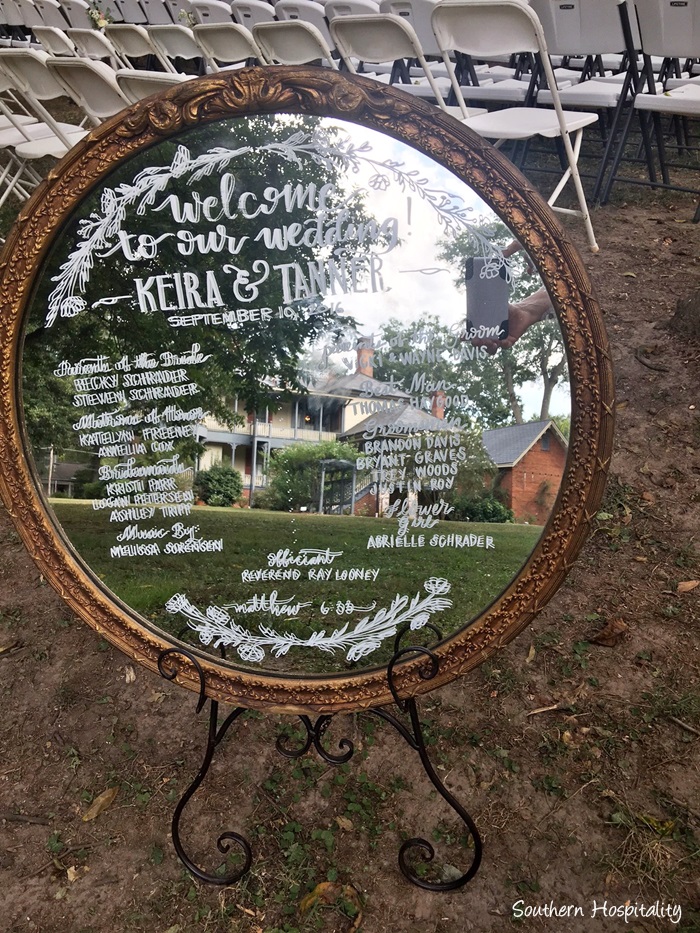 I missed this mirror, but Vicki shared it with me. The bride and groom did a lot of nice touches to personalize their wedding.  Simple and impactful.
A cross with fresh flowers adorned the altar where the wedding party gathered for the ceremony.
Tanner and his friends brought in the logs and they added candles for the ceremony.  Loved this idea, an altar of sorts.
One shot of the happy couple just after saying "I do".  I loved the expression on Keira's face, so fun. This shows her personality, even though I've only met her one time, I can tell she is a beautiful girl inside and out.  They are a good looking couple and I'm happy for their beginning life together.
The carriage house was all decorated by the bride's family and looked so pretty!
A tent on the lawn held tables so that guests could be out of the sun and enjoy some shade. The wedding started at 5 pm in the evening and it was a very hot day, but we all managed to have fun in spite of that.
They had some really fun touches that I wanted to share with you, in case anyone else needs ideas for a simple wedding.  For wedding favors, they made CD's of the songs played all during the wedding, from the ceremony to the reception and some of their favorite songs that were meaningful to them. I thought this was a great idea!
Bubbles were available for the send-off.
Inside the carriage house, a rustic and perfect building for a wedding.  Fans were going everywhere since it was a hot day.  The back door was opened too during the meal, so that helped cool things off with a breeze coming in.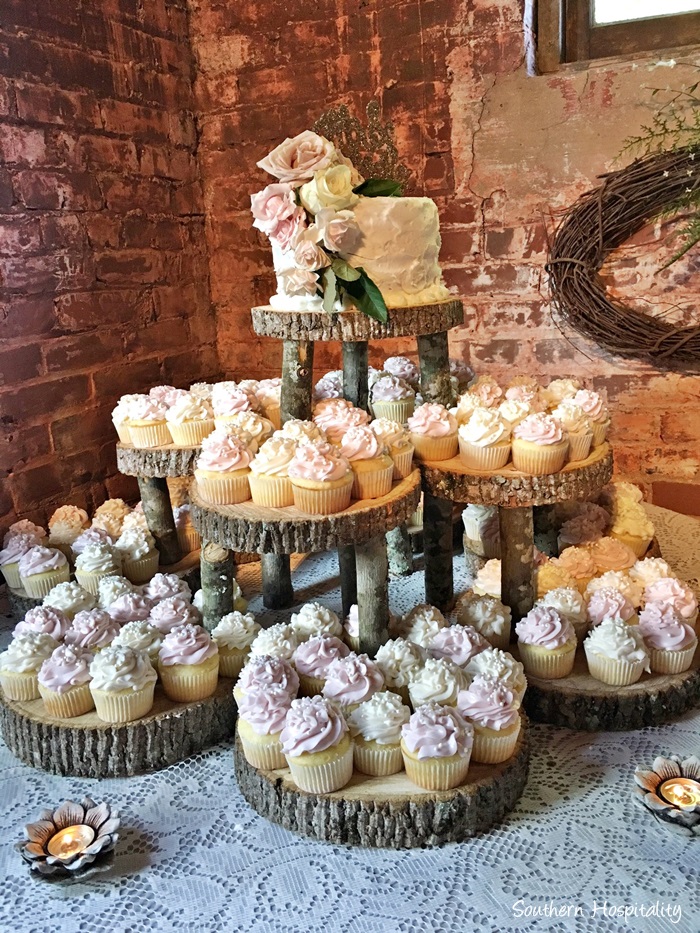 The small wedding cake on the top was cut and then guests helped themselves to cupcakes.  Cute, cute idea! The bride and groom orchestrated this idea and brought in all these wood slices and set this up themselves, along with the lace tablecloths and simple centerpieces. I thought this was a brilliant idea!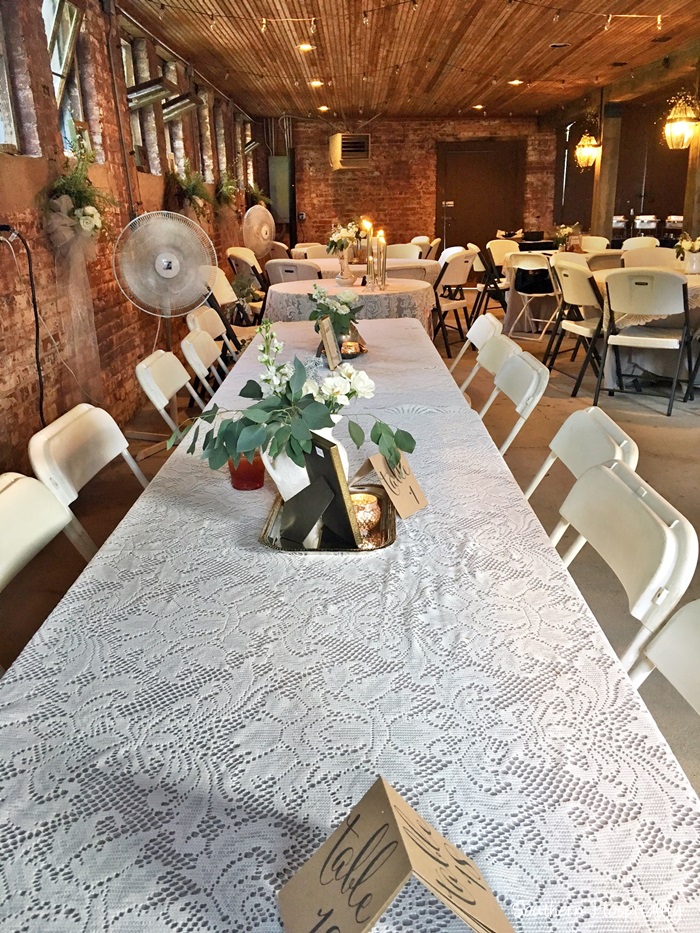 This rustic room was the perfect backdrop for a quaint wedding.  There were probably a 100 people or so at the wedding and a full meal was served.
Brick walls are always a great backdrop for lace and flowers.
They added some fun string lights which added to the ambience.
Looking up at the ceiling to the 2nd loft level, which was also set with tables.
A rustic chandelier upstairs in the loft was very eye catching.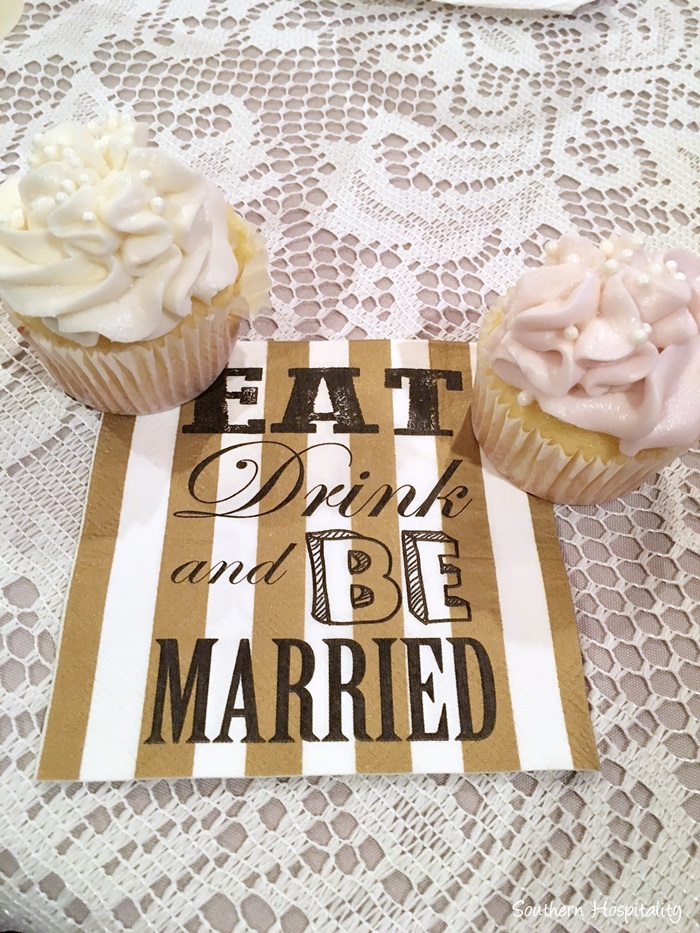 Cupcakes for all!  I just loved how pretty and charming the whole wedding was and wanted to share it with all of you.  Weddings are a big part of life and there are many ways to do them, so I think a budget friendly one is great to share.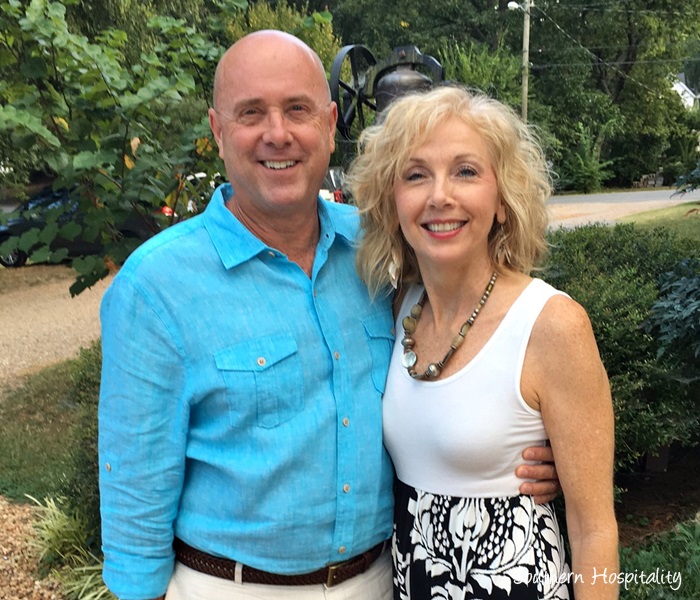 Mark and I enjoyed the time there and had a fun time dancing and enjoying the ambience of the house and gardens.  It's a fascinating place and a wonderful wedding venue, so check out Rose Lawn in Cartersville if you are in the area and need a wedding venue.  Rose Lawn doesn't know I'm blogging this, but I was so impressed with the house and gardens, I wanted to share.
Hope you enjoyed this wedding recap with me!
Don't Miss a Post, join my list!