In case you wondered, I still have my roommate, Rhonda and she and Cody are good company for me.  I enjoy having them around.  We sometimes take turns cooking and eating together, but she eats more Paleo and gluten-free than I do.  I do try to eat fairly healthy most of the time, but I'm not quite on that bandwagon yet and still love my sugar, but there are some dishes that we can share and enjoy.  One of the dishes that Rhonda cooks and that I absolutely LOVE is this spicy chicken rice bowl that came from Southern Living magazine.  It's a Thai flavored dish and SO good, so I thought y'all might like it too. I dearly love good Thai food and it's one of my faves now, much more so than Chinese.
I love the fresh ingredients in this dish, including green beans and sliced red peppers.  The flavors of the coconut milk and curry paste are very good to my taste buds.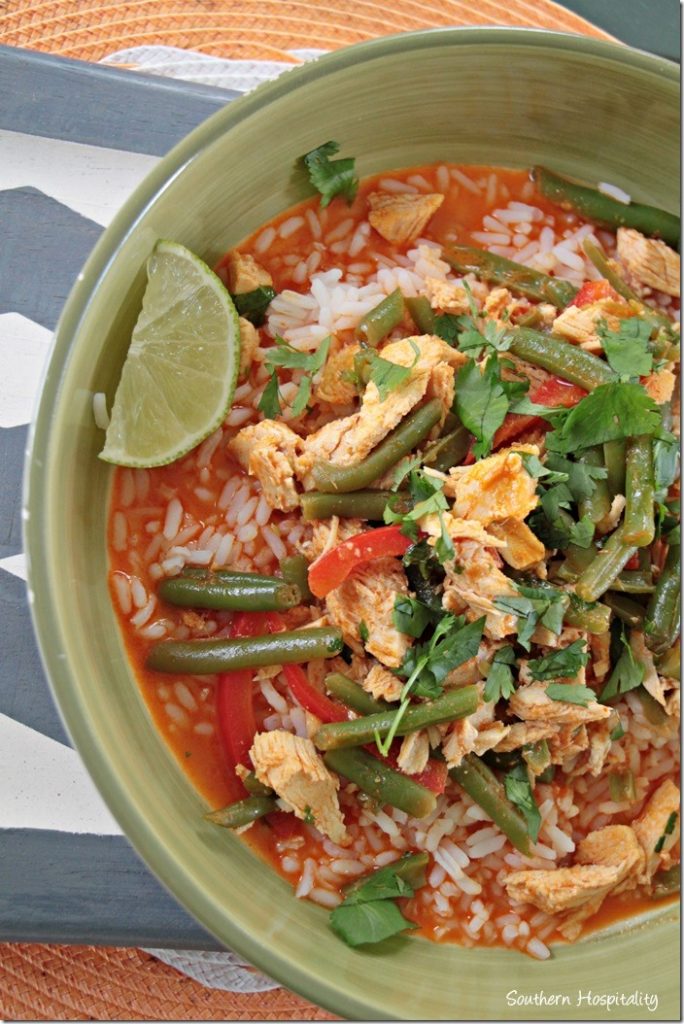 It also has fresh ginger and lime juice with a little kick of heat from the curry paste and it's one yummy dish.  Chopped cilantro is added on top and this is a one dish wonder, my favorite kind of dish.  With rice, veggies, and chicken all in one bowl, it's a perfect Fall dish.  I hope you'll try it!
Instead of typing the recipe out here on my blog, I'm sending you to My Recipes for the recipe. They have it on their website under Spicy Chicken Rice Bowl and you can click print from there and get the copy for yourself.
Note:  Rhonda changed up the recipe to make it gluten free and instead of using regular milk, she used all coconut milk.  Instead of flour, she used almond flour.  She also used fresh ginger in a tube, which tastes great too.
Enjoy and I hope you'll try it!  I'm all about some good eatin' and this one is fantastic.
I haven't shared Cody for awhile, but he is still doing well and is a live wire around the house.  He loves me and comes to my door most mornings waiting for me to get up.  Having a dog around is fun and he's a cutie!
Getting him to sit still long enough to take a pic is quite a challenge.
Congrats to the winner of the Arrow Exterminators giveaway, she has been emailed and the winner posted on the Rafflecopter widget!
I have a few more style guides to share for Ebay and this one is all about updating kitchens on a budget, hope you enjoy!  Just click the pic below.
Don't Miss a Post, join my list!