Last weekend, I had the pleasure of experiencing a plethora of garden inspiration, from Georgia to NC,  so I'll have plenty more to share later on the subject of gardens and spring.
While I had heard really great things about Barnsley Gardens over the years, located in Adairsville, GA, just a bit north of me, I had never been there.  But, last week I finally remedied that and got to experience this historical Southern resort myself.  I was contacted by their PR folks and invited to a special garden tour event, hosted by Erica Glasener, who I remembered watching on TV with her long running show on HGTV, A Gardener's Diary.  She's a famed horticulturist and gardener who knows her way around the Georgia landscape.  She also writes for Southern Living Plants, sharing her expertise. With several gardening books under her belt,  Erica now lectures, gives garden tours, and contributes to many online publications.
Did I mention I love my job?  I know I have about a thousand times, but truly I get to do and experience some of the most fun things.  I sound like a broken record at times, but I'm so honored and blessed at all I get to do and am now considered a media person, because I blog!
Last weekend was a whirlwind of garden activity, which I can't wait to share all with you.  I arrived at Barnsley Gardens on Friday night, was treated to a wonderful dinner there at the Woodlands Restaurant, spent the night in a cozy cottage, had breakfast then met up with and visited with Erica over coffee and then did the garden tour with her and a big group of garden enthusiasts.
Barnsley Gardens did not disappoint and it truly is a wonderful get away spot for anyone who wants to get away from the hustle and bustle of the city.  You're a world away from it all at Barnsley Gardens and it's only about 45 minutes from my house in Cobb County.
After a drive in the countryside up I-75, I arrived at the gates of the Barnsley Resort.  I didn't know the history of this place, but I'll tell you the brief version and you can read more at the Barnsley Resort history page if you want the whole scoop.  A fellow named Godfrey Barnsley from Liverpool, England purchased 4,000 acres in the North Georgia countryside, planning to build a new home for his bride, Julia and called it Woodlands.  Construction of the Italianate estate began in the 1840's, but sadly Julia passed away before the house was finished.  The estate and gardens were eventually finished in 1848, with the gardens modeled after the architecture of Andrew Jackson Downing.  After suffering much damage in the Civil War and losing it's roof to a tornado, the descendants of Godfrey held onto the house until 1942, when it was auctioned off, where it fell into disrepair.  It was purchased by a Bavarian Prince in 1988 and he expanded the gardens and kept the ruins in place, opening it in 1991 to the public as a historical gardens and museum.
So, you can see this home site has seen a lot of changes and it was so interesting to see in person. It's now a full fledged resort, with lodging, restaurants, and lots of activities and amenities.
I checked in here at this quaint building with blooming tulips welcoming me in.
Spring has sprung here in Georgia.
I stayed overnight in this cozy cottage and it was like being in an English bed and breakfast.
Very cozy and comfy place to retire for the night.
The golf club and course looked pretty impressive to me and seemed to be buzzing with activity.  There are lots of things to do at Barnsley, including golf, tennis, the spa, swimming pool, horseback riding, and shooting guns.  Truly a get away from it all kind of place for a romantic weekend or the family.
I met up with Erica Glasener and really enjoyed meeting her, since I had watched her for so long on TV.  She's a delightful and friendly person.
The pool and spa at Barnsley.  When I arrived, the clouds were thick and there was a mist in the air, but luckily the next day for the garden tour, it was a beautiful sunshine day.
Cottages line the lanes at Barnsley, all cute and quaint and so English.
Many weddings are held at Barnsley and I can imagine how pretty that would be.  This is the chapel.
There are wide open green spaces and plenty of places to relax and chill.
We met up at the Rice House for the garden tour and I heard this house was moved from Rome, GA at some point, landing here at Barnsley.
The Rice House is a restaurant and events facility.
Erica started the tour by pointing our many plants that were growing outside and making notable comments about the plants and their habits in Georgia.
The gardens themselves are outside the ruins of the old Italianate house, that stands in the background.
So interesting to see this place.
And to imagine what the house must have looked like back in the 1800's.
And I bet the weddings held here are just breathtaking.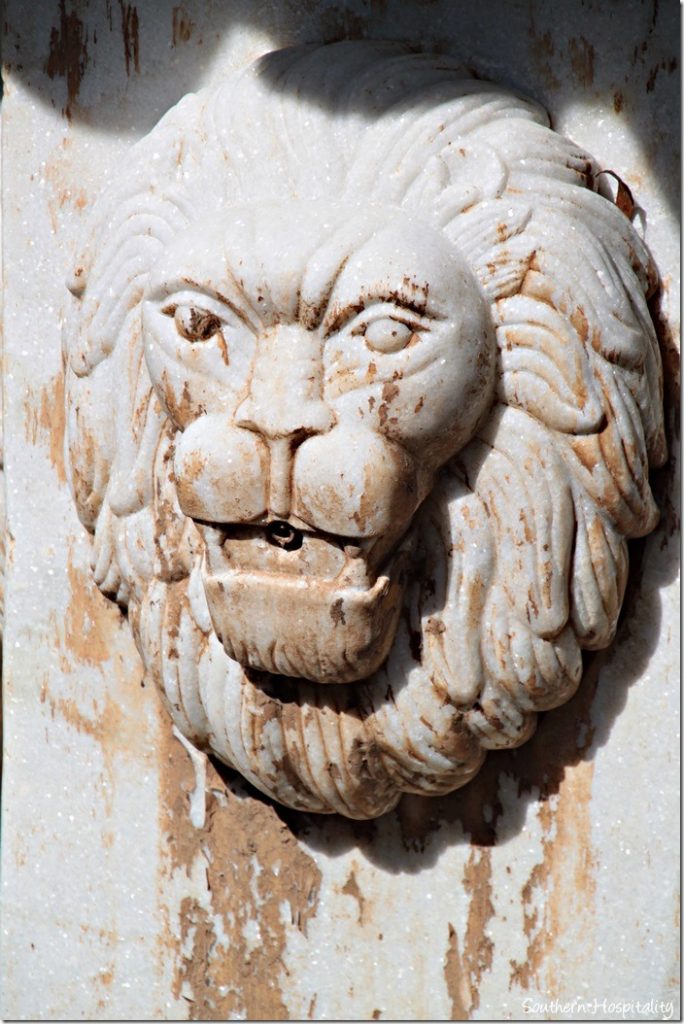 Truly a beautiful bit of Georgia countryside, worlds away from the hustle and bustle of Atlanta.
The building on the right is the old kitchen, I think, that now houses the Barnsley museum.
Lady Banks roses growing on the ruins.
Lilac trees in bloom against a vivid blue sky.
Erica pointed out many of the flowering trees and shrubs growing at Barnsley. She was actually part of the horticultural group brought in during the 90's to work on the gardens.
She's very knowledgeable about lots of plants and trees here in Georgia, pointing out the tiny pinecones on this Canadian evergreen tree.
Spring is definitely happening in Georgia right now.
This cute little pup was out for a stroll with her owners and they were nice folks from Rome, who I enjoyed chatting with.  Her name is Bella and she was a cutie!
Big green grass field.
Lots of flowering trees opening up right now.
Like redbuds.
The Hellebores or Lenten Rose, which I dearly love.  I need to get more of this at my new house.
Daffodils flowering on a bank.
I think I need to plant some daffodils too, they are easy to grow and come back every year.
A pond in the woods near the old house.
After our garden stroll, we all sat down at this beautiful table set exquisitely in the outdoors and what a treat that is.  Dining al fresco is always fun and one of the things I love about spring and summer.
A delicious salad for starters.
Along with meats, cheeses, and crackers for a perfect spring luncheon.
Fruit and cheese platter was delicious.
What a fun way to spend a weekend! I thoroughly enjoyed my visit to Barnsley Gardens and I hope it won't be the last.  I can definitely see Barnsley as a romantic weekend getaway or a family vacation destination that isn't too far from Atlanta.  Along with hosting weddings, Barnsley is also popular for corporate events too.  Wouldn't you love to attend an event here?
Don't Miss a Post, join my list!