Today is a fun day! It's spring home tour day and I'm joining a lot of gals this week sharing our spring home tours, so I hope you enjoy them all. A big thanks for Marty from A Stroll Thru Life for hosting this tour every year. She's the best! These tours give us all a push to get our homes decorated for spring and share them with all of you, so I hope you enjoy.
If you're new to my blog, I've been blogging for 15 years, sharing home decorating, DIY projects, Fashion over 50, travel and more, so if I'd love for you to click the link in my sidebar and join my email list if you haven't already. Welcome!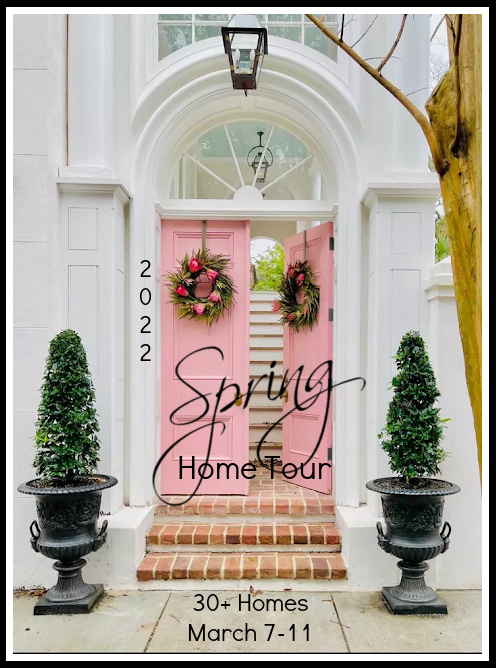 If you're stopping by from my friend, Yvonne at Stonegable, welcome! Yvonne has a gorgeous home and I know you enjoyed it. I love the way she decorates!
As you can see I love color and I kept it simple this year with some fresh tulips and other fresh flowers added to my spaces. When these die back, I'll add in my faux flowers to take their place.
I dearly love tulips and when I find them, I pick them up. These orange ones are the perfect accent with my living room pillows. Those cane glass vases you see are from Michaels and I've link them below if you like them. This brass coffee table is one of my best thrifty finds ever. It came from a thriftstore a few years ago for $20 and I snatched it up fast. I dearly love thrifty finds and this one is made by LaBarge and worth a lot. It's in perfect condition and the perfect petite size for my living room.
You can find a few things from my home in the links below, if interested (affiliate links):

Looking back to the front door. That gallery art on the wall is all thrifty finds over the years too.
Can't get enough of the tulips.
Our home is pretty open concept and you can see most of the rooms from the front door on the main level.
A closer look at the art.
Mark did that box molding on the stair wall over a year ago and I still love it so much. Sure adds a lot of architectural interest to our home.
One more look at the tulips.
Here's another good shot of the box molding on the stair wall. It's such a nice backdrop for my foyer table, which I change with the seasons.
I get my bunnies and birds out for spring and kept this table pretty simple too.
Pink tulips are always appropriate for spring. These were beginning to lose their petals so I let them lay.
My decoupage eggs that I did a couple years ago are nestled in a dough bowl. They are so easy to make.
And they look pretty sitting on green reindeer moss. I love that vibrant shade of green.
A couple of boxwood topiaries that I found at Homegoods years ago is added to the mix.
And that's my simple foyer table this year.
Let's go into the dining room. I pull out my green bunny dishes in honor of spring and Easter.
I found these cute cloth bunny napkins in my mom's things when we were cleaning out the house, so I kept them to use for Easter. Aren't they cute on my green table?
Simple grocery store flowers in a blue and white vase is all I did for the centerpiece.
And part of my blue and white collection on the sideboard keeps it simple as well.
Love those pink flowers for spring!
I went back and added a cute gold bunny to the centerpiece.
And these cute Bordallo bunny trays have been with me a long time, in fact the whole collection has been with me for over 25 years.
I've set a lot of tables with those dishes.
My cute bamboo bar cart got a few things added for spring too. I'm having fun decorating this little thing.
More Bordallo bunny dishes look great on the navy bar cart.
Cute cute bunnies! I'll alway have a special place for bunnies.
And that's a look at our home for spring this year. I did do a few things on the mantel and I'll share that later.
And I couldn't resist pulling out this Peter's Pottery bunny to sit in the kitchen. I still love this piece and bought it while I was in Birmingham.
Next on the tour is This is Our Bliss, so you will want to go there next and see her home all decked out for spring.
Don't miss all the ladies below who are all sharing their spring homes. It's always fun to peek around and see what other bloggers are up to! You will get so much inspiration if you visit them all.
Monday March 7th Lineup
A Stroll Thru Life – Thrifty and Chic – Chalking Up Success – White Arrows Home – Pink Peppermint Design – Worthing Court
Tuesday March 8th Lineup
Our Southern Home – Cuckoo4Design – Country Road 407 – Decor To Adore – RemodelaCasa – Calypso in the Country
Wednesday March 9th Lineup
Whispering Pines Homestead – Up to Date Interiors – The Stonybrook House – DIY Beautify – Southern Home & Hospitality – Dimples and Tangles
Thursday March 10th Lineup
CitrineLiving – Hymns and Verses – 11 Magnolia Lane – StoneGable – Southern Hospitality – This is our Bliss
Friday March 11 Lineup
Grace In My Space – Follow The Yellow Brick Home – Quarters One – My Wee Abode
Don't Miss a Post, join my list!