This post is sponsored by Plow and Hearth. Giveaway is closed. 
Good morning and welcome to a new week! It's a busy week for me. My sister and I are heading to New Orleans on Thursday for a long weekend with Lauren and her family, celebrating that baby Iris's third birthday. She's not a baby anymore! Looking forward to a few days down there this time of year. Spring in New Orleans is perfect timing!
Today I've got a fun treat to share with you and a giveaway too, so be sure and stay with me to the bottom so you can get in on this one. I am so fortunate to get to work with some of the best companies and brands around and today I'm partnering with Plow and Hearth to share some of what they have for spring outdoor lounging.
Do you know Plow and Hearth? I've known about them for years and here's a little more about them, from their website:
What began as a small retail store in Madison, Virginia in 1980 has grown into 25 retail stores and a multi-channel online and catalog business. Through the years, we've remained dedicated to our guiding principles: we treat our customers like neighbors and friends and offer quality products backed by our full satisfaction guarantee.
I can't tell you how thrilled we are to get to try out one of their outdoor wicker sofas to add to our deck space. What a difference it's going to make for us out there on the deck now. I have been wanting a full sized sofa out there for a long time and luckily we have the room.
I partnered with Plow and Hearth to add the new full size wicker sofa as well as the floral rugs. Having those cushy rugs underfoot is also a great way to add softness and comfort to a deck space.
I have one side of the deck set up as sitting and one side for eating outdoors and it works great for us. The rugs are 5×7 and both of them fit our 14×14′ deck just fine.
I've had the rest of these outdoor wicker pieces, some for years and some I got last year. I love that I chose dark brown faux wicker for an outdoor space like this as it wears really well. I've learned that anything white or too light just gets dirty outdoors.
All of these brown wicker pieces flow so well together even thought they are all from different brands. But this Plow and Hearth sofa is definitely capturing our hearts. The navy blue cushions are a nice complement to all the other fabrics I already had out there and it's an outdoor fabric so will clean up really nice.
Coming out the back door, I also added a Plow and Hearth small matching floral rug to the back door which is nice too for brushing dirt off shoes.
We have enjoyed this deck space so much since I got it all set up last year for our first summer on the deck.
This space is a mix of things from all over and pieces I've had for a long time too like that vintage bakers rack.
The sofa is very well built with a steel frame and faux wicker covering it. Those cushions are firm and very comfy.
You can bet there will be some nap taking happening on the new sofa. It's a huge change from the little loveseat we had there last year. The loveseat moved to the patio below for extra seating down there.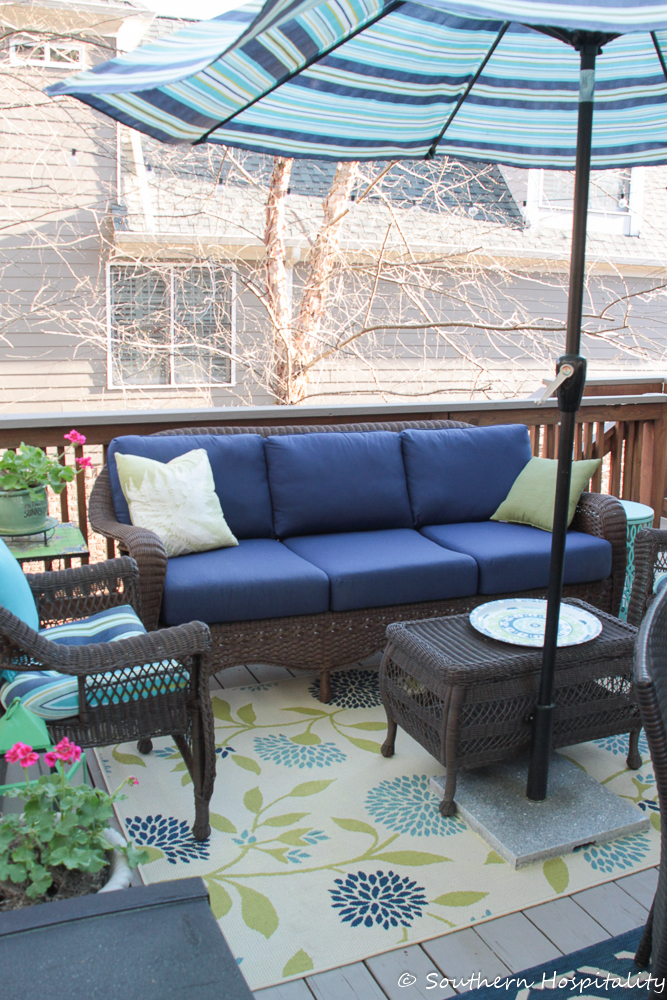 All the birch trees are just now budding out with new leaves, but we've had some really nice spring weather already and have enjoyed some days on the deck. When it rains, I've got covers for all my pieces and I just pop covers on the sofa, chairs and table to keep it nice and dry during bad weather.
It's such a cozy sofa and full size is the bomb out here. I have plenty of room to lay down completely with room to spare. Mark and I even both laid down on it over the weekend, him at one end and me at the other.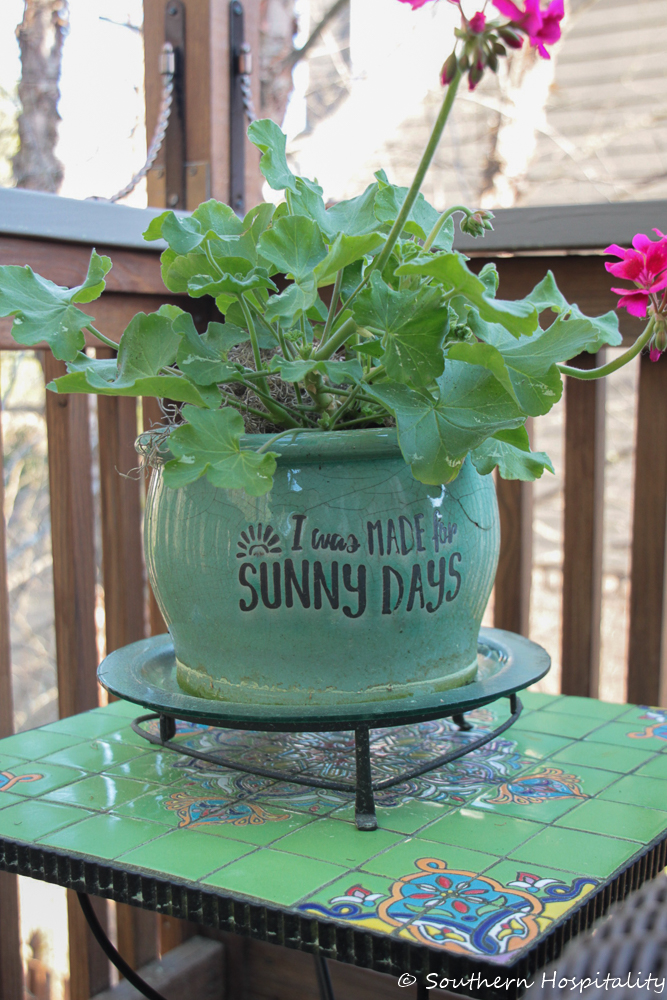 I went ahead and took a chance with my annual flowers and planted my planters. I love plants and flowers this time of year and love adding them to the deck space.
It's not so hard to keep them watered here on the deck and last year we had a lot of rain so that helped too.
Watching the flowers get bigger is one of my favorite summer pastimes!
I've got some herbs on that planter on the table, oregano, basil, and cilantro.
Miss Holly loves her condo on the deck.
This deck space has exceeded our expectations for outdoor living and the new sofa from Plow and Hearth has really helped in that department. We love having this space to enjoy in the afternoons and evening hours. Those lights on the deck will be lit up more and more this year and we're about to start the under deck project below the deck with a screened porch. Can't wait for that and of course, I'll be sharing it with all of you.
In the meantime, here's some really fun news for you, my readers!  Plow and Hearth is giving ONE of you the chance to shop their fabulous website and choose something for yourself, with a $250 gift card.
All you have to do is visit Plow and Hearth and sign up for their emails at their website. They will be choosing one winner of the $250 spending spree and I'll announce it here on my blog.
You have to sign up there to be eligible to win! 
Click over to Plow and Hearth to sign up right now and be eligible to win this fantastic giveaway! I'm so happy to be able to share great brands with all of you and Plow and Hearth is one of those. 
I'd love for you to comment here as well. Are you getting ready for spring and summer outdoor living too?
Don't Miss a Post, join my list!